Could these simple, 4-ingredient Almond Butter CBD Dog Treats help your favorite furry friend see relief from pain, anxiety, and inflammation? Discover 5 important things you should know before using CBD for your dog and explore what CBD products, treats, and recipes are best for you and your pet.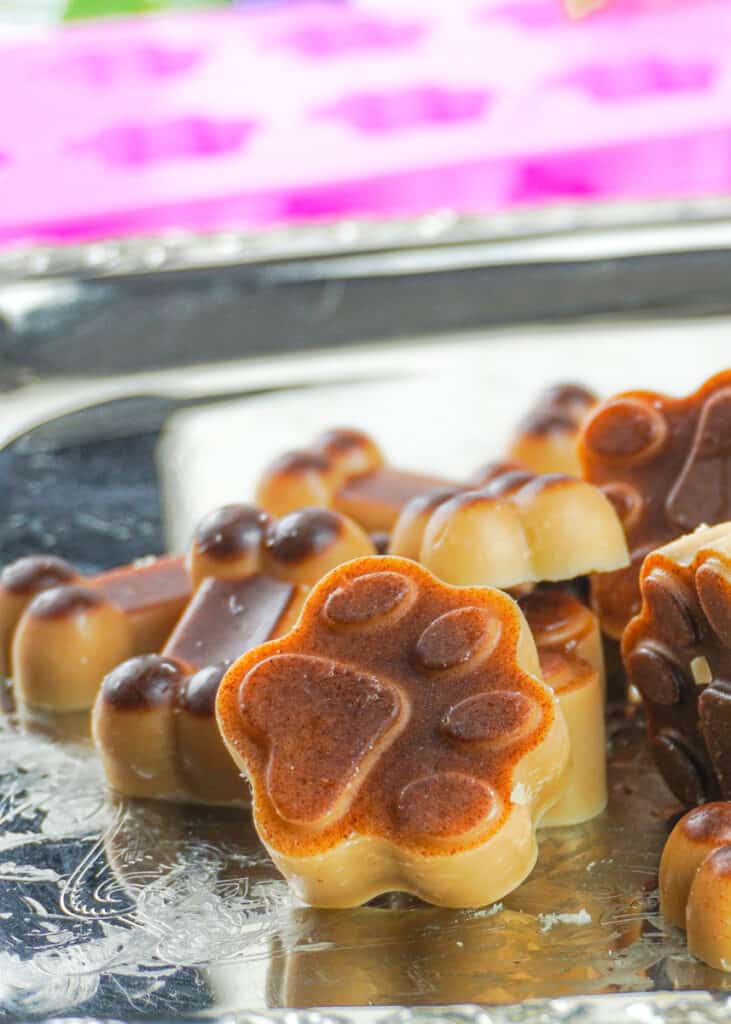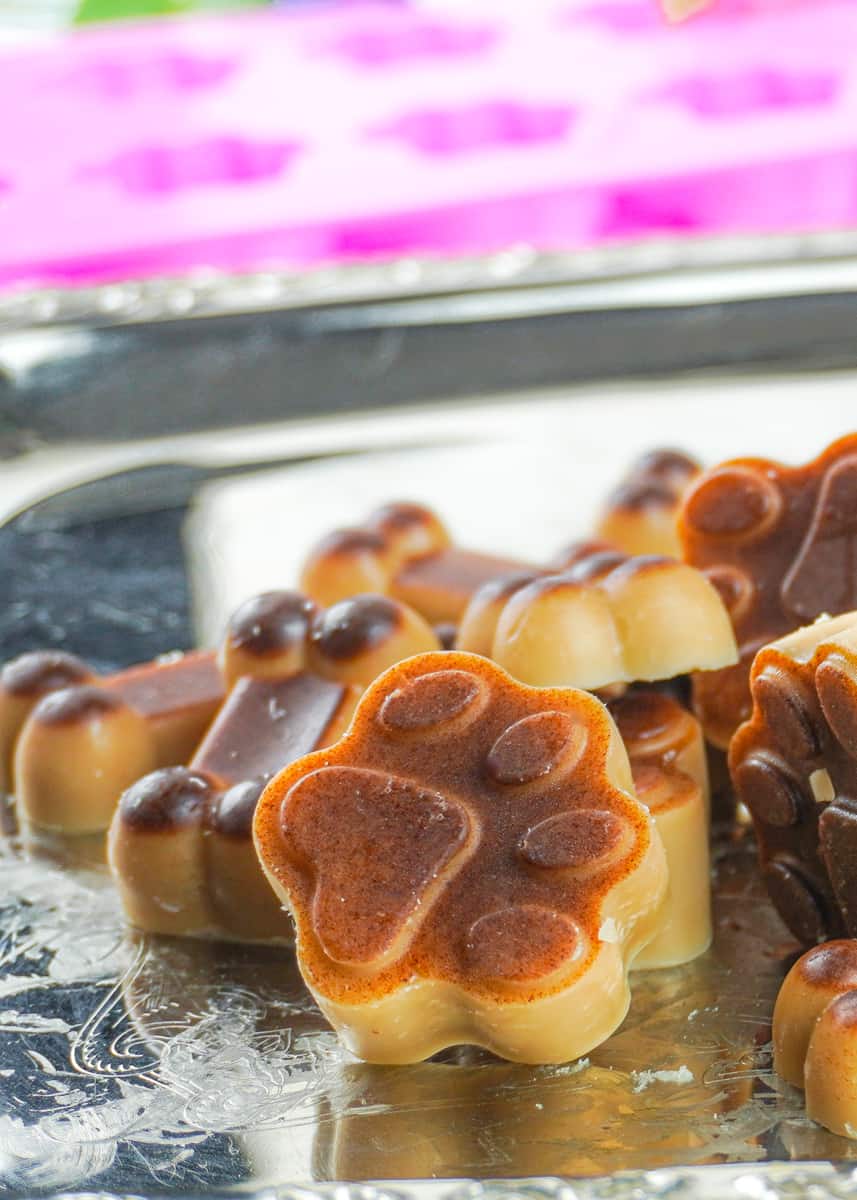 5 Things You Should Know About Using CBD Oil for Dogs
As more and more people begin to see relief from pain, anxiety, and inflammation with the use of CBD, more and more people are beginning to explore whether or not CBD could be useful for their favorite furry companions as well.
Whether it be to manage their dog's anxiety or stop dog seizures, many people have seen positive benefits of using CBD oil with their pets.
Like humans, dogs and cats have an Endocannabinoid system, meaning that their bodies are receptive to cannabis use, too.
In this article, we will explore the five most important things you should know about using CBD oil for dogs so you can make an educated and informed decision for your best friend.
I've done the research and put together this helpful guide about the five most important things you need to know before giving CBD oil to your dog, as well as my favorite recipe for a safe, high-quality CBD treat recipe your dog will love.
#1 - Dogs Have an Endocannabinoid System
Like humans, dogs have an Endocannabinoid system (ECS).
The ECS exists within the body to maintain homeostasis and to interact with exogenous cannabinoids like cannabidiol (CBD) hence why dogs may see the same relief from pain, anxiety, and inflammation when using CBD oil as humans do.
While research for cannabis alone is lacking, there is some early preliminary evidence to support the idea that CBD can indeed be helpful for dogs.
One study that specifically studied the safety of the use of CBD hemp oil on dogs and cats found that "in healthy dogs and cats, an oral CBD-rich hemp supplement administered every 12 hours was not detrimental based on CBC or biochemistry values". (1)
This is reassuring for pet owners who want to ensure they are not doing more harm than good by starting a new CBD routine with their pet.
Of course, it is always recommended that you reach out to your veterinarian before starting any CBD supplement routine.
#2 - Using CBD For Dogs for Anxiety & Seizures
As a Holistic Cannabis Practitioner, I spend my days working with clients to help them safely incorporate cannabis into their lifestyle. We've seen great success in the management of pain, anxiety, and inflammation.
I had never even considered using CBD on dogs or cats, even though I proudly state that all mammals have an Endocannabinoid system.
It wasn't until last summer when we were spending time with my aunt and uncle when they told me they were using CBD on their dog, a border collie, to manage her daily seizures.
They told me that it was the one and only thing that had helped manage the seizures and greatly improve the quality of her life. Since then, more and more people continue to ask about using CBD for their dogs as well.
Unfortunately, scientific data is lacking to prove the efficacy of using CBD for seizures or anxiety in dogs, and all evidence currently remains anecdotal,
The great news is that "the AKC Canine Health Foundation is sponsoring a study, through the Colorado State University's College of Veterinary Medicine and Biomedical Sciences, that will evaluate the use of CBD in treatment-resistant epileptic dogs". (2)
This is promising and shows that there is great potential for the use of CBD in dogs.
#3 - Extraction & Application Methods Matter
When it comes to your furry friend, of course, you want to give them the best CBD option possible, which is why it is important to look at both extraction methods and application methods when deciding what product is best for your pet.
Understanding Cannabis Extraction Methods
When it comes to extraction methods, supercritical CO₂ extraction is currently the gold-standard in the CBD industry.
This method of extraction leaves behind no toxic residues that may be potentially harmful to your pet, unlike other extraction methods like ethanol or butane extraction.
For more help on understanding extraction methods and choosing a safe product, see my 4-Step Guide to Choosing a Safe CBD Product.
Application Methods
When working with human clients, I always first recommend a sublingual tincture, or CBD oil held under the tongue, for the best bioavailability and absorption rates.
Research shows that oral ingestion (swallowing CBD oil) only allows for 6% absorption versus 30% absorption with the sublingual application through mucous membranes in the mouth.
Of course, asking your dog to hold CBD oil under their tongue for 60-90 seconds is impossible. That's where new innovative products come into play, as outlined below in my best CBD products for dogs.
#4 - The Best CBD Products for Dogs
By far, the best and most logical CBD product on the marketplace for dogs right now is VivaPets Almond Butter. Almond butter itself, without added ingredients, is safe for dogs to consume in reasonable amounts.
When consumed in moderation, almond butter can be a nutrient-rich, enjoyable treat for your dog.
Almonds, and this almond butter, are rich in monounsaturated fats, making them an excellent addition to your dog's diet to help keep their skin, fur, and nails healthy. Almonds contain many important vitamins, minerals, and phytonutrients that will benefit your dog's health overall.
When using the VivaPets Almond Butter you can ensure the best absorption of CBD compared to any other CBD treat on the market.
The reason is that the almond butter adheres to the mucous membranes in your pet's mouth and allows for the best absorption directly into the bloodstream versus a pet immediately swallowing a treat or ingesting the oil added to pet food.
The product label is clean and lists only 2 ingredients: organic roasted almonds and full-spectrum CBD hemp oil. No sugar, no flavors, no preservatives, only the best for your furry friend!
Click here to purchase CBD Almond Butter, the best CBD treats for your dog.
There are also a variety of concentrations of CBD oil made specifically for dogs that you can purchase and use in your favorite dog treat recipe or directly on your dog's food if that's easier for you.
Click here to purchase CBD oil for your dog.
#5 - CBD Dosage for Dogs
Just like humans, there is no one best CBD dosage for dogs. Like people, dogs have their own individual endocannabinoid systems that have unique reactions to CBD.
The best way to get started is to start with a low dose and increase slowly overtime as needed. CBD can also be dosed based on your dog's weight.
Below you will find the CBD dosage for dogs for both the VivaPets Almond Butter and the VivaPets CBD Oil.
VivaPets 250mg Almond Butter Dosage
Your furry friend will love this delicious CBD oil dog treat. Apply the almond butter directly into pet's mouth 1 to 2 times daily, or as directed by your veterinarian.
CBD Dosage for Dogs Based on Weight & Suggested Serving Size
1-10lbs – ⅛ teaspoon
10-25lbs – ¼ teaspoon
26-50lbs – ½ teaspoon
51-75lbs – 1 teaspoon
76-100lbs – 1 ¼ teaspoons
The VivaPets 250mg Almond Butter provides 8.3mg of CBD per teaspoon.
VivaPets Almond Butter is also available in a 500mg concentration, providing twice as much CBD per serving. Click here to purchase VivaPets 500mg Almond Butter here.
VivaPets 500mg CBD Oil Dosage
Apply directly into your pet's mouth or mix into pet food 1 to 2 times daily, as directed by your veterinarian. With your purchase, they will provide a plastic dropper to ensure safe application into the pet's mouth.
CBD Dosage for Dogs Based on Weight & Suggested Serving Size
26-50lbs – 0.25ml (¼ full dropper)
51-75lbs – 0.5ml (½ full dropper)
76-100lbs – 0.75ml (¾ full dropper)
101-150lbs – 1ml (1 full dropper)
>150lbs – 1.25ml (1 ¼ full droppers)
The VivaPets 500mg CBD Oil provides 16.6mg of CBD per 1 mL.
CBD Dog Treat Recipe For Dogs
We hope that this article helps you make an educated decision about how to use CBD with your dog and what dosage to start with.
Of course, always consult with your veterinarian before starting a new product with your pet.
If you're feeling like CBD could be right for you and your fur-baby, we want to share with you our favorite all-natural Almond Butter CBD Dog Treat recipe.
Made with simple ingredients that promote good health, like coconut oil, almond butter, and cinnamon, you can control how much CBD you would like to use in your recipe for accurate dosing.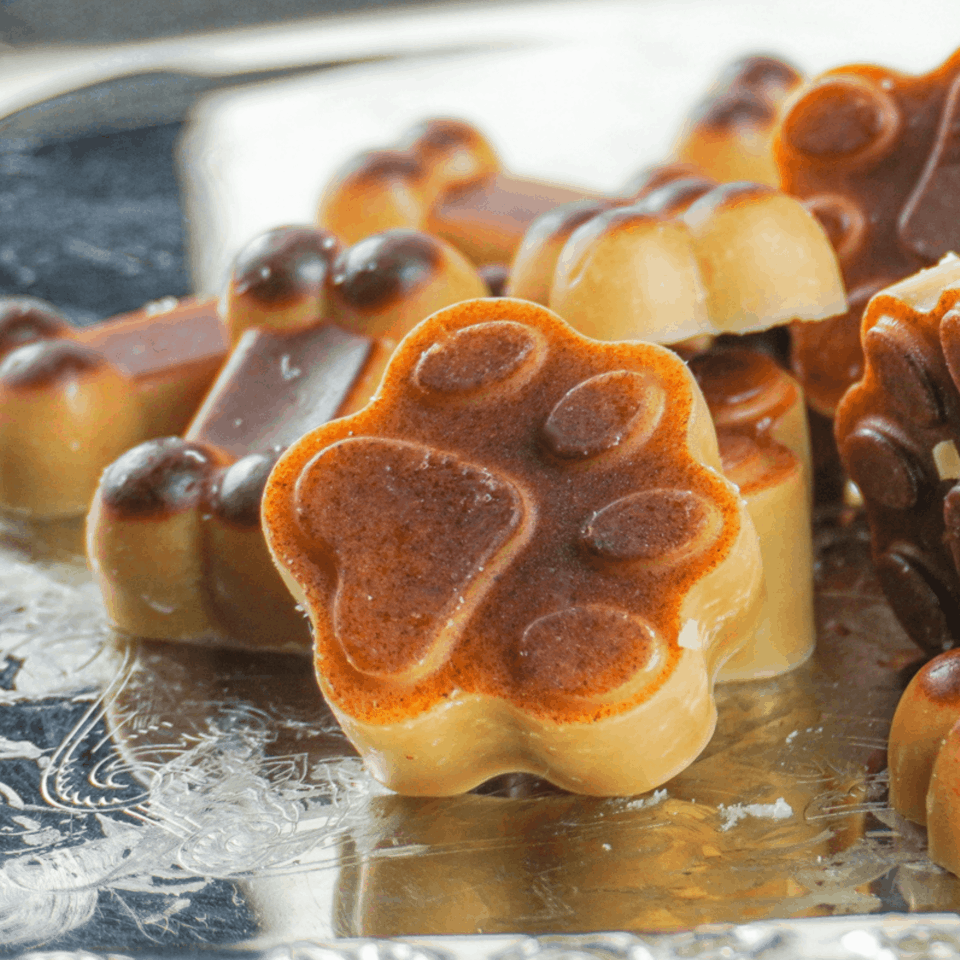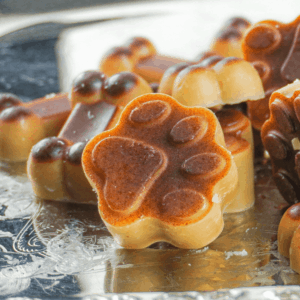 Almond-Butter CBD Dog Treats
These vegan, gluten-free, and grain-free CBD dog treats are made with just four simple ingredients, coconut oil, almond butter, CBD oil, and cinnamon, for a delicious, anti-inflammatory, anti-anxiety CBD dog treat for your furry friend.
Instructions
Place the

coconut oil

in a medium saucepan and set over medium heat. Stir until it is fully liquid.

Continue to stir until mixture is completely combined.

Remove from heat and pour into

silicone dog treat molds

or ice cube and refrigerate or freeze until they are set, approximately (2-4 hours).

You may want to put the trays on top of a baking sheet first to make it easier to transfer to freezer!

Pop-out the moldings and give your doggy a taste! Store them in an air sealed container in the refrigerator for up to 14 days.

Nutrition
Serving:
1
g
Calories:
105
kcal
Carbohydrates:
2
g
Protein:
2
g
Fat:
11
g
Saturated Fat:
5
g
Polyunsaturated Fat:
5
g
Sodium:
1
mg
Fiber:
1
g
Did you make this recipe or have a question?
Join hundreds of members inside private Well With Cannabis Community for help, support, and to share your edible creations!