Summer is not complete without a traditional cannabis lemonade recipe to enjoy pool or lakeside. Made with fresh-squeezed lemon juice and cannabis sugar, this drink is the perfect refreshing summer beverage. And it's ready in under 15 minutes!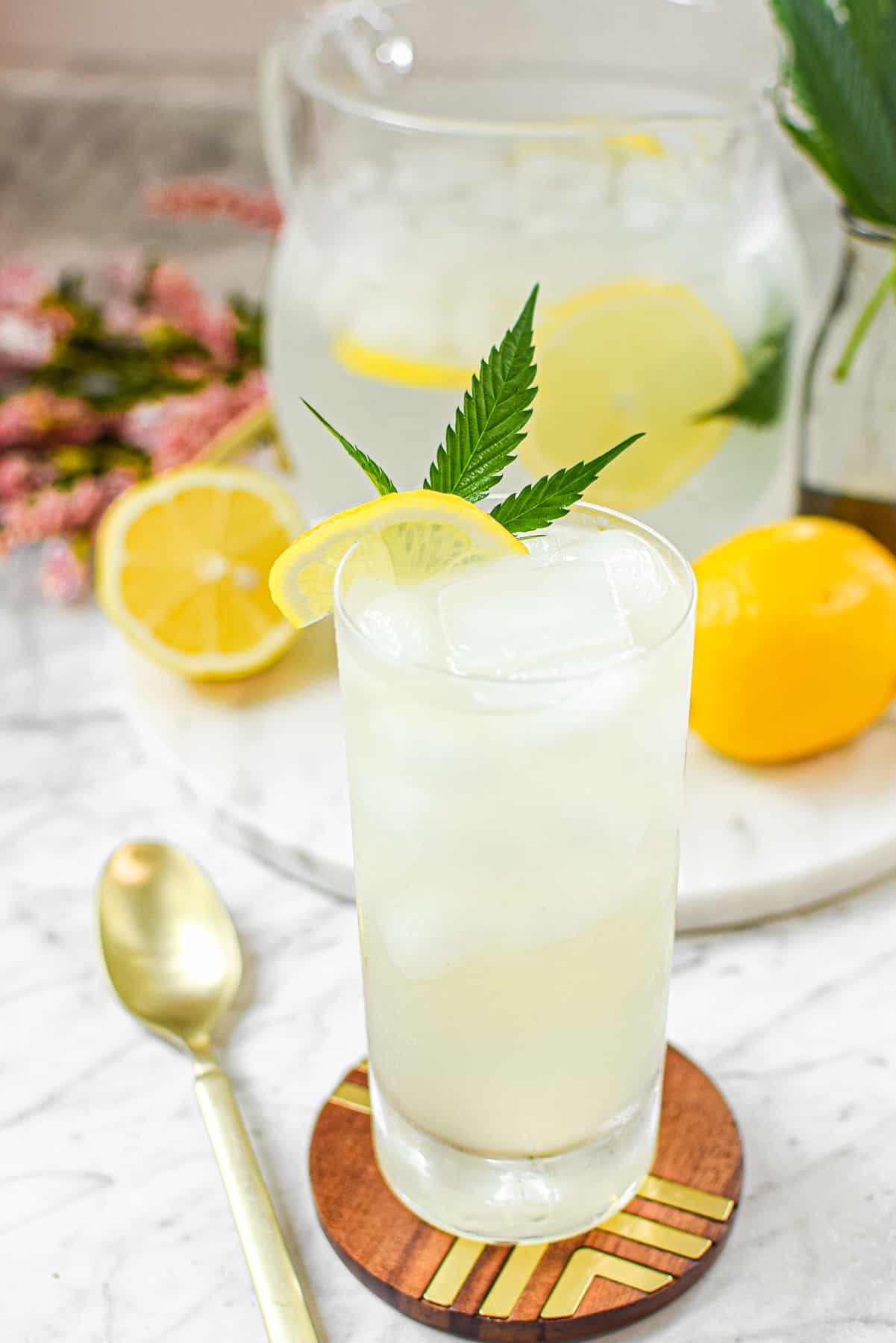 Features
A single serving recipe that can be scaled up as needed.
Made with just 3 simple ingredients.
Cannabis infusion options include: cannabis sugar or cannabis tincture.
Refreshing and ready in under 15 minutes.
The perfect light and fresh summer beverage that you can enjoy any time of year.
Easily spiked with vodka - if desired.
Dietary Features: naturally vegan, gluten and dairy-free.
Why You Will Love This Recipe
Imagine this, it's a hot summer day with a light breeze and you're on your porch sipping on an ice-cold cannabis-infused lemonade.
It's sweet, it's tangy, and it's full of all the amazing benefits of cannabis. Can it get much better?
It's the fresh, light, sweet, and tart lemonade we all know and love with cannabis-infused sugar goodness. It's just so good!
That's why my Well With Cannabis Community has been asking for more cannabis-infused beverages in our open and fun conversations together.
In this post, you'll find my simple cannabis lemonade recipe, expert tips and tricks, as well as fully answered FAQs for how to make the best infused lemonade ever. So, are you ready to dive in?!
---
Buy Cannabutter Online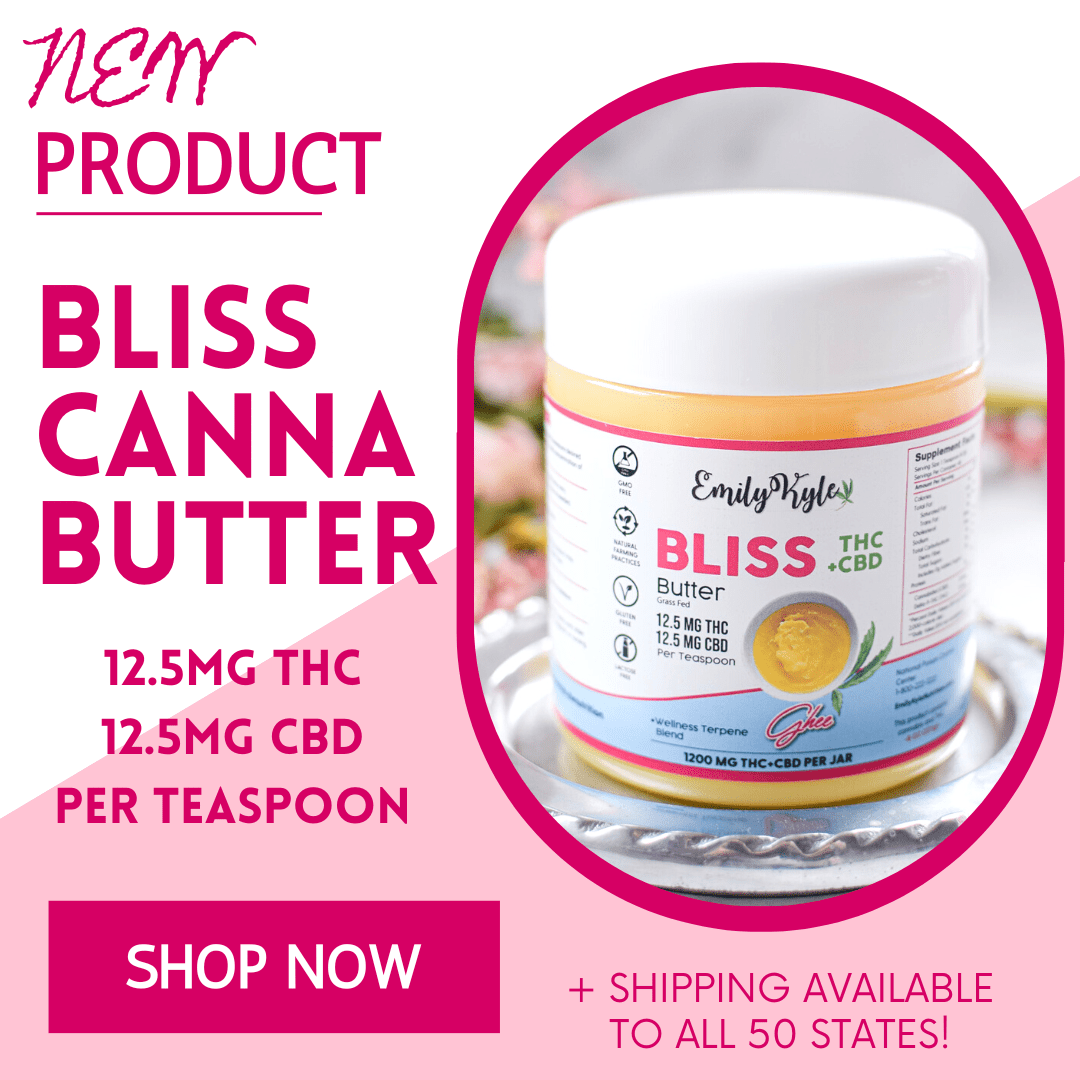 Skip the hard work and have perfectly dosed, delicious, pure Bliss Cannabutter delivered directly to your door! Shop Now →
---
Ingredient Notes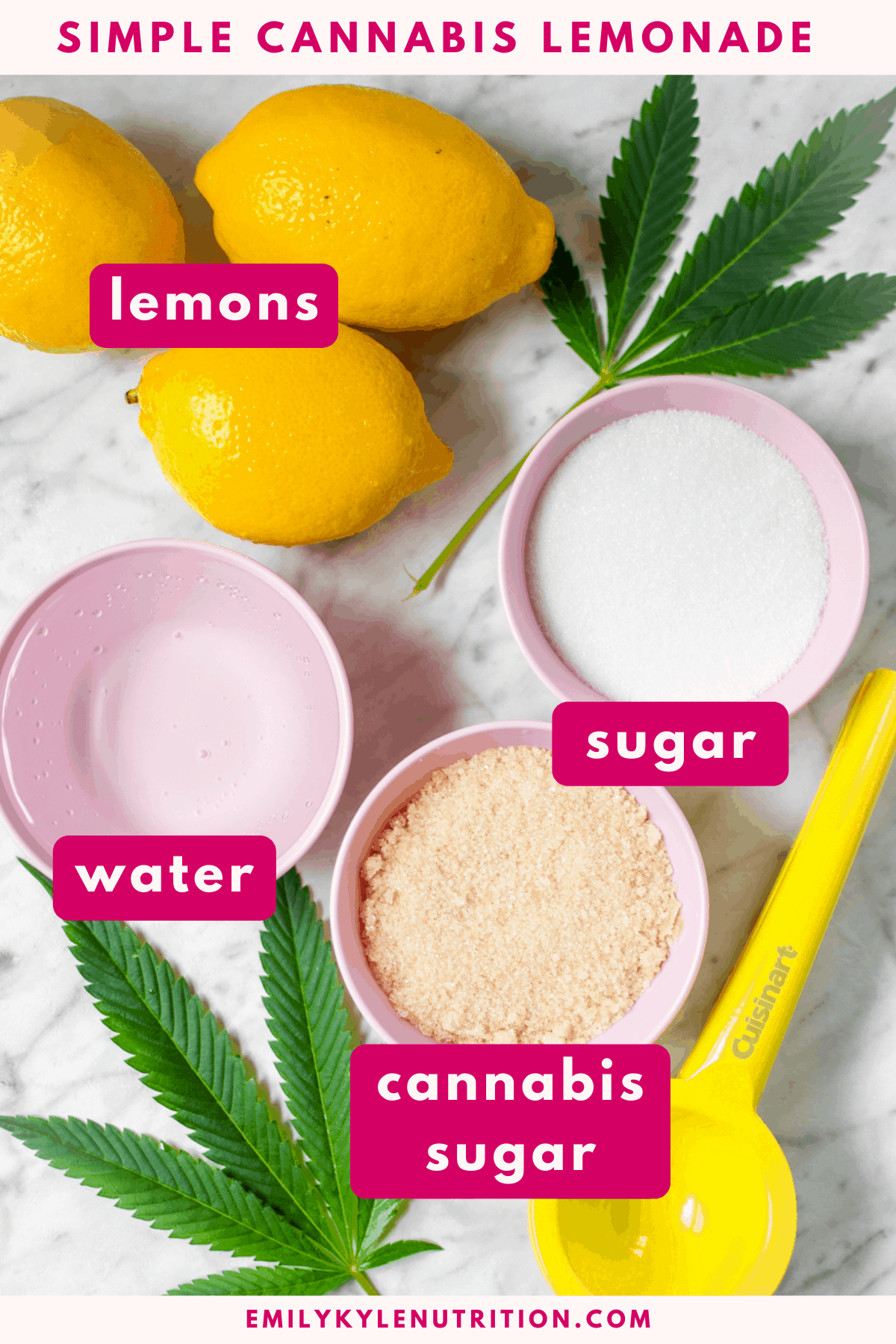 Fresh-squeezed lemon juice: Fresh lemons are essential to get that fresh-squeezed lemony taste. Plus, they're packed with immune-boosting Vitamin C as well as folate and potassium. But, of course, bottled lemon juice will work, too, in a pinch.
Cannabis sugar: Homemade cannabis sugar works best to infuse this recipe with, but a cannabis tincture will also work. You can use either the Green Dragon or the Golden Dragon. Find more information about adding tinctures under the Alternative Infusion Options heading below.
White granulated sugar: This sugar dissolves quickly in water, leaving this lemonade with a smooth and sweet flavor.
Note: a complete list of ingredients with amounts and printable instructions is located in the recipe card below.
The Step-by-Step Process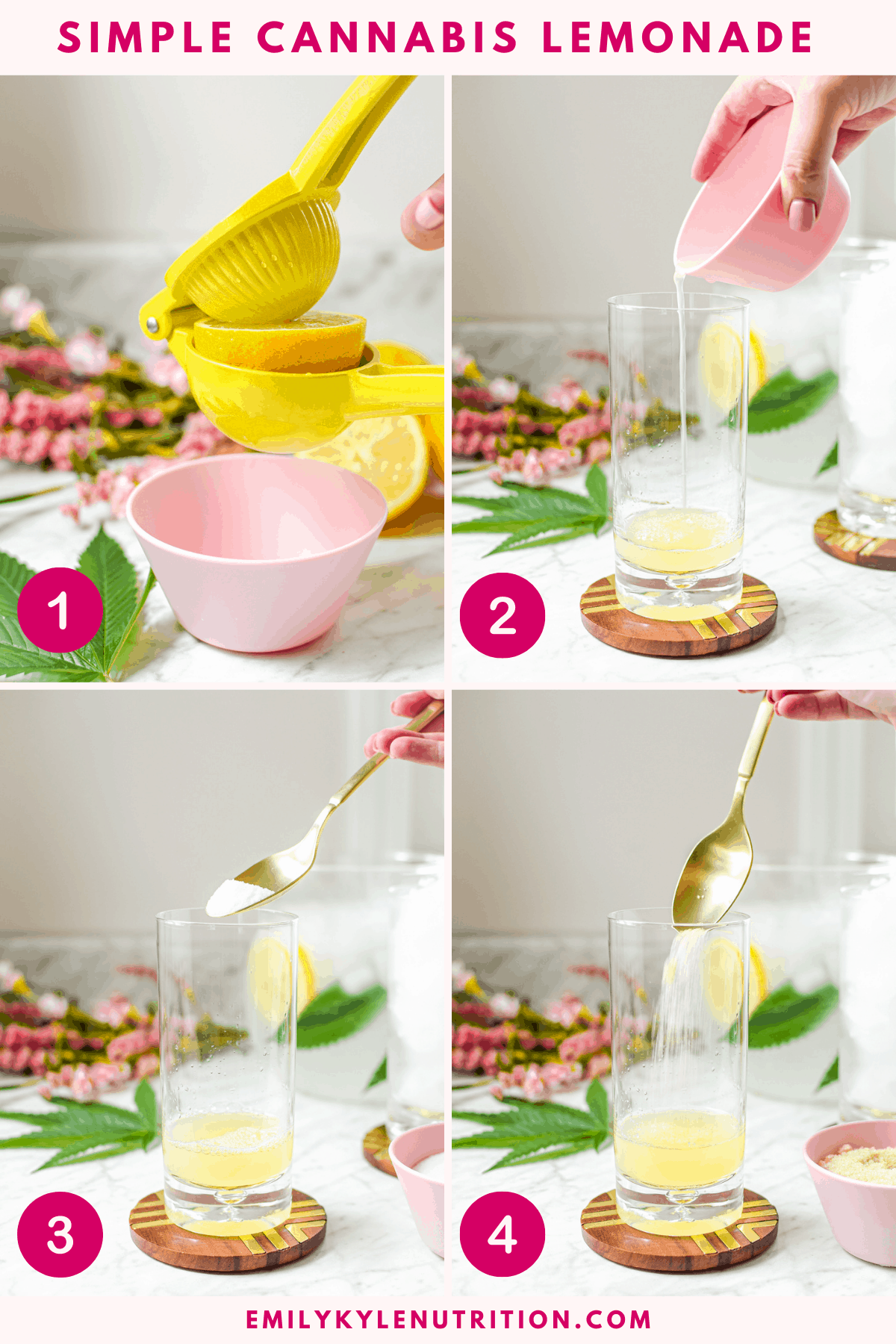 Step 1 - Squeeze fresh lemons to make the lemon juice.
Step 2 - Add the lemon juice to your favorite large glass.
Step 3 - Add the white sugar.
Step 4 - Add the cannabis sugar.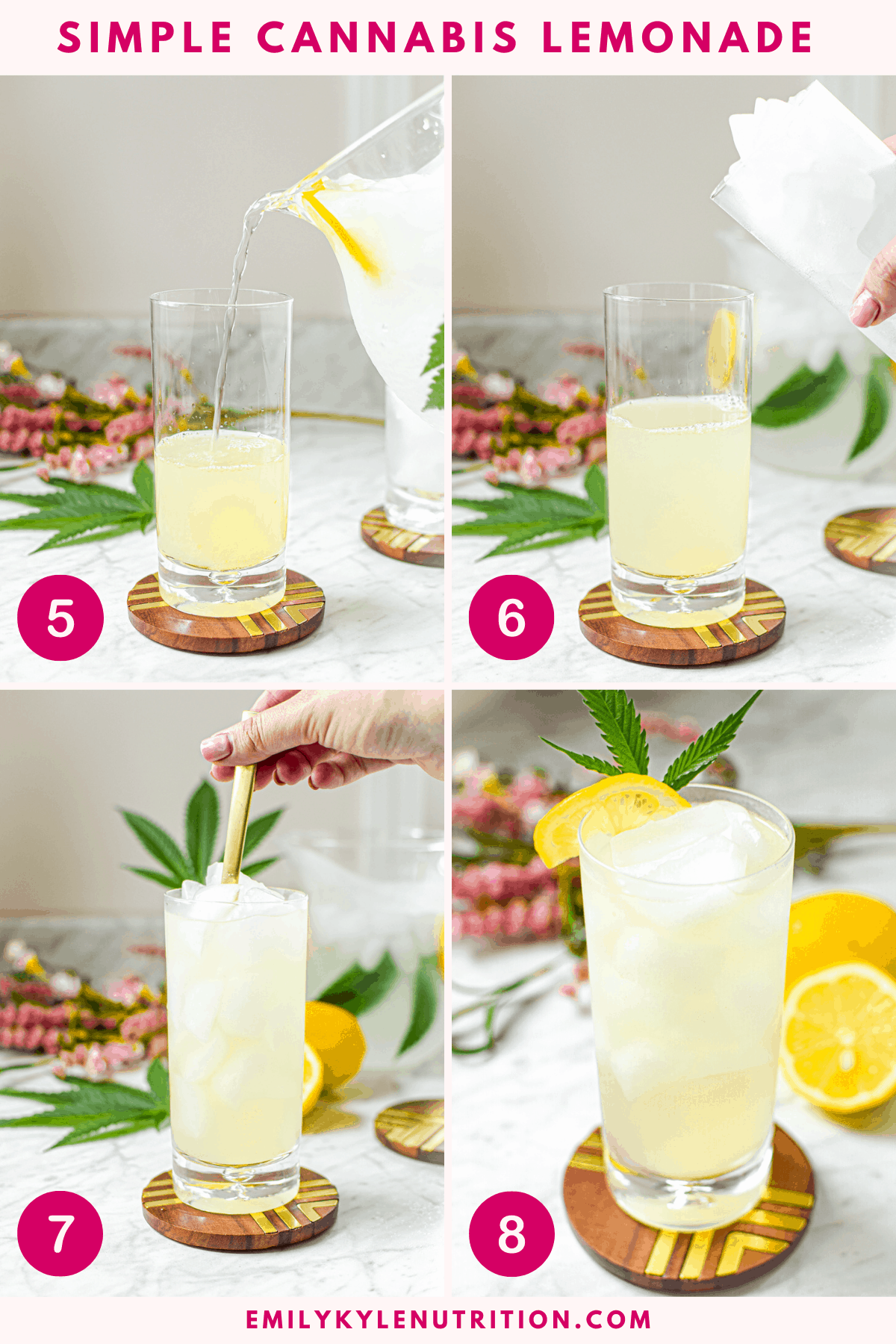 Step 5 - Add filtered water and stir well.
Step 6 - Fill the rest of the glass with ice.
Step 7 - Stir again.
Step 8 - Garnish with a lemon wedge and fresh cannabis leaves, if desired. Enjoy!
Note: complete step-by-step printable instructions are located in the recipe card below.
Storage Instructions
You can store this recipe in the fridge for up to one week. Additionally, you could freeze excess lemon juice for easy access the next time you make this drink!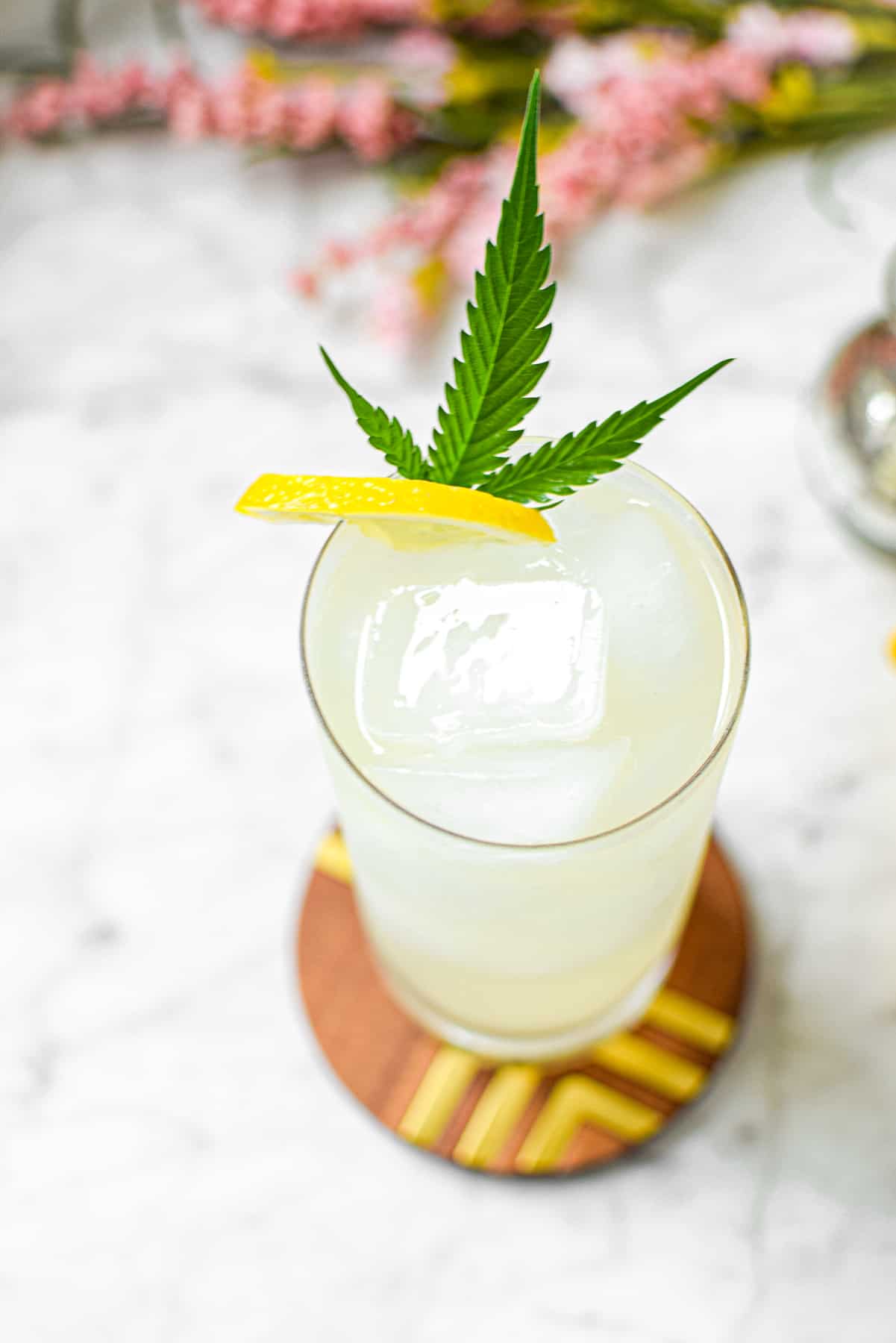 Alternate Cannabis Infusion Options
As with all things edibles, there is more than one way to infuse something.
For this drink, my number one recommendation remains cannabis sugar, but you can definitely add cannabis tincture as well.
You want to ensure your cannabis tincture is alcohol-based. If it's oil-based, it won't mix in well.
It doesn't matter if you use a Green Dragon or Golden Dragon tincture, both will work well here.
You will just have to be mindful of the amount you are adding, as you will be likely adding some remnant high-proof alcohol as well.
While I have not tried this myself, you could also try using a water-soluble cannabis oil powder in this recipe.
How to Determine The Dosing
Want to get a more accurate guesstimate of the potency of your cannabis infusions and extractions? Try our popular edibles calculator!
Not sure what your perfect dose is? Learn more here.

Notes and Expert Tips
Make sure the granulated sugar and water mix thoroughly to avoid a gritty texture.
While cannabis sugar made with either Green Dragon or Golden Dragon will work, sugar made with a Golden Dragon tincture turns out better tastewise.
Fresh-squeezed lemons are best for this recipe as they will provide a fresh, tangy, and naturally zesty flavor.
Since this recipe is so simple, it can easily be altered to change the flavor profile. For example, adding lavender for a cannabis-infused lavender lemonade. So feel free to be creative!
Add 1mL, or your desired amount, of cannabis tincture or an ounce of vodka for a spiked cannabis lemonade.
To make a more potent lemonade, use 2 teaspoons of cannabis sugar and omit the white sugar, but be mindful of your personal tolerance!
Frequently Asked Questions
Cannabis Lemonade can be brand new to even the most seasoned cannabis consumer, so here are some of the most common FAQs I get asked about Cannabis Lemonade from my Well With Cannabis Community.
Can I use cannabis oil instead?
You *can*, but it won't result in the best final product. You will notice oil floating on the top!
Can I use brown sugar instead of white granulated sugar?
I would recommend that you stick with white granulated sugar because it dissolves best in this recipe.
Is store-bought lemon juice okay to use?
You can use store-bought lemon juice, however I would highly suggest using fresh-squeezed lemons to achieve the fresh and tangy taste this lemonade recipe provides.
Why are there black specks in my glass?
I have noticed this happening when cannabis sugar is made with Green Dragon instead of Golden Dragon tinctures. It is likely the chlorophyll from the FECO being left behind. While this isn't harmful, it is leaving your medicine on the glass. Try using a Golden Dragon tincture to make your sugar in the future.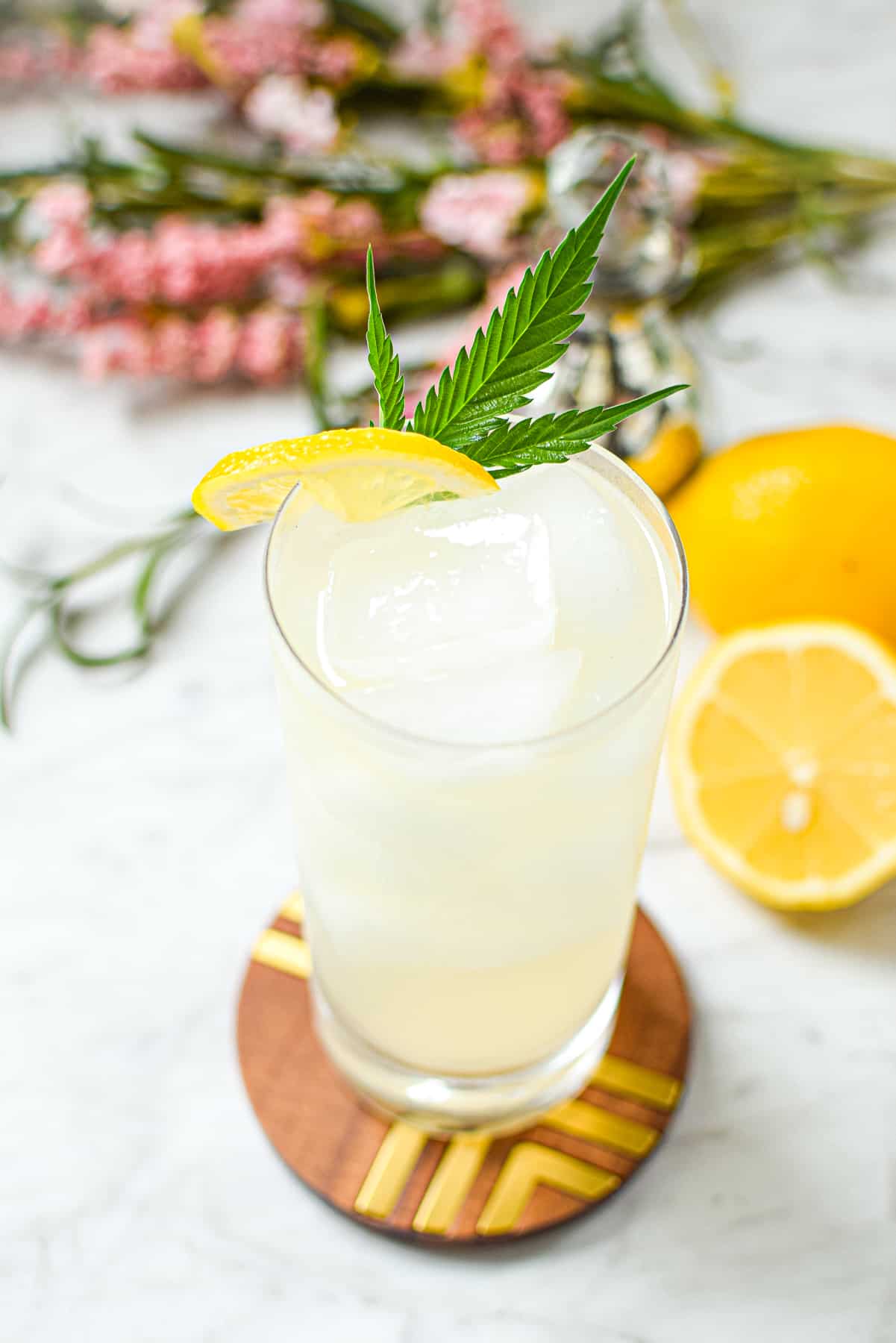 More Drink Recipes You Will Love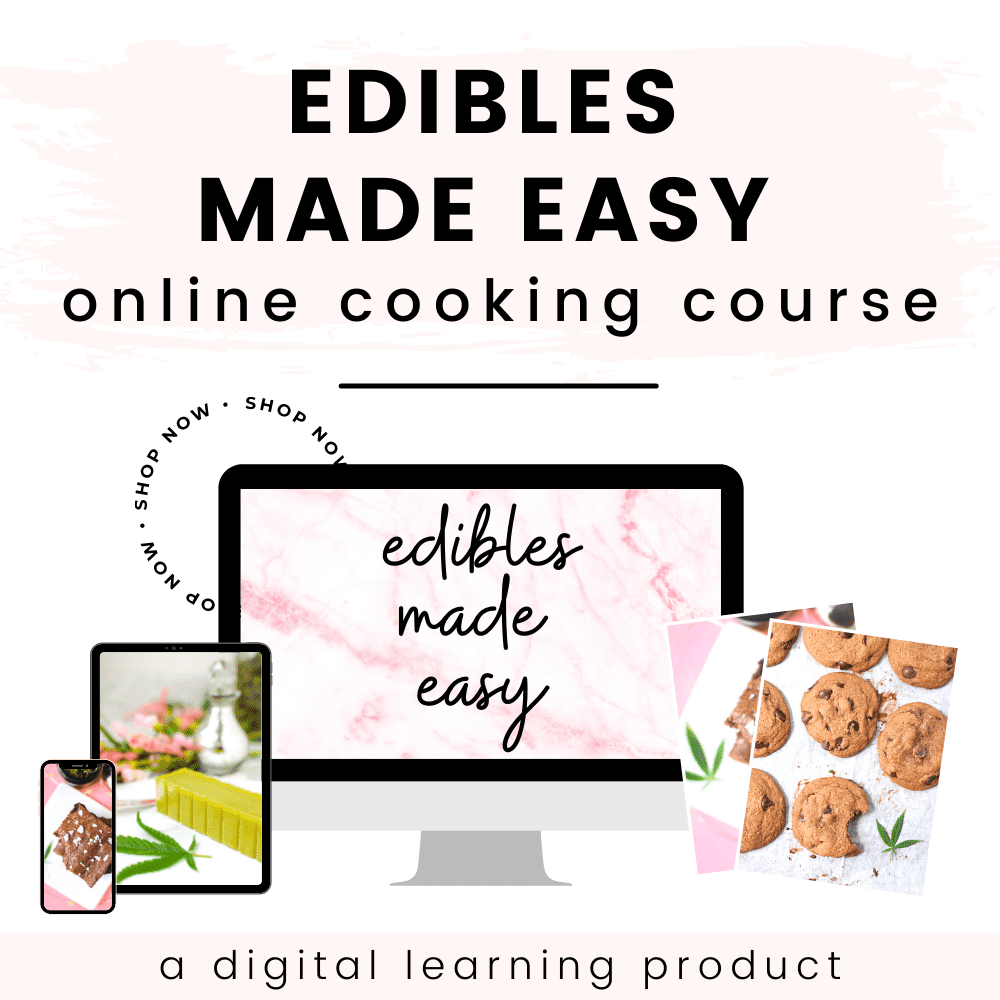 My Edibles Made Easy Online Cooking Course will teach you how to easily make cannabis edibles and topical recipes at home. This step-by-step video course will teach you how to infuse, extract, and create edibles with many different product types - all from the comfort of your own home.

Learn more and enroll today →
📖 Recipe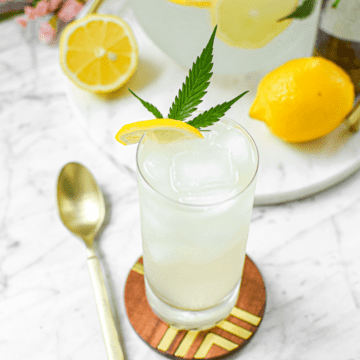 Simple Cannabis Lemonade
Summer is just not complete without a traditional cannabis lemonade recipe to enjoy. Made with fresh-squeezed lemon juice and cannabis sugar, this drink is an open canvas for you to add any additional ingredients you desire.
Ingredients
¼

cup

lemon juice

(approximately 1 lemon)

¾

cup

filtered water 

1

teaspoon

white or cannabis sugar

1

teaspoon

white granulated sugar

1

whole

lemon

sliced for garnish
Instructions
Squeeze fresh lemon juice, if needed.

In a pint glass, add the water, lemon juice, cannabis sugar, and white sugar.

Gently stir well before adding ice.

Garnish with lemon slices, if desired.
Notes
For a more potent lemonade, use 2 teaspoons of cannabis sugar and omit the white, granulated sugar.
For a spiked lemonade, add 1mL, or your desired amount, of cannabis tincture. 
Nutrition
Serving:
1
glass
|
Calories:
45
kcal
|
Carbohydrates:
12
g
|
Protein:
1
g
|
Fat:
1
g
|
Saturated Fat:
1
g
|
Polyunsaturated Fat:
1
g
|
Sodium:
9
mg
|
Potassium:
60
mg
|
Fiber:
1
g
|
Sugar:
9
g
|
Vitamin A:
4
IU
|
Vitamin C:
22
mg
|
Calcium:
9
mg
|
Iron:
1
mg
Did you make this recipe or have a question?
Join hundreds of members inside private Well With Cannabis Community for help, support, and to share your edible creations!