This post may contain affiliate links, to find out more information, please read my disclosure statement.
Celebrate St. Patrick's Day with a homemade, creamy, minty Healthy Shamrock Shake!! Made with wholesome ingredients, this shake is just as easy to whip up at home as it is to make a run through the drive through – with an added nutritional boost!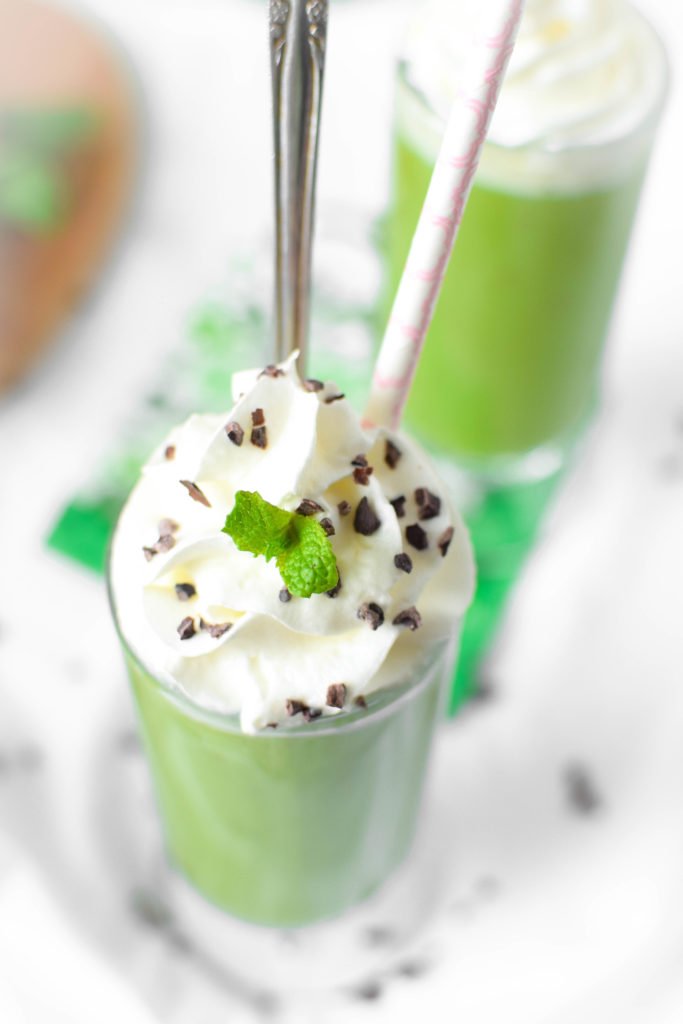 As Featured on Good Day Rochester
Healthy Shamrock Shake
Lets be real here. This is a green smoothie dressed up as a Shamrock Shake.
But the truth is, I just can't handle a real Shamrock Shake. The one time I ever had one, I felt sick the entire day with a stomachache and a headache. Perhaps it was all that sugar, perhaps all of those mystery ingredients? Regardless, I felt like crap.
Needless to say, drinking this version leaves me feeling so much better, mentally and physically. Just proof that a whole-foods, plant-based approach is always best for our health and happiness.
The Traditional Shamrock Shake
You know that when McDonald's rolls out their ever popular Shamrock Shake, St. Patrick's season has officially arrived.
Sure it is easy and festive to roll through the drive through and pick up that delicious minty green shake, but did you know each shake contains over 50 ingredients? That's right – 50 ingredients including high fructose corn syrup, corn syrup solids, and artificial dye – eh, you can catch the full list here.
Not only is the list of over 50 ingredients questionable, but a large shake will set you back 820 calories and 115 grams of sugar. Holy moly, that is 29 teaspoons of sugar! More than 2 days worth of your daily recommended sugar intake!
Luckily, it is super easy to create your very own Healthy Shamrock Shake at home in as little as five minutes using only a handful of ingredients, many of which you may already have on hand or can easily pick up from the store.
Whats more is that each of these ingredients are wholesome and provides your body with important nutrients such as vitamins and minerals that are needed to help keep your body functioning properly, and more importantly, you feeling happy & healthy.
My Version
My version of the Shamrock Shake is sweet, and minty, and creamy and delicious.
It is also packed with antioxidants, heart healthy fats, dietary fiber, and important vitamins and minerals.
If you haven't frozen bananas yet, you're missing out. When frozen and then blended, they make a wonderfully delicious, smooth and creamy texture that is mild in flavor, to allow the other ingredients shine. Combined with half an avocado, this smoothie is unbelievably creamy and satisfying.
Click Here to Download Your Happy & Healthy Meal Plan – FREE!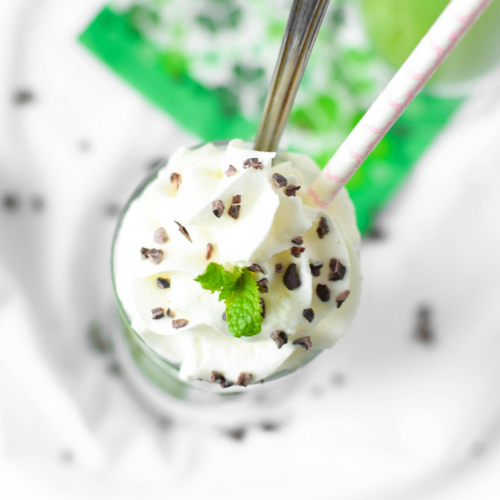 Healthy Shamrock Shake
Celebrate St. Patrick's Day with a homemade, creamy, minty Healthy Shamrock Shake, made with wholesome ingredients!!
Ingredients
2

bananas

frozen

1

cup

of fresh baby spinach

1/2

avocado

1/2

cup

fresh mint

1

cup

of unsweetened coconut milk

1

teaspoon

pure vanilla extract

1/2

teaspoon

pure mint extract

Optional:

Whipped cream
Instructions
If you don't already have frozen bananas, slice up two ripe bananas and throw them in the freezer for an hour or two.

Add the bananas, mint and spinach to the blender.

Add the coconut milk, but reserve some of the coconut cream from the top for the topping (if you don't want to use whipped cream).

Add the vanilla and mint extract.

Blend until smooth.

Top with whipped cream or coconut cream as desired.

Garnish with raw cacao and a strawberry.

I hope that you enjoy a safe and healthy St. Patrick's Day with friends and family!

The following two tabs change content below.
Hi there, I'm Emily Kyle, a nationally recognized media dietitian & nutrition communications expert on a mission to help you create the happy & healthy holistic lifestyle you deserve. To help you on your wellness journey, I offer holistic health counseling and resources that focus on holistic health & wellness, anti-inflammatory, whole food recipes, and my love for gardening inside #TheMillennialGarden.
Latest posts by Emily Kyle (see all)