Easily made in a blender, this strawberry lemonade cannabis cocktail is light and delicious enough to sip on all day. This recipe includes options to infuse this cocktail or mocktail with either a cannabis tincture, raw cannabis juice, or cannabis-infused sugar.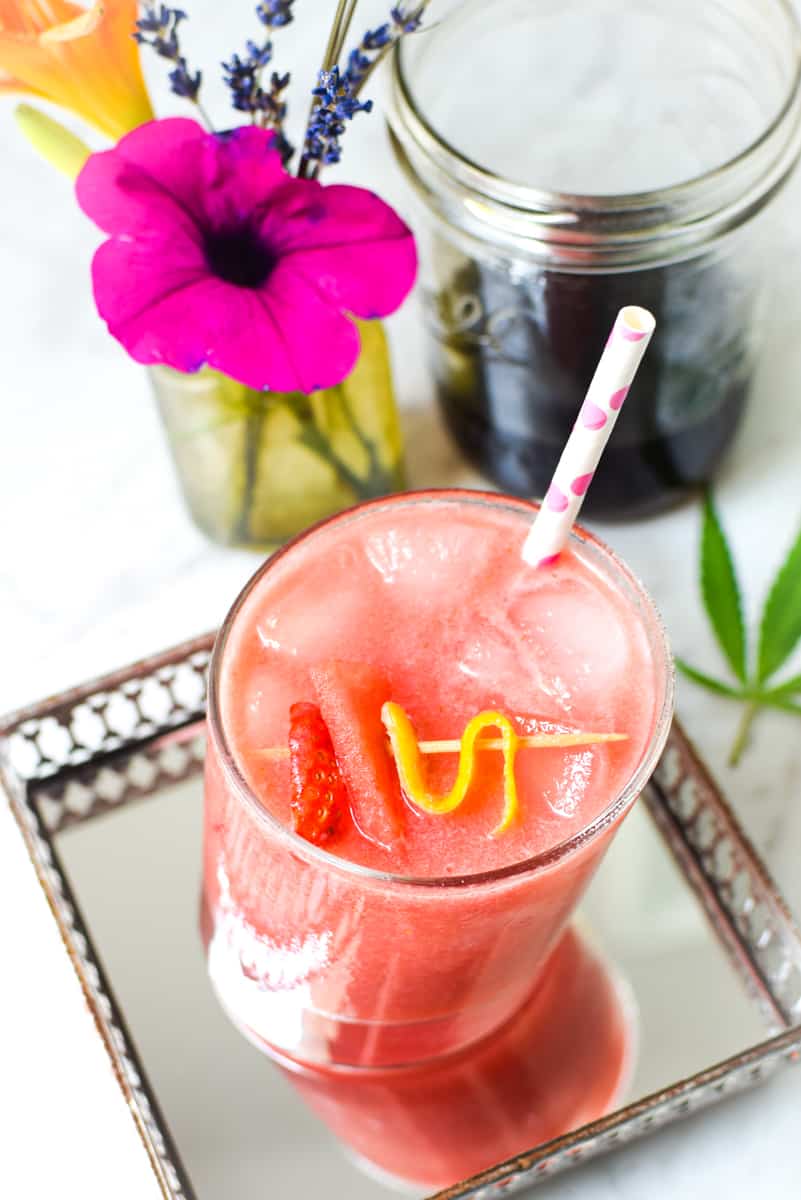 Featured
A simple recipe for frozen strawberry lemonade
Multiple cannabis infusion options to choose from
Many ways to customize this drink and make it your own
Why You Will Love This Recipe
Imagine sitting outside on a hot summer day, sipping on a freshly infused and refreshing cannabis drink.
As many people choose alcohol as their summertime drink, I'm coming through with something new, a cannabis-infused summer cocktail or mocktail.
By popular request from members of my Well With Cannabis Community, this healthy drink recipe is very popular.
This drink will not only give you the amazing effects of cannabis but includes options for an alcohol-cannabis cocktail or an alcohol-free mocktail version for those who don't consume alcohol.
---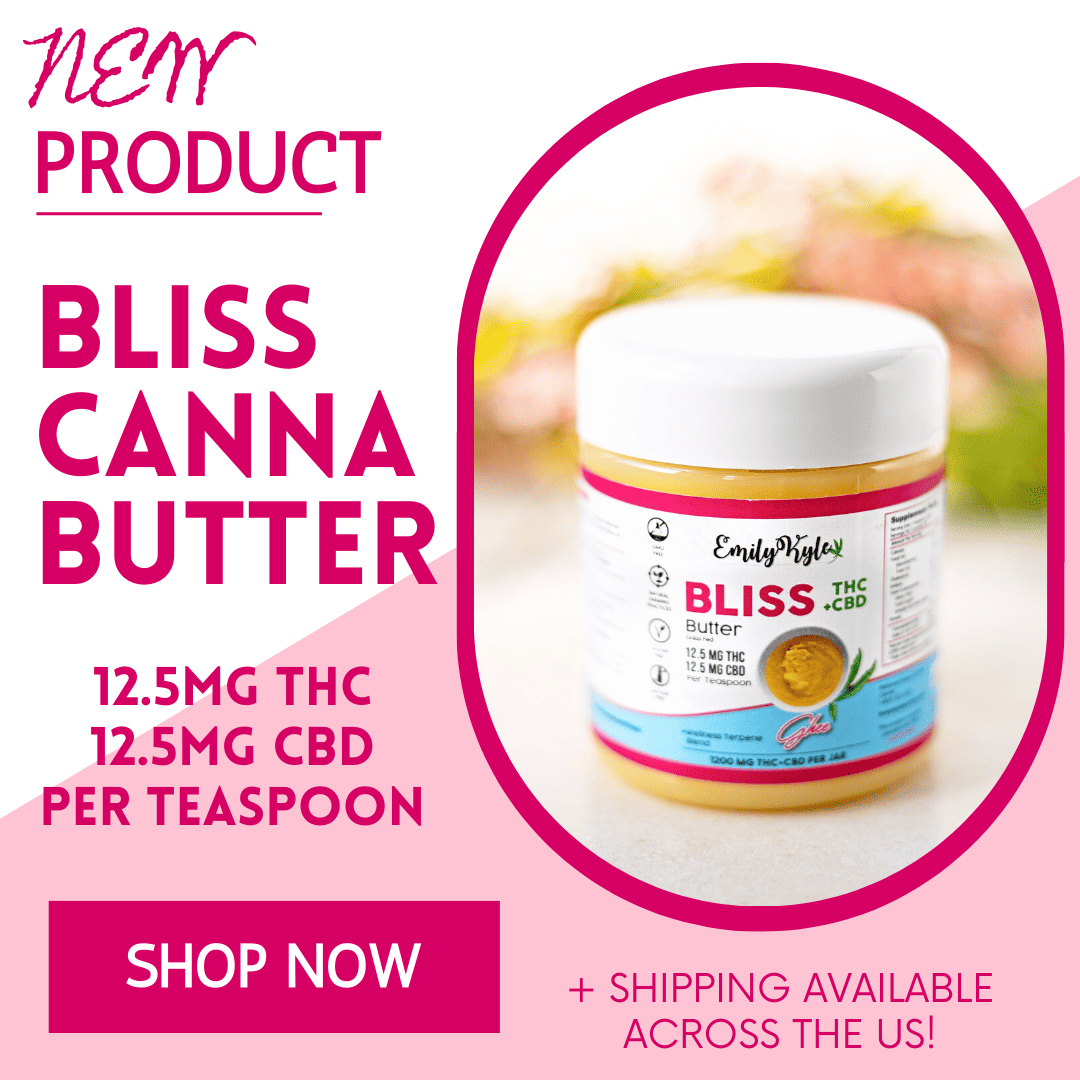 Skip the hard work and have perfectly dosed, delicious, pure Bliss Cannabutter delivered directly to your door! Shop Now →
---
Cannabis Drink Benefits
If you are like me, you appreciate the beautiful abundance of cannabis that grows from the ground and provides our bodies with the preventative medicine our endocannabinoid systems need.  
My inspiration for this delicious cannabis drink is the beautiful cannabis plant growing in my backyard.
Cannabis pairs perfectly with fruits that give our bodies essential vitamins and minerals was another inspiration, all mixed with a hot summer day. 
This drink is the most refreshing and relaxing cannabis drink there is.
So much so that I am willing to bet that this drink will become your new favorite this summer.
Blending vs. Juicing
This juice is made in a blender instead of a juicer, so the lemonade retains all the important dietary fiber from the strawberries and watermelon but is still light enough to sip on all day.
You could add a handful of raw cannabis leaves to this drink if desired rather than making juice and adding to it.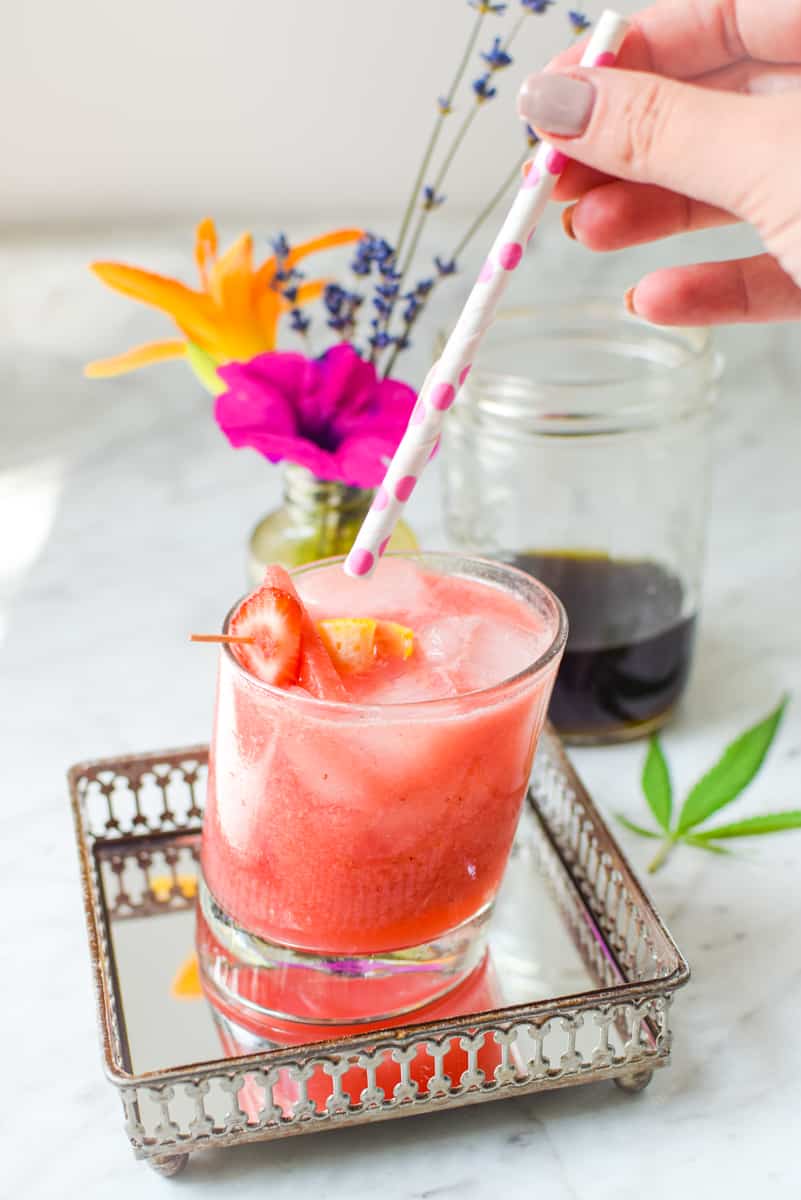 Raw cannabis juice contains many important dietary nutrients and cannabinoid acids, like CBDA and THCA.
CBDA and THCA are non-intoxicating, meaning they do not produce a 'high' feeling.
CBDA and THCA are what exists before decarboxylation occurs. 
Cocktail Version
For the cocktail version of this cannabis drink, we will be adding in our pre-made cannabis tincture.
First off, what is a cannabis tincture?
Tinctures are extracts from soaking herbs' leaves, bark, or roots in a solvent like alcohol.
The alcohol extracts the active ingredients, including cannabinoids like CBD and THC, and terpenes from the plant material, dissolving and concentrating them in the alcohol.
The final product is a cannabis-alcohol infusion.
The most common tincture recipes are the Green Dragon and the Golden Dragon.
It is important to remember that this tincture contains very high-proof alcohol that has the potential to burn the mouth or produce alcohol intoxication.
For this reason, we recommend adding only a tiny amount of tincture at a time until you reach your desired taste and dosage.
Adding the cannabis tincture to this summertime drink no doubt takes summer to a new level; just enjoy responsibly!
Health Benefits by Ingredients
This drink contains no added sugars or artificial sweeteners; it is all-natural and guilt-free.
Strawberries
The first ingredient is a cup of strawberries.
Strawberries are an excellent vitamin C and manganese source, containing a good amount of folate and potassium.
Strawberries taste great and contain high amounts of antioxidants and essential plant compounds. 
Watermelon
Watermelon is next on the ingredient list, and here is why….
Watermelon comprises 92% water, making this the most refreshing fruit soaked with nutrients.
Each juicy bite has significant vitamins A, B6, and C, lots of lycopene, antioxidants, and amino acids.
There is even a modest amount of potassium.
Lemon Juice
The recipe uses a ¼ cup of lemon juice not only because of the freshness of the lemon in the drink, but it also adds more vitamin C into the diet, as well as folate and potassium. 
Lemon is also known to aid in smoother digestion and may help clear skin. This lemon juice in the drink gives the drink just the right amount of tartness. 
Honey
A tablespoon of honey is used for not only the sweetness it gives to the drink, but honey also contains micronutrients essential for our daily health.
Additionally, many people prefer to infuse their honey with cannabis, meaning you could make this mocktail or cocktail with cannabis-infused honey.
However, if you are looking for a vegan alternative, cannabis sugar will work just as well!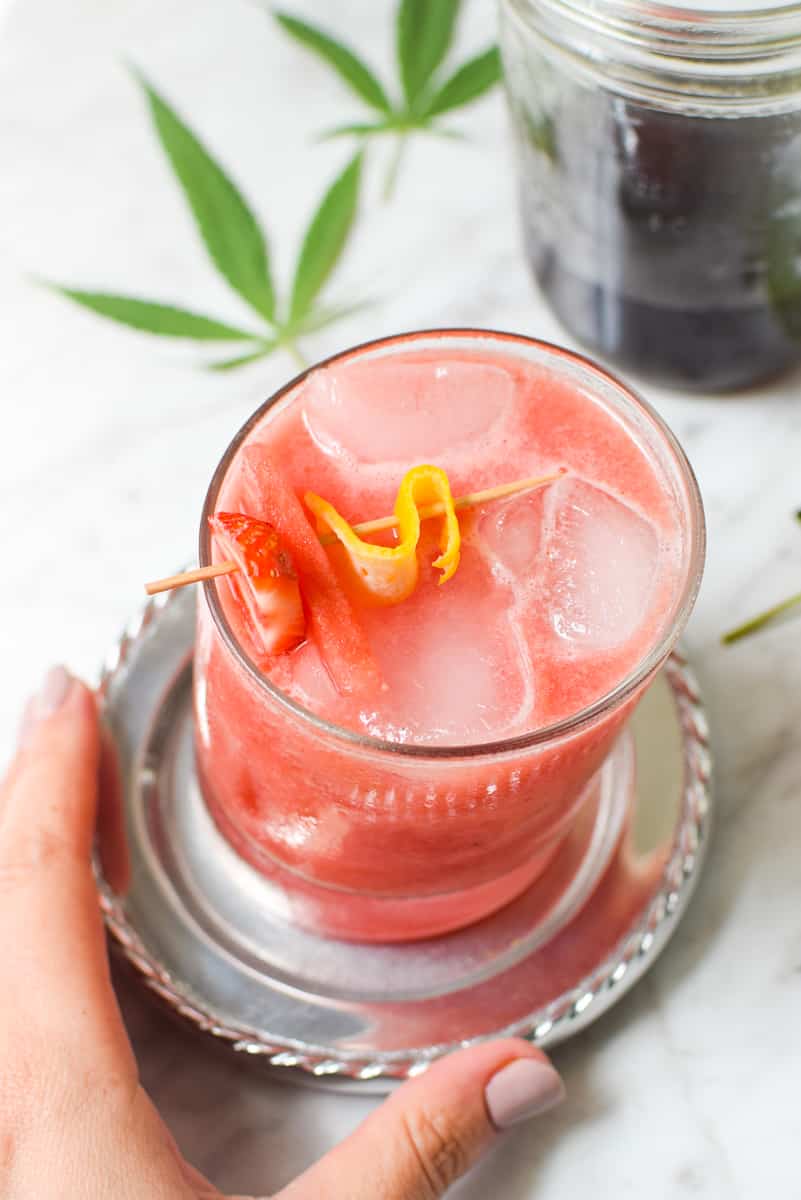 More Cannabis Recipes You Will Love
Determine The Dose
Want to get a more accurate guesstimate of the potency of your cannabis infusions and extractions? Try my popular edibles dosage calculator. Not sure what your perfect dose is? Learn more here.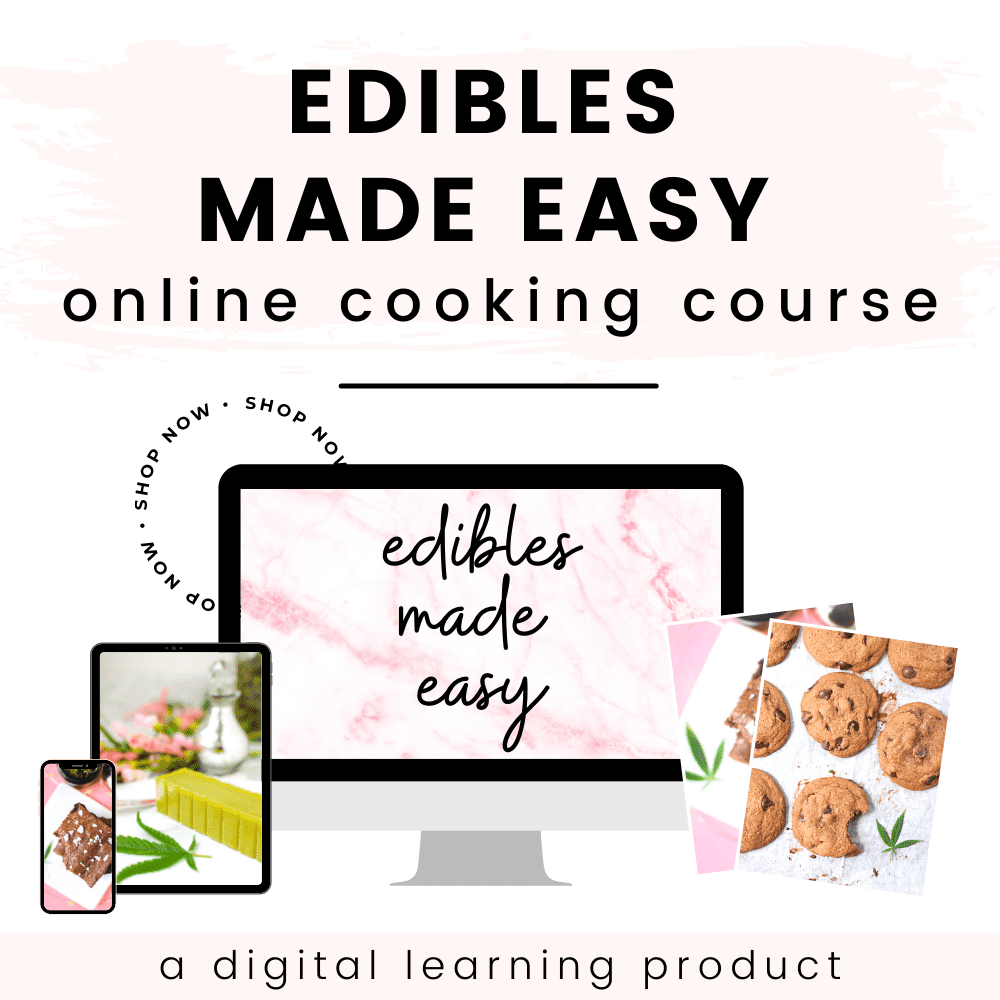 Take your edibles to the next level…
My Edibles Made Easy Online Cooking Course will teach you how to easily make cannabis edibles and topical recipes at home. This step-by-step video course will teach you how to infuse, extract, and create edibles with many different product types – all from the comfort of your own home.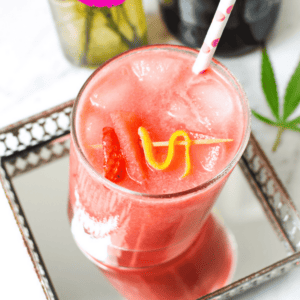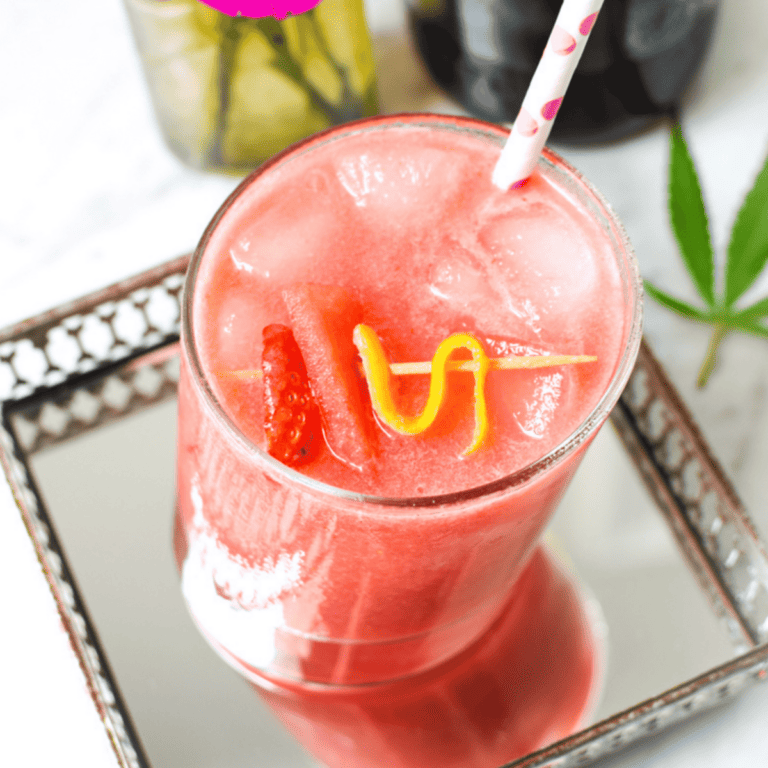 Frozen Cannabis Strawberry Lemonade
We're willing to bet that this drink will become your new favorite treat for summertime. Made in a blender instead of with a juicer, this lemonade retains all of the nutrients from the fruit, but is still light and delicious enough to sip on all day long.
Instructions
Add the strawberries, watermelon, lemon juice, honey, and cannabis tincture to a high-speed blender.

Blend for 2 minutes, or until completely puréed.

Evenly portion into 2 pint-sized glasses and enjoy!

Notes
If you have fresh lemons available, we strongly recommend using freshly squeezed lemon juice.
Nutrition
Serving:
1
g
,
Calories:
115
kcal
,
Carbohydrates:
26
g
,
Protein:
1
g
,
Fat:
1
g
,
Sodium:
3
mg
,
Fiber:
2
g
,
Sugar:
21
g
Did you make this recipe or have a question?
Join hundreds of members inside private Well With Cannabis Community for help, support, and to share your edible creations!