Use up all parts of your homegrown cannabis plant with basil and parsley in this easy-to-make, savory cannabis pesto that can be enjoyed as a dip, on meat, served over vegetables, swirled into pasta, used as a spread on sandwiches, and more. This recipe includes multiple infusion options, including leaves, oil, concentrates, and more.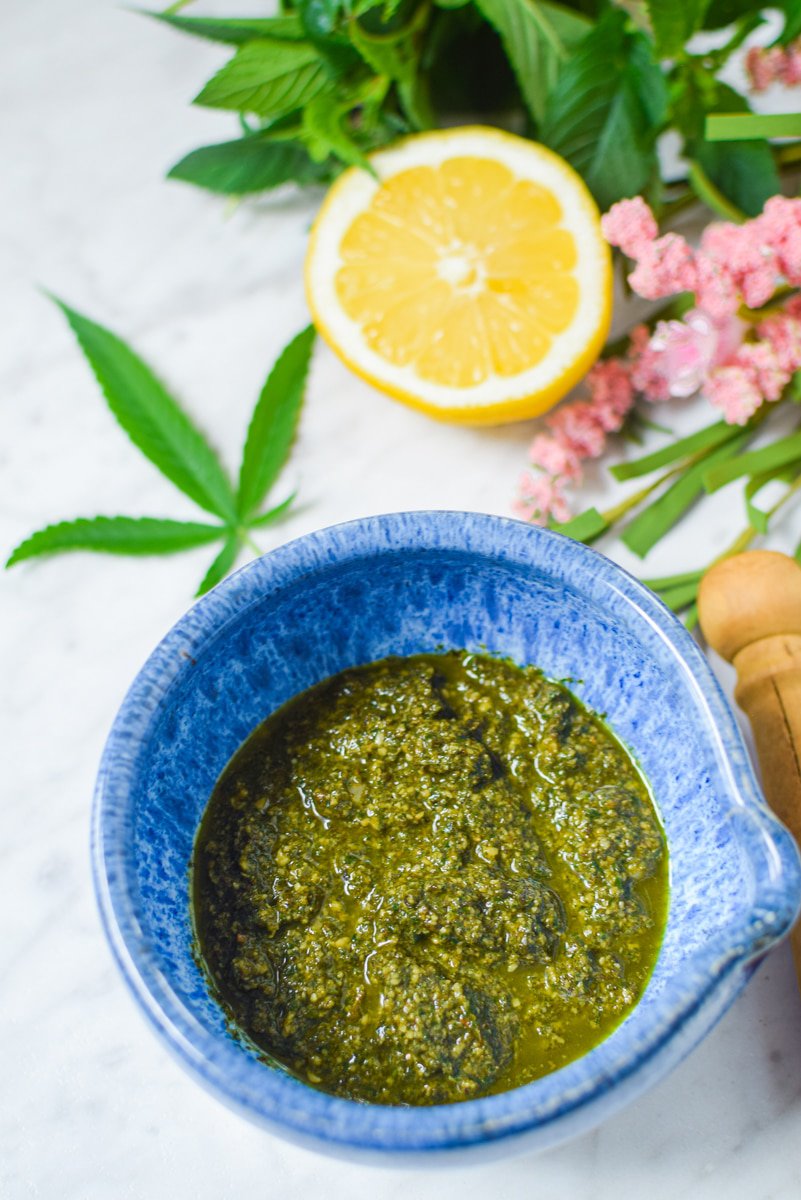 Use Up Your Homegrown Produce
If you've ever grown your own cannabis plant before, you may know the strong feeling of wanting to use all parts of the plant.
Making homemade pesto is a great way to preserve many different homegrown herbs like cannabis, basil, and parsley so that you can enjoy the fresh taste and flavor all year long.
Over the years, my husband and I have worked hard to plant, grow, and harvest our own food and cannabis plants as licensed hemp farmers.
As a registered dietitian, I am always promoting the benefits of plant-based eating, and truly believe that there is no better food than the food you grow yourself in your own back yard.
Thankfully, many members of my Well With Cannabis Community feel the same way and have been requesting more healthy cannabis recipes.
This recipe definitely fits the bill and includes multiple different infusion options, from fresh cannabis leaves to cannabis infused oil, so you can use up all parts of your beloved cannabis plant.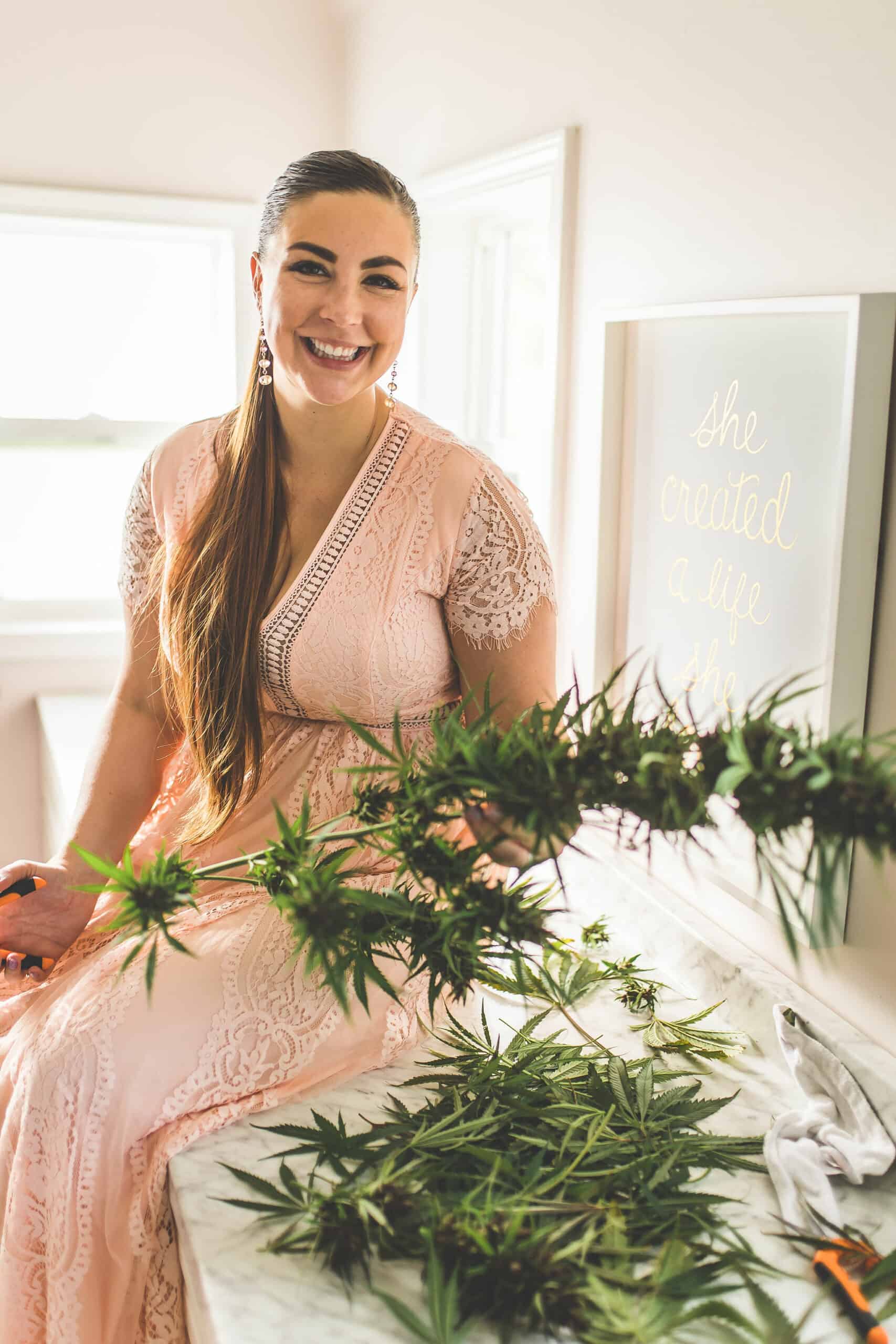 Looking For More Support?
Join thousands of members inside my private Well With Cannabis Community to ask questions, find support, and share your edible creations!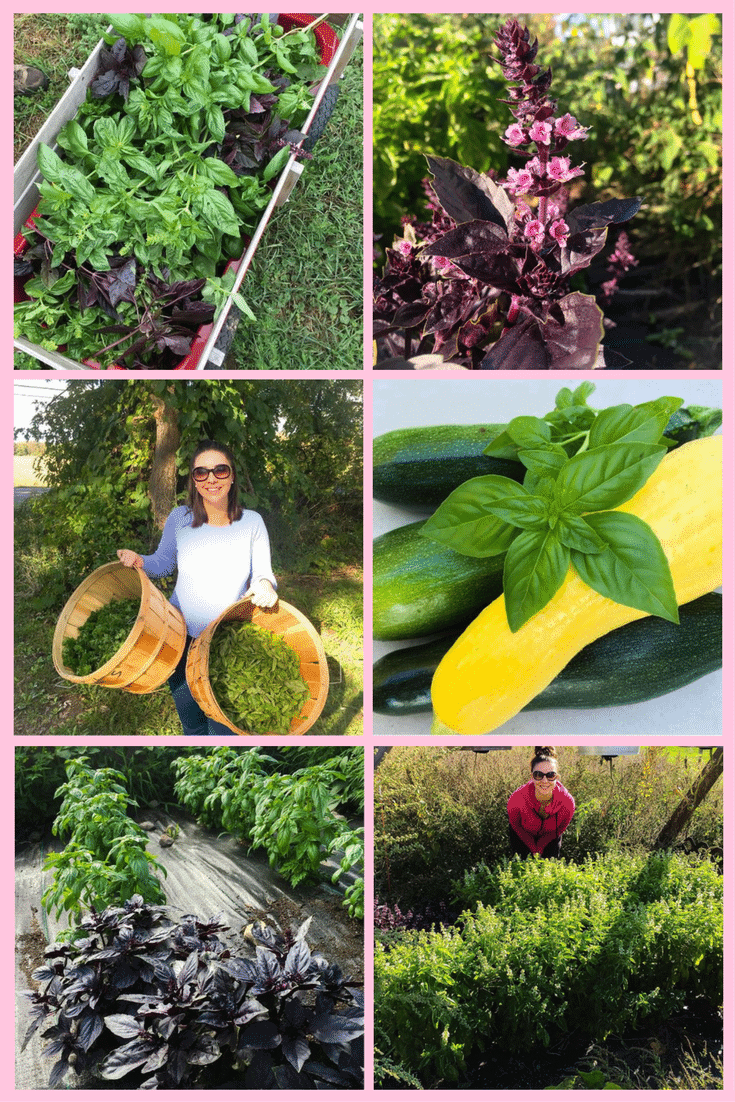 Choose Your Cannabis Pesto Infusion Option
There are many different ways to make a delicious, cannabis-infused pesto.
And just like with all things cannabis edibles, there is no right or wrong way to make something; it just depends on what options you have available and what your personal preferences are.
Below I will show you how to make cannabis pesto using raw cannabis leaves, cannabis-infused oil, leftover cannabis pulp, decarbed cannabis kief, and various cannabis concentrates.
Raw Cannabis Leaves
If you have access to fresh cannabis leaves you can use them to make your own cannabis leaf pesto.
The most common cannabis leaf used in pesto are fan leaves, and these should be washed well, with any long stems trimmed off, before adding to the pesto.
To make a cannabis pesto with leaves, replace every 1 cup of loosely packed basil with 1 cup of loosely packed cannabis fan leaves or trim. You can double that as needed.
Keep in mind that cannabis fan leaves do not contain very high amounts of active cannabinoids and are typically not intoxicating in nature.
They do however contain large amounts of cannabinoid acids, like THCA and CBDA.
These acids have many powerful benefits on their own, are generally non-intoxicating in nature.
If you're looking for a cannabis pesto that will cause a 'high' feeling, use one of the options below.
These options use decarboxylation to activate THCA and CBDA into THC and CBD, respectively.
Use Cannabis-Infused Olive Oil
One of the easiest ways to make a cannabis pesto is by using cannabis-infused olive oil.
You can use this cannabis olive oil recipe to make your own homemade infused olive oil.
Once you have a cannabis-infused olive oil prepared, you can use it anywhere, in any recipe, including this one.
While there are many different types of cannabis-infused oils you can make, EVOO works best in this recipe.
Leftover Cannabis Pulp
If you make your own cannabutter or cannabis coconut oil at home, you may have some leftover cannabis pulp that would be perfect for this recipe.
The leftover cannabis pulp will not be nearly as strong as your first infusion would be, so you can use your discretion as to how much you want to use here.
It will depend on how much you have, how strong the flower you started with was, and your desired end experience.
A good starting place is to use for ¼-1/2 cup of leftover pulp and add it during step 1.
Decarbed Kief
Kief is the fine, powdery substance that accumulates at the bottom of a grinder or other cannabis container.
Kief typically contains the highest concentration of resinous glands, or trichomes, that contain the cannabinoids like CBD, THC, CBG, etc.
This means that kief can be much more potent than flower or trim.
Because of this, you may be able to use less of it in this recipe, or more, depending on the effect you're looking for.
Remember that you still need to decarb the kief just as you would traditional flower to enjoy the activated benefits of CBD, THC, CBG, etc.
If you've never worked with kief before, you can get my full guide to decarbing and making edibles with kief here.
For this recipe, I recommend adding 1 teaspoon of decarbed cannabis kief in step 2, adjusting for your own personal tolerance level.
Cannabis Concentrates
If you are a medical patient or live in a recreationally legal state, chances are you may have access to cannabis concentrates.
You can easily use cannabis concentrates in this recipe to make an easy pesto.
From distillate or CO2 oil, to shatter or wax, and FECO or RSO, all can work in this recipe.
Depending on what concentrate you are using, you will want to ensure that your cannabis concentrate is decarbed first if needed.
If you are not sure if your cannabis concentrate needs to be decarbed first, you can check this guide here.
Once you know whether or not you need to decarb your concentrate, you can gently warm it up and mix it into the 1 cup of olive oil called for in this recipe.
How much you will add is up to you and your personal tolerance and preferences, 1mL or 1 gram is typically a strong place to start.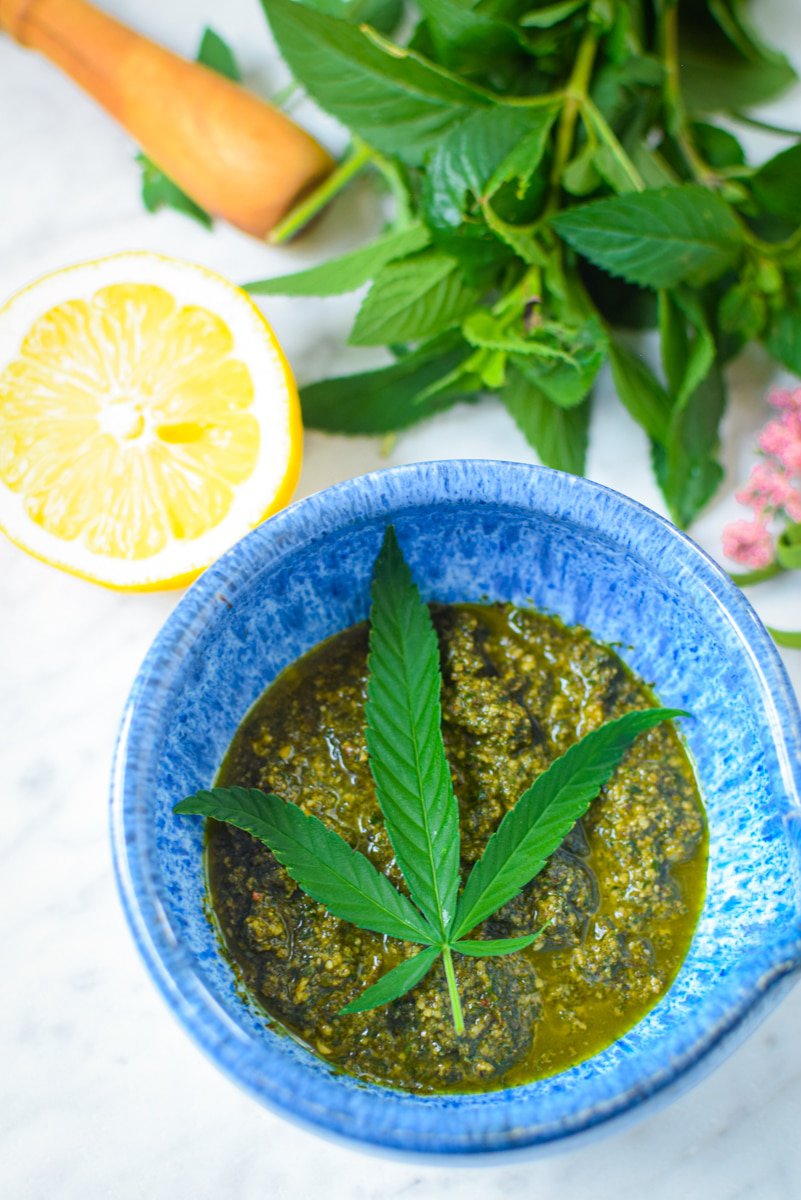 If You Need To Toast The Walnuts
If your walnuts are not yet toasted, you will want to toast them before using them in this recipe to capture their deep, rich flavor.
To toast:
Start the oven broiler on high.
Evenly spread out the chopped walnuts on a foil-lined baking sheet.
Place the baking sheet under the broiler and watch closely, stirring every 2 minutes until perfectly golden brown.
Remove the walnuts from the oven and let cool to the touch.
Can You Freeze Pesto?
The best part about this recipe is that if you make it in large quantities, you can individually portion the pesto and then freeze it so you have easy-to-use packages all year long.
To freeze, I simply pour the prepared pesto into 8-ounce plastic cups and freeze.
When the pesto is frozen solid, I pop it out of the plastic cup and use a vacuum sealer to seal it up.
If you don't have a vacuum sealer you can place it into a freezer bag and squeeze out the air.
Simply dethaw in the refrigerator or at room temperature when you're ready to use.
Just don't use the microwave as you could potentially destroy any active cannabinoids.
Recipes to Use With Cannabis Pesto
There are so many different ways to enjoy cannabis pesto.
Simply enjoyed as a dip, on meat, served over vegetables, swirled into pasta, used as a spread on sandwiches, and more, the options are endless.
One of my favorite ways to enjoy this pesto is served on top of these delicious Cannabis Pesto Veggie Skewers.
How to Determine The Dosing
Want to get a more accurate guesstimate of the potency of your cannabis infusions and extractions? Try our popular edibles calculator!
Not sure what your perfect dose is? Learn more here.

Want To Make This Easier? Use A Machine!
If the process of decarbing and infusing feels like too much work, an all-in-one countertop device may be a perfect all-in-one solution!
My personal favorite? The Ardent FX! Review the six most popular infusion machines here.
Want A Discount Code?
My Edibles Made Easy Online Cooking Course will teach you how to make cannabis edibles and topical recipes at home with ease. This step-by-step video course will teach you how to infuse, extract, and create edibles with many different product types - all from the comfort of your own home.

Learn more and enroll today →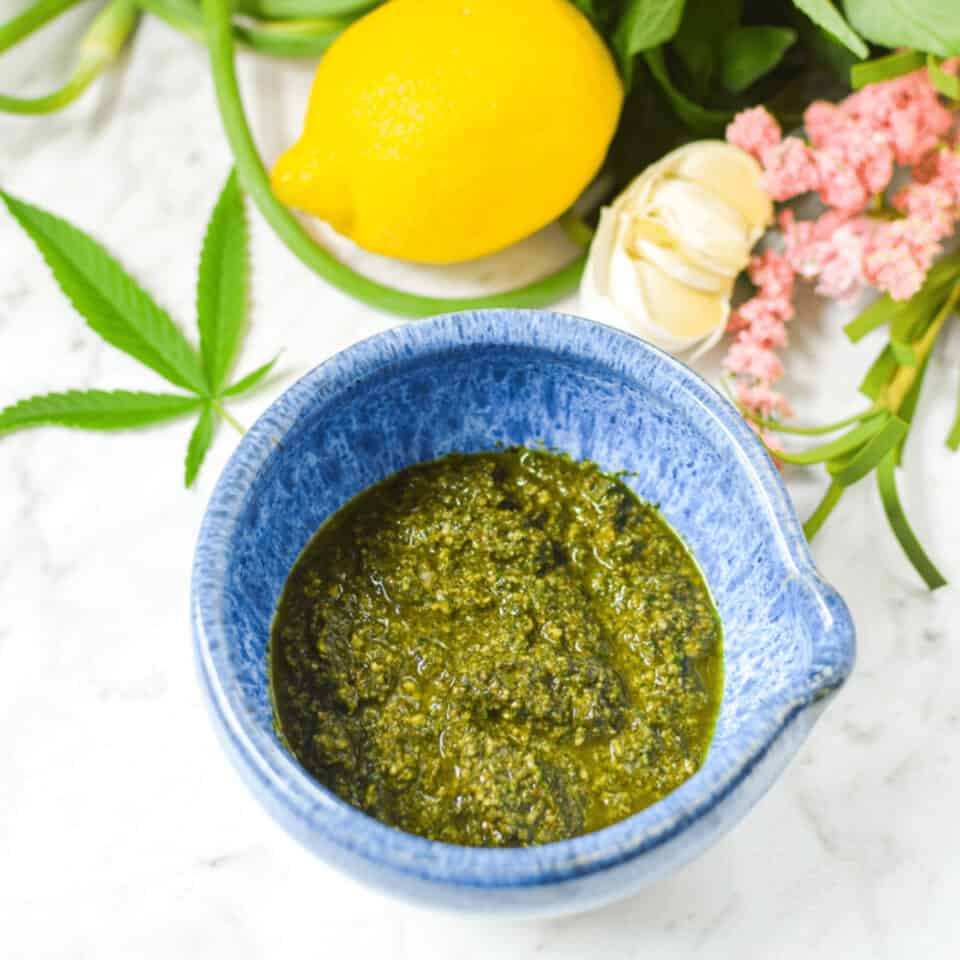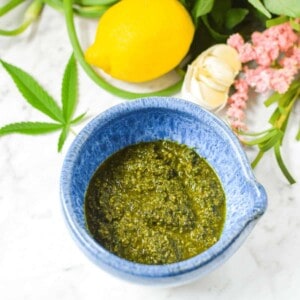 Easy Cannabis Pesto (Using Leaves or Oil)
Use up all parts of your homegrown cannabis plant with basil and parsley in this easy-to-make, savory cannabis pesto that can be enjoyed as a dip, on meat, served over vegetables, swirled into pasta, used as a spread on sandwiches, and more.
Instructions
Add the toasted walnuts, minced garlic, and Parmesan cheese to a food processor and begin to pulse in 5-second intervals until all ingredients reach a fine consistency.

Add the basil through crushed red pepper to the food processor. Turn the processor on medium speed and blend all ingredients together for 60 seconds.

Turn the food processor down to medium-low speed, and with the processor running, very slowly pour in the cannabis olive oil.

Continue to blend for an additional 60 seconds or until all of the ingredients are broken down and well incorporated.

Store the fresh pesto in an airtight container, like a mason jar, in the refrigerator or freezer.
Notes
*This recipe makes approximately 2.5 cups of pesto.
Alternate Infusion Options:
Raw Cannabis Leaves: Replace 1 cup of loosely packed basil with 1 cup of loosely packed cannabis leaves.
Leftover Cannabis Pulp: Add ¼-1/2 cup of cannabis pulp as an extra ingredient in step 1.
Decarbed Cannabis Kief: Add 1 teaspoon of decarbed cannabis kief in step 2.
Cannabis Concentrates: Add according to your own persona tolerance level. Mix into the cannabis olive oil before adding it to this recipe. 
Nutrition
Serving:
1
tablespoon
Calories:
90
kcal
Carbohydrates:
1
g
Protein:
1
g
Fat:
9
g
Saturated Fat:
2
g
Polyunsaturated Fat:
7
g
Cholesterol:
3
mg
Sodium:
76
mg
Did you make this recipe or have a question?
Join hundreds of members inside private Well With Cannabis Community for help, support, and to share your edible creations!