Use up all of your homegrown cannabis, basil, and parsley with this easy-to-make savory cannabis pesto that can be enjoyed as a dip, on meat, served over vegetables, swirled into pasta, used as a spread on sandwiches and so much more.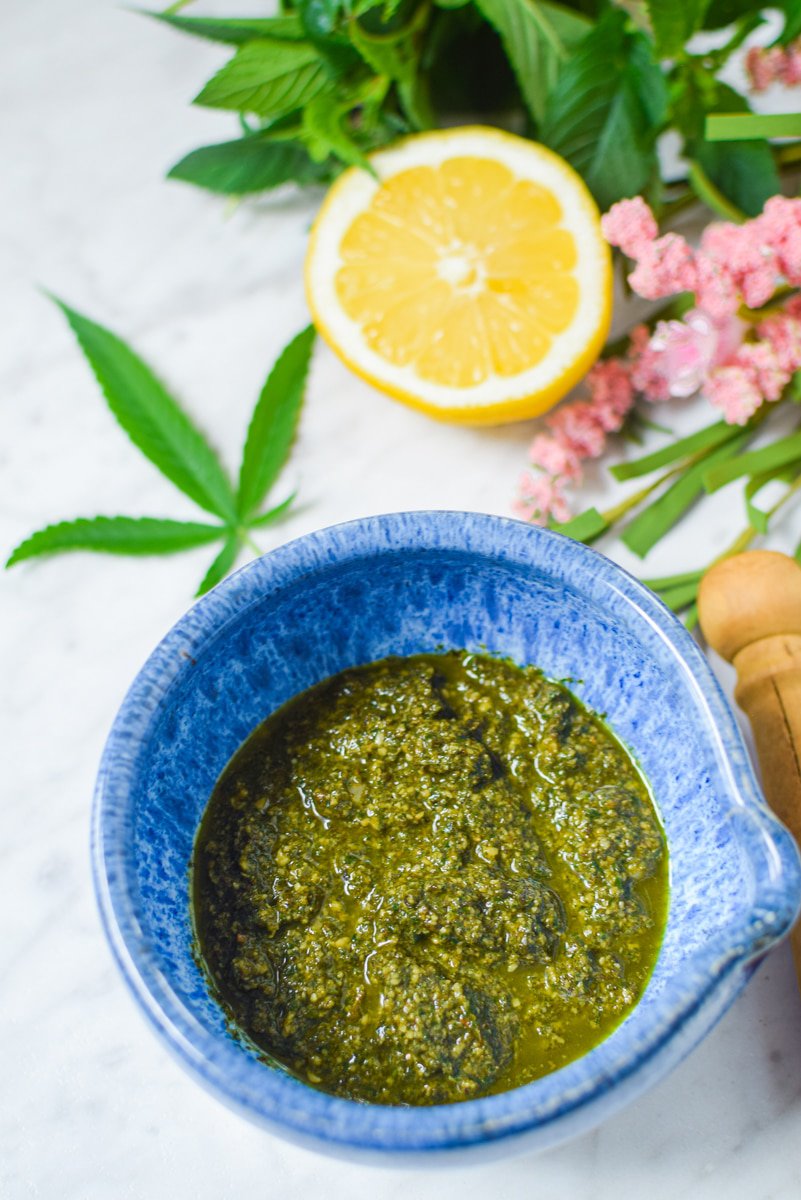 Use Up Your Homegrown Produce
Making homemade pesto is a great way to preserve your homegrown herbs like cannabis, basil, and parsley so that you can enjoy the fresh taste and flavorful, nutritious health benefits all year long.
If we are friends on Instagram, you already know that I am a passionate gardener.
Over the years my husband and I have created what I lovingly call The Millennial Garden where we work hard to plant, grow, and harvest a lot of our own food and medicine.
As a registered dietitian, I am always promoting the benefits of plant-based eating, and truly believe that there is no healthier food than the food you grow yourself in your own back yard.
Are You New to Consuming Cannabis Edibles? Be sure to read my Beginners Guide to Consuming Cannabis Edibles before getting started to ensure you have a safe and enjoyable experience!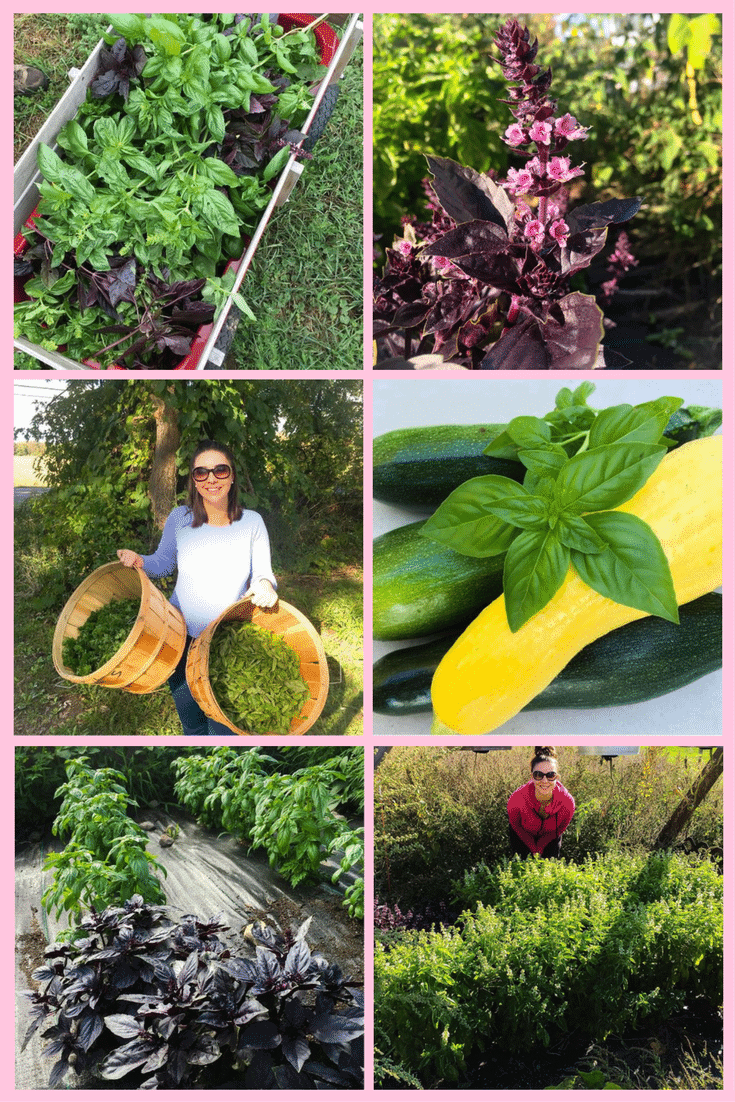 Different Ways to Make Cannabis Pesto
There are many different ways to make a cannabis-infused pesto.
There is no right or wrong way, it simply depends on what options you have available and what your personal taste preferences are.
Here we will explore how to make pesto using raw cannabis leaves, cannabis-infused olive oil, and leftover cannabis pulp.
Use Raw Cannabis Leaves
If you have access to raw cannabis leaves, you can use them here to make your very own cannabis leaf pesto.
These leaves are typically fan leaves and should be washed and have any long stems trimmed before adding to the pesto.
To make a cannabis pesto with leaves, simply replace every 1 cup of loosely packed basil with 1 cup of loosely packed cannabis leaves. You can double that as needed.
Keep in mind that raw cannabis leaves do not contain high amounts of THC and are not intoxicating in nature.
They do however contain large amounts of tetrahydrocannabinolic acid, also known as THCA. THCA has many powerful anti-inflammatory health benefits, but it is not intoxicating in nature.
If you're looking for a cannabis pesto that will cause a high feeling, use one of the two options below that use decarboxylation to activate THCA and CBDA into THC and CBD, respectively.
Use Cannabis-Infused Olive Oil
One of the easiest ways to make a cannabis pesto is to use a cannabis-infused olive oil in place of some or all of the extra-virgin olive oil called for in the recipe.
You can use this cannabis olive oil recipe to make your own infused olive oil. Once you have a cannabis-infused olive oil, you can use it anywhere, in any recipe.
Use Leftover Cannabis Pulp
If you make your own cannabutter, cannabis oil, or cannabis tincture at home you may have some leftover cannabis pulp that would be perfect for this recipe.
The leftover cannabis pulp will not be nearly as strong as your infusion would be, so you can use your discretion as to how much you want to use.
It will depend on how much you have, how strong the flower you started with was, and your desired end experience.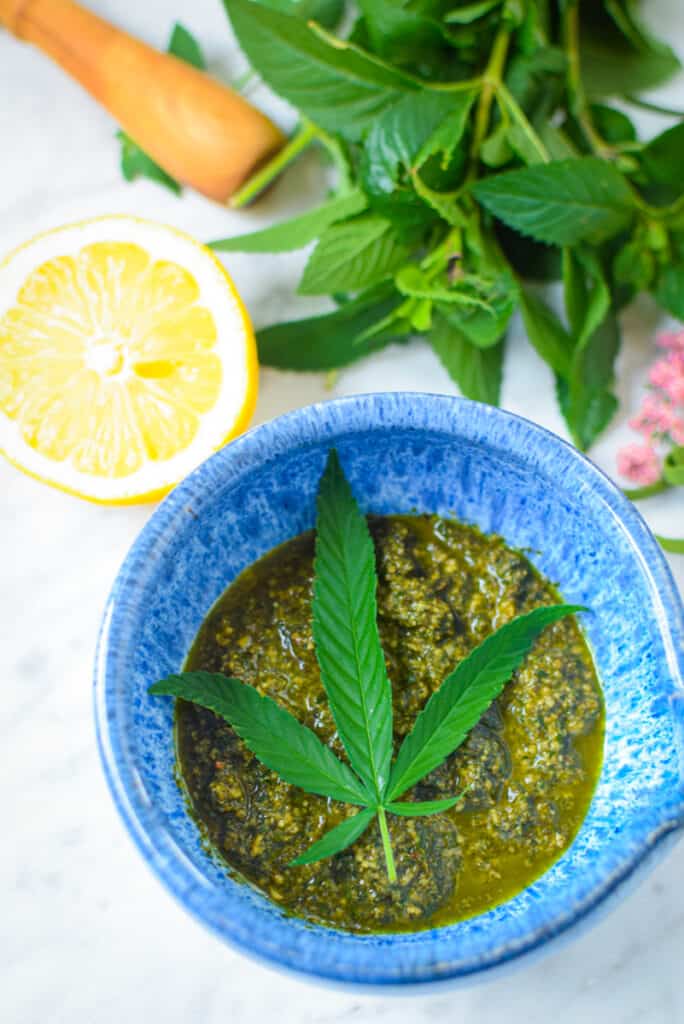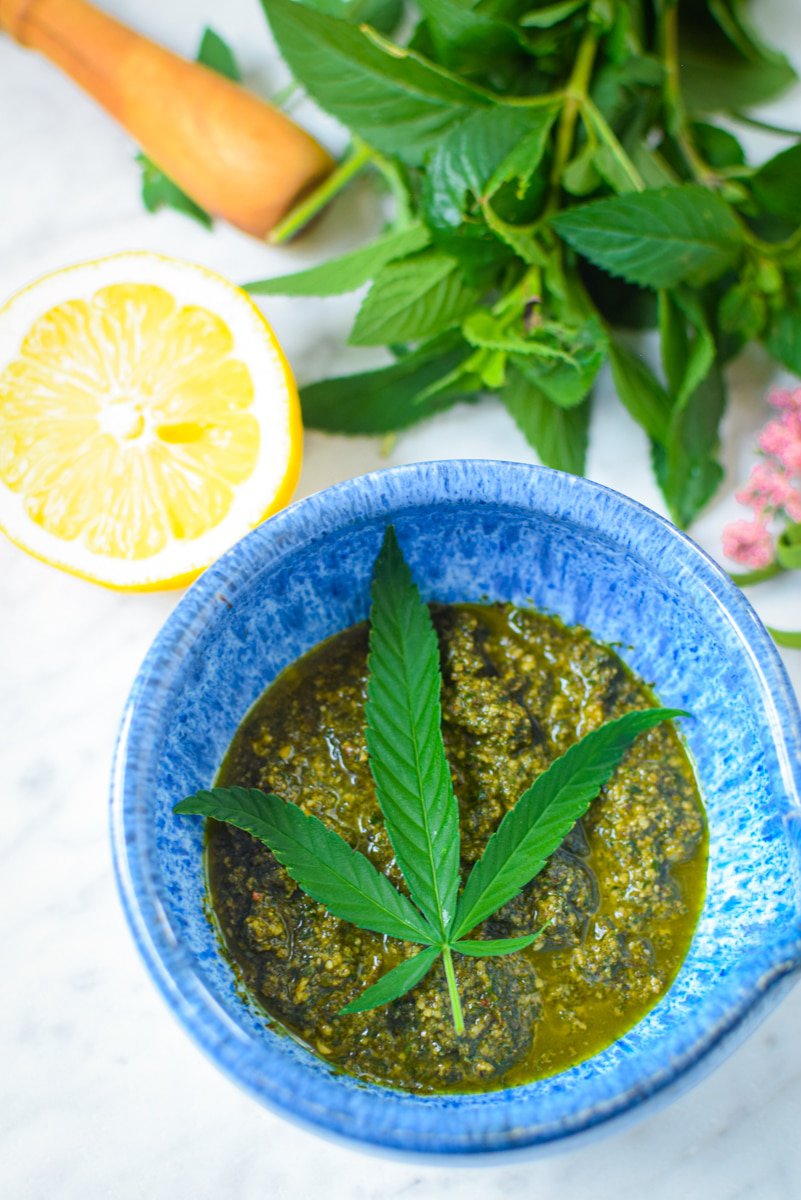 CAN YOU FREEZE PESTO?
The best part about this recipe is that if you make it in large quantities, you can individually portion the pesto and then freeze it so you have easy-to-use packages all year long.
To freeze, we simply pour the prepared pesto into 8-ounce plastic cups and freeze.
When the pesto is frozen solid, we pop it out of the plastic cup and use a vacuum sealer to seal it up, but if you don't have a vacuum sealer you can place it into a freezer bag and squeeze out the air.
Simply dethaw in the refrigerator when ready to use.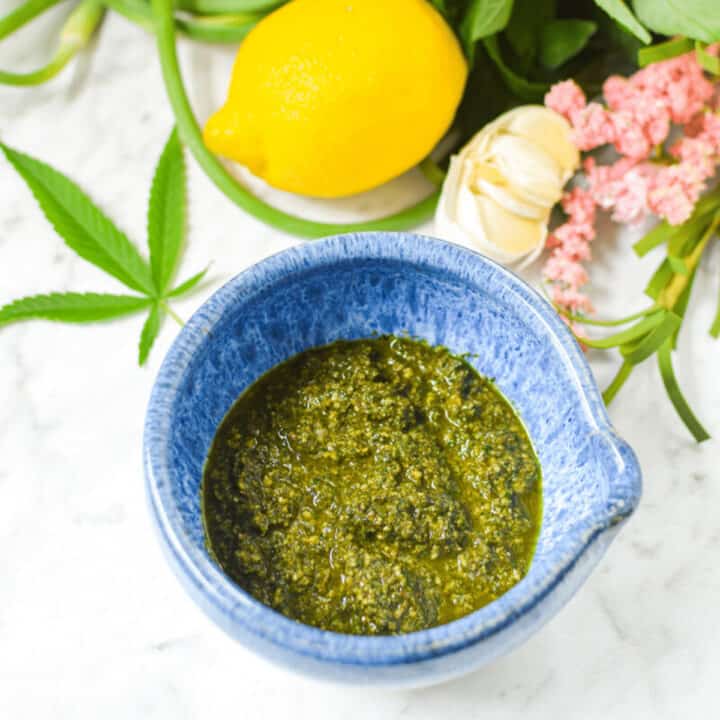 Cannabis Basil Walnut Pesto
Use up all of your homegrown cannabis, basil, and parsley with this easy-to-make savory cannabis pesto that can be enjoyed as a dip, on meat, served over vegetables, swirled into pasta, used as a spread on sandwiches and so much more.
Ingredients
½ cup chopped walnuts, toasted*
2 tablespoons freshly minced garlic
1 cup freshly grated parmesan cheese
4 cups fresh basil leaves, lightly packed
1 cup fresh parsley leaves, lightly packed
¼ cup white wine, optional
1 teaspoon lemon juice
¼ teaspoon kosher salt
¼ teaspoon black pepper
pinch of crushed red pepper, optional
1 cup extra-virgin olive oil
Instructions
Add the toasted walnuts, garlic cloves, and fresh Parmesan cheese to the food processor and begin to pulse in 5-second intervals until the walnuts, garlic, and cheese become a fine consistency.
Add the basil through crushed red pepper to the food processor.
Turn the food processor to medium-low speed and very slowly pour in the olive oil.
Continue to blend for an additional 60 seconds or until all of the ingredients are broken down and well incorporated.
Store the fresh pesto in a mason jar in the refrigerator or freeze according to the directions above this recipe.
Notes
If your walnuts are not yet toasted, you will want to toast them prior to using them in this recipe in order to capture their deep, rich flavor. To toast:
Start the oven broiler. Evenly spread out the chopped walnuts on a foil-lined baking sheet.
Place the baking sheet under the broiler and watch closely, stirring every 2 minutes until perfectly golden brown.
Remove the walnuts from the oven and let cool to the touch.
Nutrition Information:
Yield:

32
Serving Size:

1 tablespoon
Amount Per Serving:
Calories:

90
Total Fat:

9g
Saturated Fat:

2g
Trans Fat:

0g
Unsaturated Fat:

7g
Cholesterol:

3mg
Sodium:

76mg
Carbohydrates:

1g
Fiber:

0g
Sugar:

0g
Protein:

1g