Discover 5 simple ways to add CBD to your self-care routine as either a supplement, a topical in your skincare routine, as an additive to your food and drinks, or as a bedtime sleep aid in order to increase relaxation and enhance your experience.
Your Self-Care Routine
Self-care is a critical part of any happy, healthy, holistic lifestyle, which is why cannabis is included among my seven pillars of holistic living.
With anecdotally reported calming and relaxing properties, adding CBD to your self-care routine will no doubt enhance your overall experience.
Here on the blog, I've talked many times about creating a self-care routine because it helps you care for yourself physically, mentally, and emotionally.
It's a simple way to say "I love you" to yourself every day.
I also teach members of my Well With Cannabis Community how to use CBD and other forms of cannabis within their own self-care routine to enhance the overall quality of their lives. 
In this article, we will explore my favorite ways that you can easily add CBD to your self-care routine from topical applications to adding CBD to your favorite food and drinks.
Looking For More Support?
Join thousands of members inside my private Well With Cannabis Community to ask questions, find support, and share your edible creations!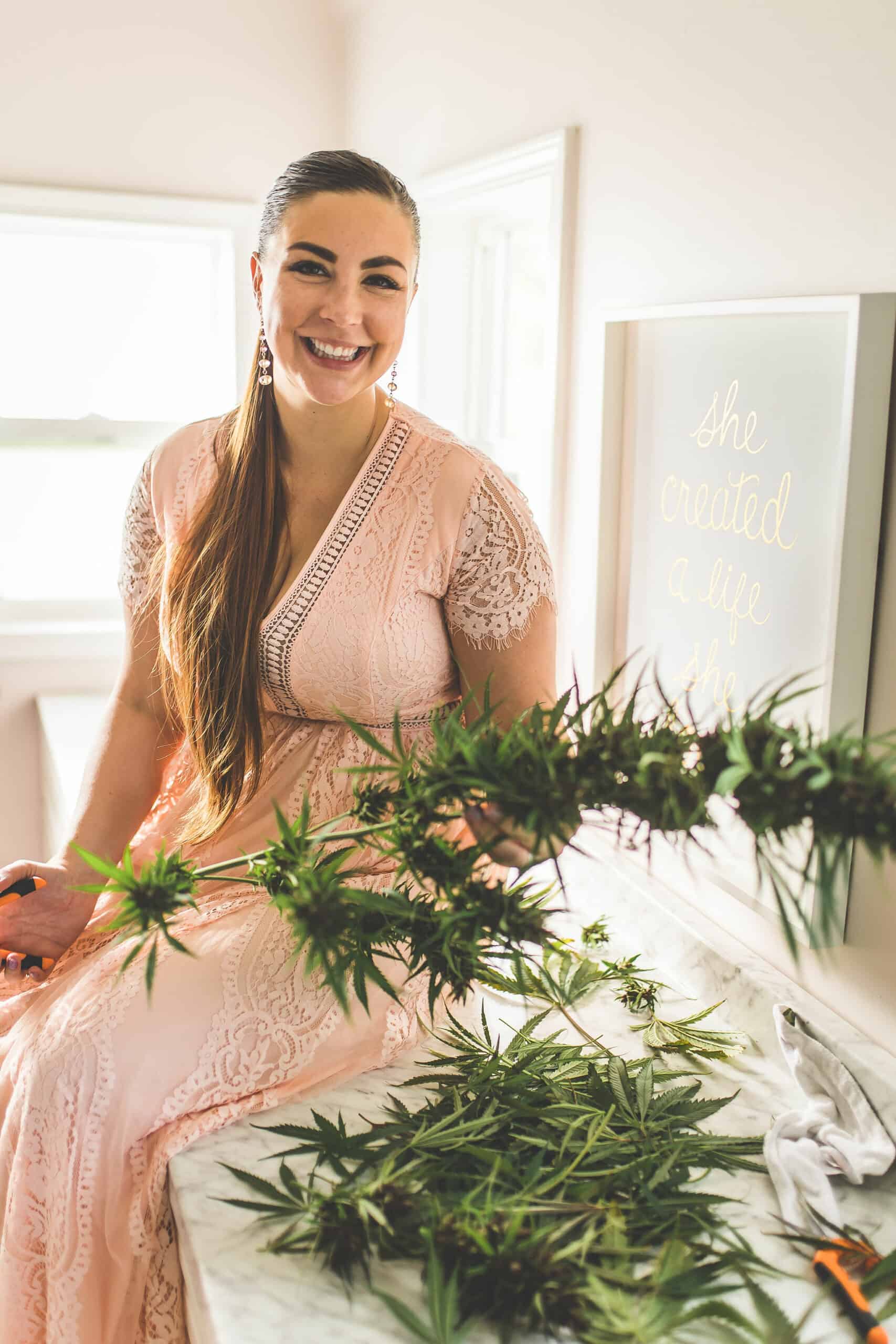 How to Add CBD to Your Self-Care Routine
Adding CBD to your self-care routine is about making time throughout the day to check in with yourself and make sure that you are feeling your best.
Whether it be the fear that there is just not enough time in the day to add one more thing to the to-do list, or the overwhelm of knowing where to get started, taking that first step towards creating a self-care routine can be the hardest.
That is why I've put together five of my favorite ways to easily add CBD to your self-care routine.
These include:
Adding CBD to your daily supplement routine
Adding CBD to your daily skincare routine
Adding CBD to your favorite food and drinks
Adding CBD to your bedtime routine
Adding CBD to your stress-management routine
Before we get started, the one thing I cannot stress enough is an important fact that there is no right way to do self-care.
I just want you to start to develop a routine that works for you and your lifestyle.
1. Add CBD to Your Daily Supplement Routine
Smart supplementation can play an important role in any daily self-care routine.
While the FDA does not recognize CBD as a dietary supplement, many of my community members who use CBD take it simultaneously with their vitamins, probiotics, and other supplements.
This is ideal because the affects if CBD are best experienced when used on a daily basis.
Many of my clients add CBD to their daily supplement routine by using CBD oil sublingually under the tongue.
This simply means they are holding the CBD oil under their tongue for absorption, for typically for 60-90 seconds or more.
Daily sublingual absorption is ideal because it has a quick onset time of 15-30 minutes and a near 30% bioavailability rate.
Because there are no standard dosing recommendations for CBD, it is always best to start low, with 10-15mg, and increase your dosage slowly over time.
For daily use, I recommend my 500mg Full-Spectrum CBD Oil for making your own homemade CBD oil.
Another popular option for many consumers it to make and fill CBD capsules.
Capsules are easy to consume and are easy to add along with your other daily supplements.
2. Add CBD to Your Skincare Routine
A simple skincare routine or beauty ritual is common to many women's self-care practices.
Our skin is the body's largest organ, which is why it is so important to take time to care for our skin.
Women are rapidly discovering how amazing CBD products can be for skin health.
Hemp seed oil itself is a nourishing botanical that contains important nutrients like omega-3 fatty acids and antioxidants.
Many cannabis topical products contain CBD, which effectively provides relief for a wide range of symptoms because the body can absorb cannabinoids directly through the skin (1).
The topical absorption of cannabis products has a near 30% bioavailability rate and is effective at the application site.
CBD can be absorbed directly through the skin and interact with receptors in our endocannabinoid systems and can provide targeted relief for common skin symptoms.
You can make your favorite homemade personal care products, infused with CBD by using CBD hemp flower.
Some of my favorite topical recipes that are perfect for self-care include:
If you need products to help get you started making your own topicals in the kitchen, I have the following products avaialbe for purchase:
If you don't have the time or desire to make your own products at home, I have several popular products avaialbe in my online CBD shop:
My topical CBD Roll-On is a customer favorite because it is packaged in a convenient travel-size roller-ball bottle that can be used discreetly at home or on the go, allowing you to use your CBD whenever, wherever you need it.
3. Add CBD to Your Food & Drinks
Sometimes, adding one more thing to the to-do list can feel like too much.
That's why many members of my cannabis community prefer adding CBD directly to their food and drinks because they are already eating and drinking anyways.
While it is nice to make CBD infused sweet treats at times, it is important to remember that a nourishing diet is important for those living holistic lifestyle.
Using CBD to make healthy cannabis recipes is smarter than using CBD to make empty-calorie treats.
You can learn more about how to cook with CBD with my guide to cooking with CBD oil here.
Eating CBD, also known as oral consumption, has an approximate 6% bioavailability rate, meaning you typically need to use more to see the results you are looking for.
That is why I like to use my CBD concentrate in recipes, because you can add more milligrams of CBD in a smaller volume.
If you're brand new to working with cannabis concentrates, you can learn more in my guide to making edibles with concentrates here.
Whether you take a few hours on meal prep Sunday to make your own homemade CBD infused gummies or have just a few minutes to slowly sip on a CBD pumpkin spice latte, adding CBD to your food and drinks may be one of the easiest ways to incorporate CBD into your self-care routine.
4. Add CBD to Your Bedtime Routine
Good sleep is another pillar of a happy and healthy holistic lifestyle, but for many people, good sleep seems like an elusive dream.
Thankfully, a review of the research published in Experimental and Clinical Psychopharmacology suggests that cannabinoids like CBD may help to improve sleep quality, decrease sleep disturbances, and decrease sleep onset latency (2).
Bedtime routines are all unique, but many of my clients who use CBD do so multiple times throughout the day, and then again at bedtime.
Many people use my 600mg Full-Spectrum CBD:CBN Oil before bed because they like the combination of both CBD and CBN.
CBN is another cannabinoid that is nicknamed 'the sleep cannabinoid'.
You can either make your own CBN oil at home or purchase it from my shop here.
You can add the oil to your bedtime routine by winding down with a relaxing CBD massage or incorporating it into your nightly meditation routine and applying it to the head, neck, and shoulders to release tension.
5. Use CBD As a Stress Management Tool
While we can focus on stress prevention, the truth is that stress happens in all of our lives on a daily basis.
Any sensible self-care routine should include a stress-management plan with many tools for when things get rough, and stress hits an all-time high.
For many of my clients, having a CBD already available in many forms is like a stress management secret-weapon.
Some of my Well With Cannabis CommunityWell With Cannabis Community prefer vaping CBD.
Vaping is a quick-acting, 1-3 minute, way to administer CBD and experience the immediate effect of calming, taming mood swings, and restoring control of your emotions.
Vaping CBD is a smokeless, low-temperature method of inhaling CBD via oil vaporization or dry herb vaporization.
There are potential benefits of vaping CBD depending on the individual, their certain circumstances, and individual health goals.
If you want to give this method a try, I exclusively recommend this CBD vape cartridge product which was formulated with quality, safety, and purity in mind.
CBD For Your Mental and Physical Health
I always tell my community members that just like anything else, there is no magic pill or cure-all that will magically erase stress and anxiety.
CBD needs to be used as a tool, in conjunction with various other stress and anxiety-relieving modalities, for maximum effectiveness.
This includes good sleep hygiene, proper nutrition, exercise, and other stress management techniques for a more holistic approach to stress and anxiety management.
Ready to get started right away?
Be sure to check out my Cannabis Compass Online Course that is designed to help you find the perfect application and dosage for you!
My Edibles Made Easy Online Cooking Course will teach you how to make cannabis edibles and topical recipes at home with ease. This step-by-step video course will teach you how to infuse, extract, and create edibles with many different product types - all from the comfort of your own home.

Learn more and enroll today →