Stay hydrated and give your mood a gentle, uplifting boost with this naturally soothing honey and ginger warm lemon water recipe that can help you get back to feeling your best quickly.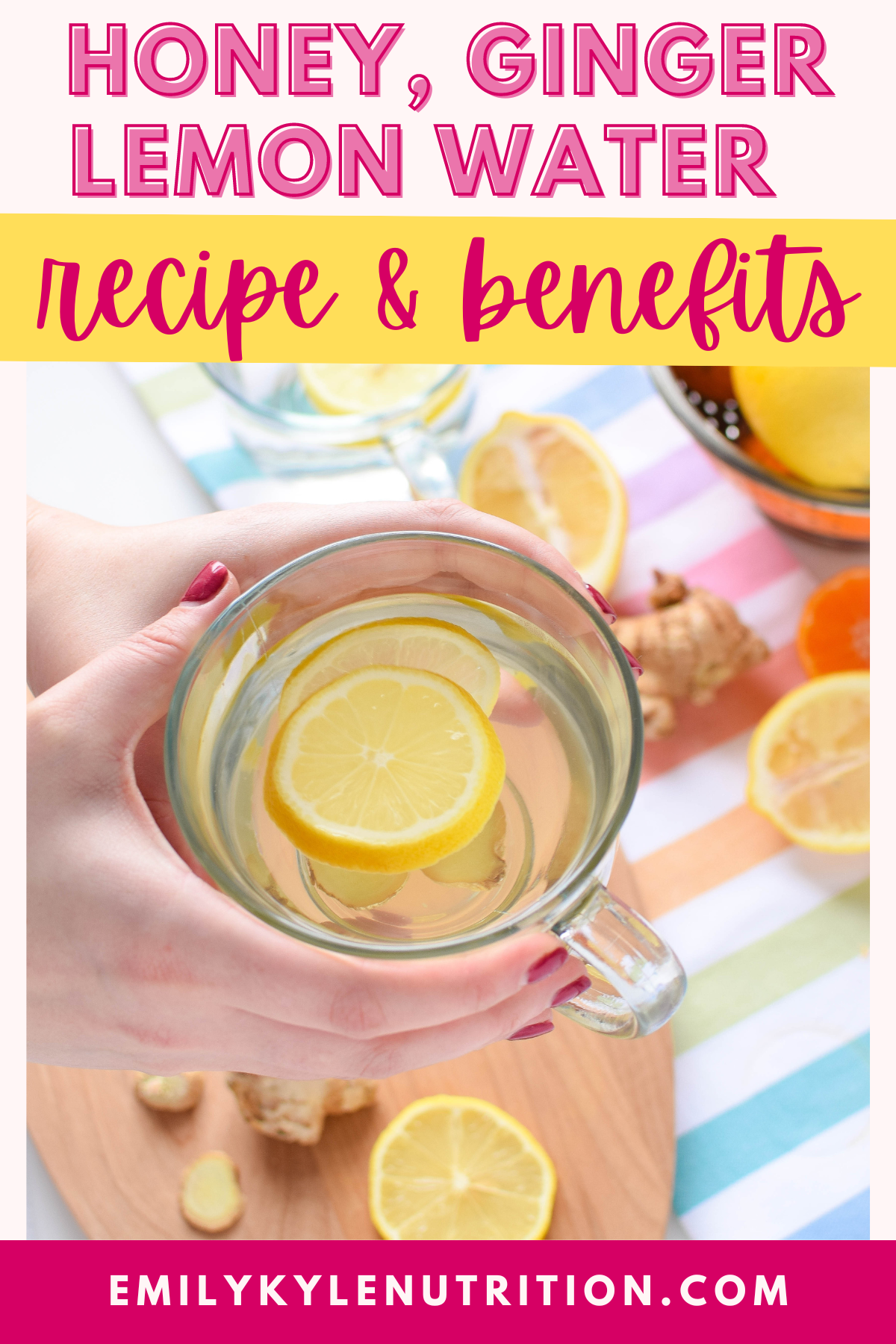 Features
A super simple 4-ingredient recipe
Why this drink can be good for you
Ways to customize this drink to your preferences
Why You Will Love This Guide
Ginger, lemon & honey – when these natural ingredients come together, they create a simple, delicious drink that can help you start feeling better from the inside out.
In this article, you will find a quick explanation of each ingredient's health benefits: lemon, honey, and ginger.
As a dietitian-nutritionist, I will also share my thoughts on using this recipe as a detox drink for weight loss.
At the end of this article, you will find my recipe and method for preparing this drink from the comfort of your home. Happy Sipping!
Ingredient Notes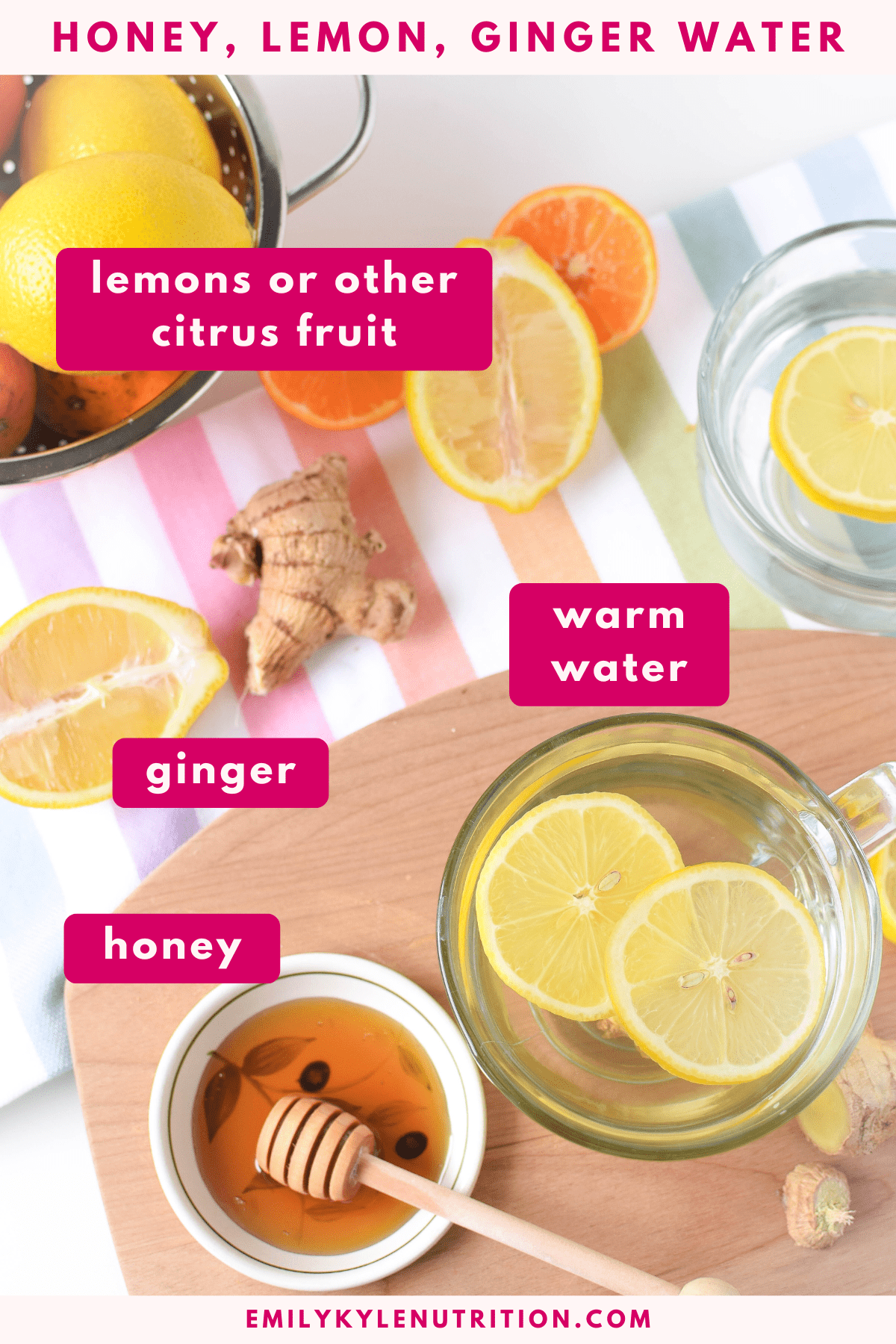 Lemon: lemon slices work best, but feel free to use any citrus fruit you love
Ginger: freshly sliced is best, but minced and prepared will work, too
Honey: raw, local honey is best. Cannahoney is another option
Water: filtered water of choice
Note: a complete list of ingredients with amounts and printable instructions is located in the recipe card below.
Step-by-Step Instructions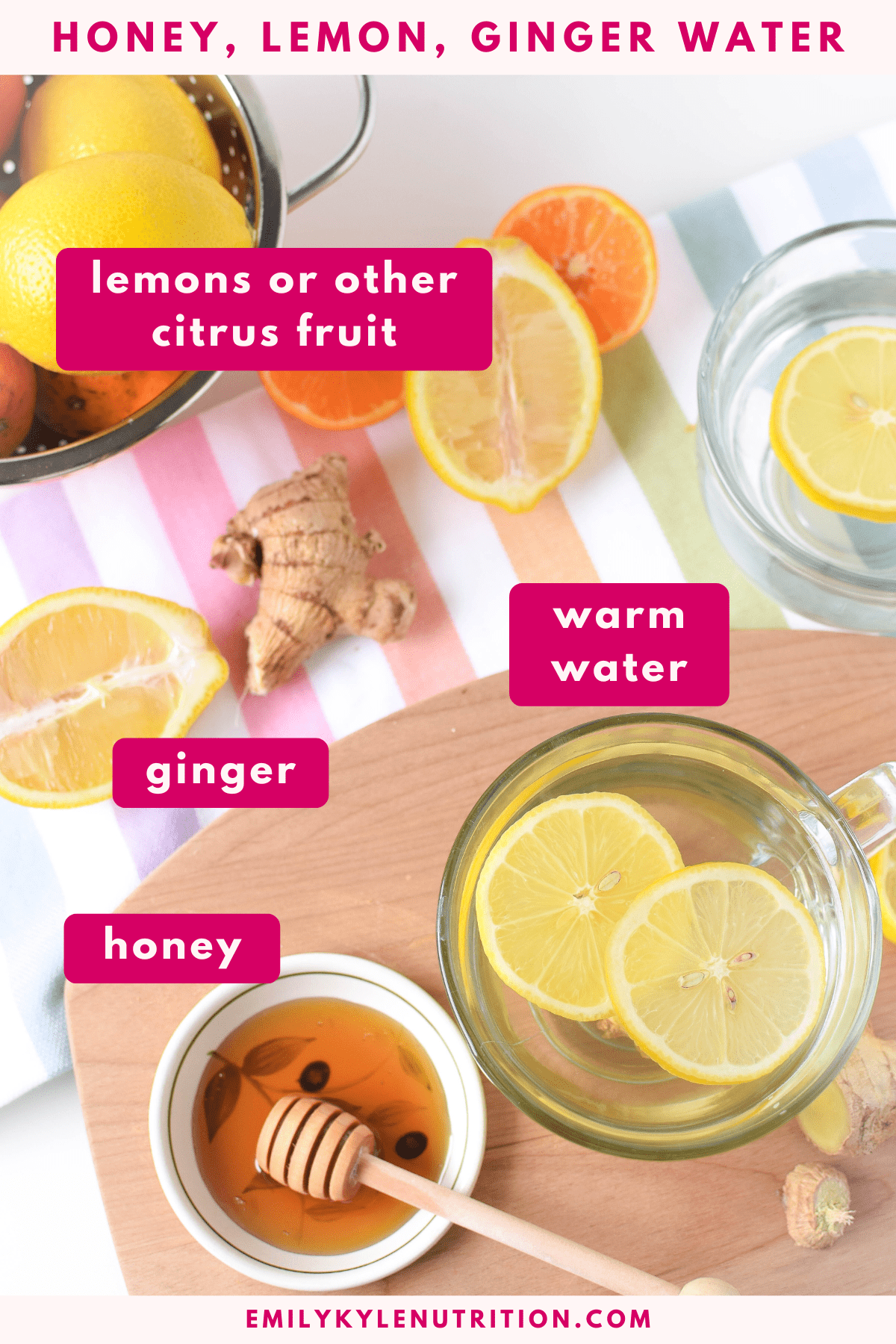 Step 1 – Bring the water to just under a boil using your method of choice.
Step 2 – Add lemon and ginger slices to your favorite mug while the water is heating up. Muddle, if desired.
Step 3 – Pour the hot water into the cup. Add the honey.
Step 4 – Stir and enjoy.
Note: complete step-by-step printable instructions are located in the recipe card below.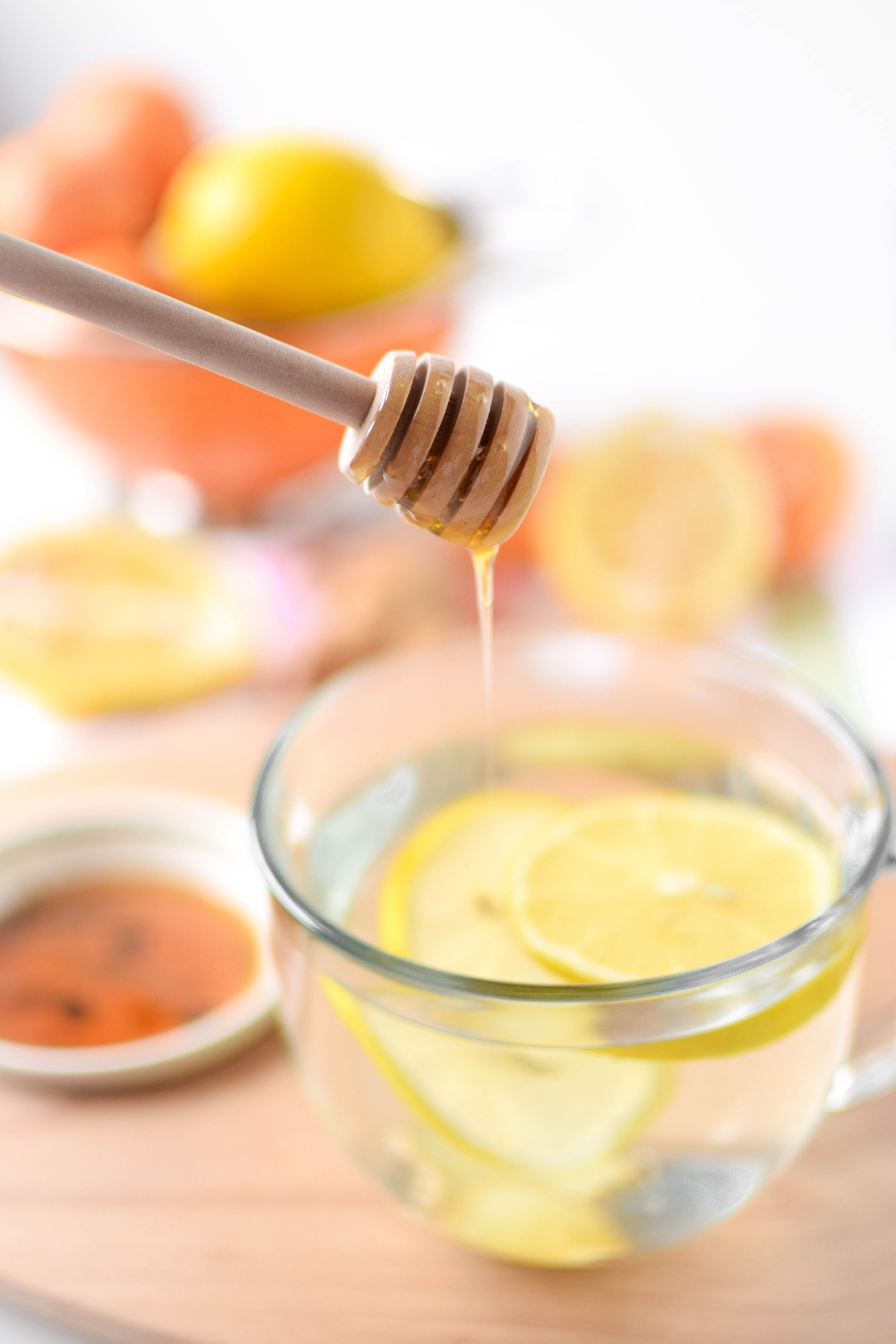 Honey, Ginger Warm Lemon Water Benefits
So how did this become my favorite, go-to drink of choice?
One day, I was nauseous and couldn't even think about drinking my morning coffee. I am an avid tea drinker, and that wasn't going to do it for me.
So I brewed a cup of hot water, added a slice of lemon, a chunk of ginger, and a spoonful of honey, and the rest was history.
I discovered how to get rid of a stomach ache in 5 minutes, and my love affair with ginger lemon tea had begun.
Health Benefits by Ingredient
Here is a breakdown of the benefits of honey, lemon, and ginger and why each one helps make this lemon ginger water elixir so soothing.
Benefits of Lemon
One of the most beloved, widely available citrus fruits is the lemon, known for its bright yellow color and tart and vibrant taste.
Citrus fruits, like lemon, have traditionally been used in ancient medicine for thousands of years.
Not only are lemons rich in vitamin C, the vitamin we all turn to try and fend off the common cold, but they are full of pectin, a natural fiber found in fruit.
They add a delicious tartness to this warm water drink. Thankfully you can control how tart you want this water to be based on how long you let the lemons steep in hot water.
Benefits of Honey
For those who are just starting with warm lemon water, the tart taste of lemon juice may be too overwhelming first thing in the morning.
That is where honey comes in.
Honey is a naturally soothing ingredient that contains nutrients and enzymes that have been used in natural remedies for thousands of years.
Unlike white, refined sugars, honey is a more wholesome all-natural sweetener.
Traditional honey commonly purchased at the grocery store has been processed, pasteurized, and may be chemically refined, destroying many of the most important health-promoting properties.
Raw honey has not been processed or filtered, leaving most health benefits intact.
If locally-sourced honey is available, I recommend getting it for this recipe. You can also use cannabis honey if you want an infused option.
Benefits of Ginger
Ginger may be one of the longest-used natural stomach ache remedies, with its use for its anti-nausea properties being traced back to ancient times.
Ginger has been anecdotally reported to help with both stomach aches and nausea-related morning sickness.
If you're new to using raw ginger in the kitchen, have no fear.
This long and knobby rhizome may seem difficult to use at first, but it's just like any other produce item once you get comfortable.
To prepare raw ginger for this tea, I use a vegetable peeler to peel off the outside flesh and thinly slice the bare root.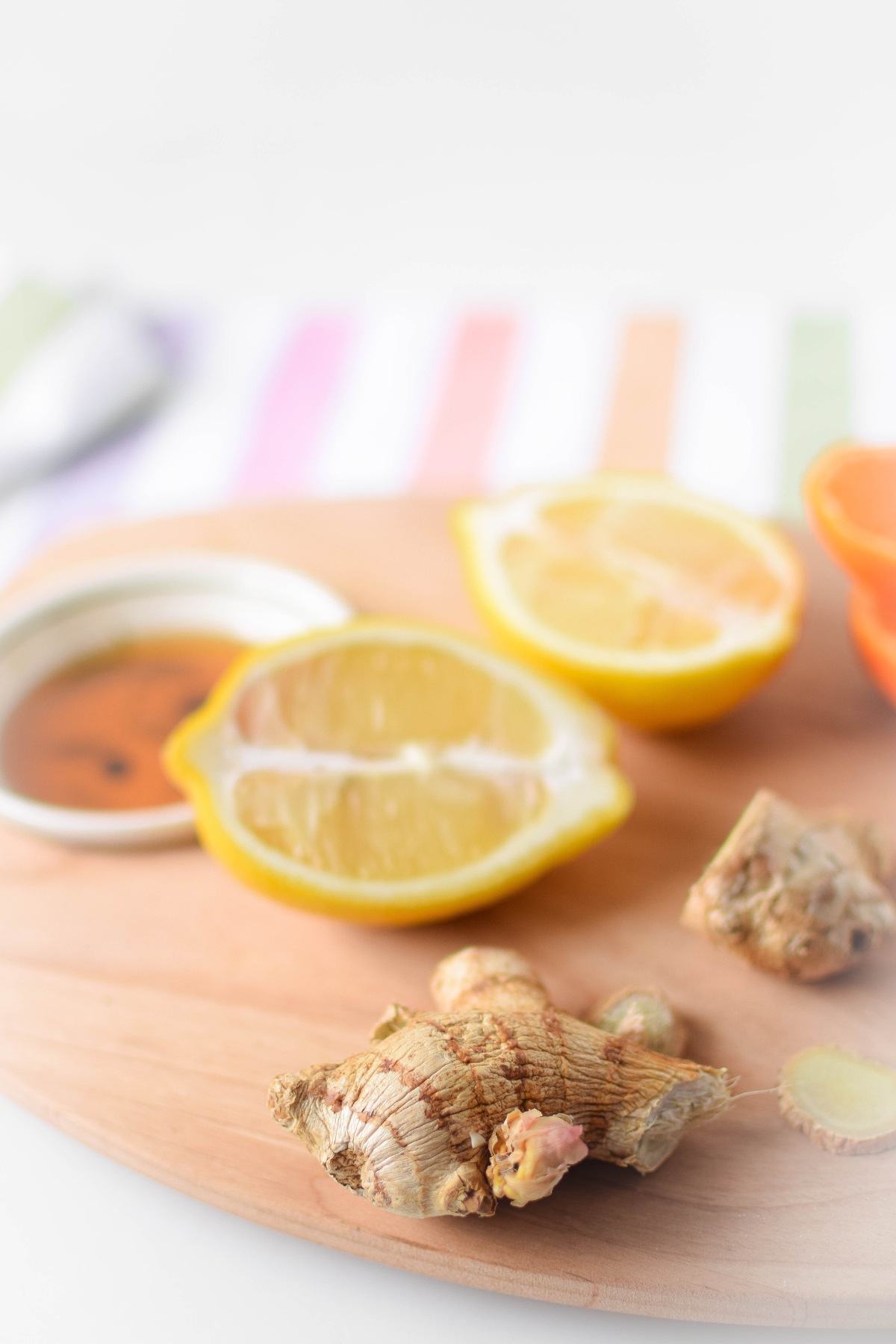 Lemon Ginger Honey Detox Drink
Just one quick peek into Pinterest under the search 'Warm Lemon Water,' and this is what you get:
"Easy Detox! Lemon Water Fat Burner! Drink Your Way to Weight Loss! Detox to Get Rid of Stomach Fat! Lose 22 pounds in 2 weeks!"
We are increasingly turning to 'detoxing,' 'cleansing,' and drinking special drinks in hopes of seeing rapid weight loss.
But the truth is, one single ingredient or recipe does not have the magical healing abilities to make you feel better or shed excessive weight.
It is important to note that weight loss is not the single answer to good health.
The secret to achieving good health lies in looking past simple weight loss and focusing instead on health-promoting behaviors.
As for detoxing, thankfully, the human body is in a constant state of detox every second of every day.
The liver and kidneys' physiological function is to rid the body of toxins and other foreign materials.
If the human body is capable of the most thorough and natural form of detoxing, why do so many turn to, and spend a lot of money on, claims that a certain drink or supplement will detox their body?
Marketing.
Everybody is looking for a quick fix and so-called 'experts' claim that if you buy their product you will magically detox your body and shed unwanted weight.
Fortunately, there are simple, natural ways to aid in the body's natural detoxification process – through proper nutrition and self-care, rather than expensive drinks with no scientific backing or proof of effectiveness.
So my question to you is:
Would you rather spend money to 'detox' with the aid of a drink or supplement designed for the sole purpose of generating income for the investor, or would you rather invest your money and energy into seeking out the most nutritious, whole, and natural foods, which naturally to aid the human body in the natural detoxification pathway?
We need to stop looking towards quick fixes and understand that a healthy lifestyle is based on the foundation of mostly organic, natural, plant-based foods that will help optimize our health.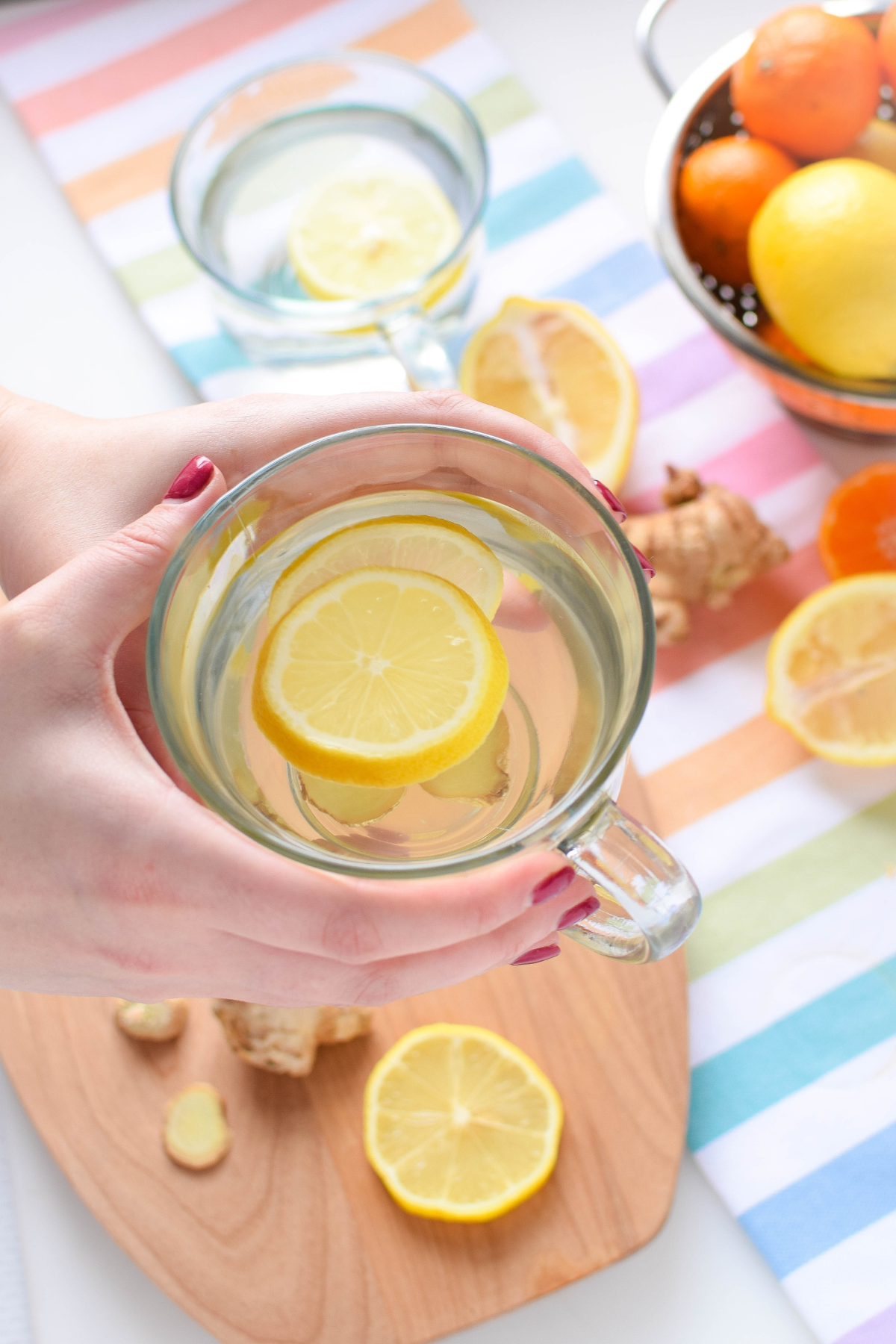 Preparation Tips
I love the taste of warm lemon water with honey and ginger, and I now drink significantly more water than ever before.
My healthy lifestyle is largely dictated by efficacy and preparation, which is why I prepare everything I need for my lemon water ahead of time.
Usually, over the weekend, I will take 10 minutes to wash and slice my lemons and peel and slice my ginger.
While I don't always use organic produce, I do try to buy organic lemons for my water because I add the entire rind and keep it in there all day long.
I prefer to use a tea kettle for boiling my water, but any option you have will work.
I also keep the same ginger and lemon rind piece in my travel cup and refill it with warm water as I go about my day.
This works for me, but you need to find what works best.
Feel free to adjust the amounts of each ingredient as needed based on your personal taste preferences.
Extra Ingredients
Want to add some superfoods to boost the nutrition of this drink? Consider these options:
Try adding a teaspoon of chia seeds for added fiber and nutrition
Try adding any one of these grounding herbs for flavor and benefits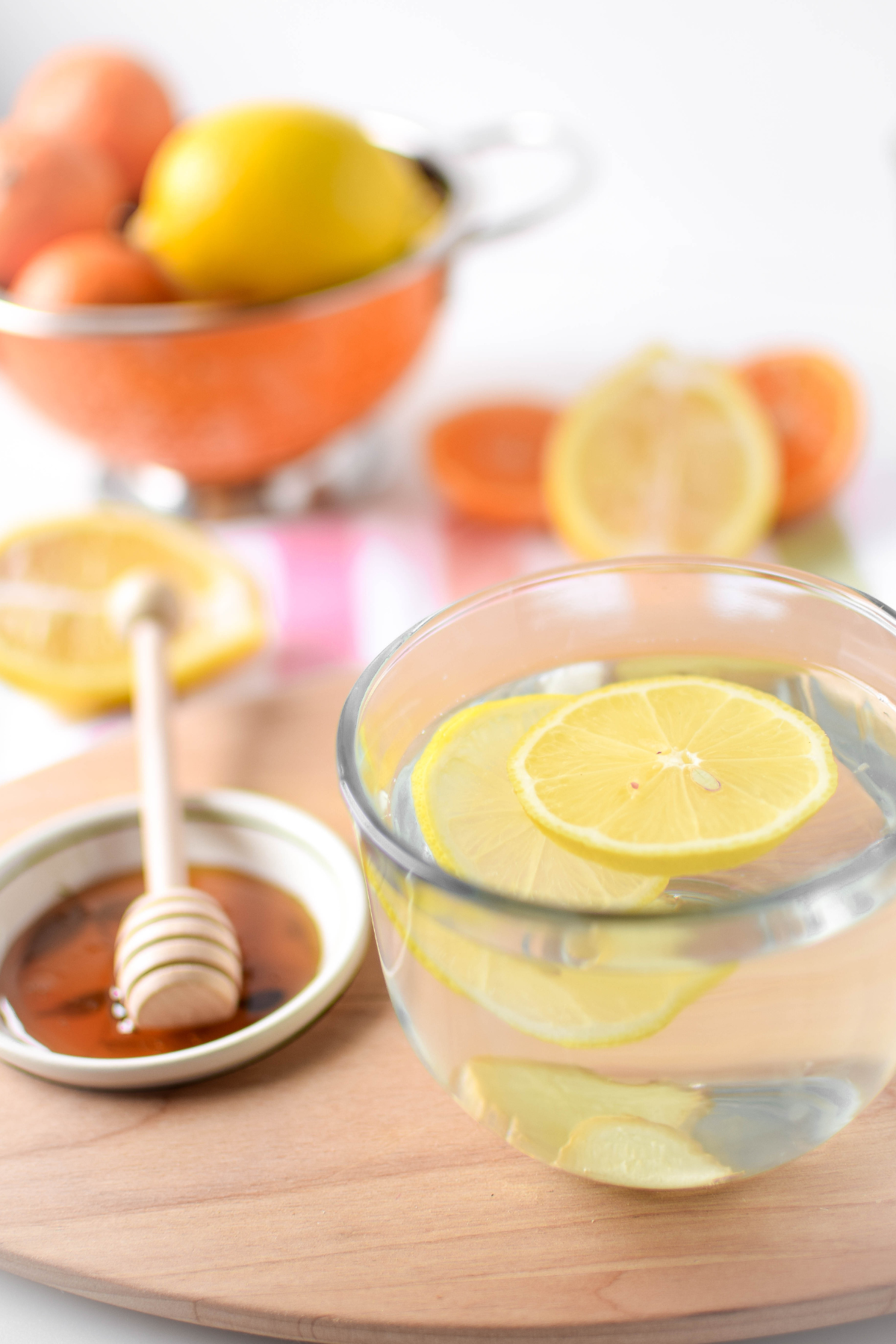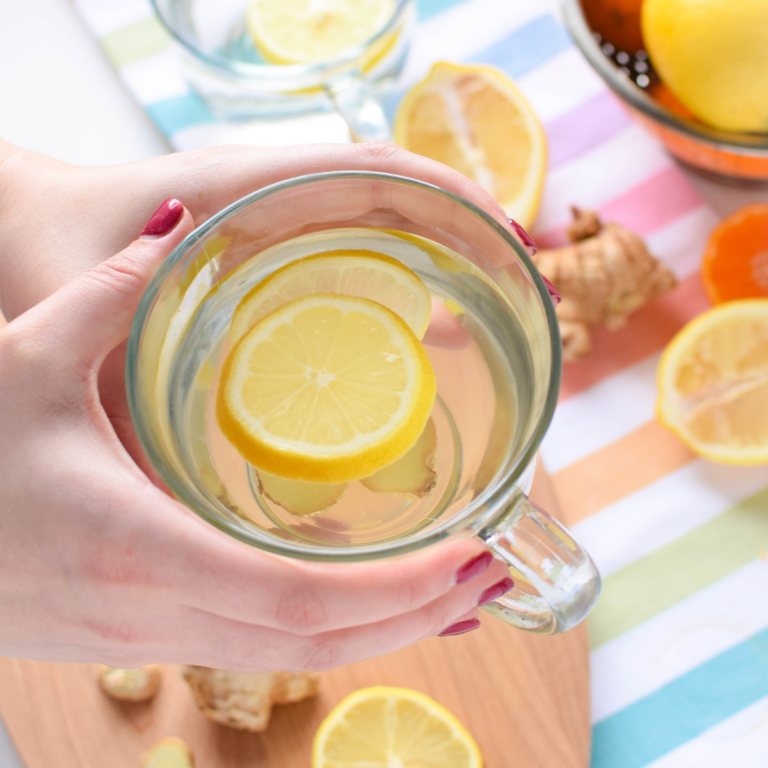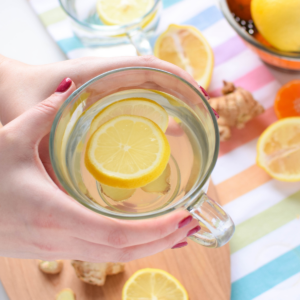 Honey, Ginger, Warm Lemon Water
Stay hydrated and give your mood a gentle, uplifting boost with this naturally soothing honey and ginger warm lemon water recipe that can help you get back to feeling your best quickly.
Ingredients
8

ounces

water

½

whole

lemon

sliced

½"

piece

fresh ginger

peeled, sliced

1

teaspoon

honey
Instructions
Bring the water to just under a boil using your method of choice.

While the water is heating up, add the lemonand ginger slices to your favorite mug. Muddle, if desired.

Pour the hot water into the cup.

Stir in the honey and enjoy.
Nutrition
Serving:
1
cup
,
Calories:
5
kcal
Did you make this recipe or have a question?
Join hundreds of members inside private Well With Cannabis Community for help, support, and to share your edible creations!