Hanging plants in the bathroom is not just a fun way to spruce up your space, but it also provides many benefits for your mental health and physical well-being. In this guide, we will review the seven best hanging plants that thrive in a bathroom and how to hang them in various ways that complement your style.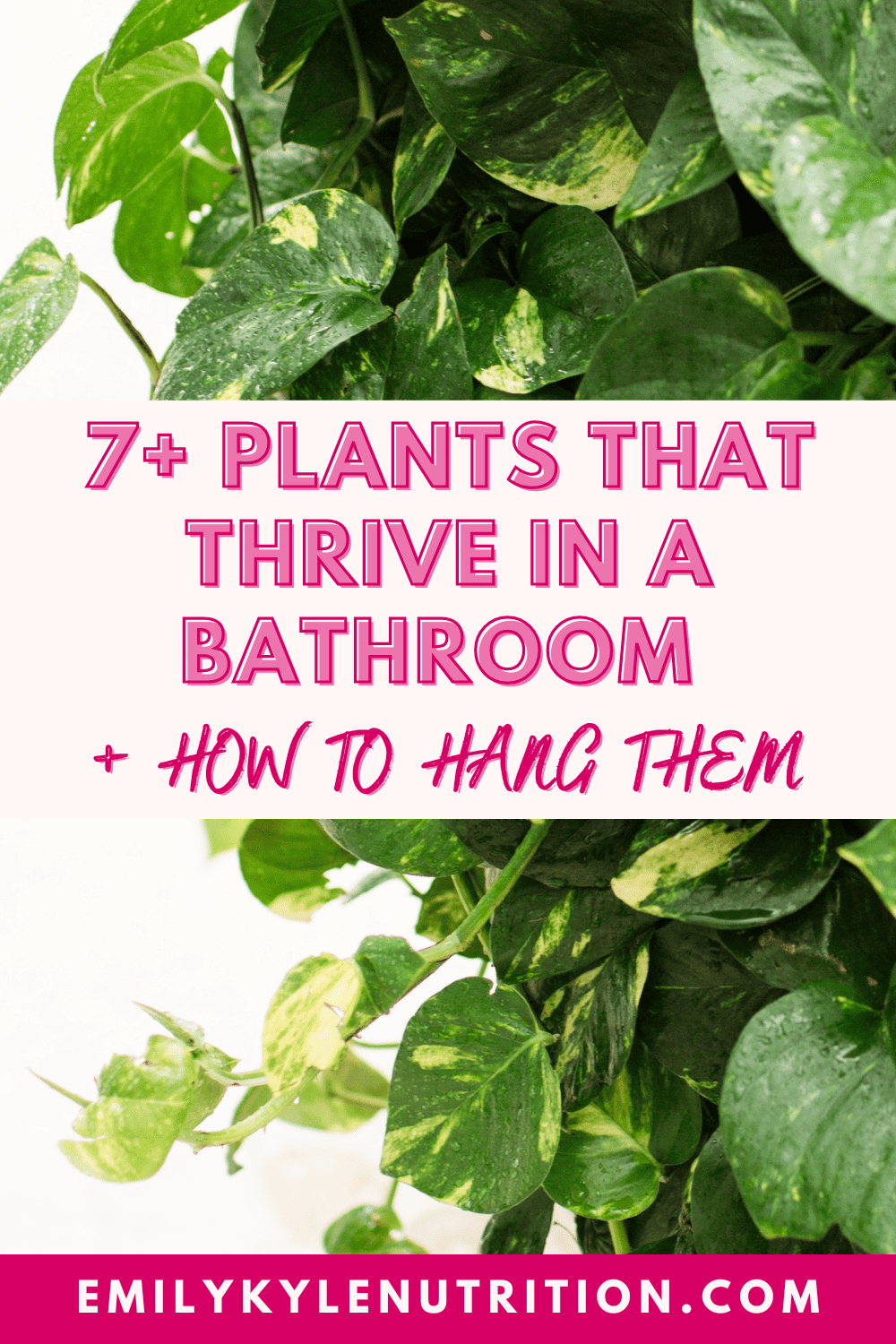 Features
A list of the best plants to keep in a bathroom
Considerations for your specific light and space
Where to place or hang plants in the bathroom
Why You Will Love This Guide
If you're ready to bring the best elements of nature in the form of real plants into your bathroom, this is the guide for you.
Indoor plants can help improve air quality by acting as a natural air purifier; these beautiful plants are also an attractive addition to any room, blending in as a part of your bathroom decor.
In this guide, we will cover what type of plant is best for you, your specific needs, and how to hang different types of plants on shower curtains or hooks.
We will also include some tips for keeping your plants alive longer so you don't have to replace them all too often.
Just remember, there is no one option is the perfect plant; pick one that is perfect for you and your space!
Before You Pick A Plant
Before you run and place just any plant in your bathroom, there are a few considerations to take to select the right plant.
Not all common houseplants are the right choice for this often hot, moist environment.
To make the best choice when selecting indoor plants to hang in a bathroom, consider the following:
The available amount of light
The plant's ability to tolerate high humidity
If hanging in the shower – the plant's ability to tolerate moist soil
Humidity
For a plant to thrive in a small bathroom, think of tropical plants that thrive in humid conditions, like lucky bamboo or moth orchids.
​Any plant that can tolerate the heat of the tropics can thrive in a humid bathroom.
Moisture
You want to choose a plant that can naturally tolerate a very moist environment, as it will be taking on a lot of water from the steamy bathroom.
It will take on even more if the plant is placed directly in your shower.
Ideally, the pot you choose for your plant to live in should contain drainage holes that allow any excess water to drain.
Well-drained soil is important to prevent root rot and support the overall health of the plant.
Sunlight
In order to pick the best bathroom plants for your space, it is important to consider how much sunlight your bathroom receives.
Plants that thrive in bright light will be different from plants that thrive in low-light conditions.
In most cases, the artificial lighting already present in your bathroom is not a sufficient light source for live plants.
Before moving forward, decide if your bathroom has a lot of light, bright indirect light, medium light, or little to no light.
Knowing this will help you pick the plant that is right for you.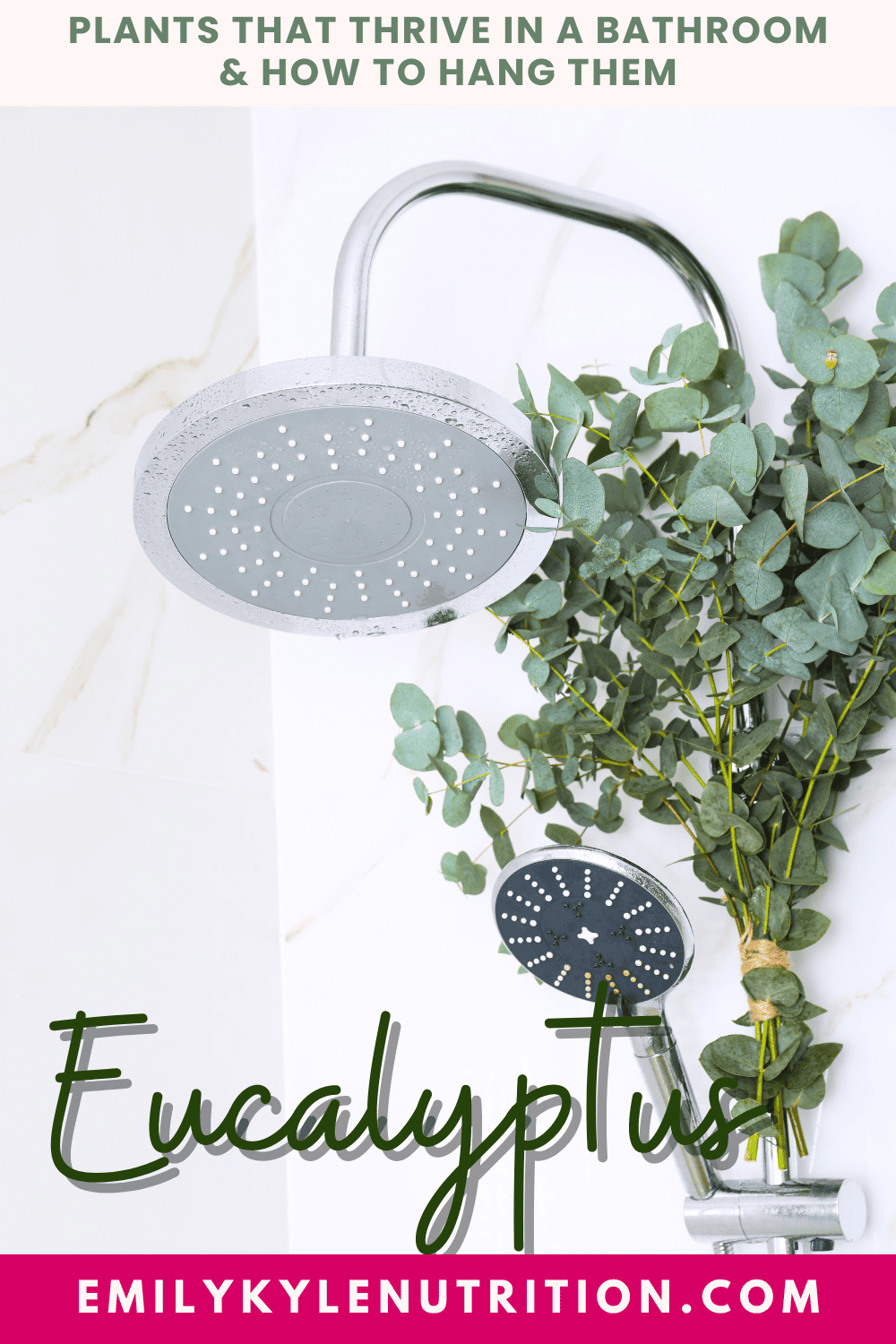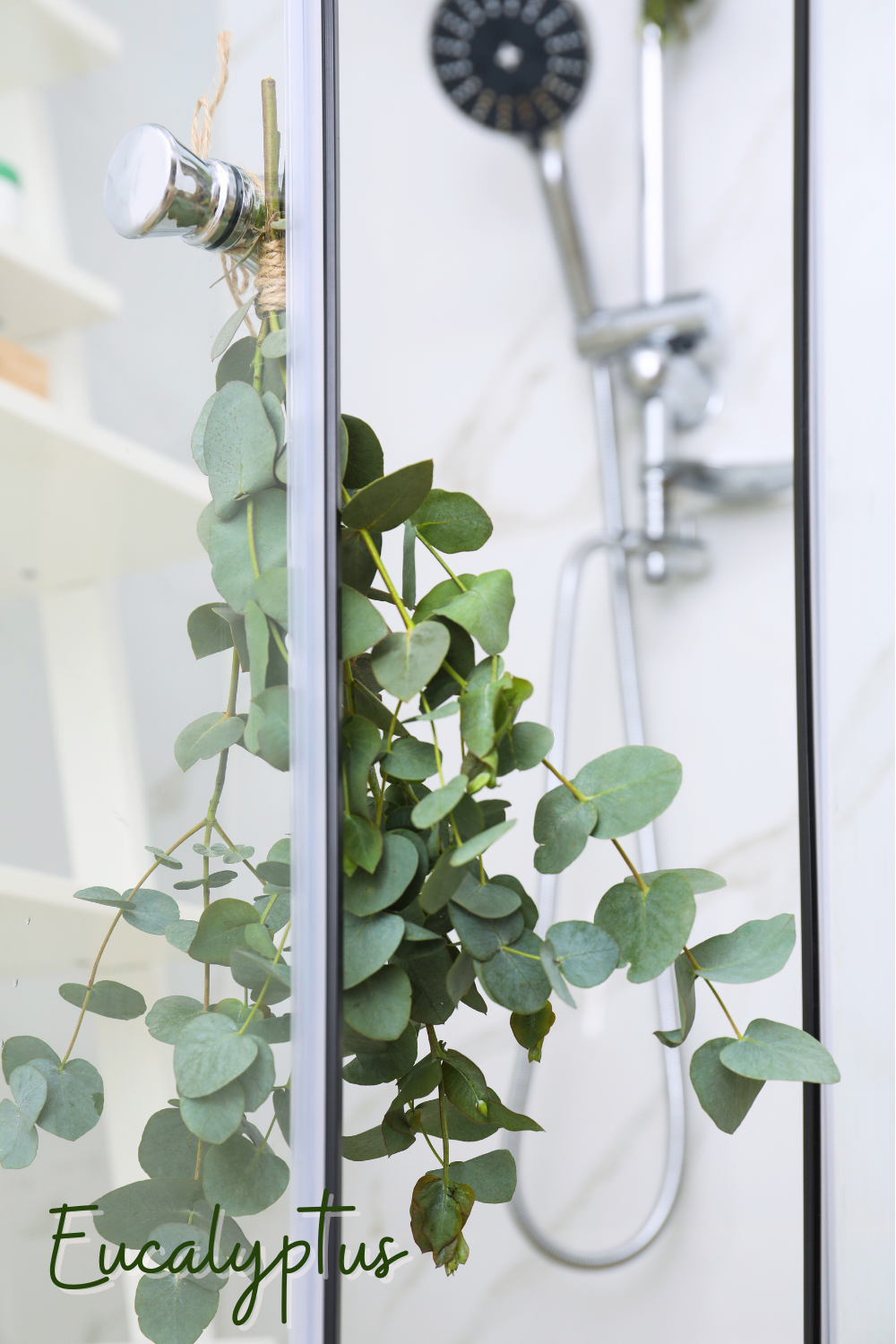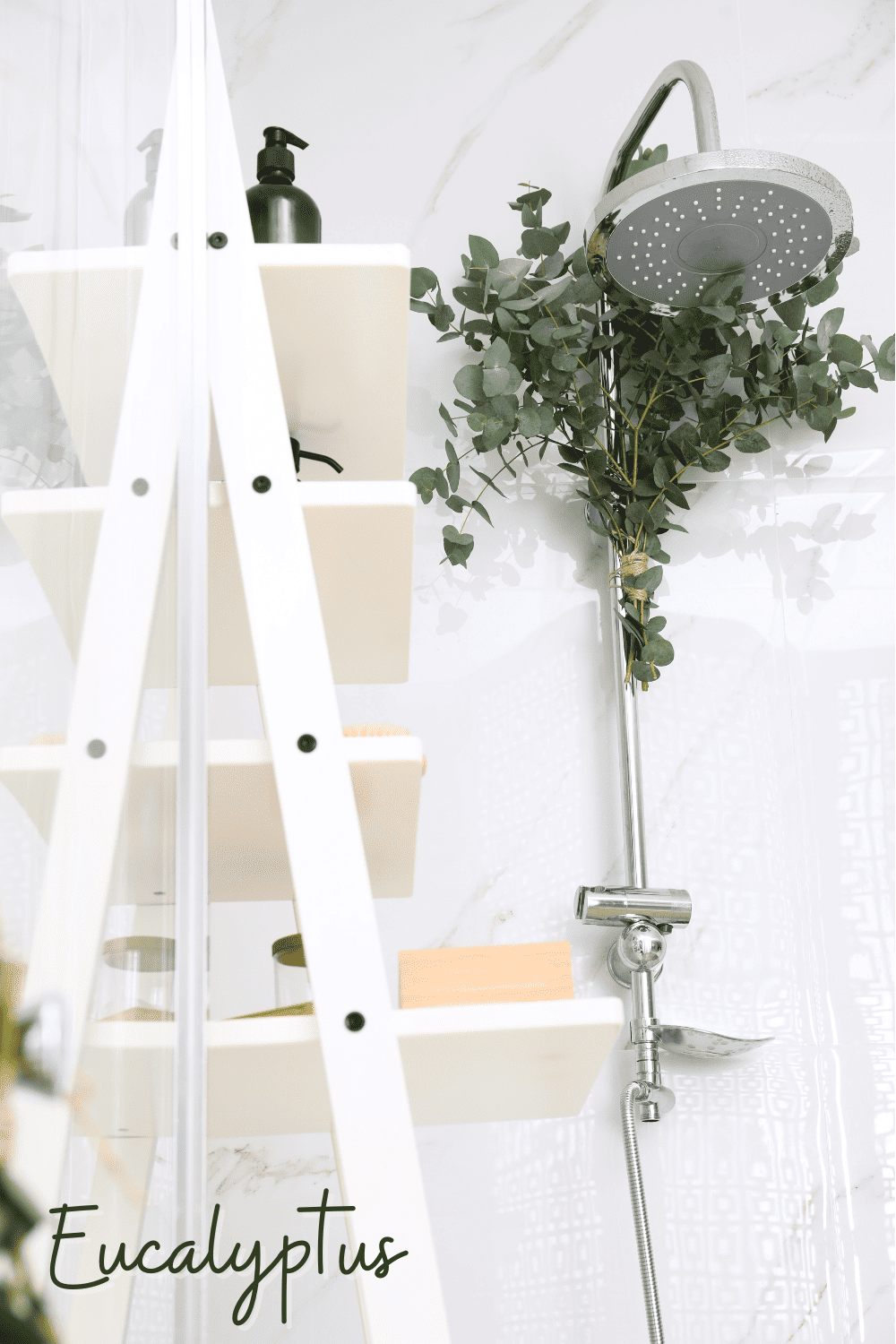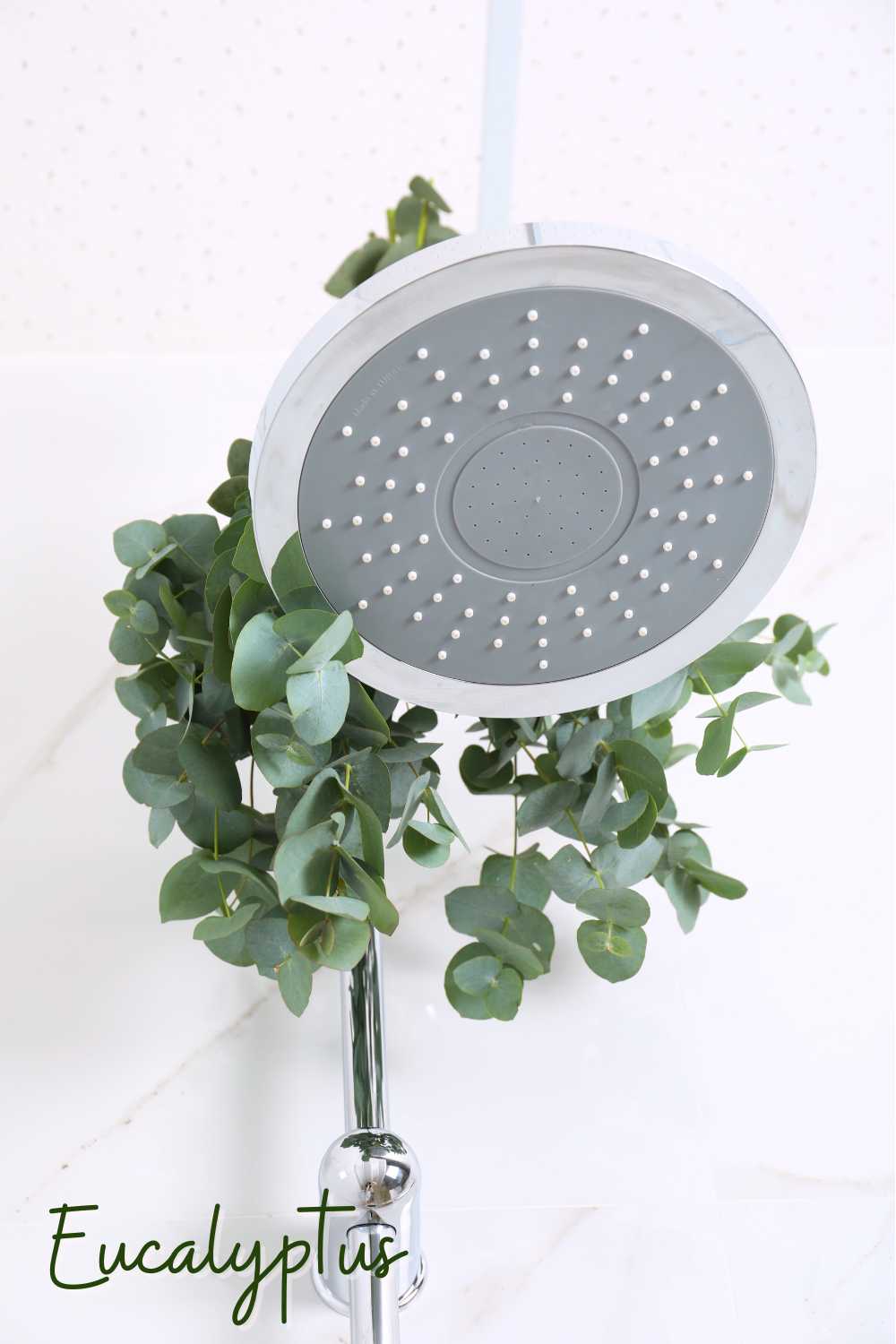 Eucalyptus
Light Requirement: None*
Eucalyptus plants may be the most common image you see when you envision a magical shower space with soothing foliage hanging from the shower head.
In this instance, the eucalyptus is often already cut from the growing plant.
Once cut, hanging the plant directly from the shower head is an excellent choice.
The shower's heat and steam will help release the plant's essential oils, creating an incredible-smelling bathroom oasis.
Many people enjoy this aromatherapy experience as an enhancement to their other mental health practices.
You can purchase a bunch of fresh-cut eucalyptus from select grocery or health food stores. Alternatively, you can also hang dried eucalyptus leaves from the shower head.
*This is the one option that is not a live, growing plant, so this works in any bathroom with any light situation.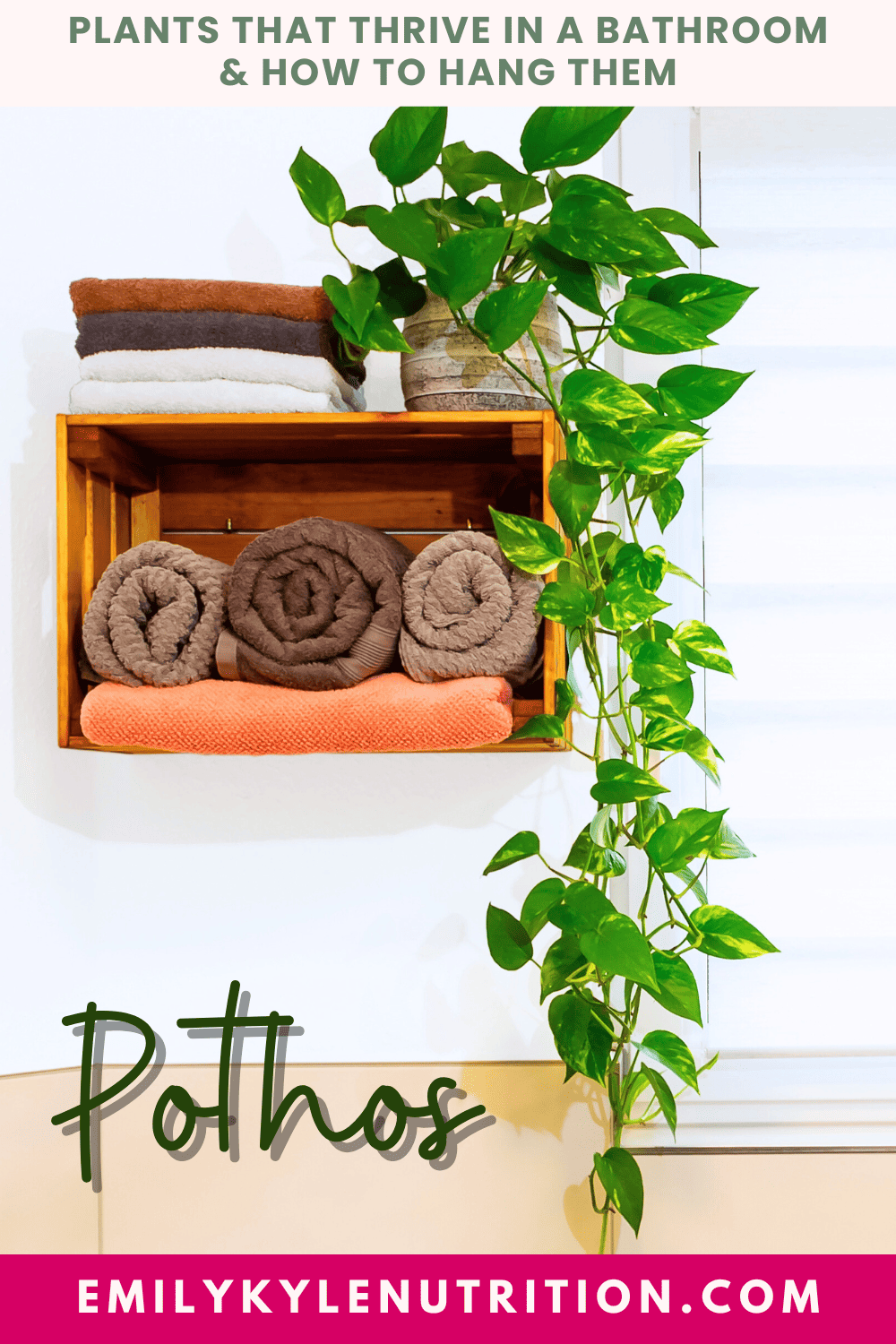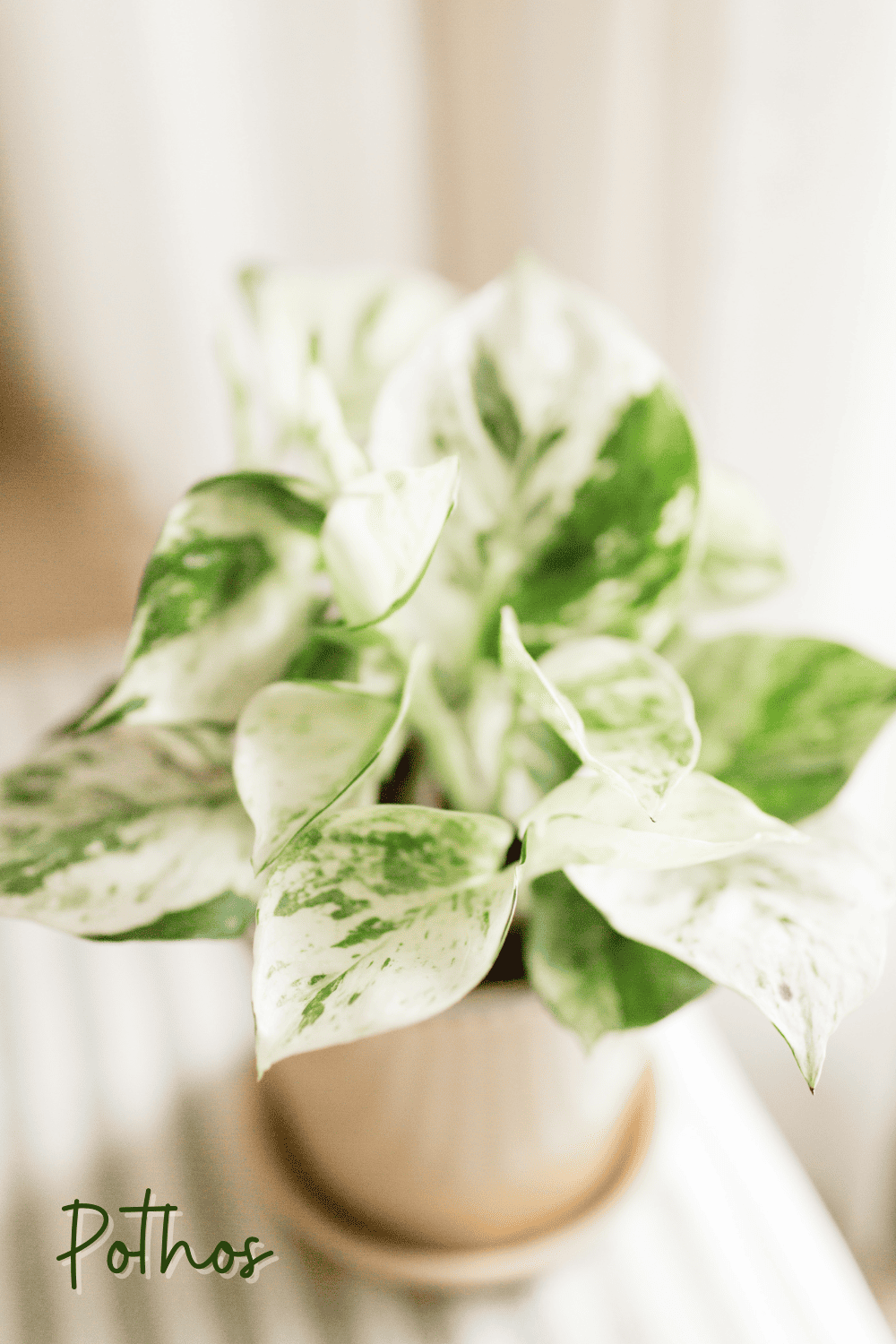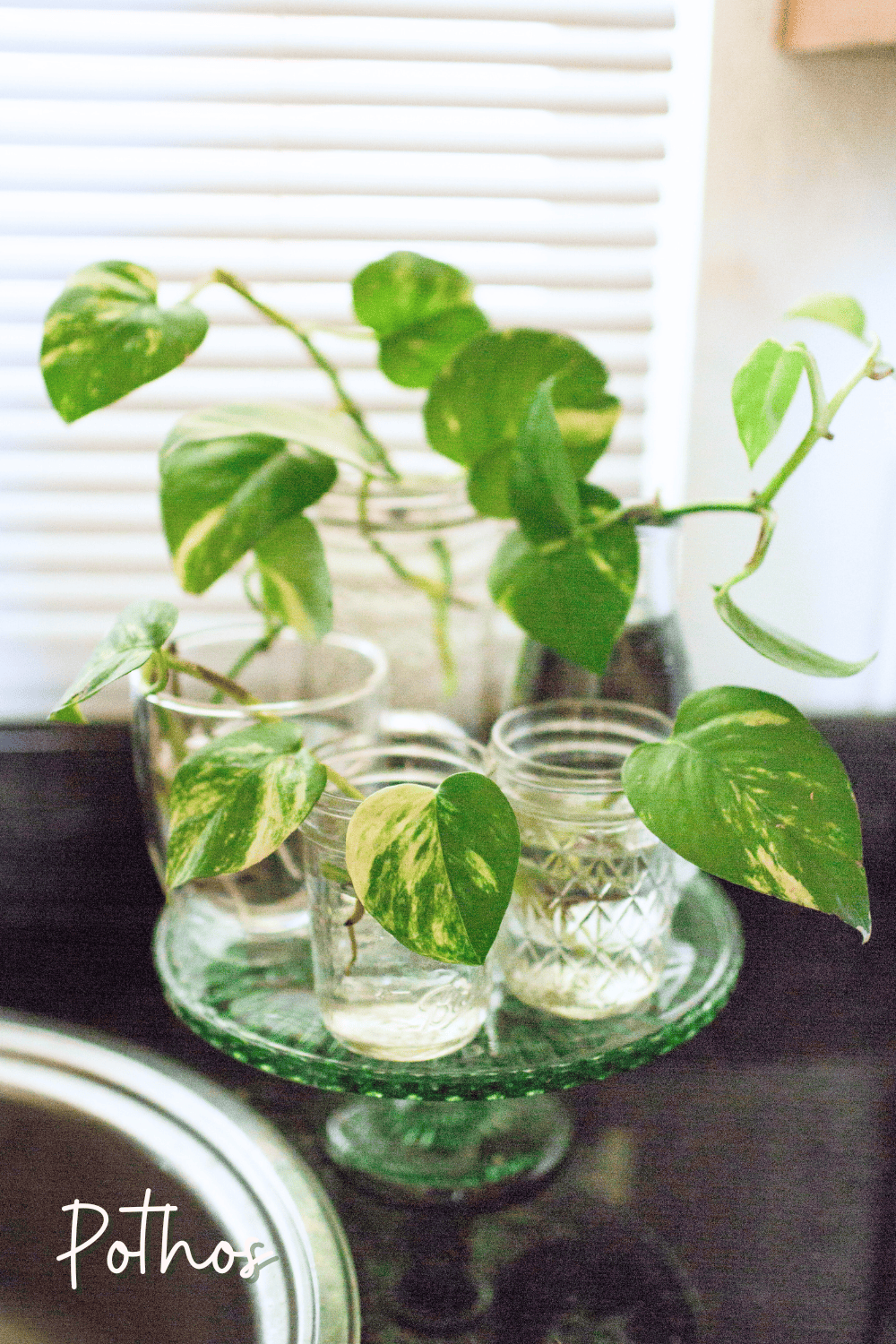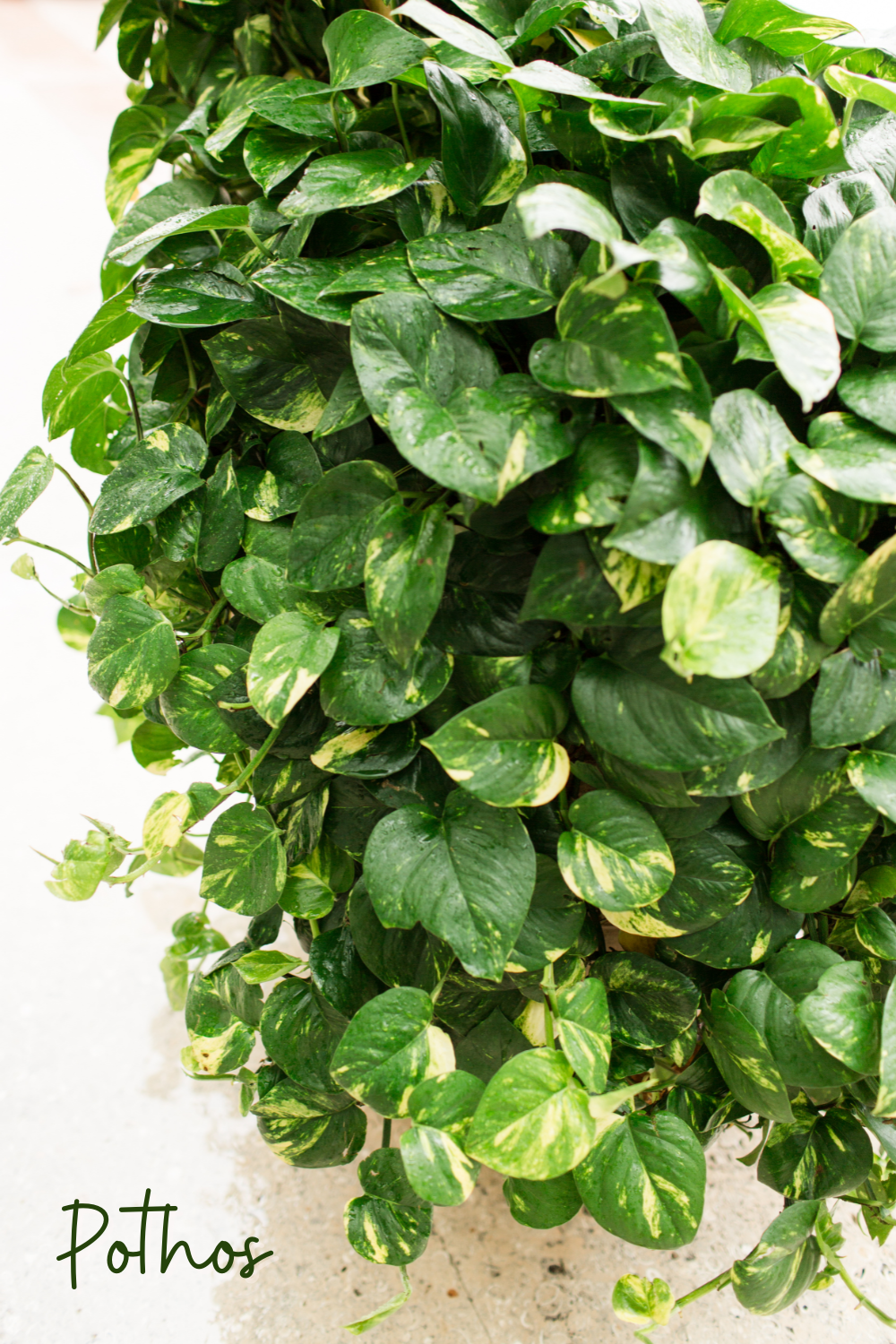 Pothos
| Light Requirement: Moderate Light
Epipremnum, or pothos plants, sometimes called the devil's ivy, can come in many varieties, such as golden and neon pothos.
You may recognize their unique, heart-shaped leaves in the pictures below. This fast-growing plant thrives in warm, humid environments, making it a great choice for your bathroom.
And because this plant does well in moderate-light situations, it is an excellent choice to cling to your shower curtain or hang from a hook near the window.
One of the really convenient qualities of pothos is that some varieties can grow in water, which is an attractive option if you don't necessarily want a pot of dirt hanging in your shower.
Hanging hooks also work well because they allow airflow below them and give these high-level varieties room to grow upward while still getting ample sun rays all day.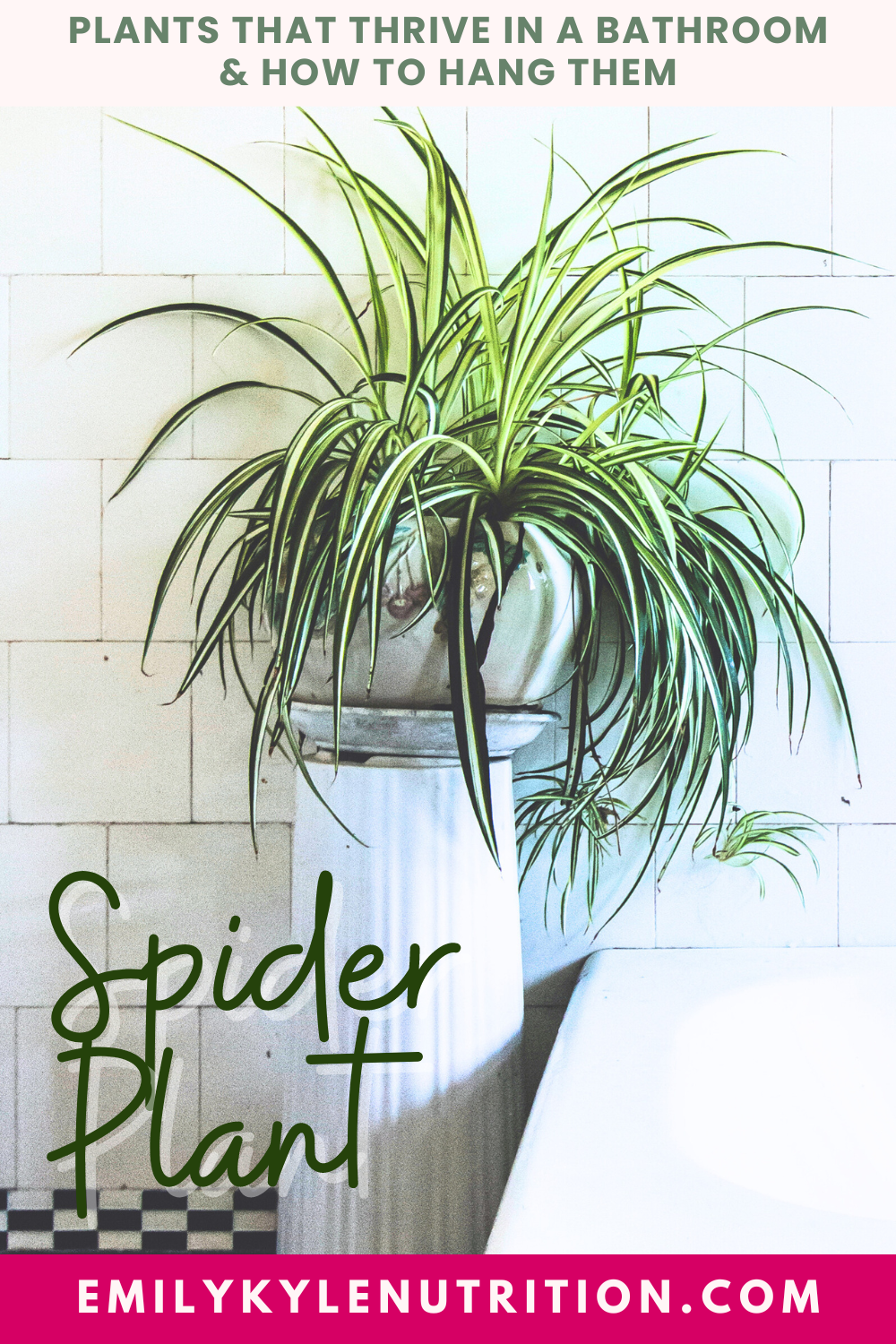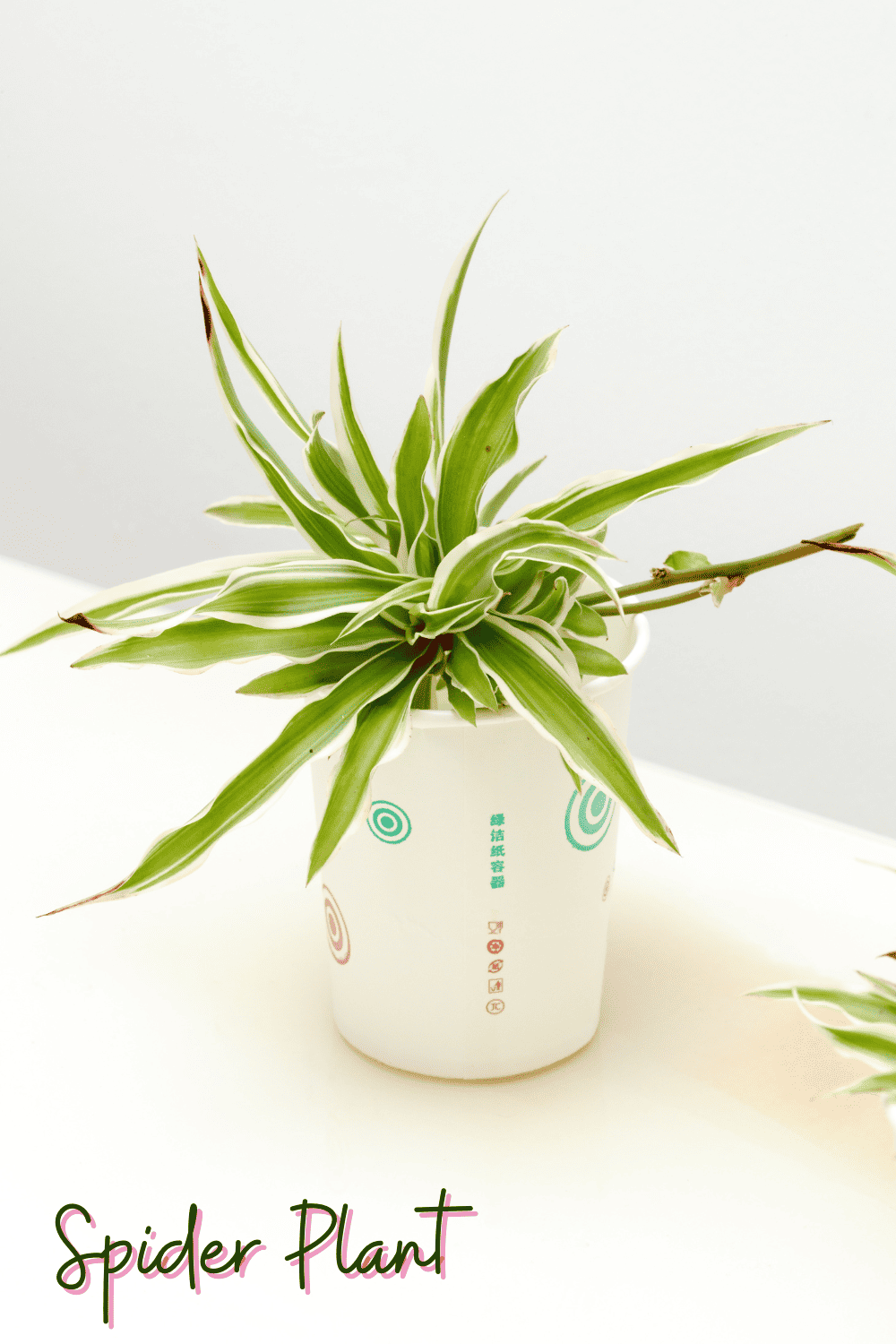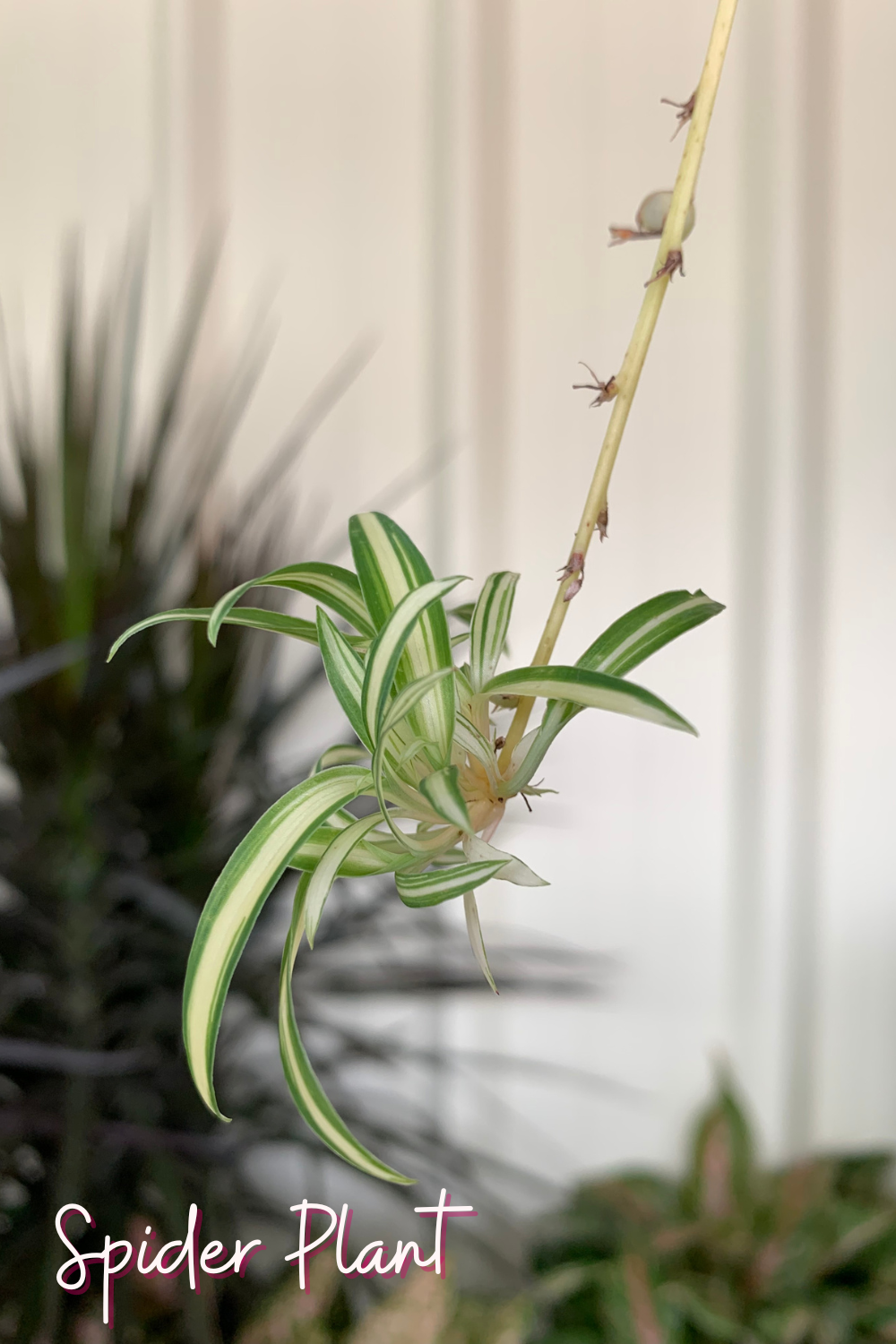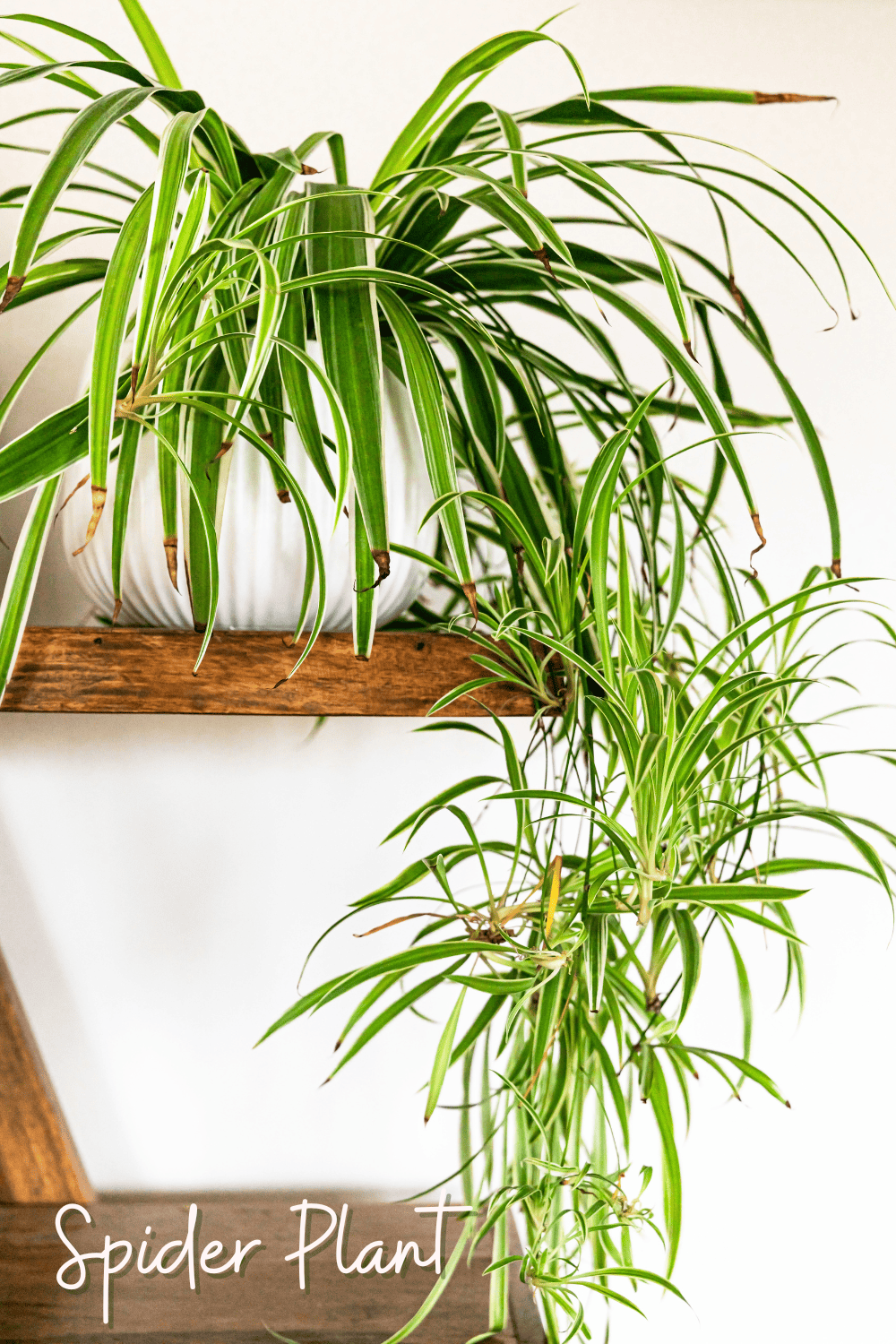 Spider Plant
Light Requirement: Moderate-Bright, Not-Direct Light
Chlorophytum comosum, or spider plants, are very popular house plants as they are a low maintenance plant that prefers to be left alone – perfect for forgetting about in the bathroom.
This plant needs indirect sunlight but should not receive direct sun exposure. To help achieve this, you should place this higher up on your wall to get enough natural light exposure daily.
This makes the top of a bathroom shelf the perfect place to place your spider plant.
The plant prefers to be slightly moist, so you could try a self-watering pot or a watering globe for a set-it-and-forget-it option.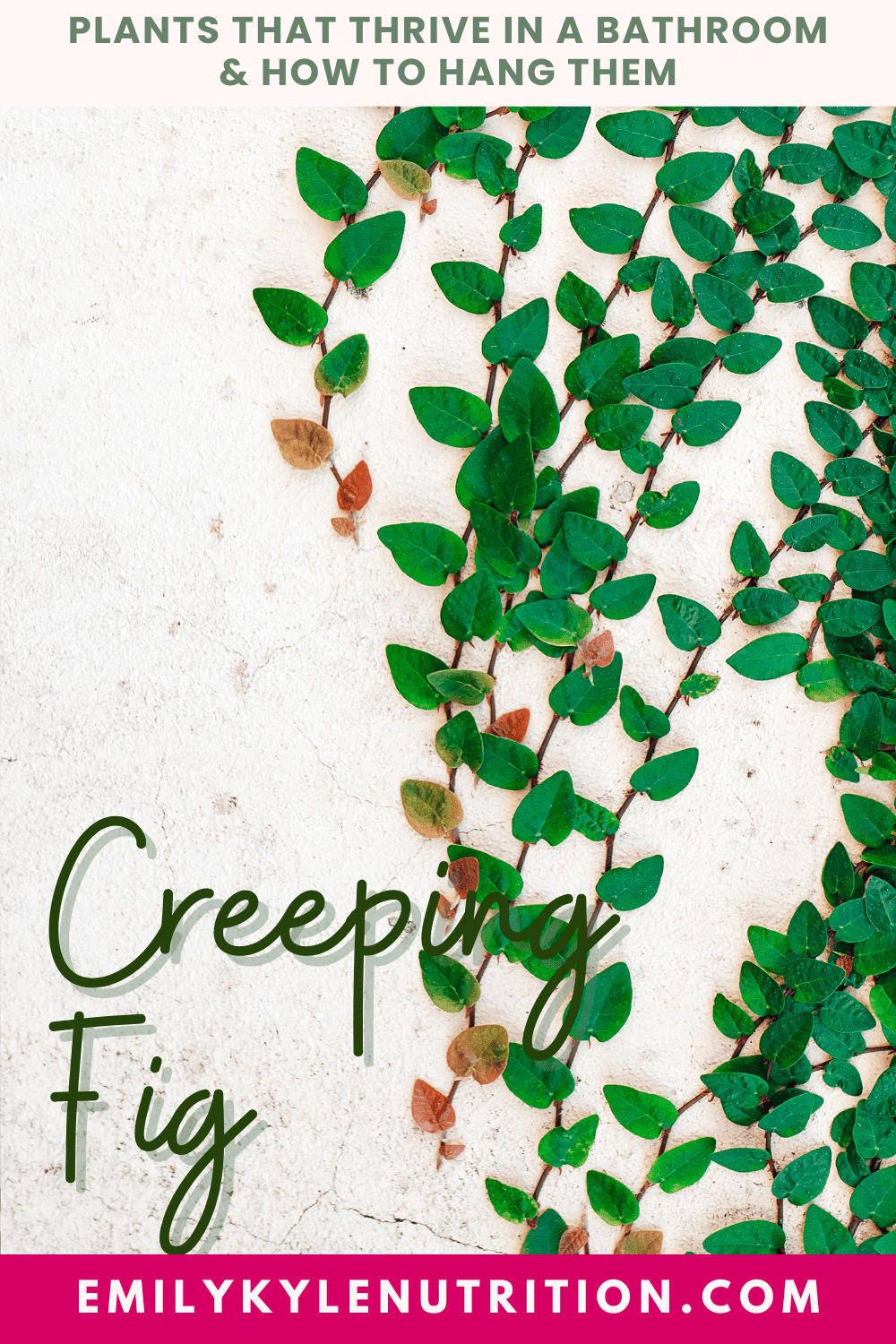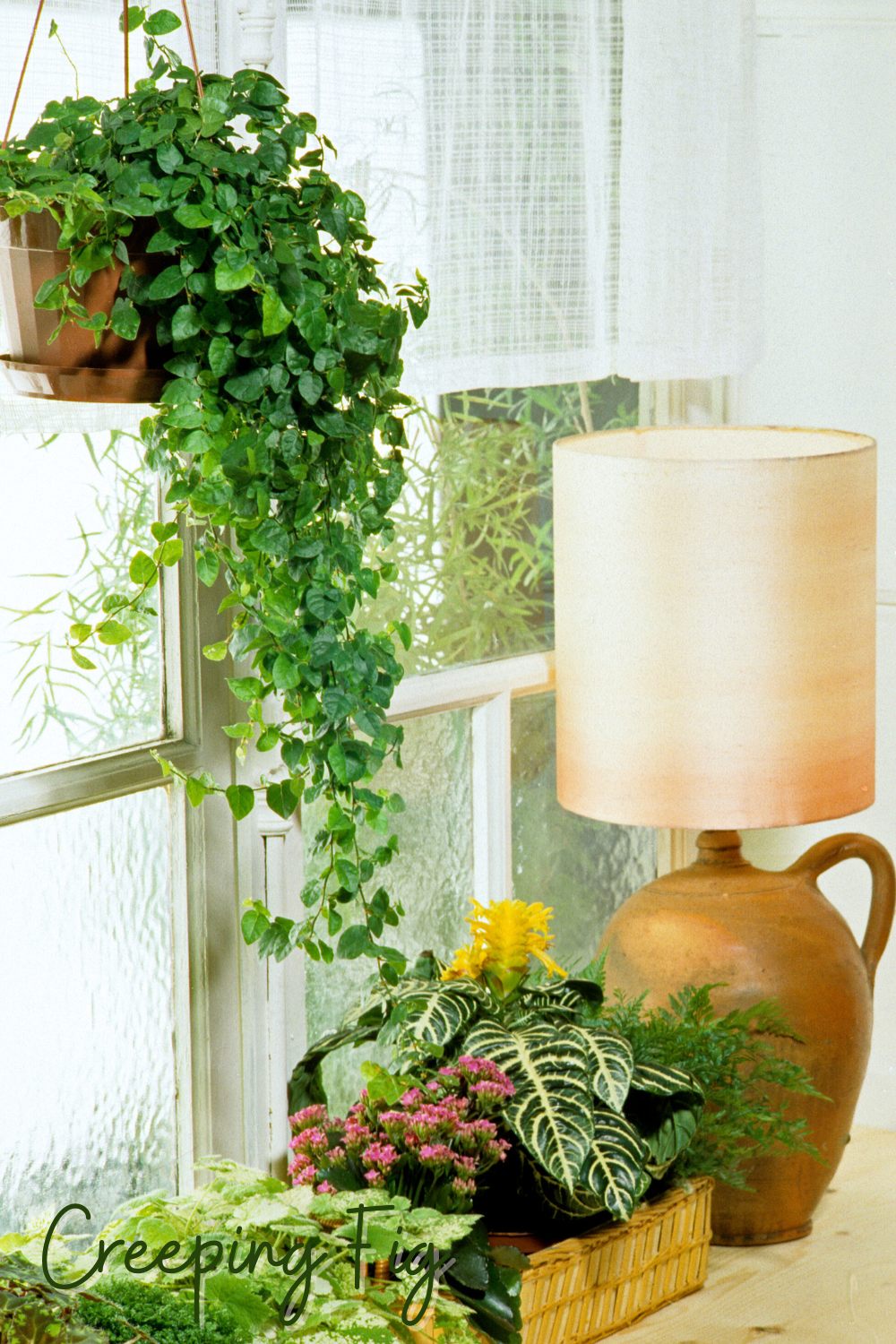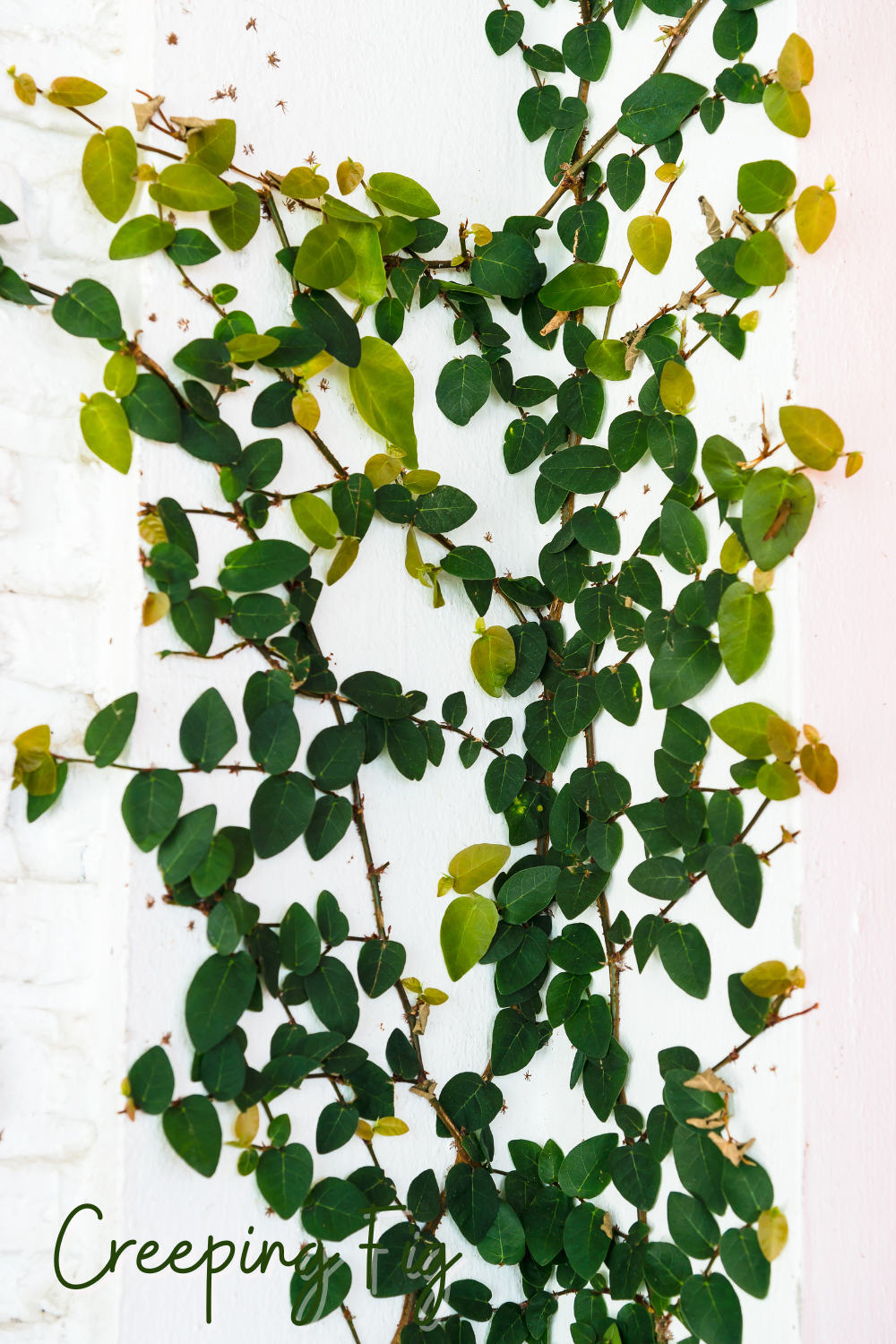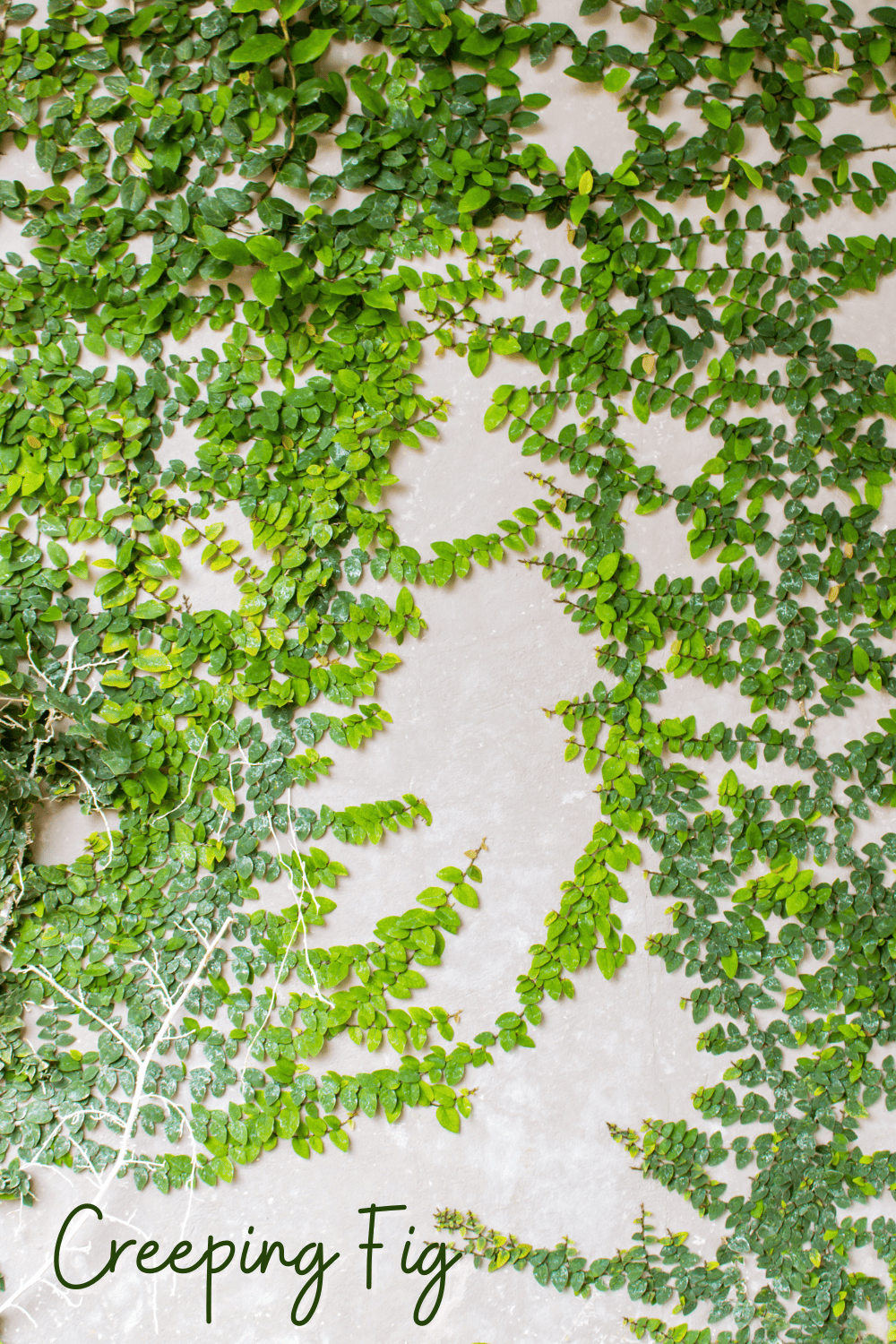 Creeping Fig
Light Requirement: Moderate-Bright, Not-Direct Light
Ficus pumila, also known as creeping fig, sometimes called fig ivy, is a vine that does well indoors and out.
This is an excellent plant for a bit more humid areas, like the bathroom. These guys love their hanging hooks and can handle being at eye level in the bathroom.
The green foliage has natural creases, which give this plant its distinctive look and extra surface space to make contact with water droplets from your shower head or bathtub faucet.
Just note that this plant requires soil that can dry out fully; the roots can not sit in water for an extended period of time.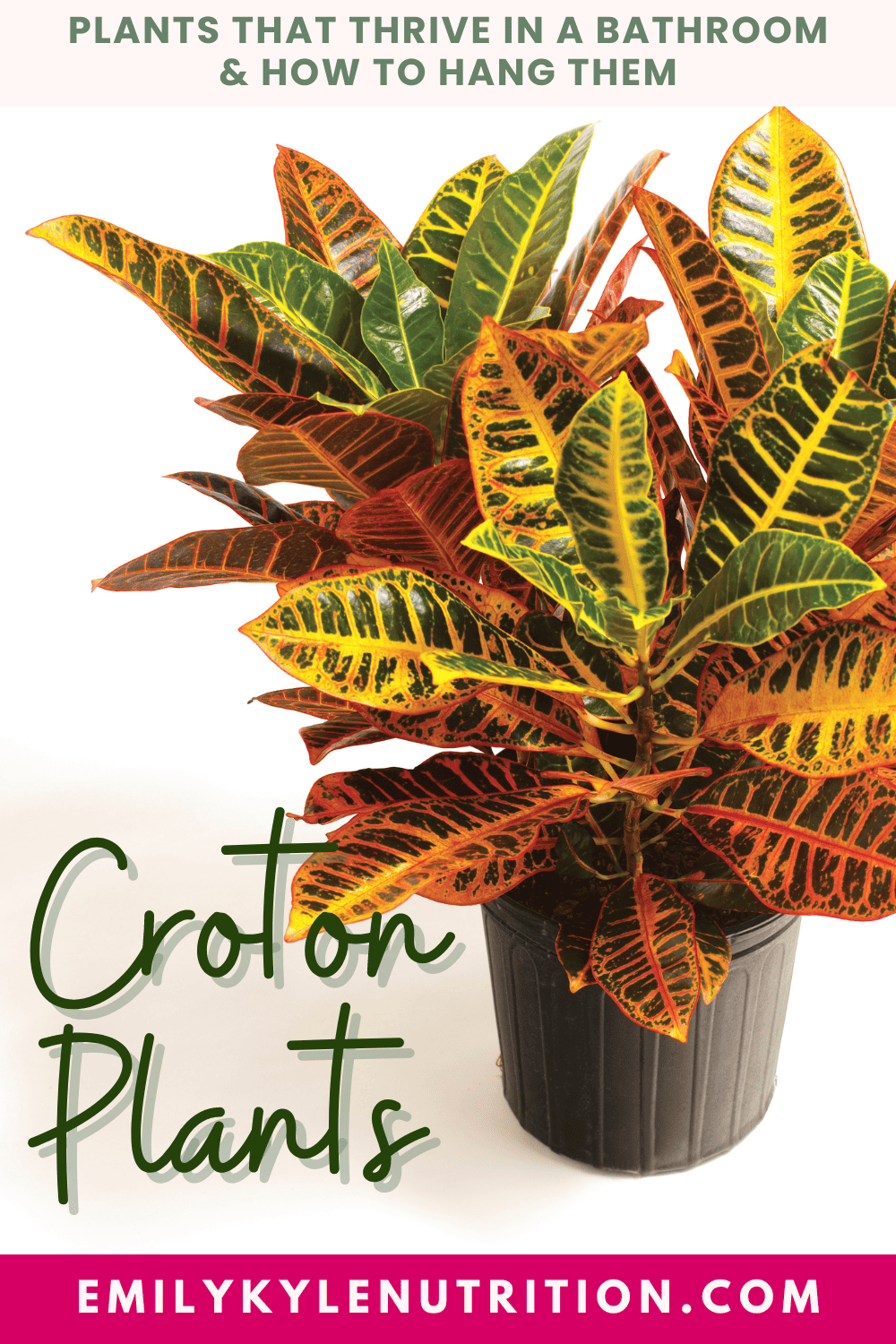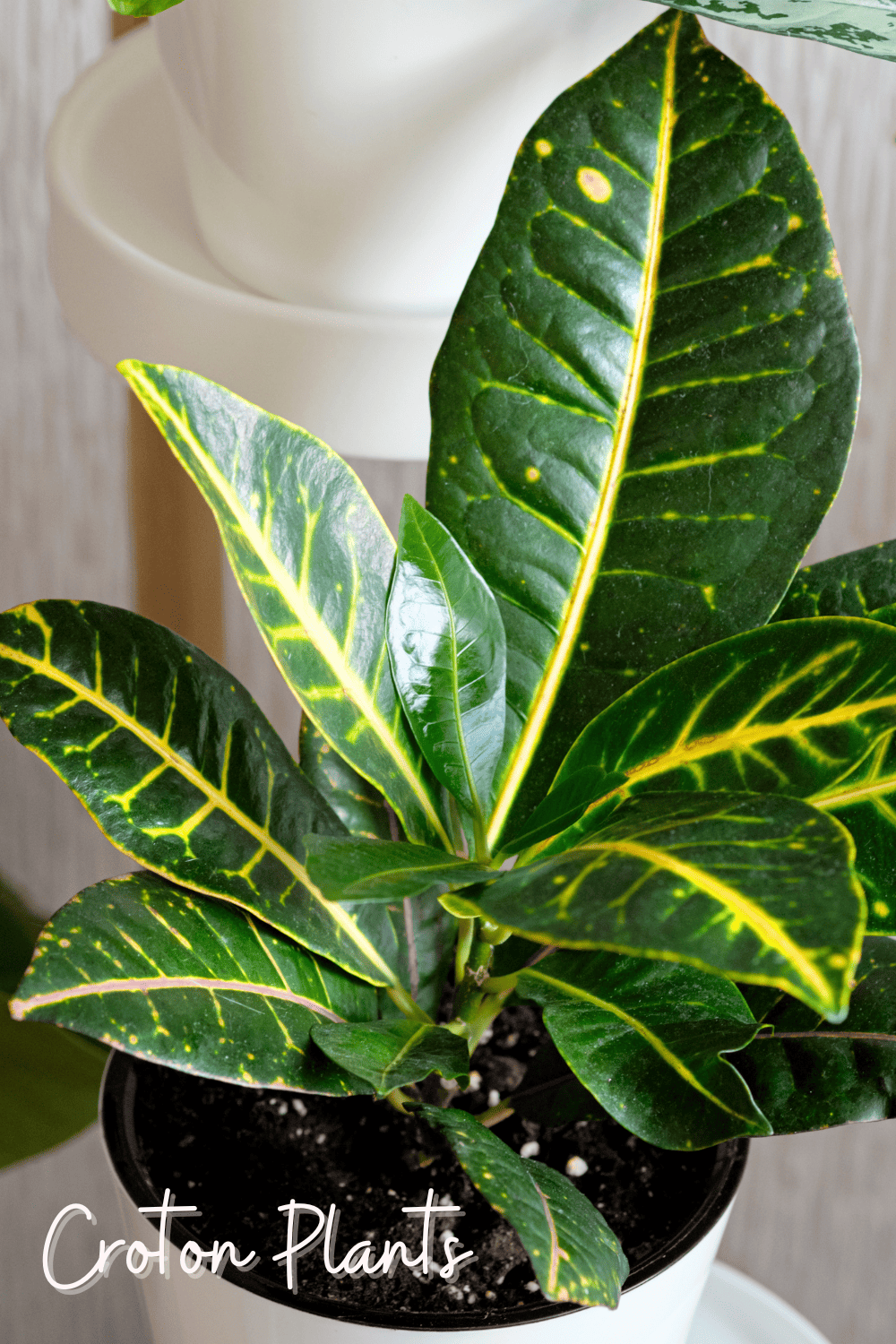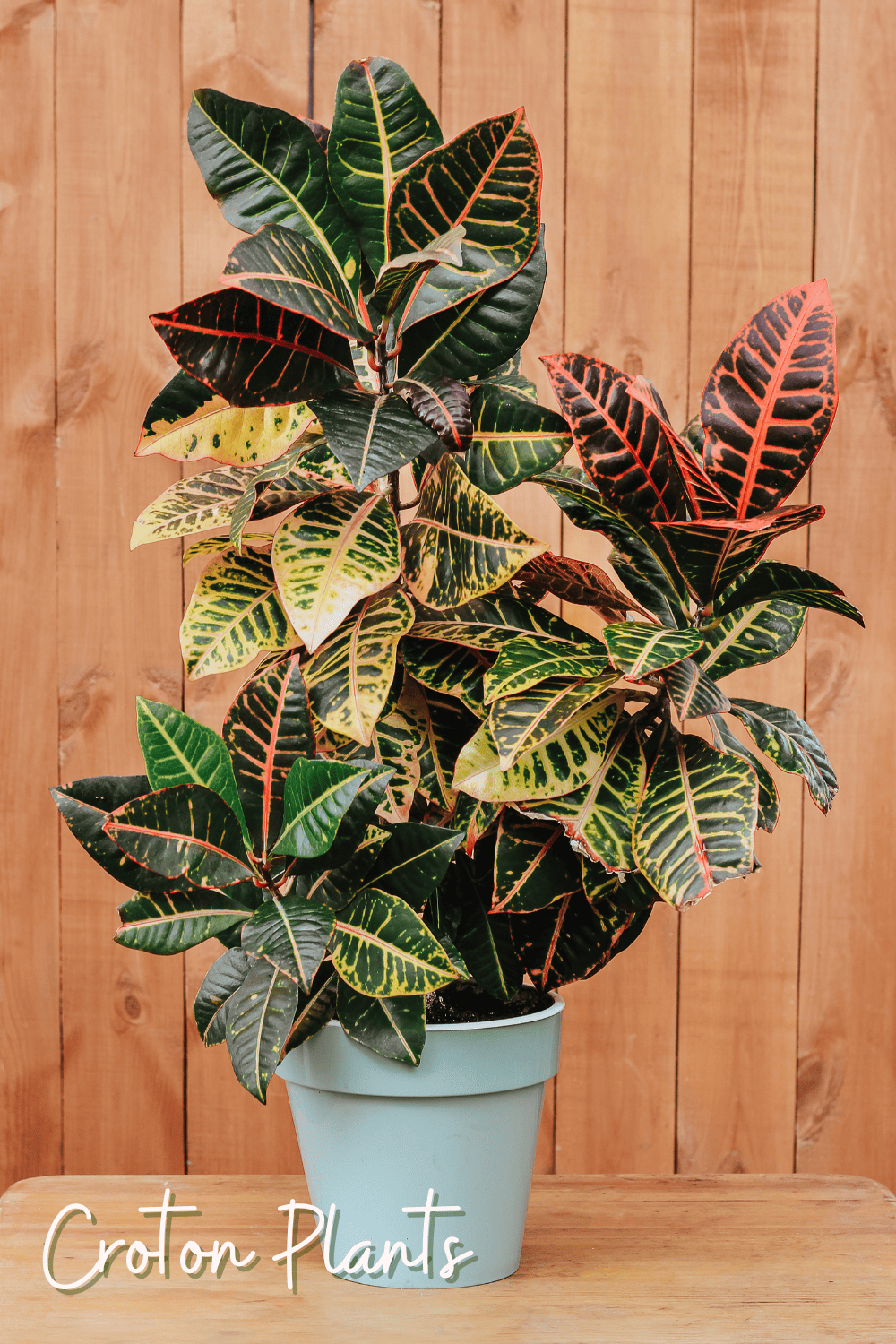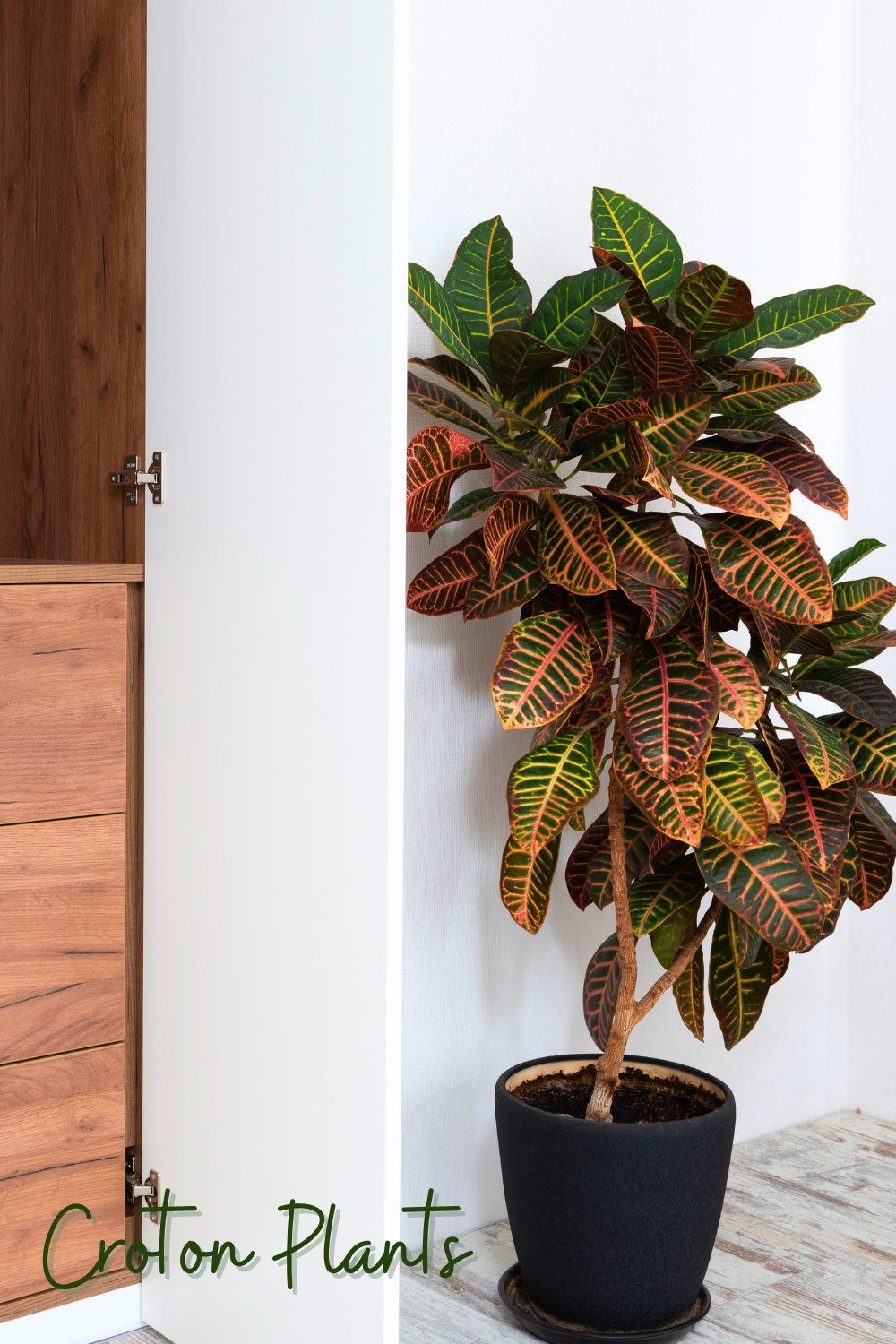 Croton Plants
Light Requirement: Bright, Direct Light
Codiaeum varigatum, also called variegated croton, these are beautiful plants with vibrant yellow, orange, red, multi-colored, or green leaves.
A croton plant thrives best with lots of natural light, so only choose one of these beauties if you have a large, bright window in your bathroom.
These small plants are typically kept in pots that would sit on your bathroom shelf or windowsill.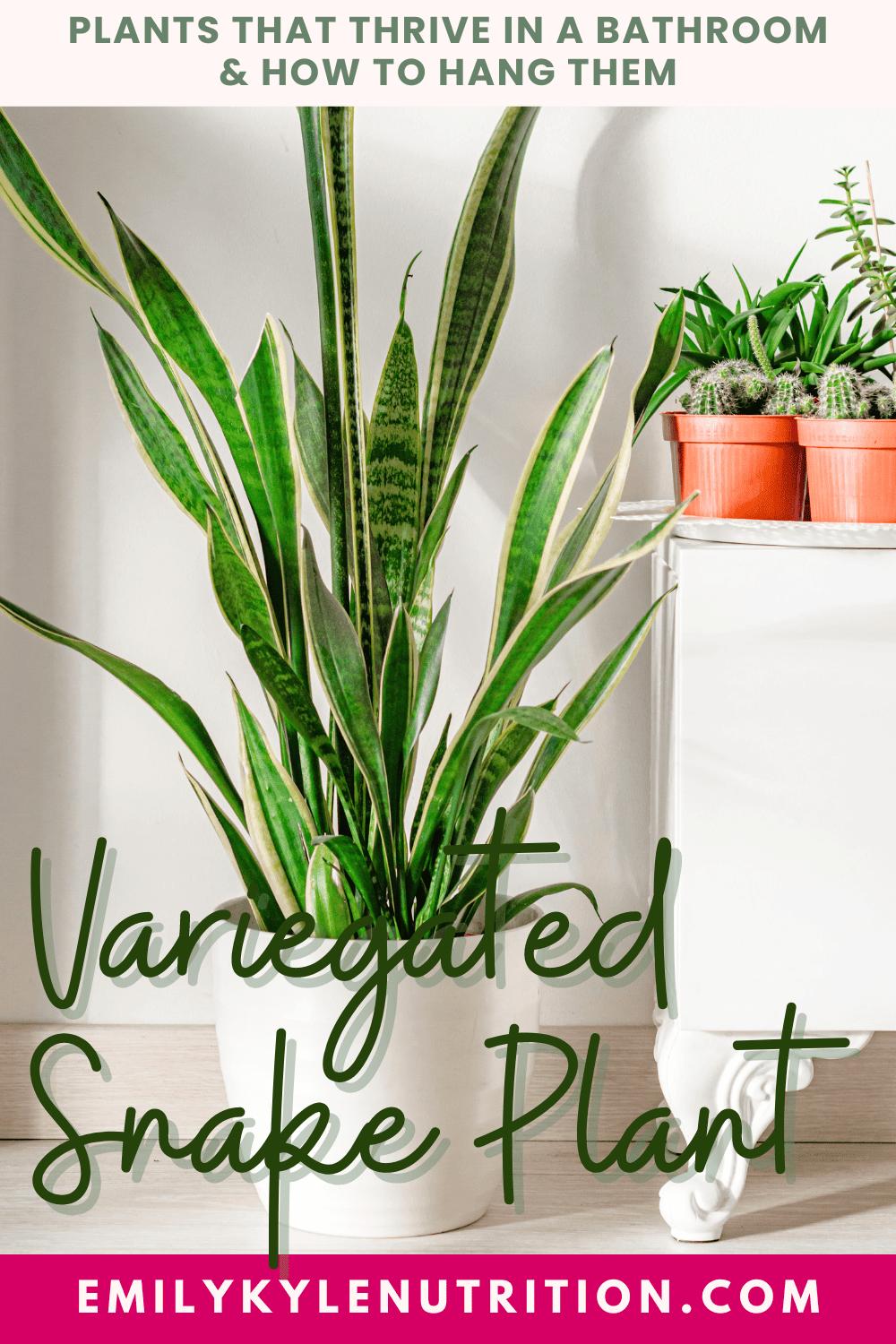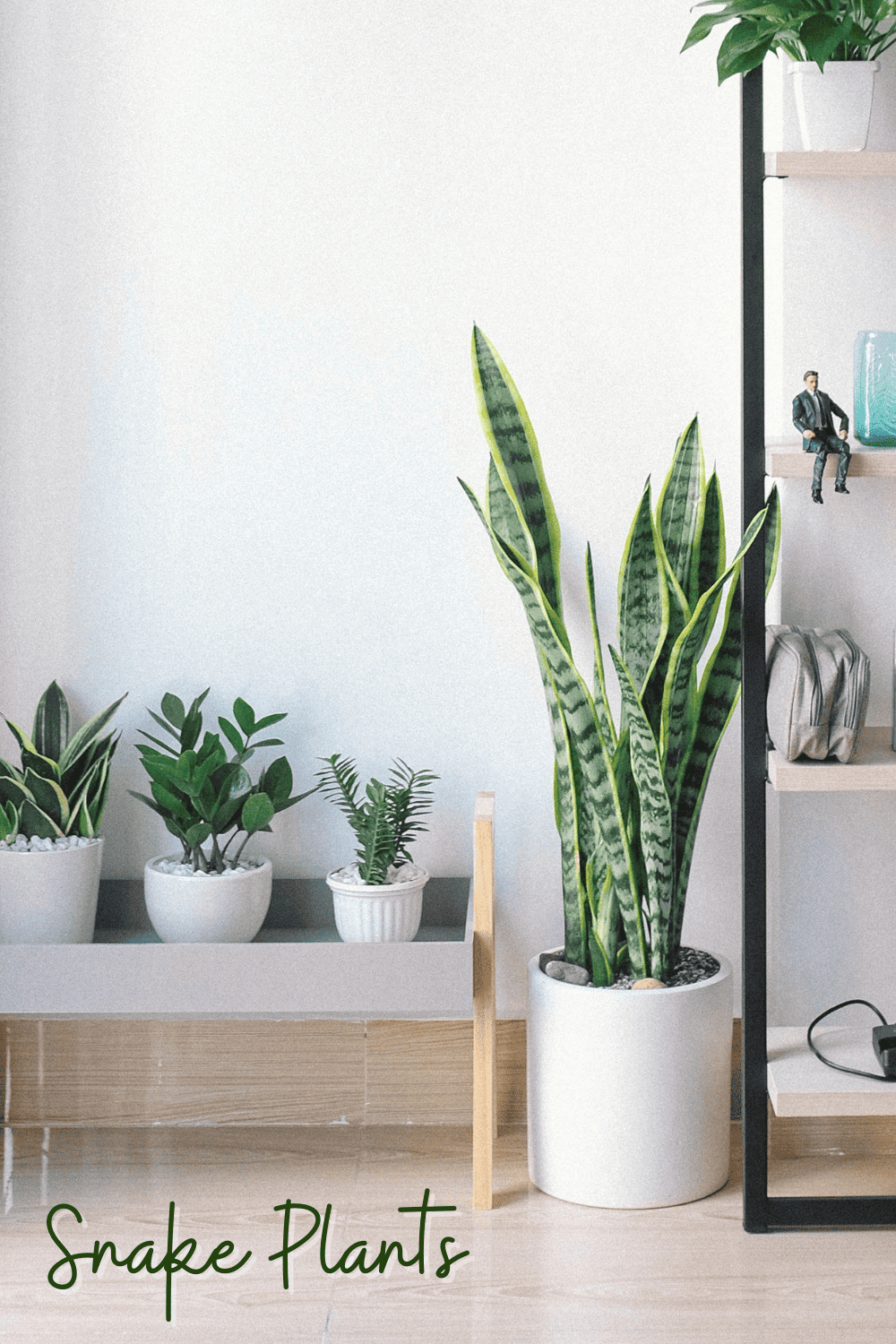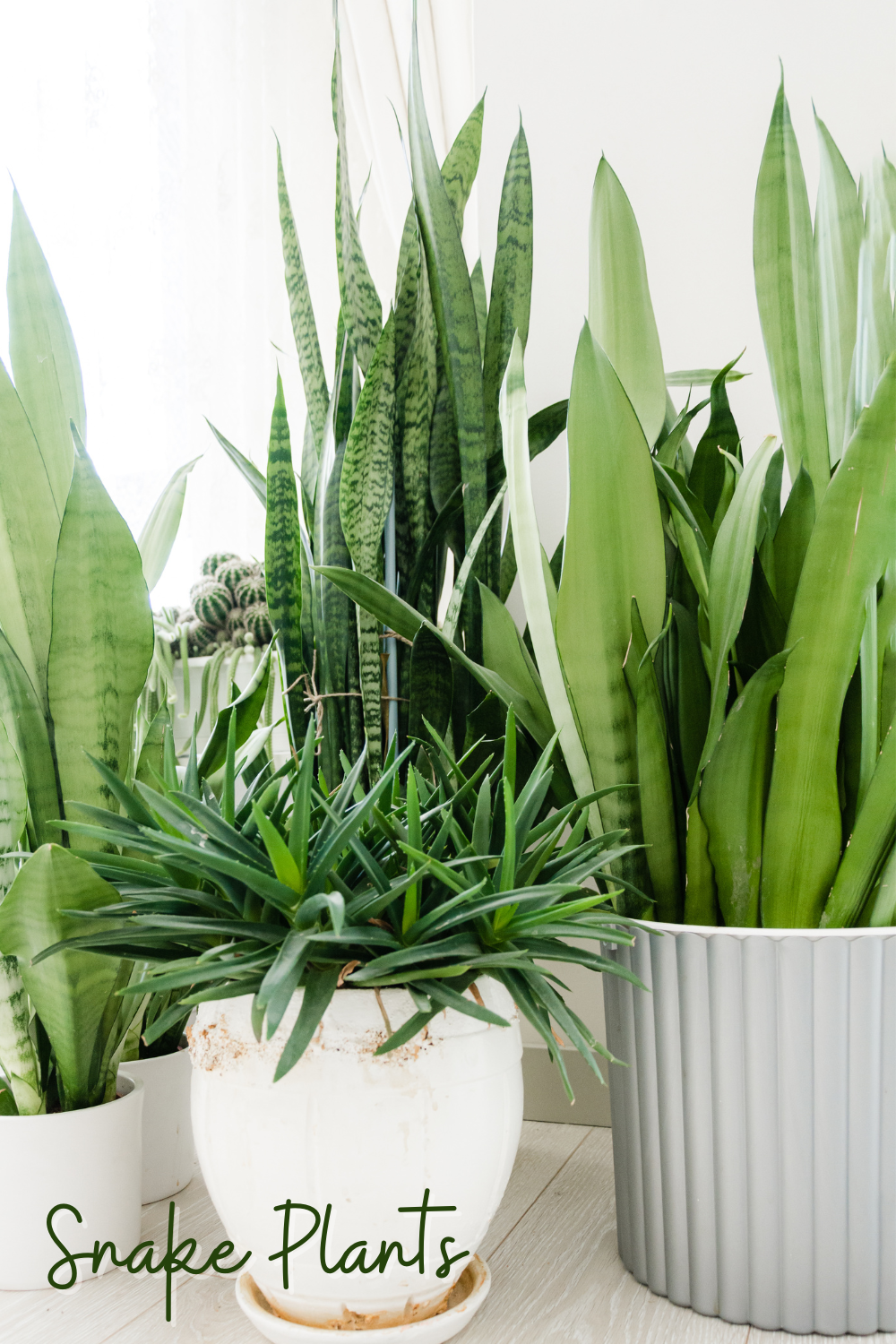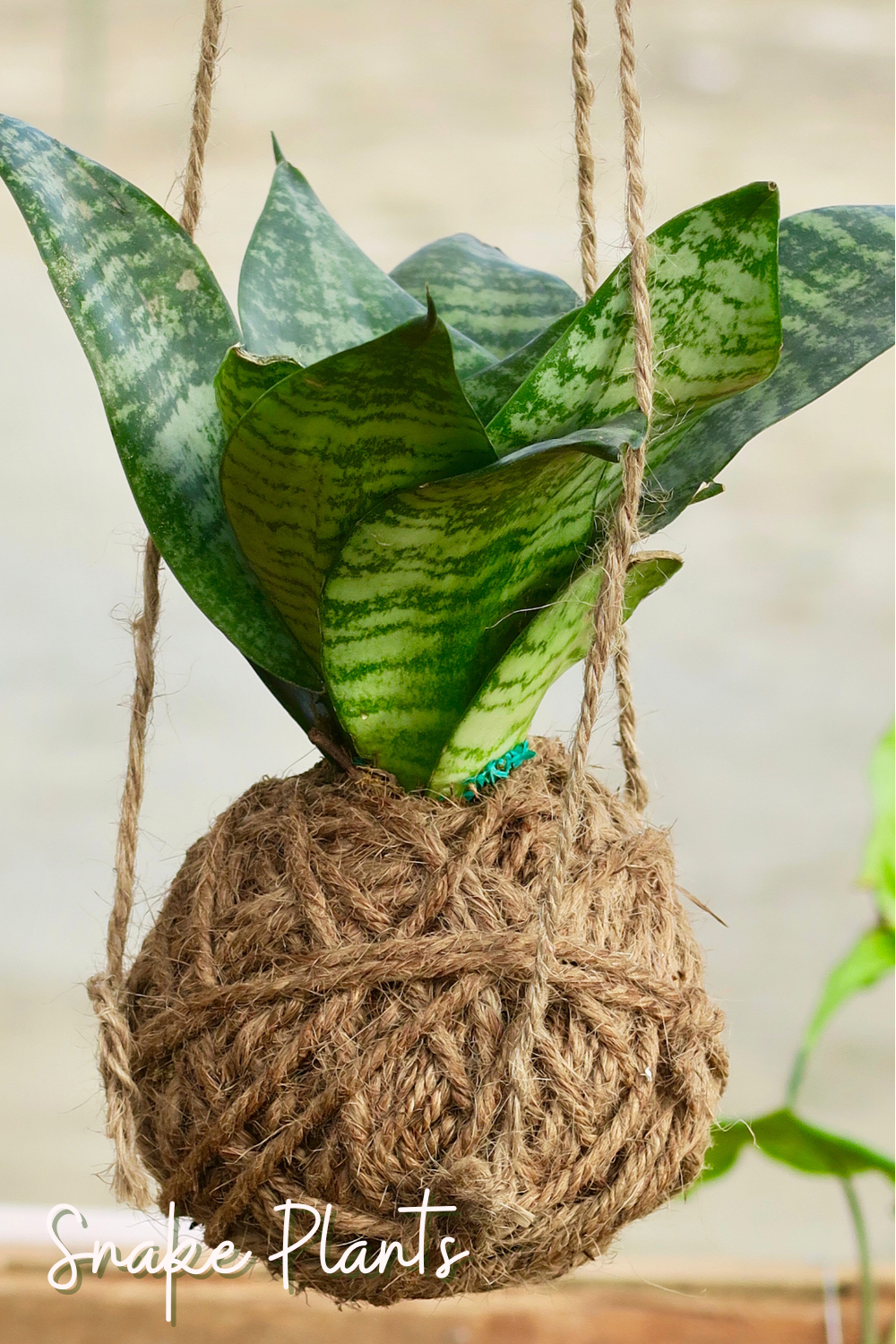 Variegated Snake Plant
Light Requirement: Low, Indirect Light
Sansevieria or Dracaena trifasciata, variegated snake plants are excellent for hanging from the top inside edge of any shower or tub enclosure but will thrive pretty much anywhere.
These common house plants are the perfect choice if you are looking for a fuss-free option and can do well in low-light situations.
However, it is important to note that they are toxic to pets.
It's a good idea to skip this option if you have a cat or dog who may be tempted to bite it.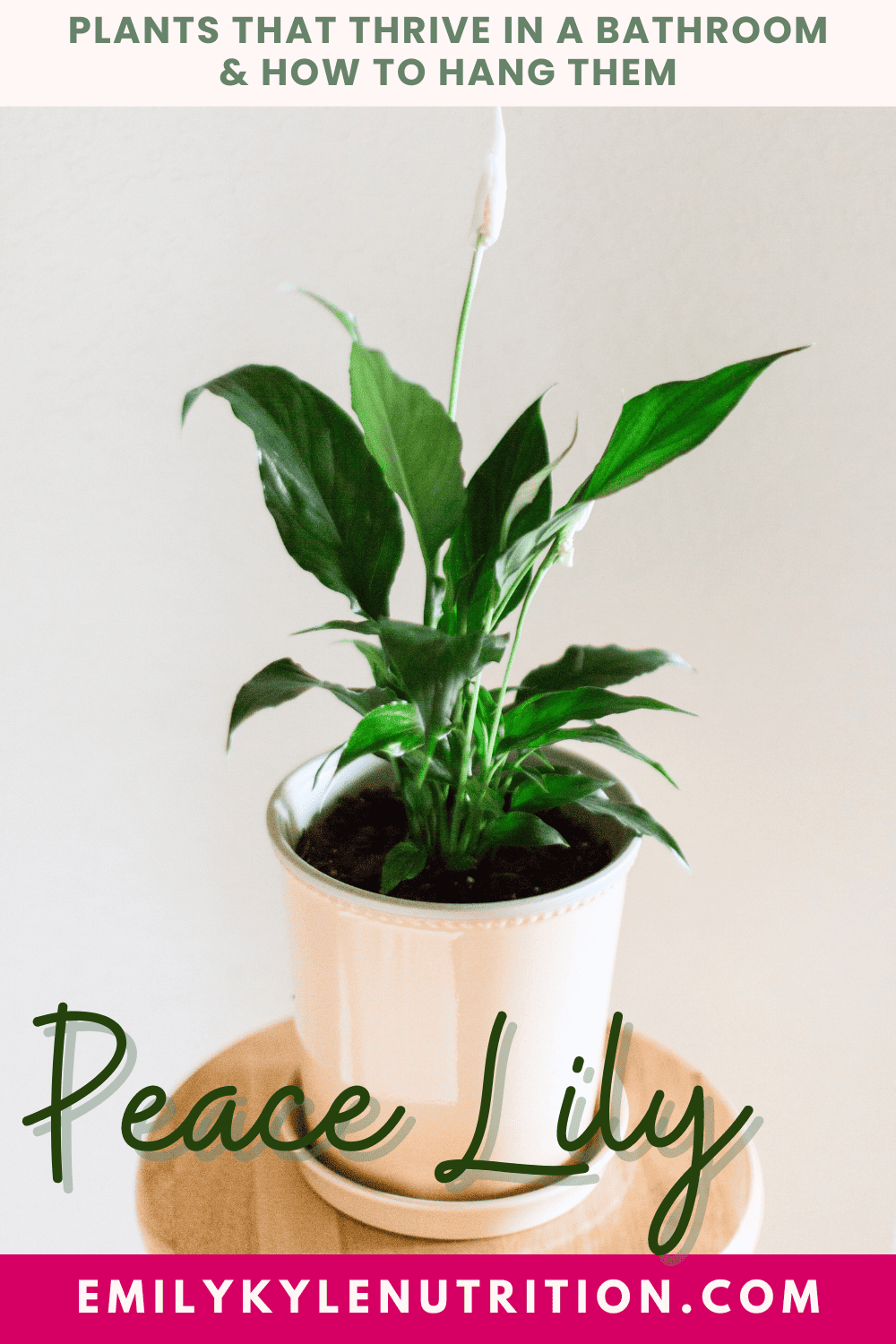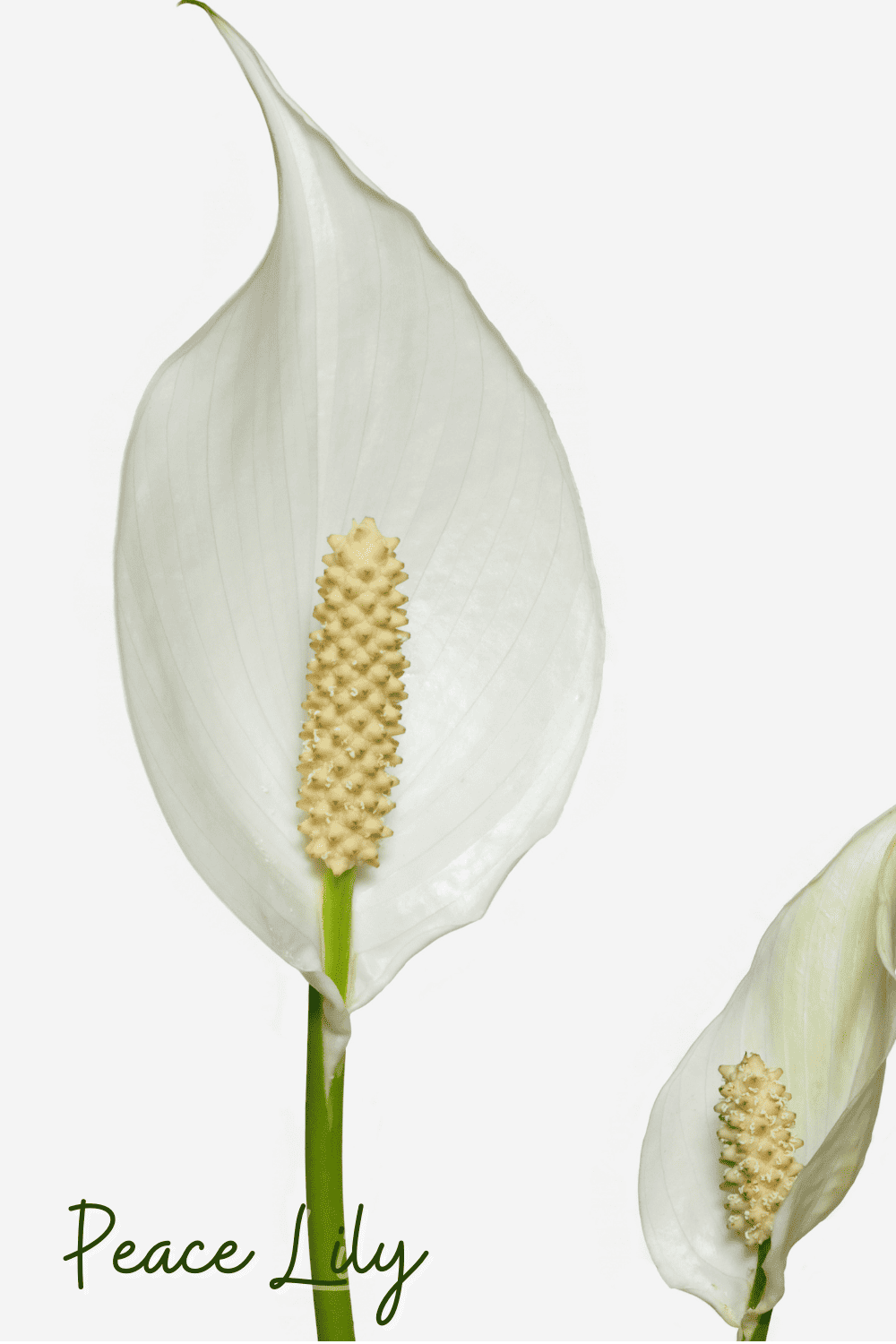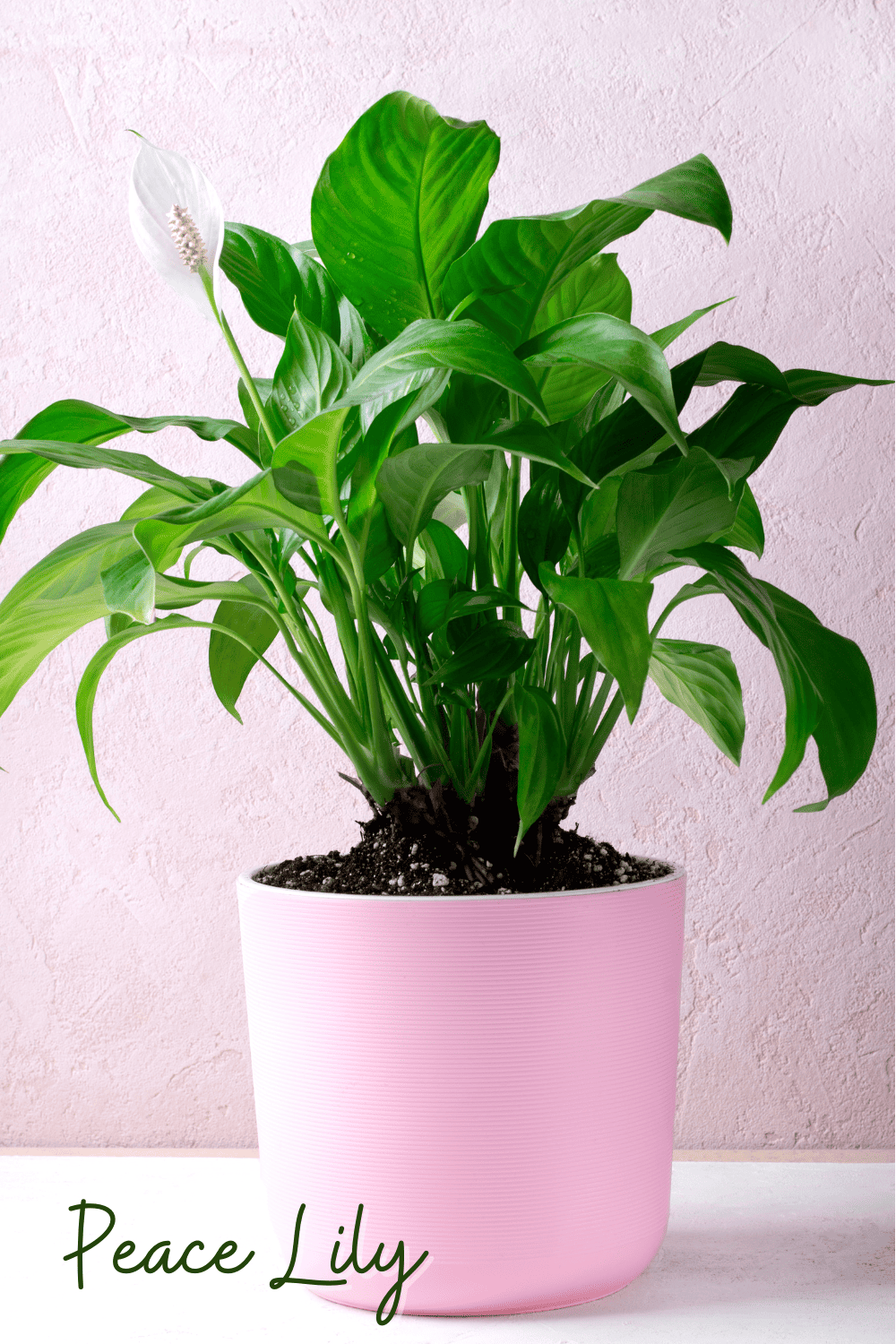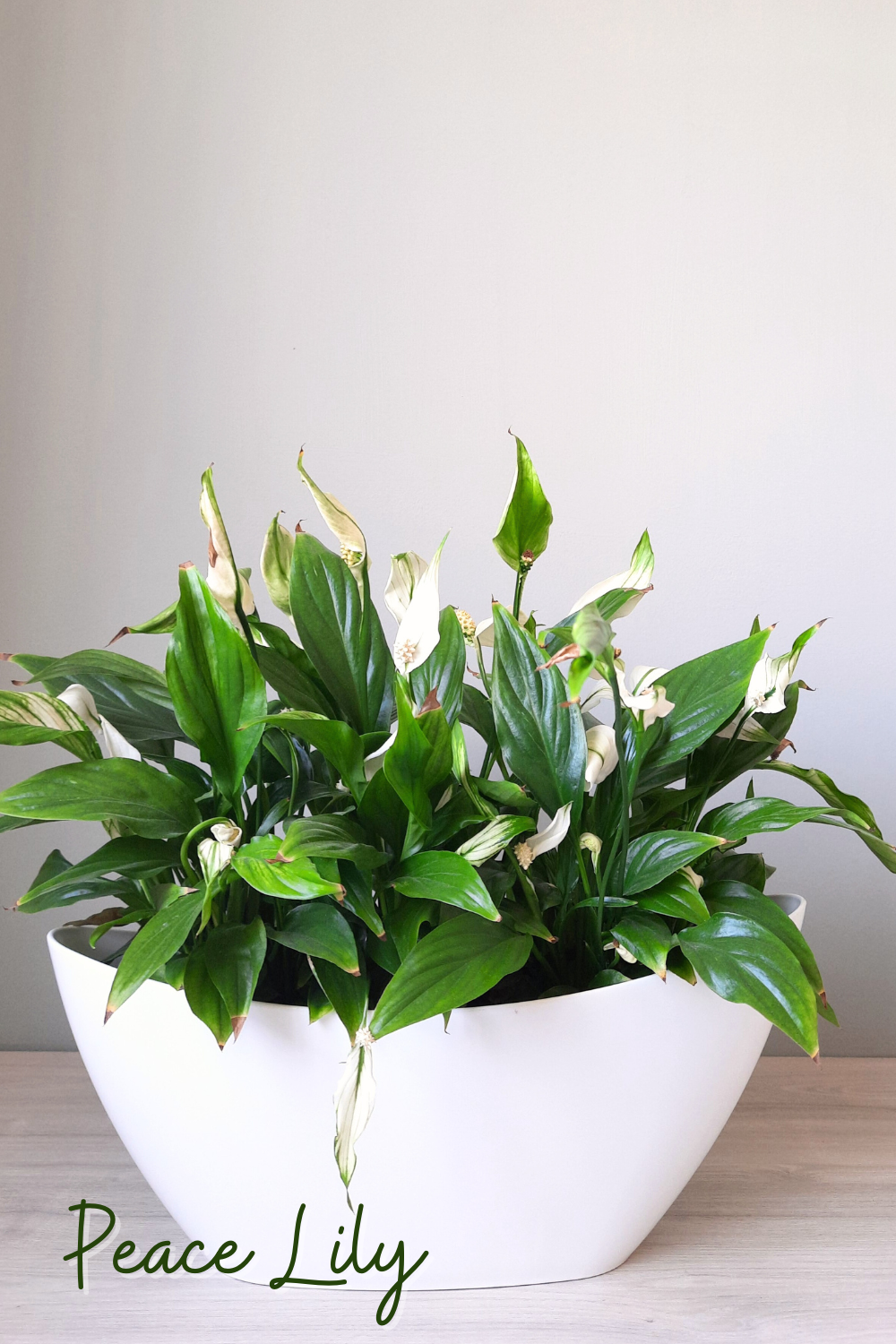 Peace Lily
Light Requirement: Low, Indirect Light
Spathiphyllum, while not a true lily, peace lilies are a tropical plant native to South America.
These little guys need lots of water, so they will love the consistent moisture and humidity from the shower.
A peace lily likes it best when you don't let it dry out too often.
This plant on the list will produce big green plants with beautiful white flowers when taken care of well.
If you give them plenty of water, this beautiful bulbous flower blooms frequently for you.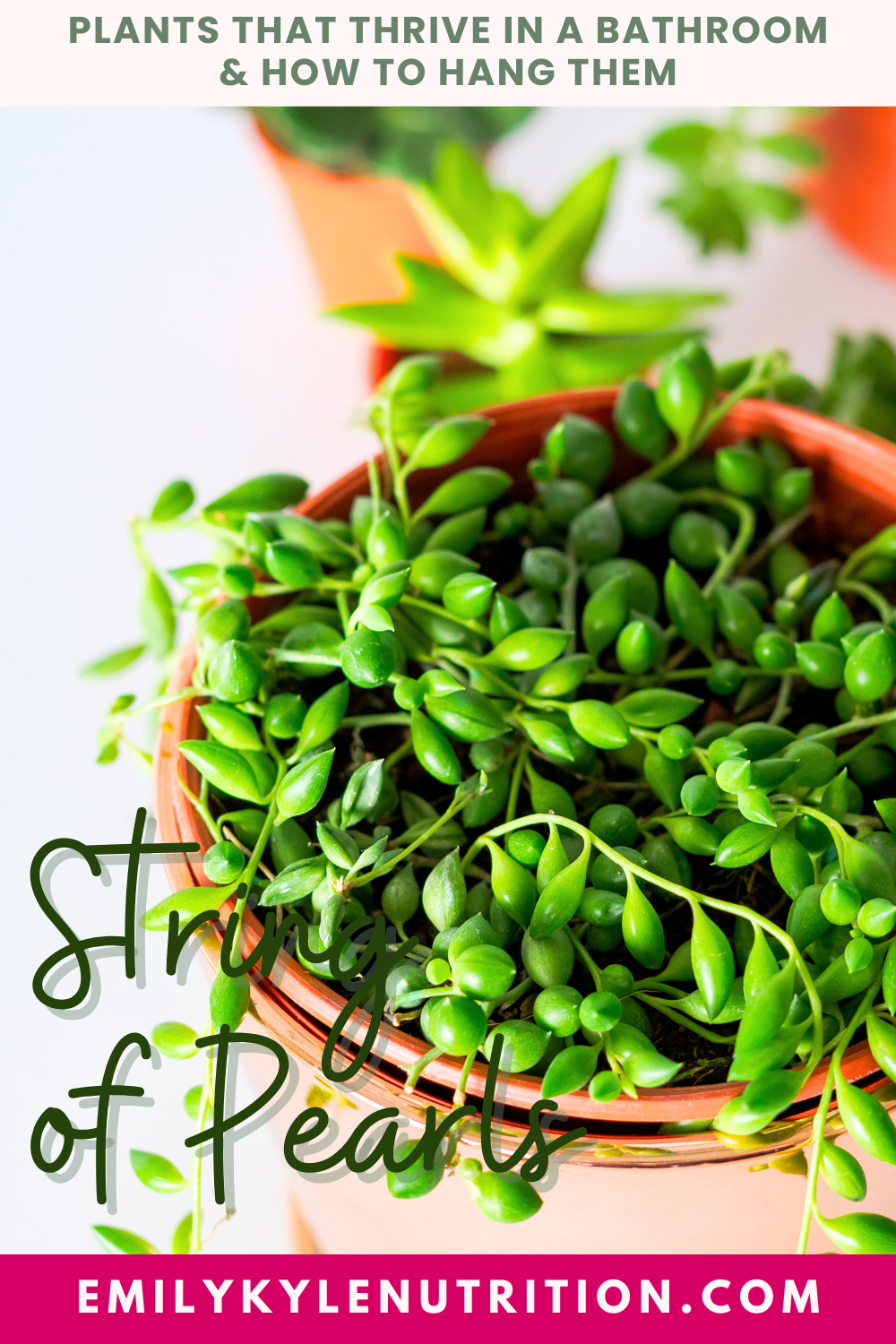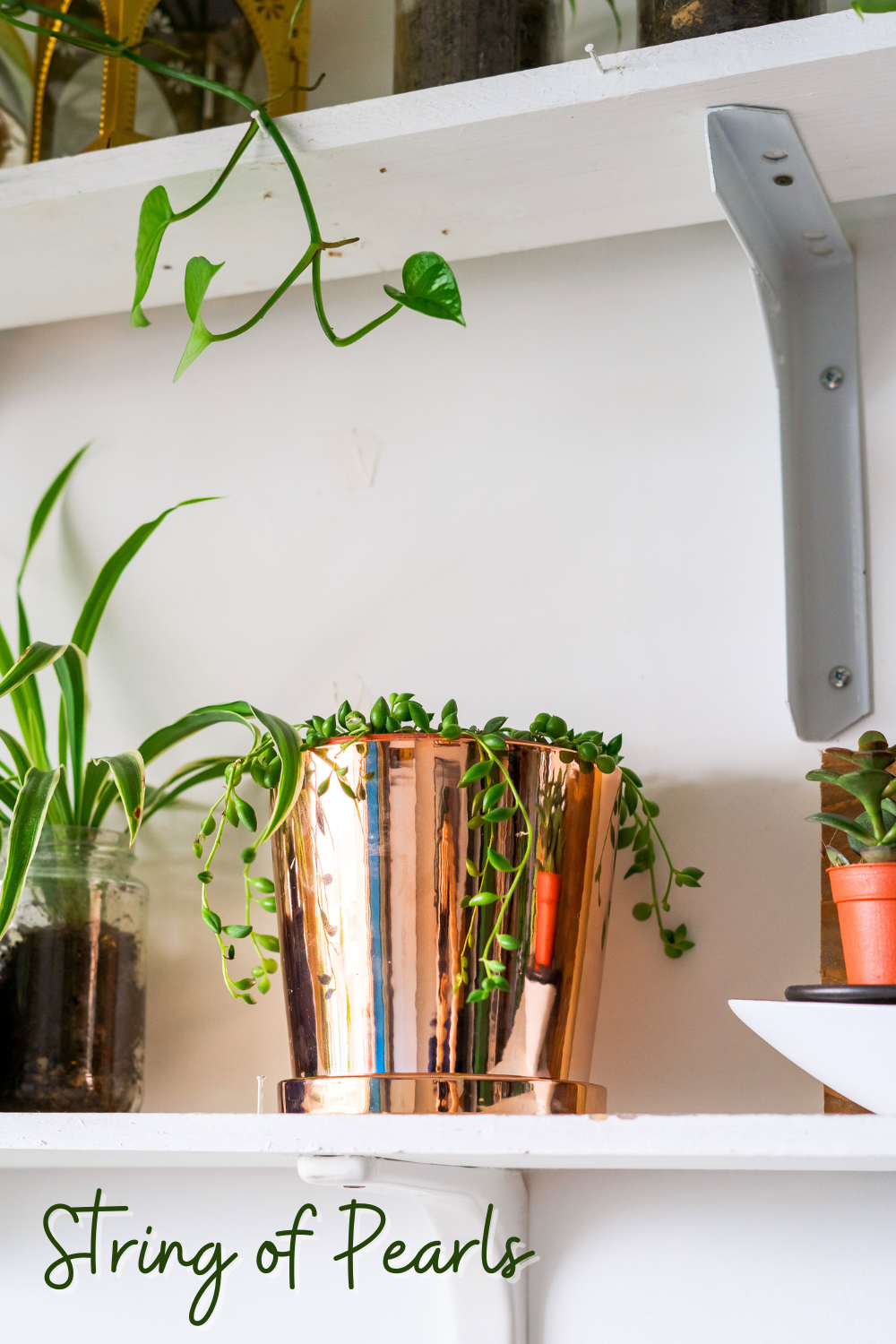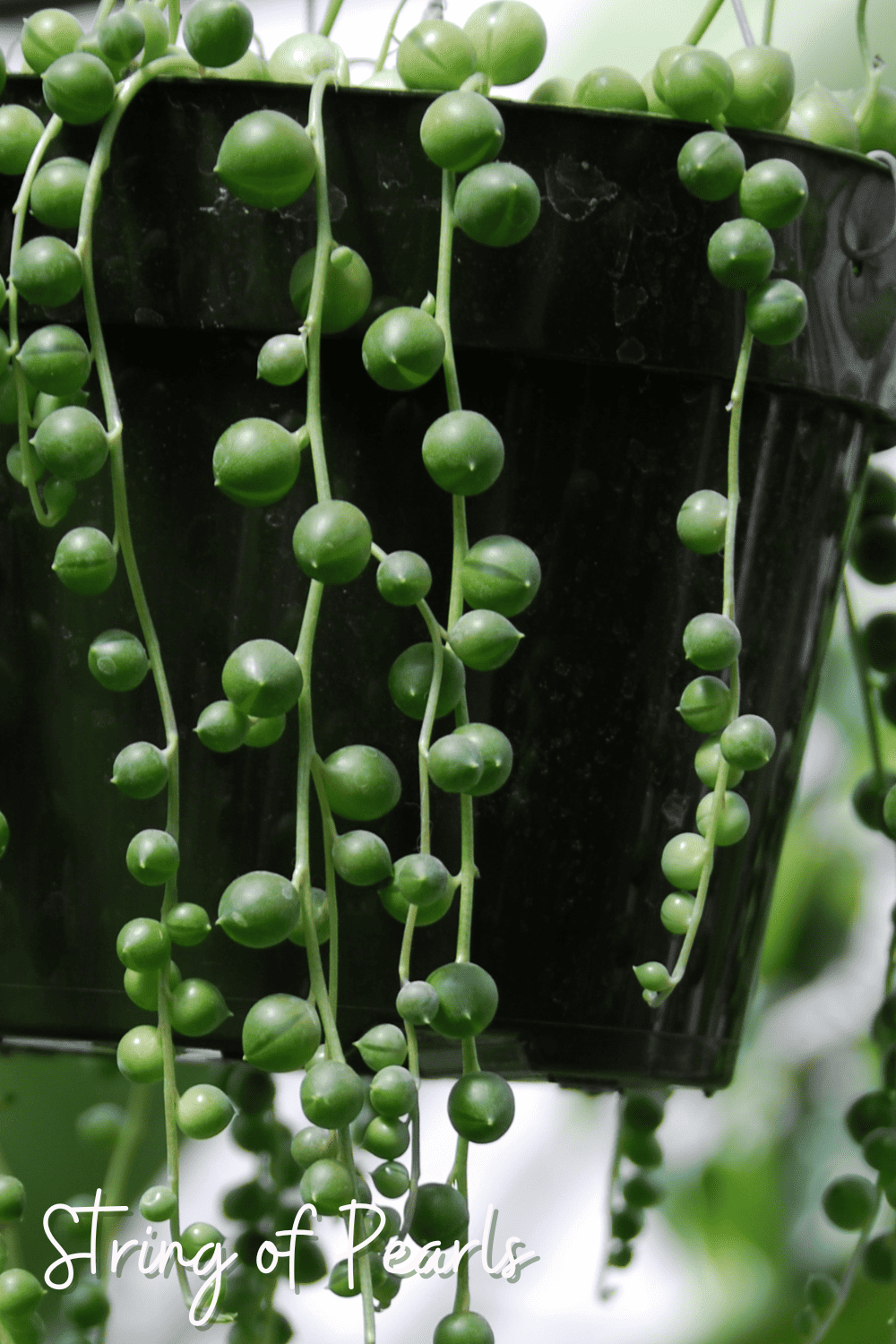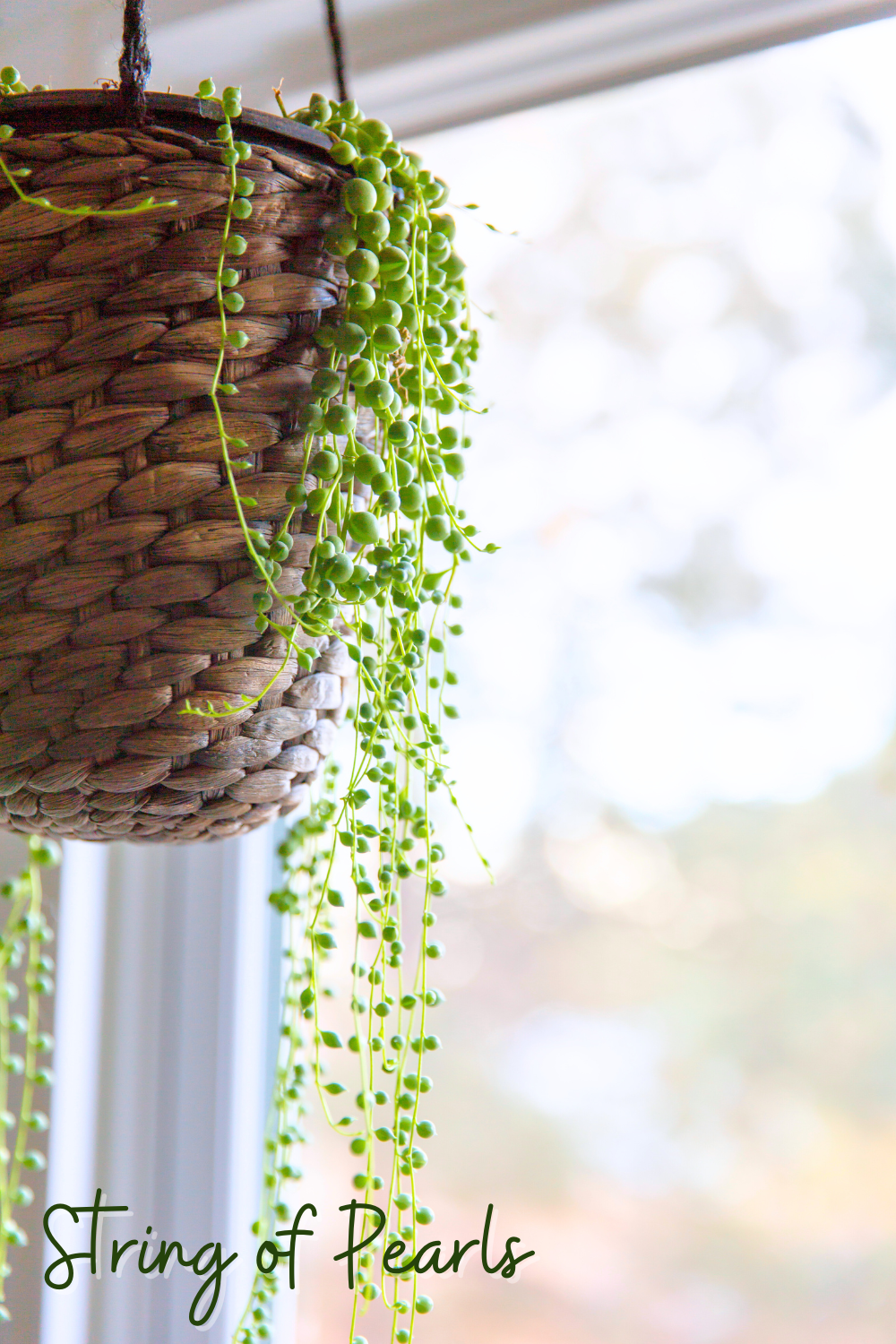 String of Pearls
Light Requirement: Bright, Indirect Light
Senecio rowleyanus, or string of pearls, is a plant that appears exactly as it was named, a vine that looks like a true string of beads.
This is one plant that loves the humidity, making it one of the best shower plants.
These plants can take a lot and will grow very well in your bathroom with all those steamy showers.
How to Hang Plants in a Bathroom
Hanging plants in your bathroom can be a great way to brighten up your space and add some life. There are a few ways to go about hanging plants in your shower or bathroom.
In the Shower
One of the most commonly envisioned hanging plants in the shower is eucalyptus.
Some people like to hang their potted plants from a hook on the ceiling or wall.
In the Window
Hanging plants near your bathroom window will provide easy access to fresh air and an opportunity to capture more light.
If you have just a small window in your bathroom, placing the plant in the direct windowsill will help it receive enough light.
Alternatively, if you already have curtain rods hung up, you could hang a hanging basket on it.
Just be sure the rod is strong enough to support the weight of the hanging pot.
From The Wall or Ceiling
Make sure you know what kind of surface (walls, metal) they will be hanging onto so that it doesn't damage anything or fall off too easily once wet with water droplets from soaking or steamy hot showers.
If you want to hang them from the ceiling, mount a fishing line above your shower head for easy access.
With Hooks
Sticky hooks are incredibly easy to place and can be an attractive option for renters since they are easily removable.
You can also use towel hooks, magnets, suction cups, etc., to hold them up where you want them.
On a Shelf
If you're not prepared to hang your own hooks or mounts, you can simply place your favorite potted plant on a bathroom shelf.
Just be mindful of how much sunlight the plant will receive.
Conclusion
We hope this guide helps you find the right plants for your bathroom!
With so many different varieties to choose from, it is easy to pick one that is right for you and your space.
What plants are you looking forward to hanging in your space?