These spicy homemade horseradish pickles are bursting with bold horseradish flavor and a crispy fresh cucumber crunch for a delicious low-calorie, low-carb, gluten-free savory treat that satisfies every salty, spicy craving.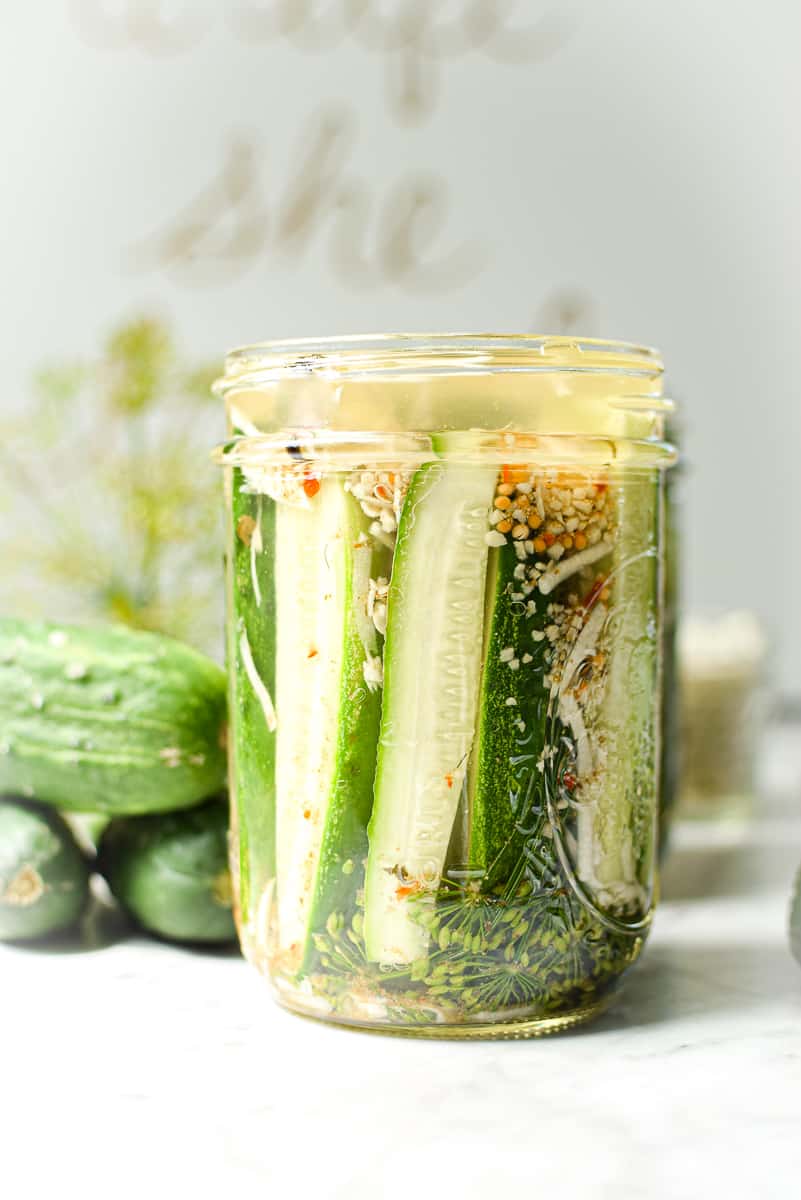 Features
A quick way to make horseradish pickles
Made with just a few simple ingredients
Instructions for making refrigerator pickles
How to Make Refrigerator Pickles
Starting in late July, my garden starts to produce an abundance of cucumbers.
While we love to traditionally can and preserve these cucumbers as pickles for the long winter season, we simply cannot wait for a delicious fresh jar.
Enter, quick refrigerator pickles, a delicious low-carb treat that are ready to be enjoyed in less than 24-hours. 
Refrigerator pickles are just that, the pickling process takes place while they are stored in the refrigerator, and they are ready in a few hours.
This means no traditional canning process and no need to cook the cucumbers in brine or boil a full jar.
However, that does mean that these pickles cannot be stored in your pantry or root cellar for an extended period of time, they must be refrigerated and consumed within a few weeks.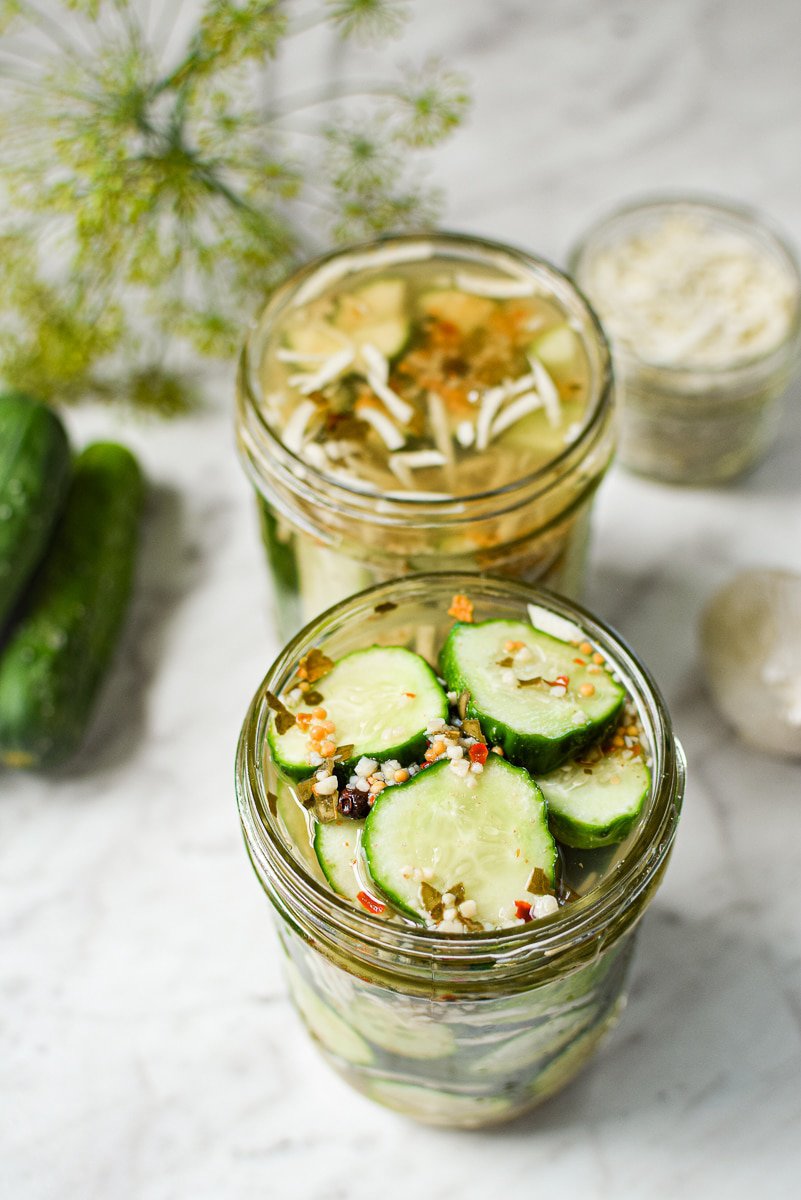 Delicious Horseradish Pickles
When I was pregnant with Ransom, one of my biggest food cravings was freshly prepared horseradish.
Ever since we have been planting fresh horseradish in our garden and sampling every prepared horseradish we can find.
Because of its bold, spicy flavor, we knew that horseradish root would pair perfectly with the crunchy, salty taste of pickled cucumber.
If you're not familiar with horseradish, it is a plant whose roots are typically prepared into a condiment that you often see paired with shrimp cocktail sauce.
Beyond delicious, horseradish is a very beneficial plant for health with many reported medicinal properties.
The Health Benefits of Horseradish
Horseradish is a root vegetable that has been used in ancient medicine for thousands of years for a variety of purposes.
Anecdotally, people throughout history have used horseradish to treat anything from a cough to achy joints and muscles, gallbladder and urinary disorders, sciatic nerve pain, colic, intestinal worms, and more.
Further research indicates that this product containing horseradish root may be effective, but not as effective as antibiotics, for reducing the symptoms of a UTI. (1)
Horseradish Root Nutrients
The horseradish root itself contains many powerful nutrients including:
Dietary Fiber
Zinc
Folate
Calcium
Magnesium
Vitamin C
Potassium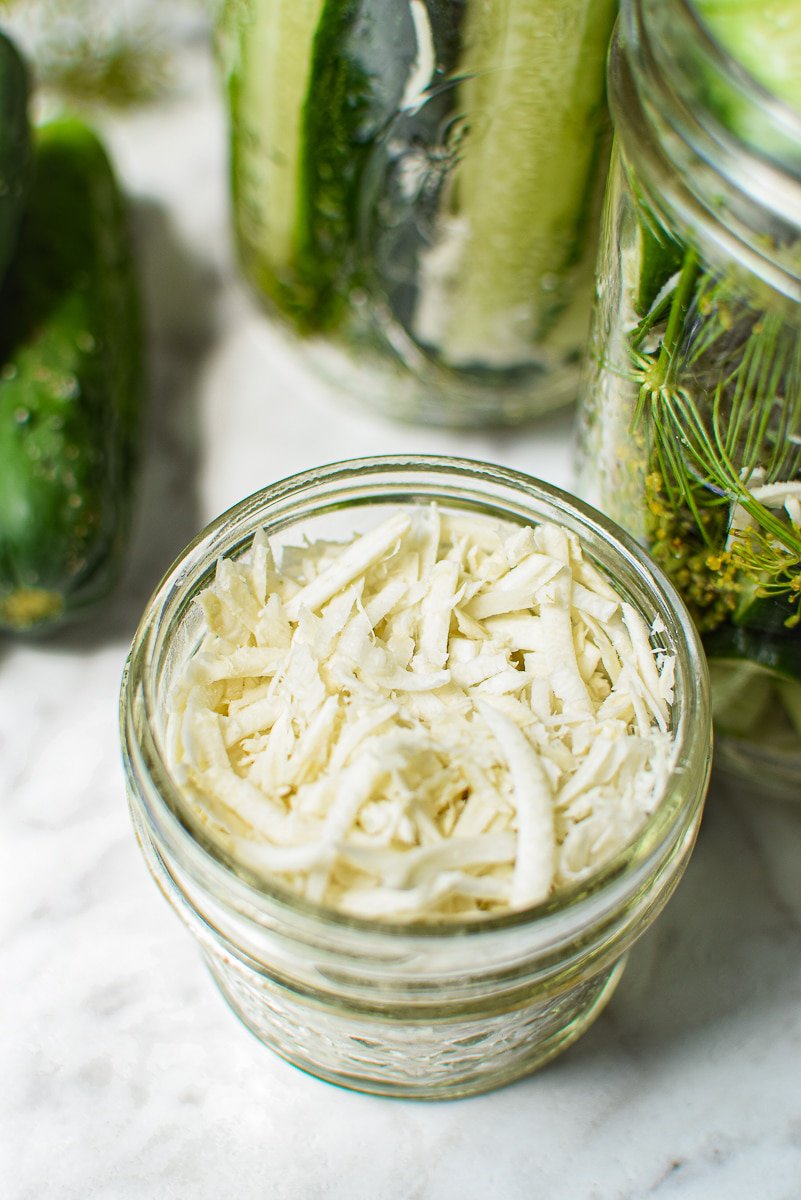 Horseradish Makes The Perfect Spicy Pickle
After writing my second cookbook, The Hashimoto's AIP Cookbook, I quickly realized that there was a desperate need for an ingredient that could add heat to dishes that were also not a nightshade.
Most spicy ingredients like peppers and spices are a part of the nightshade family, which is typically restricted for at least 30-days prior to reintroduction.
During the initial elimination phase of the autoimmune paleo protocol, food can get pretty bland without anything to provide the dimension of heat.
Thankfully, horseradish root is an approved food item during the initial elimination phase, making it the perfect ingredient to safely add spice to the AIP diet.
Of course, the pickling spice in this recipe is not AIP compliant, and you would want to omit that if you are currently in the reintroduction phase.
For the perfect AIP friendly pickle recipe to add this horseradish root to, find the recipe for my Quick Pickled Dill Cucumbers on page 43 of my first cookbook, The 30-Minute Thyroid Cookbook: 125 Healing Recipes for Hypothyroidism and Hashimoto's.
Do Pickles Go Bad?
Yes, pickles can go bad.
Unlike traditionally canned pickles, these quick refrigerator pickles will go bad within about a month or so.
You cannot store these pickles in the pantry, cupboard, or root cellar.
If you want to preserve your own horseradish pickles for longer than just 1-month, you will need to follow a traditional canning recipe that involves a cooking process to ensure no contamination or food illness will occur.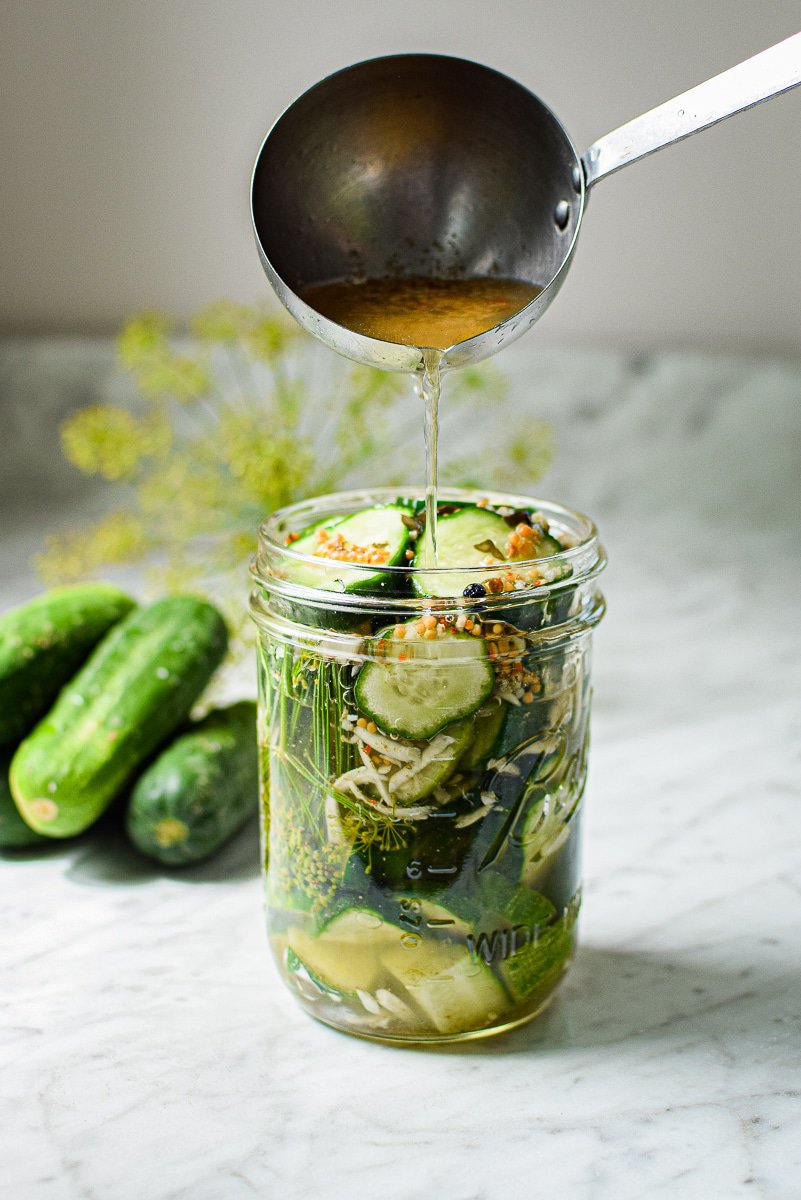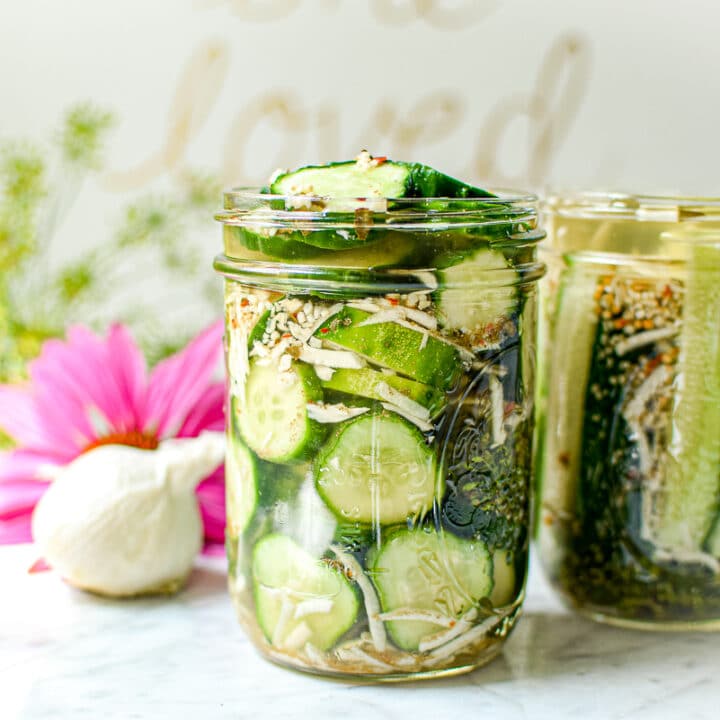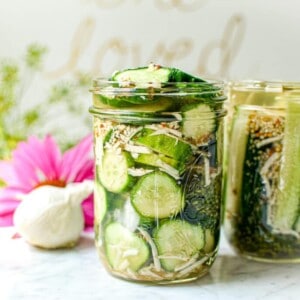 Horseradish Pickles – Quick Refrigerator Style
These spicy homemade horseradish pickles are bursting with bold horseradish flavor and a crispy fresh cucumber crunch for a delicious low-calorie, low-carb, gluten-free savory treat that satisfies every salty, spicy craving.
Ingredients
For The Pickles
1.5-2

pounds

or 1-quart small pickling cucumbers, sliced into coins or spears*

6

flower heads of fresh dill or 3 tablespoons of dill seed**

6

tablespoons

freshly ground or prepared horseradish root

divided***
Instructions
In a 1-quart saucepot combine the water, vinegar, salt, sugar, coriander seed, garlic, pickling spice, mustard seed, and crushed red pepper over high heat stirring occasionally. **Add dill seed here if using.

Bring the mixture to a boil and then shut off the heat. Set aside and allow to cool to room temperature (you can set the pan in an ice bath to cool faster).

Using a wide-mouth pint jar, put 1 tablespoon of horseradish on the bottom.

Add two flower heads of fresh dill to the jar.

Tightly pack as many cucumber spears or coins as possible into the jar.

Top with another 1 tablespoon of horseradish.

After all the jars are filled, fill each one to the top with cool pickling liquid, ensuring everything is submerged.

Cover each jar tightly with a lid and place in the refrigerator until ready to consume.

For best results, allow the pickles to sit for at least 5 days to allow the maximum flavor to develop.

Refrigerator pickles will last up to two months in the refrigerator.
Notes
*If you're cutting your cucumbers into spears, try to make them 4-4.5" long to fit into the jar. If you're cutting your cucubmers into coins, try to make them a uniform thickness of approximatley 1/4" thick.
**If you're not using fresh dill and instead using dill seed, be sure to add the dill seed to the brine to be cooked during step one.
***Each horseradish root and prepared horseradish condiment has a unique level of heat to it – taste test yours to ensure it is not too spicy for your taste preferences.
Nutrition
Serving:
1
/4 pint
,
Calories:
18
kcal
Did you make this recipe or have a question?
Join hundreds of members inside private Well With Cannabis Community for help, support, and to share your edible creations!