This post may contain affiliate links, to find out more information, please read my disclosure statement.
Everyone in the family will love this easy-to-make, easy to clean-up Sheet Pan Garlic Tofu & Brussels Sprouts dinner that is naturally vegan, gluten-free, and bursting with Fall flavor!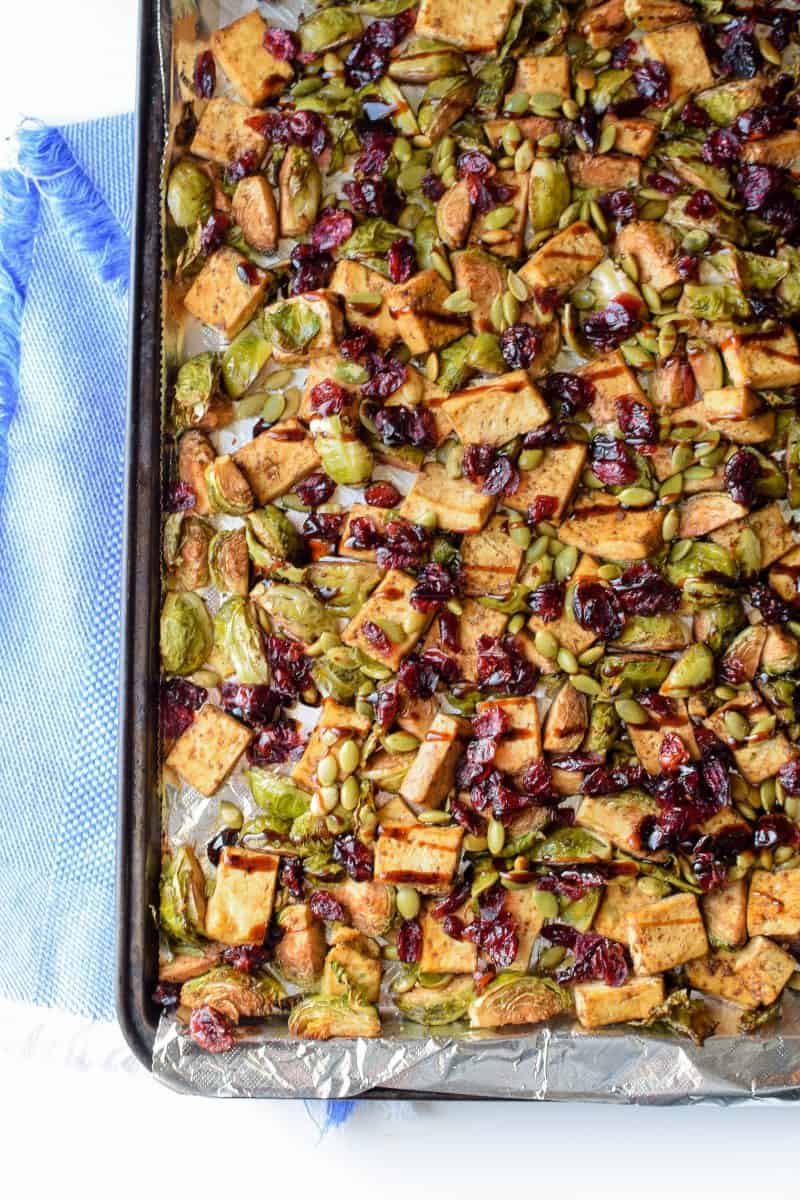 Sheet Pan Dinners
Every month I participate in The Recipe Redux recipe challenge, and every month the date catches up with me and I say "I can't believe were in (insert current month)!".
Well, here we are once again and this month I was super excited for our challenge:
We love throwing ingredients together on a sheet pan and roasting for a simple sheet pan dinner. They make busy weeknights a bit more manageable. (And clean-up isn't bad either!) Show us your healthy take on a sheet pan meal.

Sheet Pan Garlic Tofu & Brussels Sprouts
Sheet Pan Dinners are all the rage, and for good reason! You literally throw everything on to one pan, bake, and enjoy! No need for dirtying up extra pots and pans, no need to multi-task by cooking several different dishes on the stove and in the oven. That's what makes this sheet pan garlic tofu & Brussels sprouts dinner so amazing.
We all know, especially as busy moms, that when it comes to dinner time, simplicity is key.
And for me, this recipe was a no-brainer with all of the fresh Brussels sprouts we have available out in our Millennial Garden right now!
Have you ever seen how a Brussels sprout grows and is harvested? It's so easy a two year old can do it – literally! Just watch this 60-second clip of my toddler and I harvesting these beauties for this recipe below.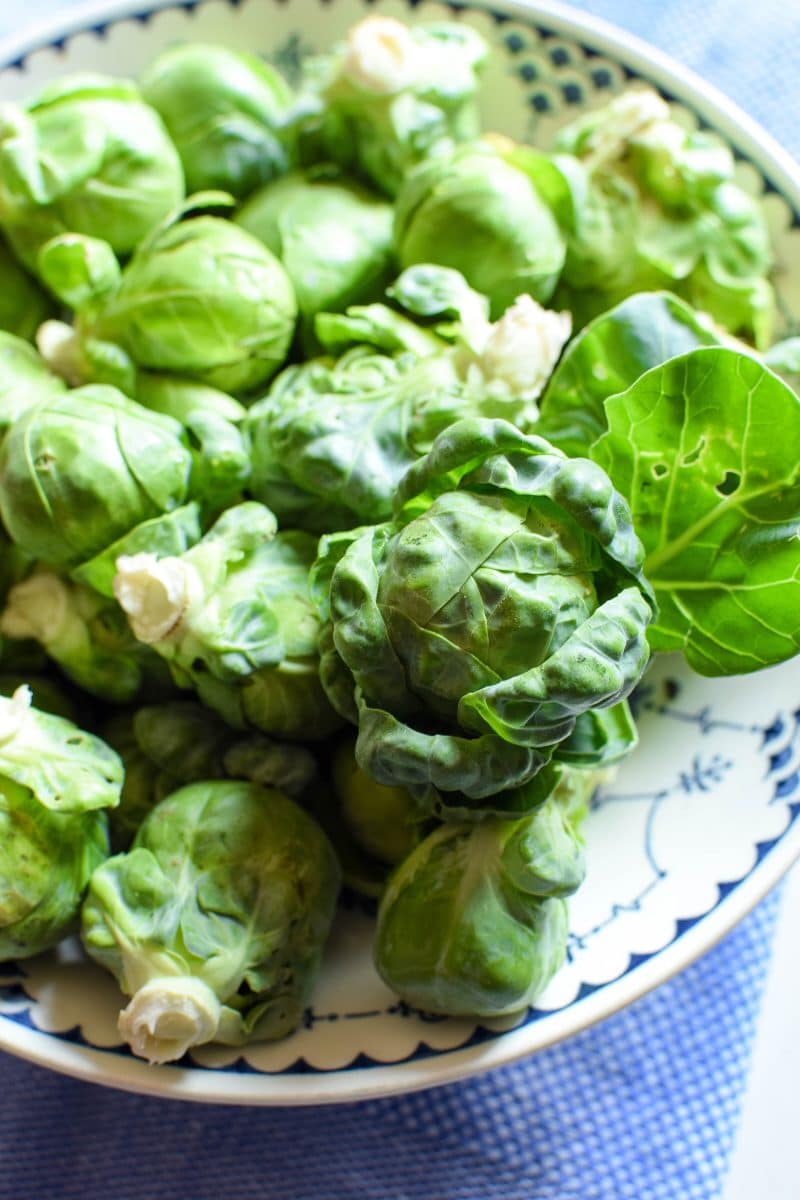 To Tofu or Not to Tofu?
Meat and I have a very on-again, off-again relationship and ever since I got my own flock of chickens for sustainable farm-fresh eggs, I've been totally off meat. Now, that doesn't mean tomorrow I may not have a chicken wing if I do desire, but I am in the experimental stages with tofu and love how it turned out in this recipe.
However, this recipe can be made the exact same way with chicken if you have meat eaters in the family
The dried cranberries and pumpkin seeds add the perfect sweet and salty flavor, as well as the perfect addition of chewy and crunchy to bring everything together in to a meal everyone will love!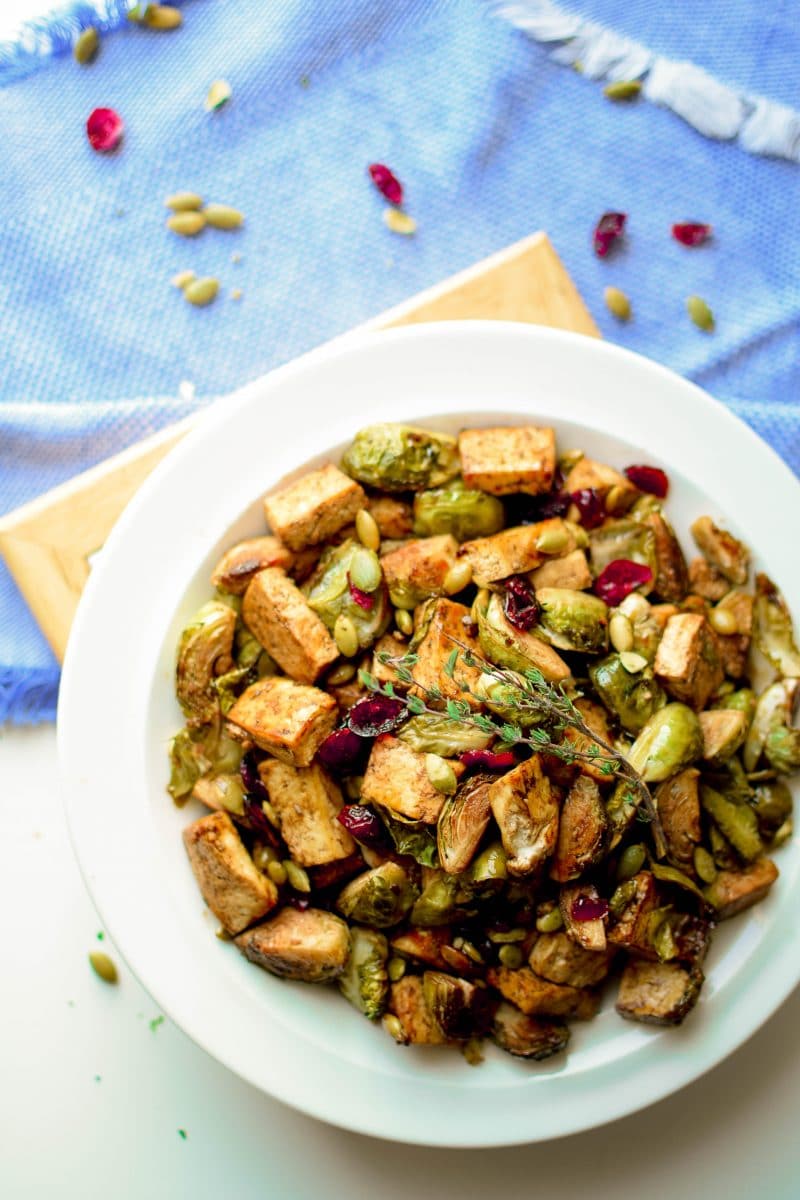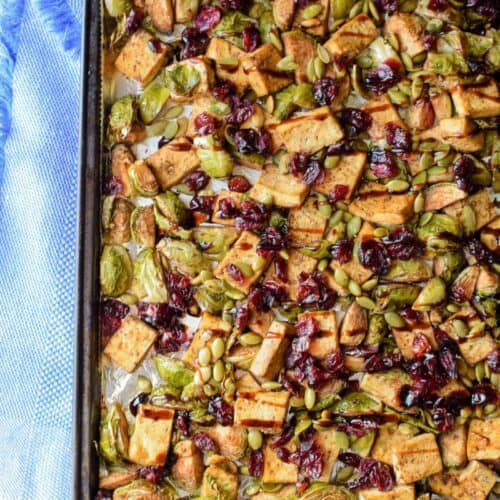 Sheet Pan Garlic Tofu & Brussels Sprout Dinner
Ingredients
14

ounce

package of Extra Firm Organic Tofu

pressed, (click to see instructions for my Perfectly Baked Tofu)

1

pound

Brussels Sprouts, cleaned and diced

Approximately 2 cups prepared

1

tablespoon

olive oil

2

tablespoon

balsamic vinegar

1

tablespoon

minced garlic

1/4

teaspoon

sea salt

1/4

teaspoon

black pepper

1/2

cup

dried cranberries

1/4

cup

pumpkin seeds

1

tablespoon

balsamic glaze
Instructions
Preheat the oven to 400 degrees F

Drain the excess water from the container of tofu.

Dice the tofu into 1 inch bite sized pieces, and press between two clean towels for 15 minutes to wick away additional moisture. (See, Perfectly Baked Tofu Recipe for details)

Harvest, clean and dice your Brussels sprouts.

In a large bowl, mix together the Brussels sprouts, oil, vinegar and garlic. Add in the salt, pepper and tofu and toss gently until the tofu is well coated.

Spray a foil lined baking sheet with cooking spray.

Put into the oven and bake for 20 minutes.

After 20 minutes, remove from the oven and stir.

Evenly spread the pumpkin seeds and cranberries and return to the oven for an additional 10 minutes.

Remove from the oven and drizzle with balsamic glaze.
Nutrition Facts
Sheet Pan Garlic Tofu & Brussels Sprout Dinner
Amount Per Serving
Calories 250
Calories from Fat 126
% Daily Value*
Total Fat 14g 22%
Cholesterol 0mg 0%
Sodium 190mg 8%
Total Carbohydrates 18g 6%
Protein 13g 26%
* Percent Daily Values are based on a 2000 calorie diet.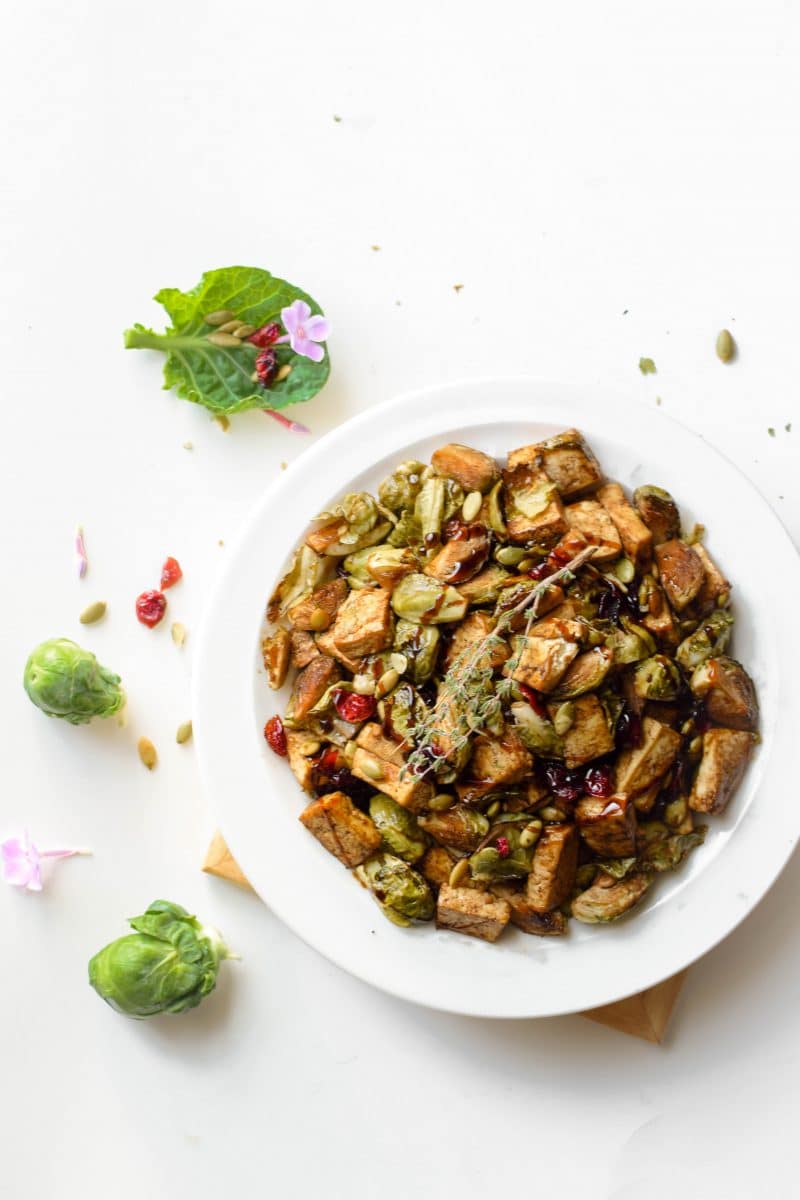 DON'T FORGET YOUR MEAL PLAN!
I hope you're inspired to try new and different recipes, like this Turmeric Golden Milk Yogurt Bowl! If you're looking for additional help in meal planning or discovering new and delicious recipes to try, be sure to download my Free 16 page eBook – The 5 Day Happy & Healthy Meal Plan below!
I hope you and your family love this recipe as much as I do, and if you make it this Sheet Pan Garlic Tofu & Brussels Sprouts Dinner, be sure to tag me on Facebook, Instagram, or let me know in the comments below ♥

The following two tabs change content below.
Hi there, I'm Emily Kyle, a nationally recognized media dietitian & nutrition communications expert on a mission to help you create the happy & healthy holistic lifestyle you deserve. To help you on your wellness journey, I offer holistic health counseling and resources that focus on holistic health & wellness, anti-inflammatory, whole food recipes, and my love for gardening inside #TheMillennialGarden.
Latest posts by Emily Kyle (see all)