Enjoy these low-carb Tuna Salad Cucumber Boats made anti-inflammatory, wild-caught tuna fish, and learn more about the nutrition benefits of cucumbers and why they make the perfect gluten-free sandwich alternative.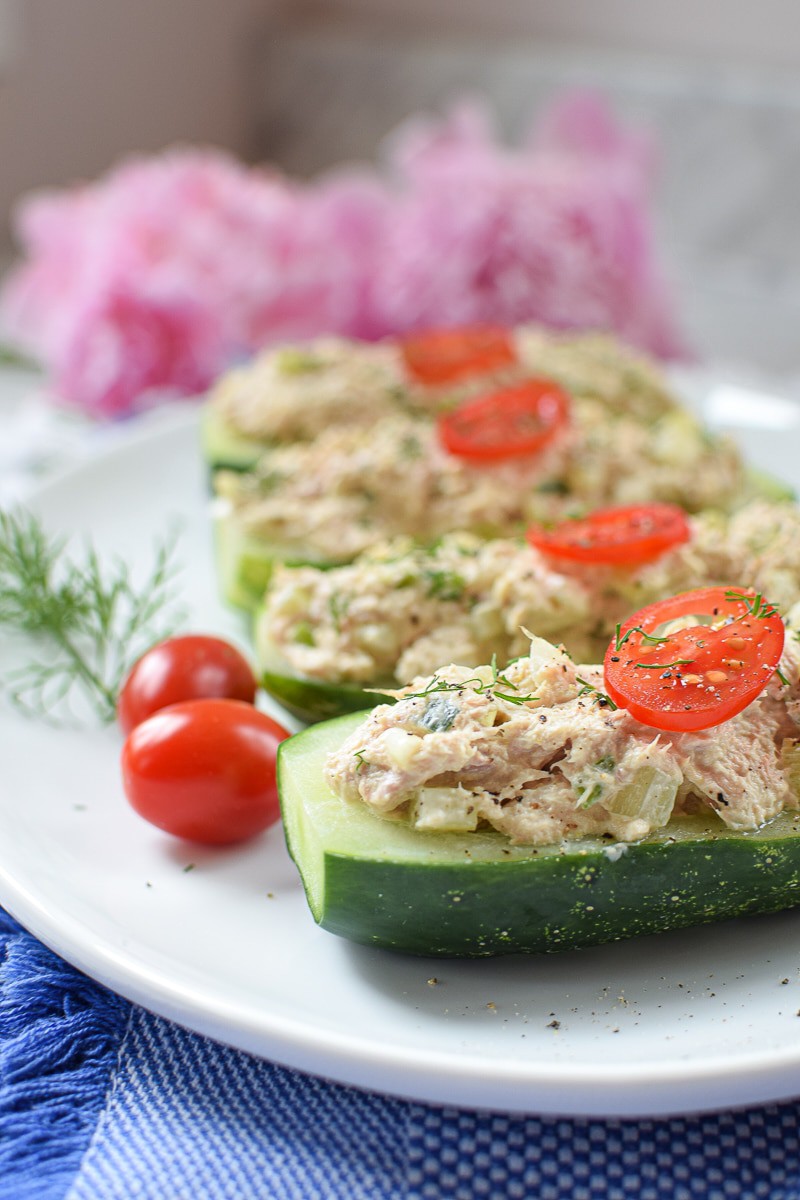 Recipe options for the Paleo diet, Ketogenic diet, and more included.
Tuna Salad Cucumber Boats
Made with your choice of Greek yogurt or a dairy-free coconut milk yogurt alternative, this quick and easy dish is the perfect lightened up version of the classic tuna salad sandwich.
Packed with nutrition, this tasty lunch will also serve you with a hearty dose of heart-healthy omega-3's and protein along with a wide variety of vitamins and minerals.
When I cook with my sister who has type-1 diabetes, I always try and naturally cut down the number of carbohydrates in the meal in a realistic, delicious, way.
This recipe is naturally low in carbohydrates and high in quality protein and good fats. It is a perfect snack for weight loss or those who are watching their blood sugar levels.
I have nothing against bread but enjoying a cucumber 'boat' every once in a while is a great way to gently reduce your carbohydrate intake. It is also easy to make this snack or side dish so that it has a low amount of sodium.
Replacing bread with cucumber is especially beneficial if you are replacing refined white bread or working on managing a chronic health condition like diabetes.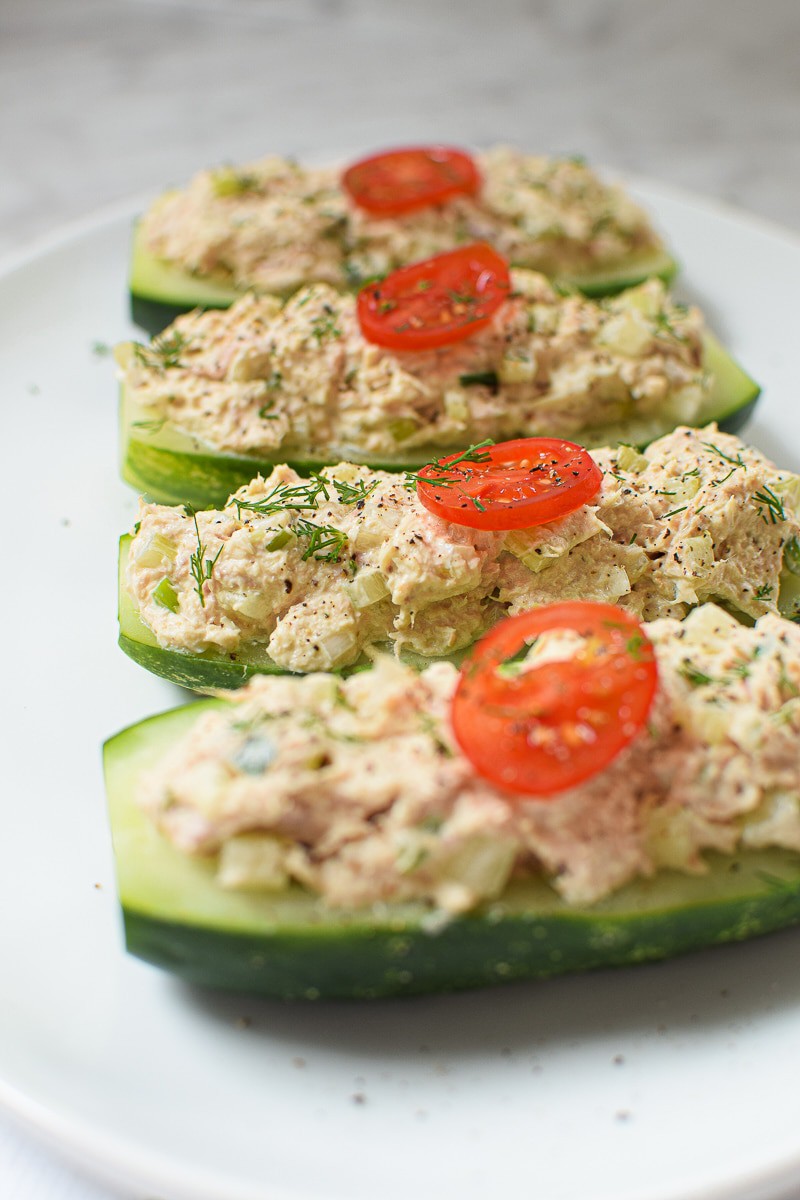 Naturally Low-Carb Cucumber Boats
This tuna salad recipe features cucumbers instead of traditional bread or a wrap as the outside of the 'sandwich', which helps to reduce the number of carbohydrates consumed.
These cucumber boats are also an excellent way to enjoy an additional serving of vegetables during your day.
Depending on your age and gender, guidelines recommend that adults eat at least 1½ to 2 cups per day of fruit and 2 to 3 cups per day of vegetables as part of a healthy eating pattern.
Studies show that having the recommended daily intake of fruits and vegetables can reduce the risk of most diseases.
This recipe can easily supply a cup of vegetables, while also providing vitamins, minerals and dietary fiber in a crispy, crunchy bite.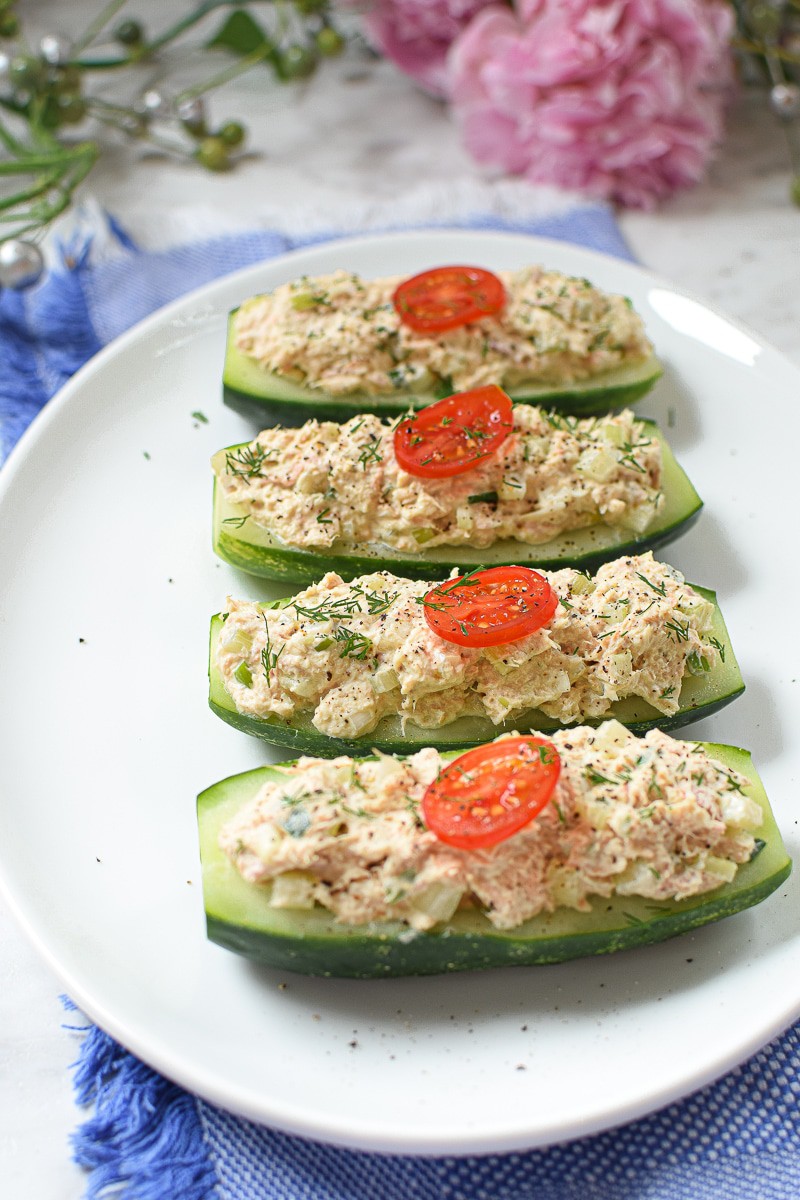 Nutrition Benefits of Cucumbers
Cucumbers are a delicious, plant-based vegetable that has many health benefits that contribute to an overall, well-rounded diet.
Cucumber calories are very low but that doesn't mean they're not packed with nutrients.
It is true that cucumbers are physically made up of more water than anything and they are one of the lower carb vegetables, but they are also very nutrient-dense, containing vitamins, minerals, antioxidants, and phytonutrients.
Calories and Nutrients in a Cucumber
According to the United States Department of Agriculture Food Composition Databases, one whole cucumber with its peel, measuring approximately 8¼" long contains:
45 calories
Nearly 11 grams of carbohydrates
Nearly 2 grams of plant-based protein
Only 0.33 grams of fat.
1.5 grams of dietary fiber
5 grams of naturally occurring, not added, sugar
48 milligrams of calcium
0.84 milligrams of iron
39 milligrams of magnesium
72 milligrams of phosphorus
422 milligrams potassium
6 milligrams of sodium
8.4 milligrams of vitamin C
21 milligrams of folate
15µg vitamin A, RAE and 316 IU vitamin A, IU
49µg of vitamin K
Negligible amounts of thiamin, riboflavin, niacin, and vitamin B6, vitamin E, vitamin D
Fresh Organic Homegrown Cucumbers
This time of year I have so many fresh, homegrown cucumbers from my garden that I feel like I have to get creative to use them all up.
This is one of my favorite cucumber recipes because it is so light and refreshing and makes a perfect lunch, side dish, or snack that even my kid will enjoy.
The beautiful part of this recipe is that you don't really need to follow an exact recipe for it to be delicious.
You can truly make your tuna salad recipe however you traditionally make it and still enjoy it in a cucumber boat for added health benefits.
However, if you are looking for specifics by diet, you will find gluten-free, Paleo, and Keto friendly tuna salad cucumber boat options below:
Gluten-Free Cucumber Boat Option
Cucumbers are naturally gluten-free, meaning that you just need to be aware of the ingredients that you are using to make your tuna salad.
If you can verify that all of the ingredients used to make your tuna salad are clean, and ensure there was no cross-contamination in the kitchen, your tuna salad cucumber boats should be safely gluten-free.
Related Content: Click Here For More Gluten-Free Recipes
Paleo Diet Cucumber Boat Option
While most of the ingredients used in this recipe are natural, whole foods that are naturally Paleo friendly, store-bought mayo and the Greek yogurt are not.
The Paleo diet eliminates dairy, grains, and most processed ingredients like soybean oil and modified potato starch, found in most traditional, store-bought mayonnaise.
For most healthy individuals, these ingredients are not a problem, but for those suffering from an autoimmune or inflammatory condition, it may be helpful to eliminate them.
For the most part, the Paleo diet encourages homemade, whole food options, making any store-bought product off-limits, but there are varying degrees of how strict people choose to go Paleo.
I go more in-depth about what exactly the Paleo diet entails and why it may be helpful for the management of some health conditions in my first cookbook, The 30-Minute Thyroid Cookbook: 125 Healing Recipes for Hashimoto's and Hypothyroidism.
To make this recipe Paleo friendly, you have three delicious options.
Make your own Paleo-friendly mayonnaise using this recipe.
Omit the mayonnaise and Greek yogurt altogether and substitute 1 whole peeled and pitted avocado. Combine all of the ingredients as you would normally, mashing with a fork until everything is well combined.
Keto Cucumber Boat Option
Cucumbers don't have an exceptionally high amount of fiber and the amounts of carbs in cucumbers are relatively low, so the number of net carbs can be kept low with this snack.
This recipe contains 7 grams of carbohydrates and 2 grams of dietary fiber, leaving a total of 5 net carbohydrates.
Some Ketogenic diets limit net carbohydrates to as low as 20 per day, and again, this should only be attempted when working with a health professional. The fats in cucumber boats can be controlled based on the mayonnaise you use or if you decide to add olive oil.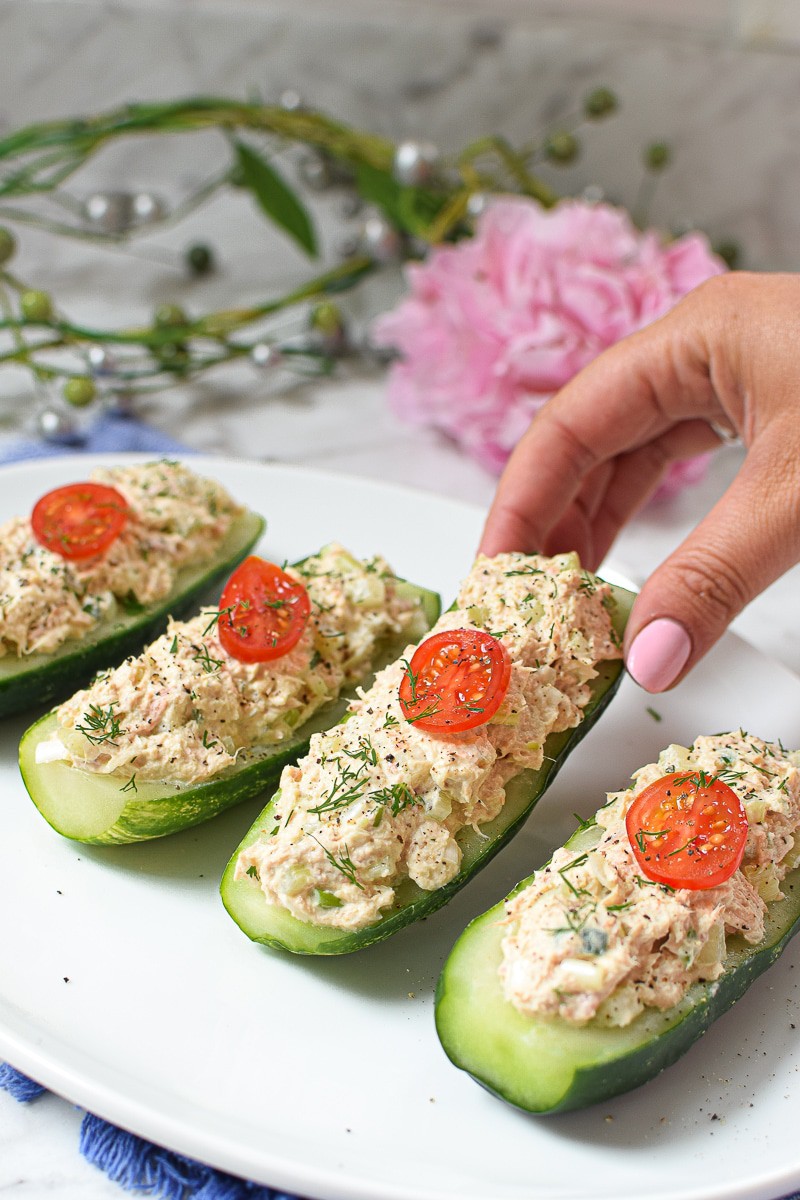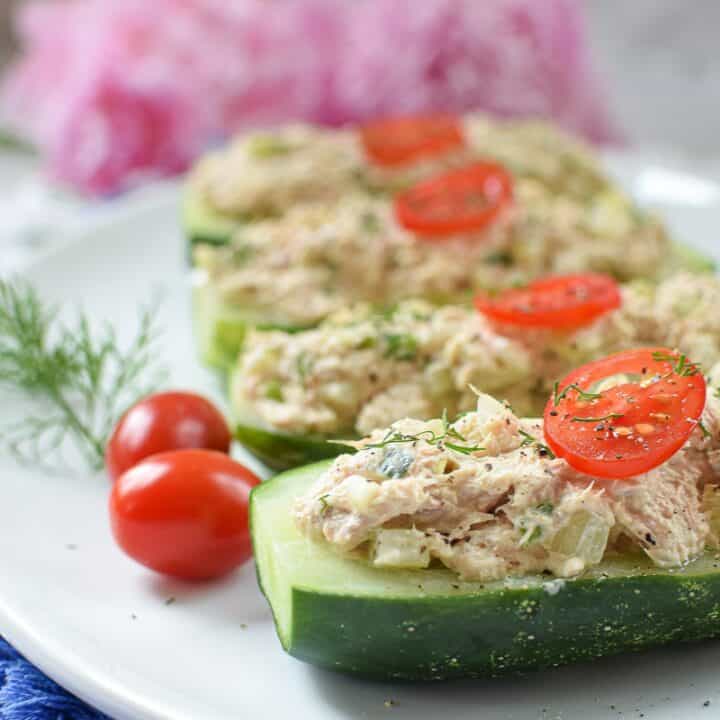 Tuna Salad Cucumber Boats
Enjoy these low-carb Tuna Salad Cucumber Boats made with high-protein, anti-inflammatory wild-caught tuna and learn more about the nutrition benefits of cucumbers and why they make the perfect gluten-free sandwich alternative.
Ingredients
4 medium cucumbers, washed and dried
4 (5 ounce) cans wild albacore tuna in water, drained
4 stalks of celery, finely diced
1 cup plain full-fat Greek yogurt
½ cup white onion, finely diced
2 teaspoons prepared yellow mustard
1 teaspoon salt
½ teaspoon ground black pepper
½ teaspoon fresh dill, finely chopped, optional
Instructions
Slice the cucumbers down the middle lengthwise. Using a spoon, gently scoop out the insides. Discard (or compost) the scooped seeds and set the remaining cucumber halves aside.
In a medium-sized bowl, add the tuna. Using a fork, gently mash the tuna until it is flaked.
Add the celery, Greek yogurt, onion, mustard, salt, black pepper, and fresh dill, if using. Mix well.
Scoop the tuna salad into each cucumber half just before serving.
Recommended Products
As an Amazon Associate and member of other affiliate programs, I earn from qualifying purchases.
Nutrition Information:
Yield:

4
Serving Size:

2 boats
Amount Per Serving:
Calories:

120
Total Fat:

2g
Saturated Fat:

1g
Trans Fat:

0g
Unsaturated Fat:

1g
Cholesterol:

21mg
Sodium:

472mg
Carbohydrates:

11g
Fiber:

2g
Sugar:

5g
Protein:

15g