Have other women told you cannabis helps them feel better in many different ways? Discover why cannabis really works, how you can use cannabis to improve your health and wellness, and why you shouldn't feel guilty about it.
Mom, Do You Ever Feel Like…
Are you constantly overwhelmed?
Stressed over your growing list of responsibilities and social obligations?
Are you constantly ignoring your health and well-being because you focus on caring for others?
Do you constantly say, "I will try again next week"…
Do you feel like you are not the woman you thought you would be after you had kids?
Like you're not getting what you really want out of life…
Are you suffering from a lack of joy or inspiration?
What If You Felt Like…
Taking care of your health was just second nature, and it didn't require effort or 'starting over'; it is simply enjoyable.
You could easily maintain a sense of work-life balance – without the constant guilt.
You had a coping tool that allowed you to naturally reduce stress and mentally and physically feel your best
Like it's easy to be that woman you were before kids – minus the constant frustration and anger
Confident and empowered that you had everything you needed to care for your own health: mentally, physically, and emotionally
Settled, knowing you don't need the next fad or trend because you've found your lifelong solution
Meet Your Endocannabinoid System
What if all of your daily frustrations were not a lack of your emotional ability to 'hold it all together?
What if, instead, you don't feel great because of a deficiency within your own endocannabinoid system?
What if the solution to happier days, better night's sleep, and enjoyment of life are as simple as nourishing your endocannabinoid system with natural, plant-based medicine?
Cannabis truly is a magical experience for many women because it interacts with the endocannabinoid system – naturally making us feel better.
If you are a wife, mother, woman, or human who is ready for better results, better health, a better quality of life, and most importantly, peace of mind – safe and responsible cannabis use could be your answer.
Welcome to The Cannabis Blog for Moms
Hello! My name is Emily Kyle, and I created this cannabis blog for women because I believe first-hand in the power of cannabis as medicine.
Cannabis has allowed me to confidently manage my anxiety and depression for the past ten years.
After going back to school to become a certified Holistic Cannabis Practitioner, I have since helped thousands of women just like you!
But I know that using cannabis requires some education.
That is where this blog and my work as your online cannabis teacher comes in.
I am here to provide you with easy-to-follow cannabis resources that will teach you exactly how to use cannabis to improve your health safely and responsibly.
Please Don't Feel Guilty
As a mom, I understand that a lot of guilt comes with being a cannamom.
Whether you consume in your free time while your kids sleep, during pregnancy, or breastfeeding – the guilt is always there.
The guilt is partly due to the societal shame associated with a mom using cannabis and partying due to the need to be the perfect parent.
Using cannabis is essentially admitting that you're not a perfect person and need a little help along the way – and that is OK.
Just like it is OK to use prescription medications to manage your anxiety and depression, it is OK to use cannabis to manage your anxiety and depression.
As long as you are doing what is safe and best for you and feeling your best, you should not feel guilty.
Just like you don't feel guilty for eating well to nourish your digestive system or exercising to support your immune system – you should not feel guilty for nourishing your endocannabinoid system.
Your Next Steps
If you are ready to take a step into the world of cannabis and being to learn how to use this magical plant to feel better, it starts with education.
If you're ready to jump in feet first and take your future into your own hands, be sure to check out my Cannabis Compass Online Course, which will teach you everything you need to know in just 3.5 hours.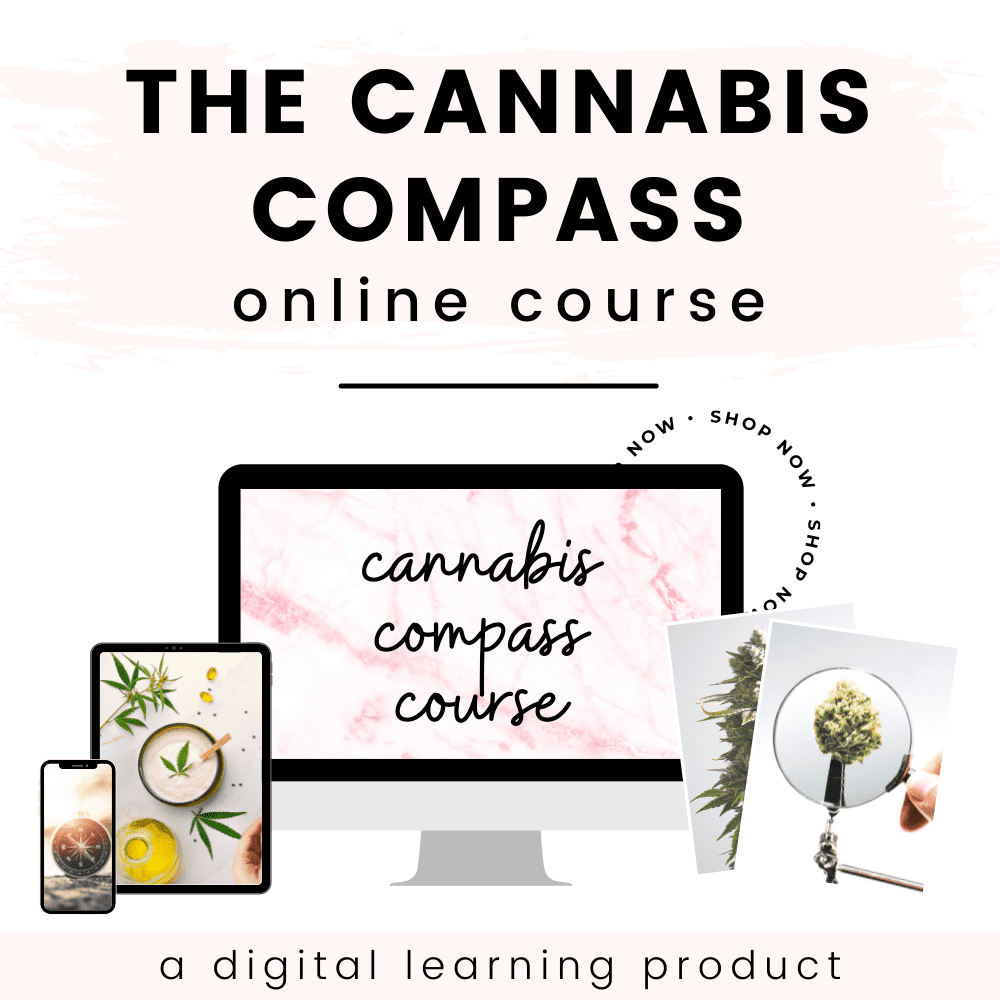 Everything you wish someone taught you…
The Cannabis Compass Online Course will show you how to use, apply, and dose cannabis safely and effectively so that you can begin to manage your anxiety, pain, and inflammation the natural way from the comfort of your own home. Learn more below.
More Parenting Articles You Will Love