Everyone in the family will love this easy-to-make, easy to clean-up Sheet Pan Garlic Tofu & Brussels Sprouts dinner that is naturally plant-based, vegan, gluten-free, and bursting with delicious flavor.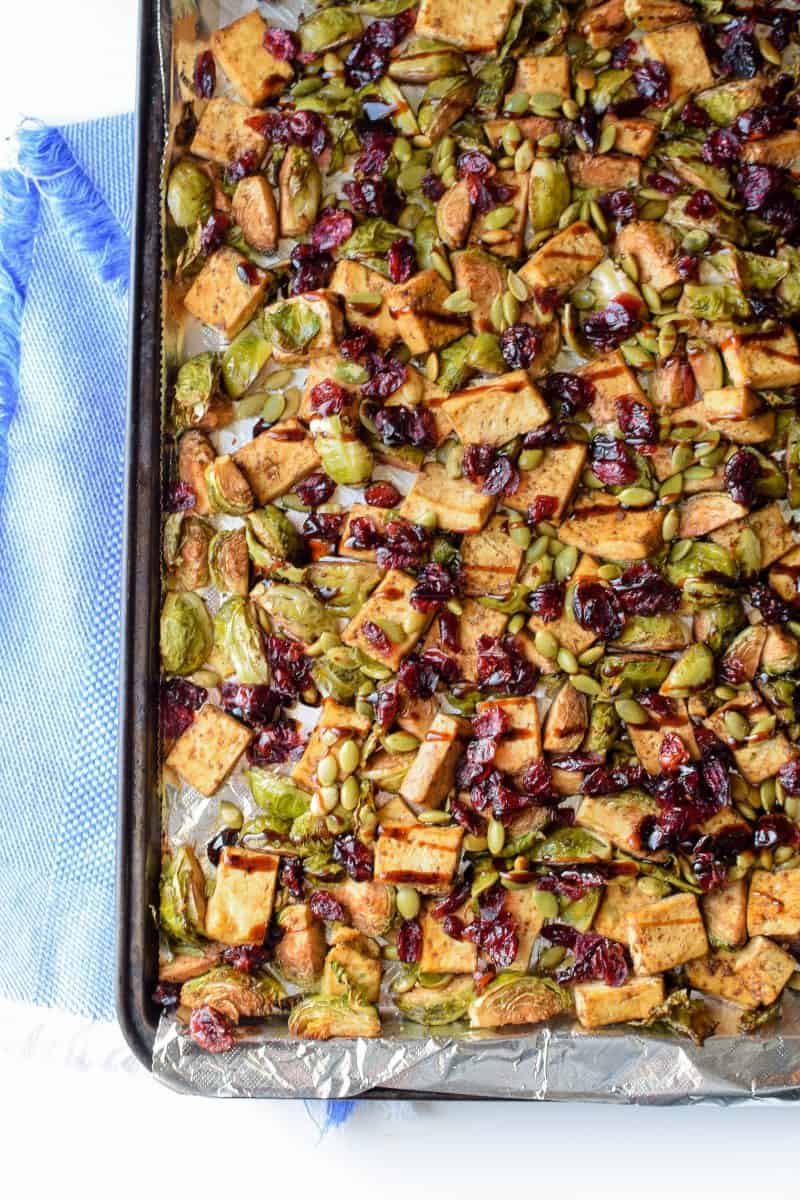 Sheet Pan Garlic Tofu & Brussels Sprouts
Sheet Pan Dinners are all the rage and for good reason. You literally throw everything on to one pan, bake, and enjoy!
No need for dirtying up extra pots and pans, no need to multitask by cooking several different dishes on the stove and in the oven.
That's what makes this sheet pan garlic tofu & Brussels sprouts dinner so amazing.
We all know, especially as busy moms, that when it comes to dinner time, simplicity is key.
And for me, this recipe was a no-brainer with all of the fresh Brussels sprouts we have available out in our garden right now!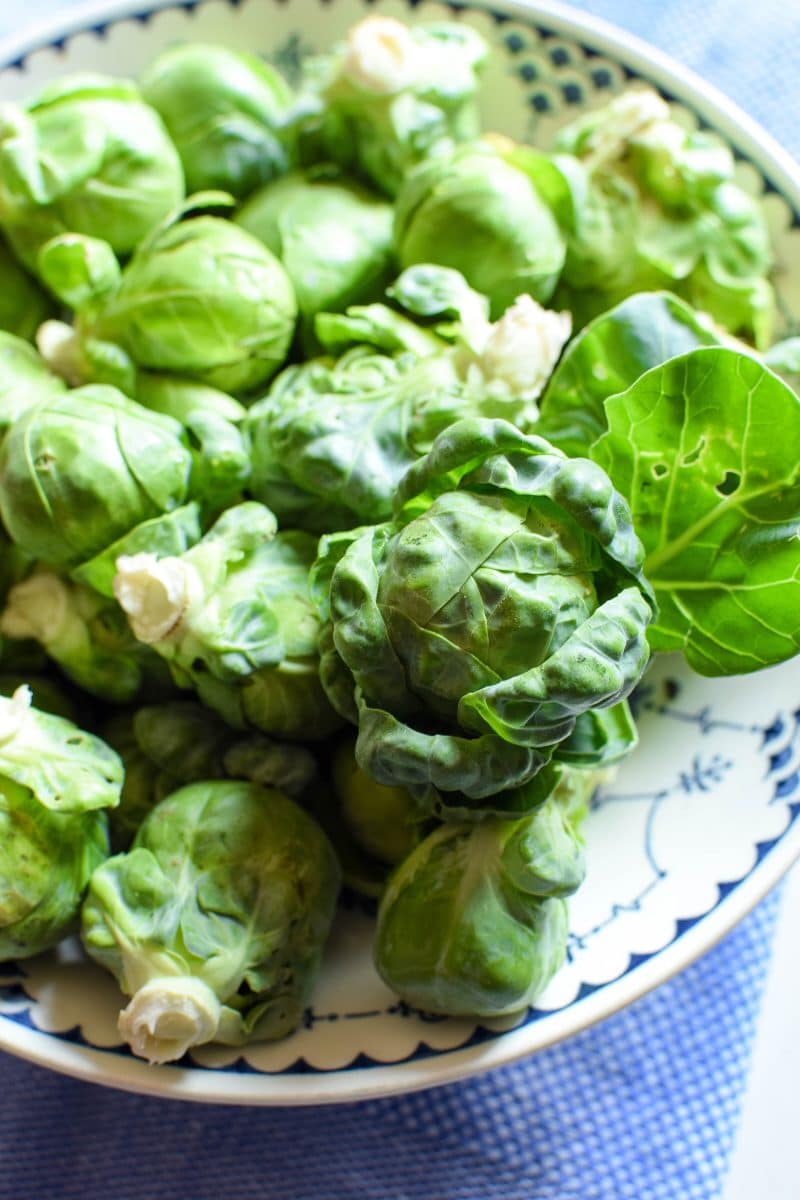 To Tofu or Not to Tofu?
Meat and I have a very on-again, off-again relationship, and ever since I got my own flock of chickens for sustainable farm-fresh eggs, I've been totally off meat.
Now, that doesn't mean tomorrow I may not have a chicken wing if I so desire, but I am in the experimental stages with tofu and love how it turned out in this recipe.
However, this recipe can be made the exact same way with chicken if you have meat eaters in the family
The dried cranberries and pumpkin seeds add the perfect sweet and salty flavor, as well as the perfect addition of chewy and crunchy to bring everything together in to a meal everyone will love!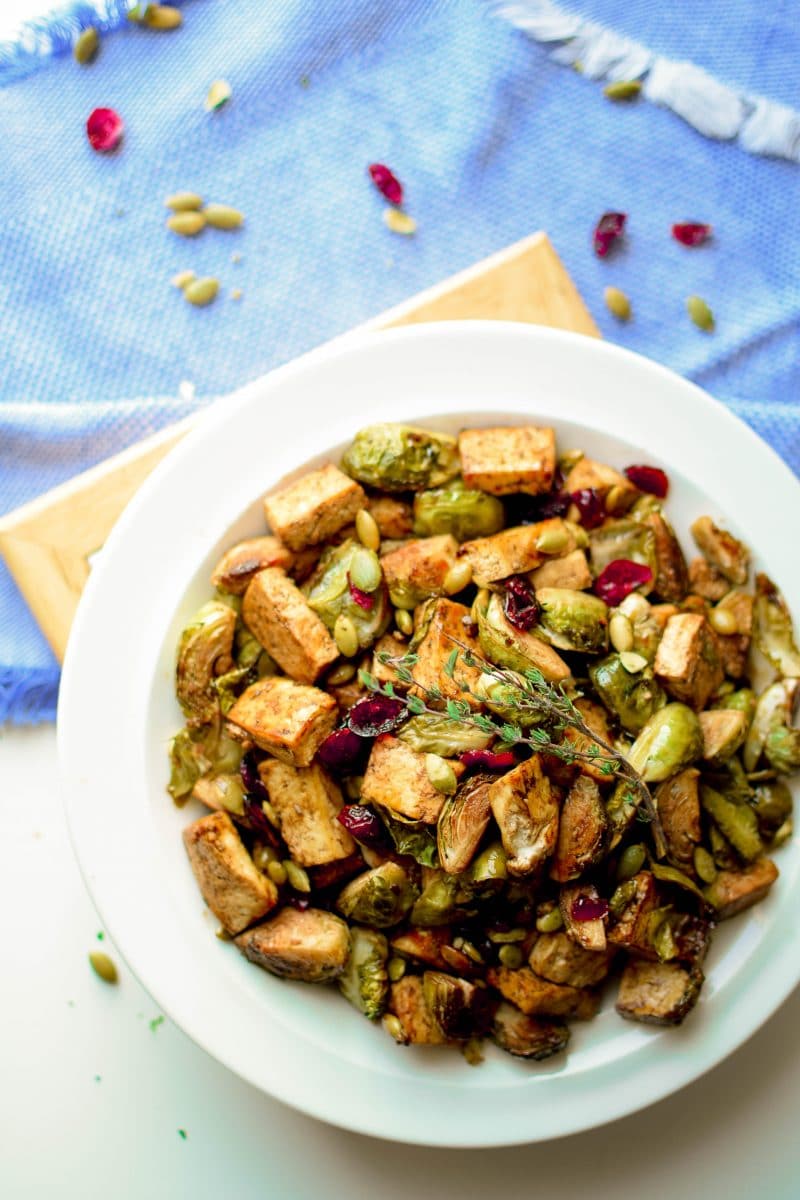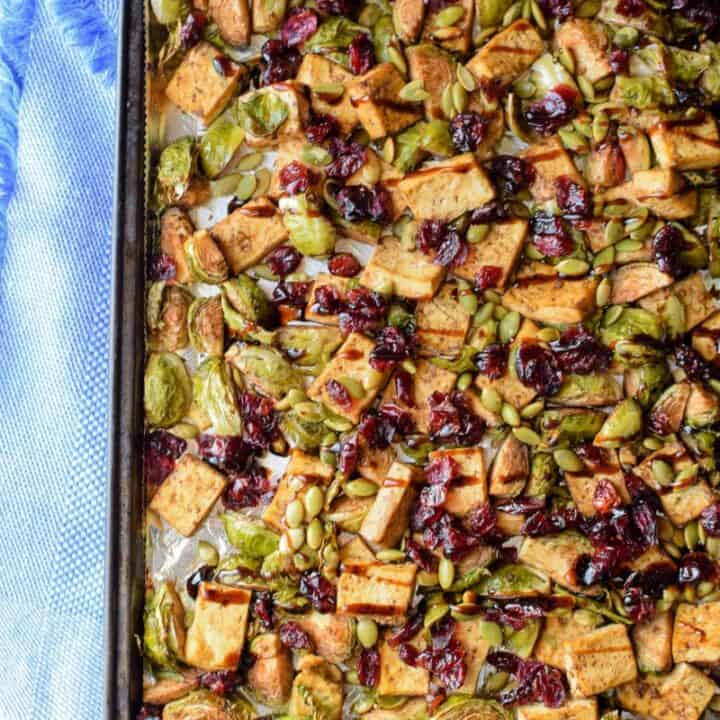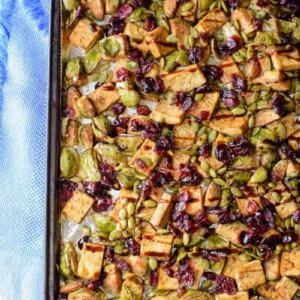 Sheet Pan Garlic Tofu & Brussels Sprouts
Everyone in the family will love this easy-to-make, easy to clean-up sheet pan garlic tofu and Brussels sprouts dinner that is naturally vegan, gluten-free, and bursting with plant-based goodness.
Instructions
Preheat the oven to 400°F. Line a baking sheet with foil and brush with 1 teaspoon of extra-virgin olive oil. Set aside.

Drain the excess water from the container of tofu and dice into 1-inch pieces.

In a large bowl, whisk together the vinegar, 1 tablespoon of olive oil, garlic, salt, and pepper.

Add the tofu and Brussels sprouts to the bowl and toss gently until all ingredients are well coated.

Transfer the ingredients to the lined baking sheet and arrange in a single layer. Bake for 20 minutes.

Remove the sheet pan from the oven and stir.

Evenly spread the cranberries and pumpkin seeds across the entire sheet pan. Return to the oven and bake for an additional 10 minutes.

Remove from the oven and drizzle with balsamic glaze just before serving.
Notes
Not a fan of tofu? Simply swap the tofu for 1 pound of chicken breast diced into 1" pieces. Ensure the chicken is cooked to an internal temperature of 165°F.
Nutrition
Serving:
1
/4th recipe
Calories:
250
kcal
Carbohydrates:
18
g
Protein:
13
g
Saturated Fat:
2
g
Sodium:
190
mg
Fiber:
3
g
Sugar:
13
g
Did you make this recipe or have a question?
Join hundreds of members inside private Well With Cannabis Community for help, support, and to share your edible creations!