Start with this Step by Step Guide to Rolling Fresh Spring Rolls and skip the headache of learning how to roll them on your own, so you can have perfect rolls every single time!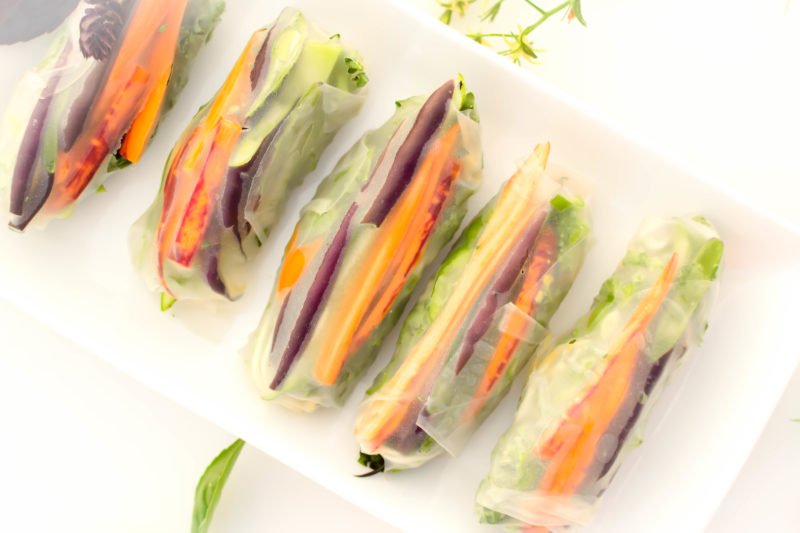 Fresh spring rolls are a delicious way to get in two or more servings of your daily vegetables and they are a perfect meal idea for Meatless Monday. Spring rolls are versatile and you can add just about any ingredient you would like! You can even set these up buffet style and let everyone in the family make their own, which helps to encourage the kids to make and enjoy spring rolls as well.

Step by Step Guide to Rolling Fresh Spring Rolls
Cooking Lesson: Mise en place is a French term meaning "putting in place". Before you get started rolling your spring rolls you want to make sure everything is set up and ready to go! This includes chopping all of your vegetables, preparing any extra ingredients, and having your work surface ready to go! Mise en place is generally a good idea anytime you cook or bake, but it is especially important for this recipe!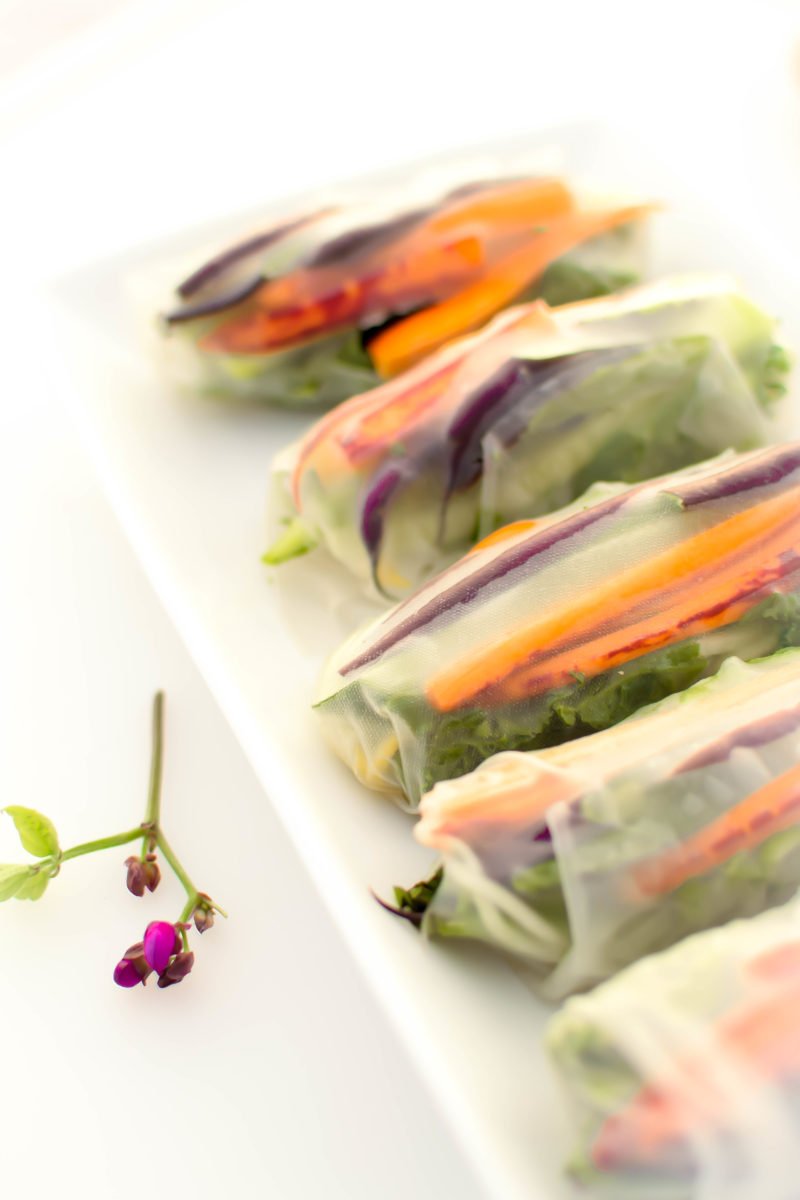 Get a Step by Step Guide to rolling Fresh Spring Rolls!
Click To Tweet
Mise En Place
To Start: The best and easiest way to make great spring rolls is to make sure your mise en place is set up!
Veggies: – You can use any combination of vegetables you want in spring rolls! However, keep in mind that is important to incorporate some sort 'hard' vegetable such as carrots, cucumber, or green pepper. These will serve as the backbone of your spring roll and keep them from folding over or folding together. It is also smart to cut your vegetables julienne style, think skinny sticks approximately 3-4" long. Be mindful of sharp edges or ends which may poke holes or tear your rice paper!

Extra additions: Feel free to get creative to add some protein to your spring rolls. Shredded chicken or fresh shrimp are two of my favorites. but I have also used beans and cooked quinoa too. Prepare your extra additions however you like, just make sure the pieces are cut small before you start rolling!

Warm Water Bath: Select a bowl that is large enough to submerge your sheet of rice paper into the liquid without needing to bend it. Fill that bowl with 1-2" of warm water. Optional: I add a few dashes of soy sauce, a 1/4 teaspoon of minced garlic and squeeze a fresh lime into my water for a bit of added flavor!

Work Surface

: You want a spacious, flat surface to work on that can get wet. I find that both my counter top or a plastic cutting board work just fine!
Now that your Mise en Place is set-up you are ready to get started!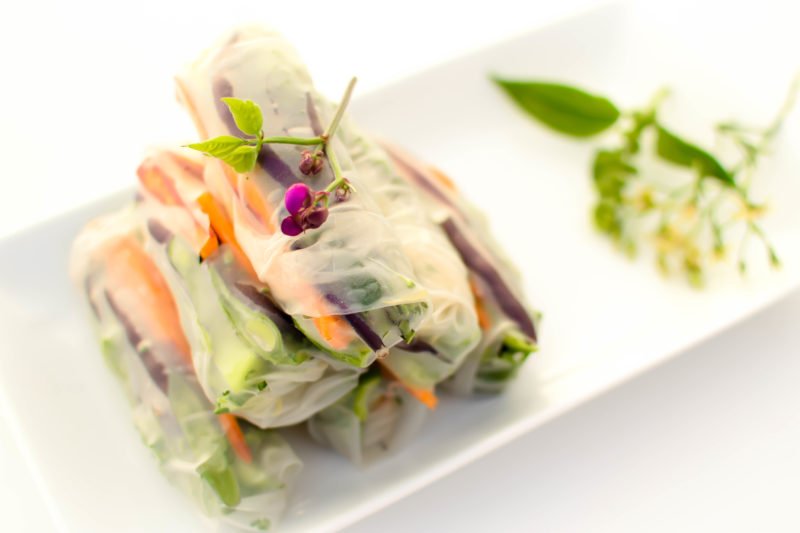 Click Here to Download Your 5 Day Happy & Healthy Meal Plan – FREE!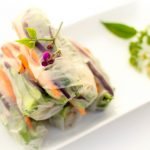 Step by Step Guide to Rolling Fresh Spring Rolls
A step by step tutorial to roll your very own spring rolls perfectly every time!
Ingredients
15

Spring Roll Wrappers

2

carrots

sliced julienne style

1

small zucchini and/or cucumber

sliced julienne style

1

bell pepper

sliced julienne style

1

cup

of purple green beans or purple cabbage

sliced thin

2

avocados

sliced thin

2

cups

of romaine lettuce

kale, spinach or any other leafy green, shredded

1

scallion

chopped

1

bunch of cilantro

chopped

Sauce of Choice
Instructions
Using your hands, wet your work surface as this will keep your rice paper wrapper from sticking. Take your spring roll wrapper and place it in your bowl of warm water.

Continue to feel how flexible the paper is: you want it to be soft and workable without being mushy. When with feel ready take your spring roll wrapper out of the water and lay it down on your wet surface.

Begin to fill your wrapper with all of your ingredients by placing everything in the center, making a rectangle shape. Be careful not to overfill your spring roll wrapper because you won't be able to roll it shut!

Work quickly, you don't want your wrapper to lose moisture. When you've placed all of your ingredients in a nice little pile on your spring roll wrapper, it's time to roll her shut!

Starting on the left-hand side, stretch the wrapper around the pile of ingredients, tucking and rolling the paper under the pile just a little bit.

Tuck those corners in and then continue to roll all the way, making your roll as tight as possible without ripping the rice paper wrapper.

Roll as many spring rolls as you would like and enjoy as soon as possible.

Enjoy with your favorite dipping sauce.
It will likely take you a few tries to get this right! Have a little patience and don't be afraid to start over if you have to. Rolling a really good spring roll takes practice (my first three or four – every time I make them – usually turn out pretty shaky). But once you get the hang of it and feel comfortable, you'll learn how to do it quickly!
The only downfall to these spring rolls is that they are best eaten freshly made. If you have leftovers, you could probably keep them for 24 hours in the refrigerator. After that, the wrapper will get tough and gummy. However, if you have your mise en place all ready to go you could just pull the leftover veggies out of your fridge and roll up some more the next day!!
Have you tried to make your own fresh spring rolls before? What tasty vegetables would you use in yours? Let me know in the comments section below!


BEFORE YOU GO!
Request your exclusive invitation to join Health & Happiness Community TODAY!

The following two tabs change content below.
Hi there! I teach women like you how to get healthy, and stay happy, without ever having to diet again! To help you, I provide individualized nutrition coaching and have created
The School of Health & Happiness
, an online training program to help you develop a positive relationship with food. This blog focuses on holistic health, plant-centric, whole food
recipes
, and real-life Mindful & Intuitive Eating Practices.
Learn more here
.
Lets Connect!   
Facebook
»
Instagram
» ♥
Latest posts by Emily Kyle (see all)