This Step by Step Guide to Rolling Fresh Spring Rolls will help you to learn how to your own fresh spring rolls, so you can have perfect rolls every single time, at home!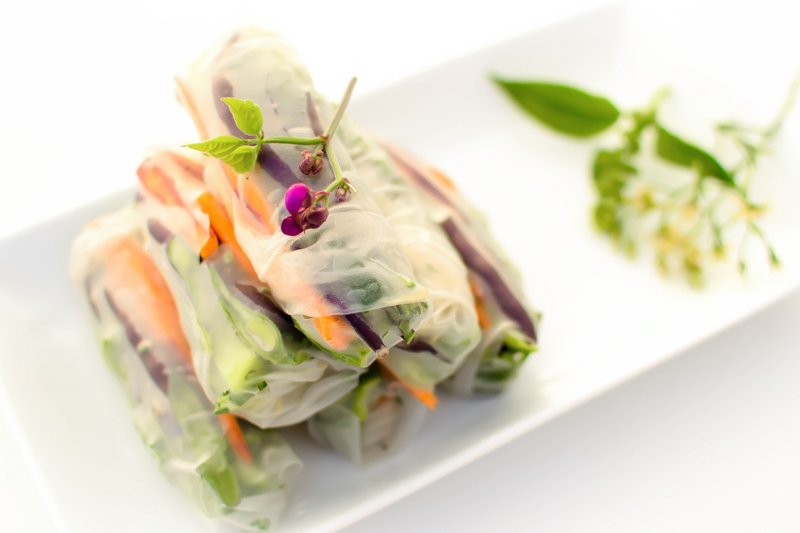 For the Love of Fresh Spring Rolls
There are so many reasons to love Fresh Spring Rolls:
They are a delicious way to get in two or more servings of veggies
They are a perfect meal idea for Meatless Monday
They are SO versatile! You can add just about any ingredient you would like
You can even set these up buffet style and let everyone in the family make their own, which helps to encourage kids to make and enjoy spring rolls as well (yay!)
Of the nearly 50 recipes here on my blog, this one is by far the most popular for both me and my readers. I personally make this recipe at home all the time, and I LOVE to use this recipe in my live cooking demos. Everybody is always so excited to make them!
BUT. Everyone is always intimidated to make them the first time.
Have no fear, this post contains EVERYTHING you need to know about how to roll your own fresh spring rolls, perfectly – every time.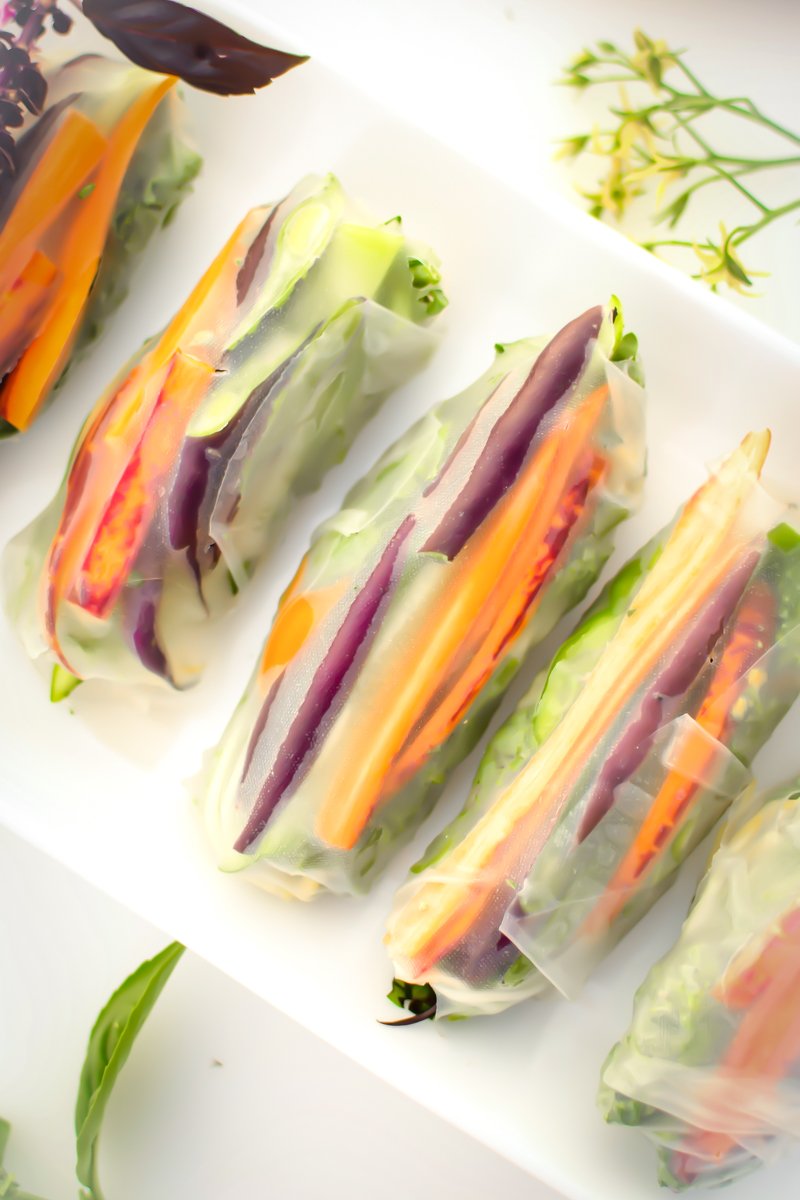 Step by Step Guide to Rolling Fresh Spring Rolls
Cooking Lesson
 Mise en place is a French term meaning "putting in place". Before you get started rolling your spring rolls you want to make sure all of the ingredients are prepped, your work area is set up, and everything is ready to go! Do not skip this step.
This includes chopping all of your vegetables, preparing any extra ingredients, and having your work surface organized, set up and ready to go. Mise en place is generally a good idea anytime you cook or bake, but it is especially important when rolling fresh spring rolls!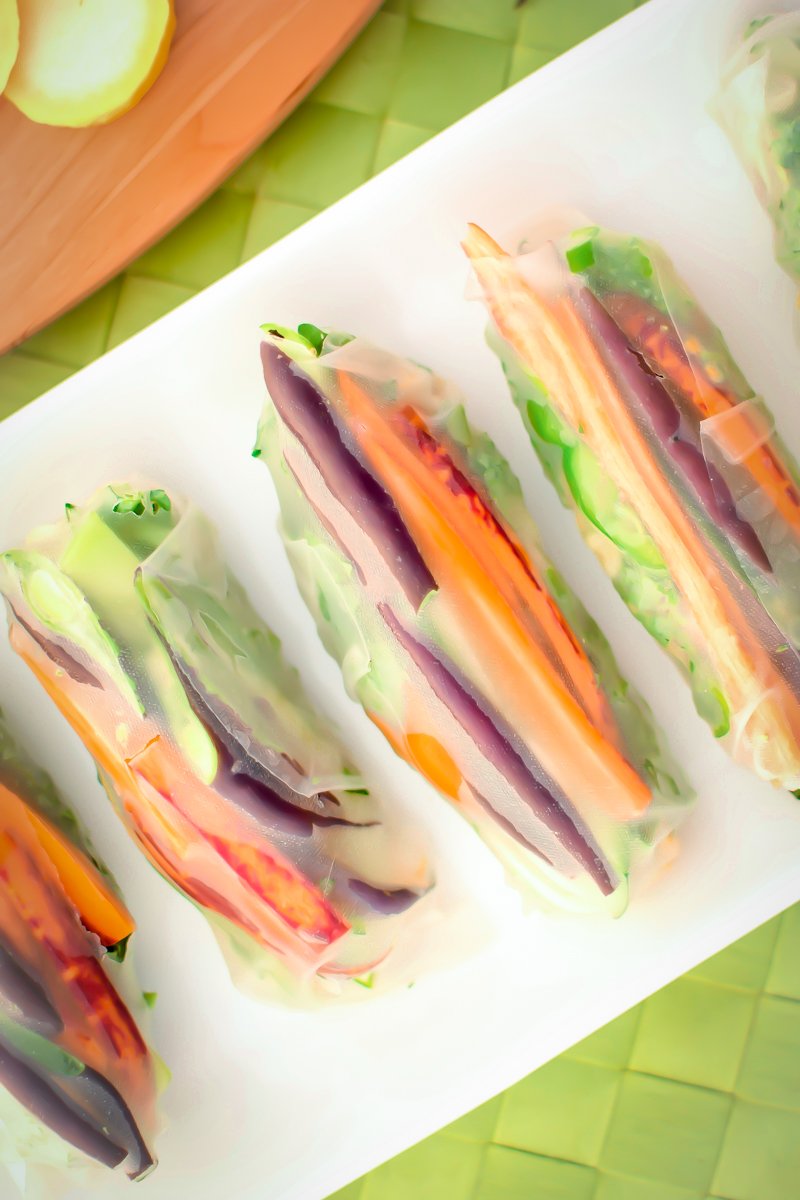 Mise En Place
To Start: The best and easiest way to make great spring rolls is to make sure your mise en place is set up!
Veggies: – You can use any combination of vegetables you want in spring rolls! However, keep in mind that is important to incorporate some sort 'hard' vegetable such as carrots, cucumber, or green pepper. These will serve as the backbone of your spring roll and keep them from folding over or folding together. It is also smart to cut your vegetables julienne style, think skinny sticks approximately 3-4" long. Be mindful of sharp edges or ends which may poke holes or tear your rice paper!

Extra additions: Feel free to get creative to add some protein to your spring rolls. Shredded chicken or fresh shrimp are two of my favorites. but I have also used beans and cooked quinoa too. Prepare your extra additions however you like, just make sure the pieces are cut small before you start rolling!

Warm Water Bath: Select a bowl that is large enough to submerge your sheet of rice paper into the liquid without needing to bend it. Fill that bowl with 1-2" of warm water. Optional: I add a few dashes of soy sauce, a 1/4 teaspoon of minced garlic and squeeze a fresh lime into my water for a bit of added flavor!

Work Surface

: You want a spacious, flat surface to work on that can get wet. I find that both my counter top or a plastic cutting board work just fine!
Now that your Mise en Place is set-up you are ready to get started!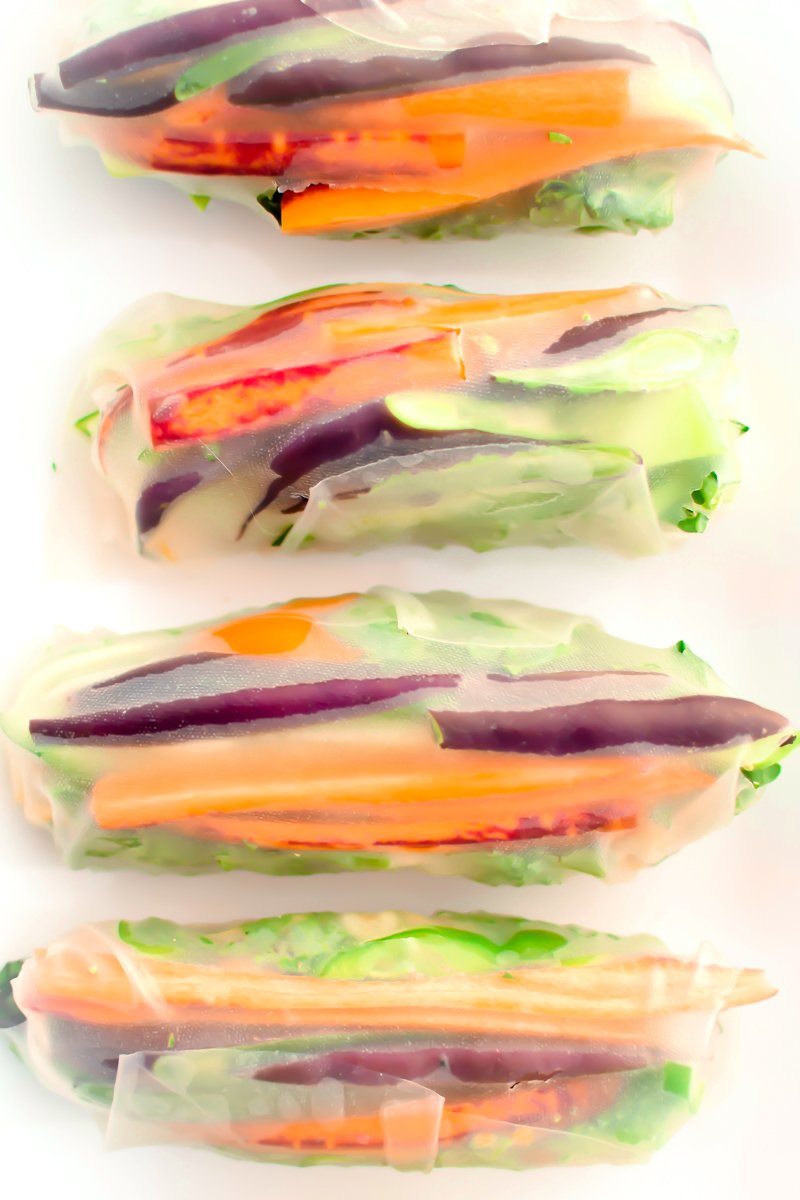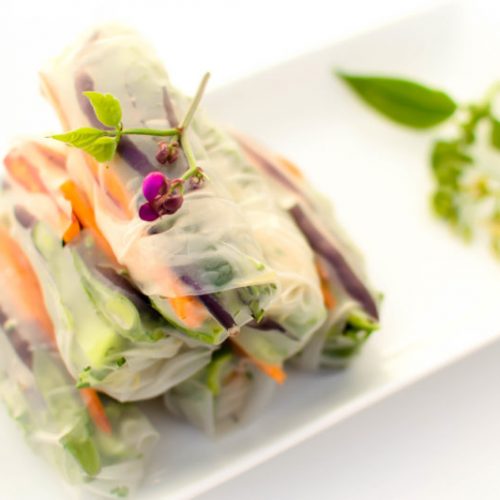 Step by Step Guide to Rolling Fresh Spring Rolls
Use this step by step tutorial to help you roll your very own spring rolls perfectly, every time!
Servings
:
4
(3 spring rolls per serving)
Ingredients
12

rice spring roll wrappers

* these can be found in the Asian section of your local grocery store

2

large carrots

peeled and sliced julienne style

1

small zucchini and/or cucumber

sliced julienne style

1

bell pepper, any color

sliced julienne style

1

cup

shredded purple cabbage

1

avocado

sliced thin

2

cups

of shredded romaine lettuce,

kale, spinach or any other leafy green

1

scallion, green and white parts,

chopped

1

bunch of cilantro

chopped

sauce of choice,

I recommend Thai Peanut Sauce!
Instructions
Set up your Mise en Place. Have all of the ingredients prepared and cut. For your work surface, you want a smooth waterproof surface (like a silpat mat) and a glass pie dish (or size equivalent) filled with lukewarm warm water.

Before getting started, lightly wet your work surface (as this will keep your rice paper wrapper from sticking).

When you feel like the rice paper is ready , take the spring roll wrapper out of the water and lay it down flat on your wet surface. You will want to work quickly from here.


Starting in the center of the wrapper, place the carrot, zucchini and bell pepper slices in a rectangular shape, staying away from the edges of the wrapper.

Continue to add all of the fillings, from the purple cabbage to the cilantro, by placing everything in the center, one by one, maintaining the rectangle shape in the middle.

Note: Be careful not to overfill your spring roll wrapper because it will cause the rice paper to tear.

That's it, you just rolled your very own spring roll! Now, roll as many spring rolls as you would like and enjoy immediatley.

Enjoy with your favorite dipping sauce. I recommend a Thai Peanut Sauce, anything with Ginger, Soy Sauce or Coconut Aminos!
Nutrition Facts
Step by Step Guide to Rolling Fresh Spring Rolls
Amount Per Serving (3 rolls)
Calories 240
Calories from Fat 72
% Daily Value*
Total Fat 8g 12%
Cholesterol 0mg 0%
Sodium 75mg 3%
Potassium 0mg 0%
Total Carbohydrates 38g 13%
Protein 8g 16%
* Percent Daily Values are based on a 2000 calorie diet.
A Visual
For all of my visual learners, here is a quick photo to show you how this is done:

Recipe Notes
Keep in mind that it will likely take you a few tries to get this right. Have a little patience and don't be afraid to start over if you have to.
Rolling a really good spring roll takes practice (my first one or two- every time I make them – usually turn out pretty shaky). But once you get the hang of it and feel comfortable, you'll learn how to do it quickly and easily.
The only downfall to these spring rolls is that they are best eaten freshly made and are not really good after a few hours. If you have leftovers, you could probably keep them for 24 hours in the refrigerator. After that, the wrapper will get tough and gummy.
However, if you have your mise en place all ready to go you could just pull the leftover veggies out of your fridge and roll up some more the next day!!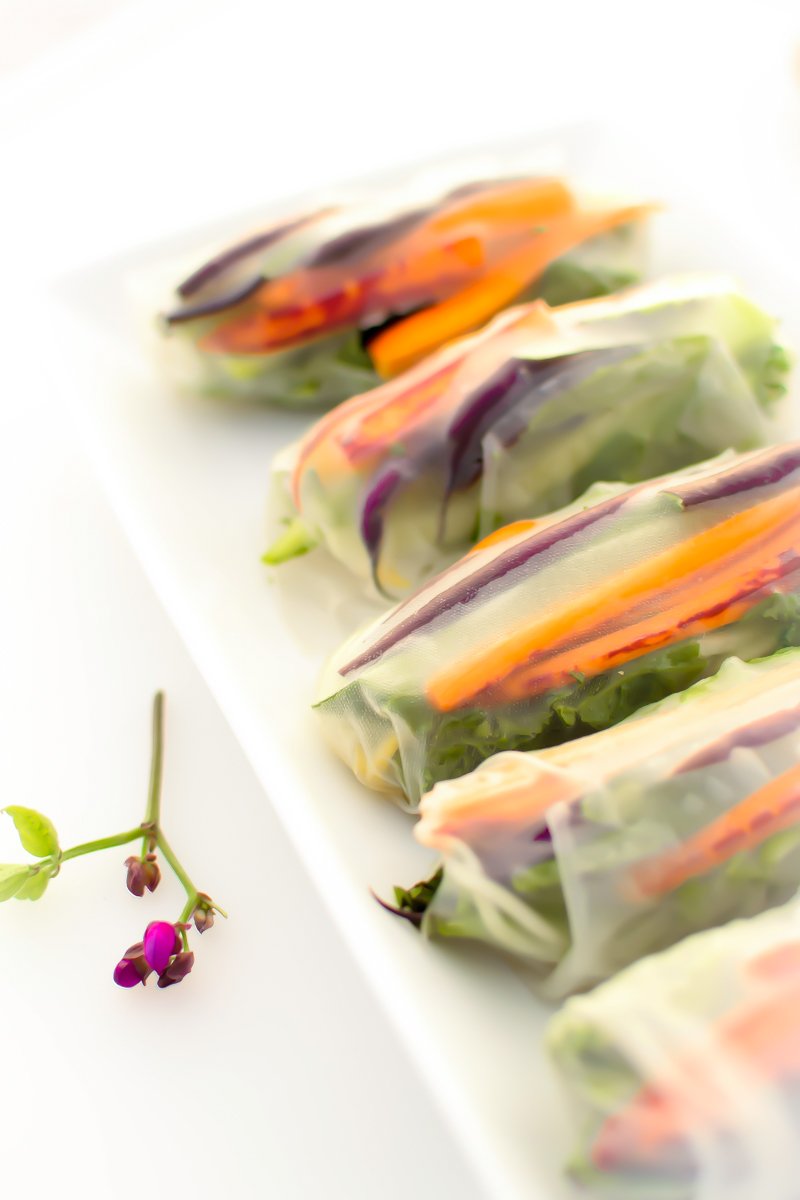 DON'T FORGET YOUR MEAL PLAN!
I hope you're inspired to try new and different recipes like this Step by Step Guide to Rolling Fresh Spring rolls! And more importantly, I hope you're inspired to try new plant-based meal options.
If you're looking for additional help in meal planning or discovering new and delicious recipes to try, be sure to download my Free 16 page eBook – The 5 Day Happy & Healthy Meal Plan, which features this recipe, below!
Have you tried to make your own fresh spring rolls before? What tasty vegetables would you use in yours? Let me know in the comments section below!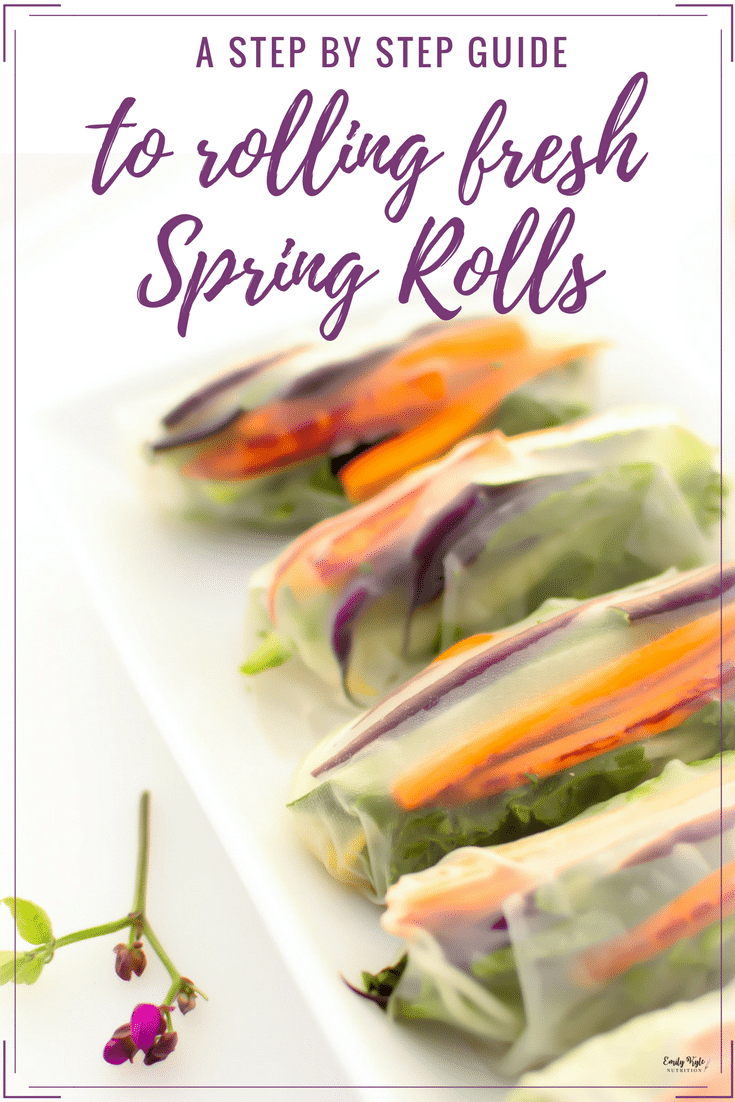 The following two tabs change content below.
Hi there, I'm Emily Kyle, a nationally recognized media dietitian & nutrition communications expert on a mission to help you create the happy & healthy holistic lifestyle you deserve. To help you on your wellness journey, I offer holistic health counseling, resources inside The School of Health & Happiness, and this blog which focuses on holistic health and wellness, anti-inflammatory, whole food recipes, and my love for Mother Nature inside #TheMillennialGarden.
Latest posts by Emily Kyle (see all)