Whether you're starting your morning off right or planning a fun party or get-together, these cannabis-infused watermelon shooter shots are nutrient-dense, quick, and easy drinks, complete with various cannabis infusion options.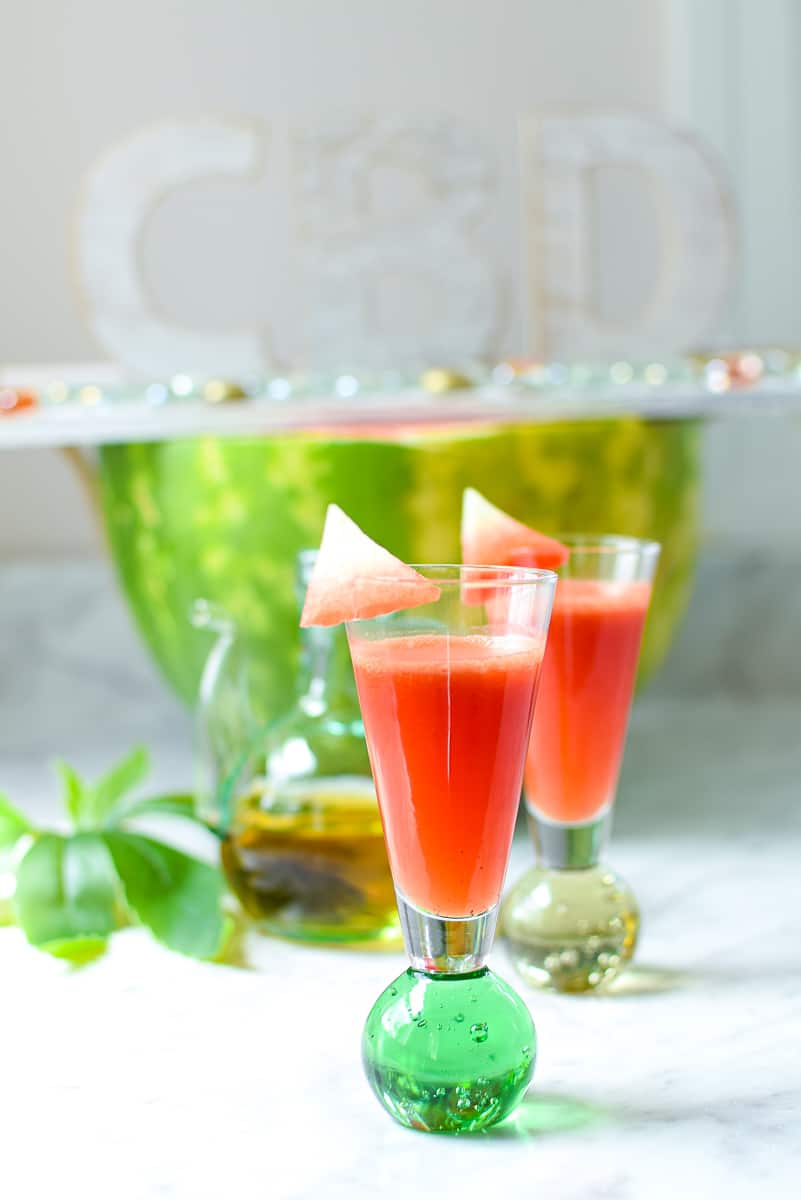 Watermelon Shooter Shots
As a registered dietitian and certified Holistic Cannabis Practitioner, I know that the more nutrients we can get into the body, the better.
Shooters, also known as wellness shots, are just that – small amounts of liquid that are taken as a shot.
The purpose of wellness shots is to consume a large number of nutrients in a small physical volume, while still reaping the benefits of the ingredients added.
Because only a small amount is consumed in a single sip, the flavors in wellness shots are typically intense and magnified as compared to other drinks that are traditionally sipped.
Many members Well With Cannabis Community prefer to consume cannabis this way because it eliminates the taste, allows for greater dosing accuracy, and provides longer-lasting benefits.
These watermelon shooter shots were created with both taste and nutrition in mind.
In just a small 2-ounce shot, you will get the nutritious benefits of watermelon, apple cider vinegar, freshly ground spices, and of course, cannabis.
The taste is sweet and pungent, tangy and spicy, leaving a refreshing taste after enjoying.
Join The Community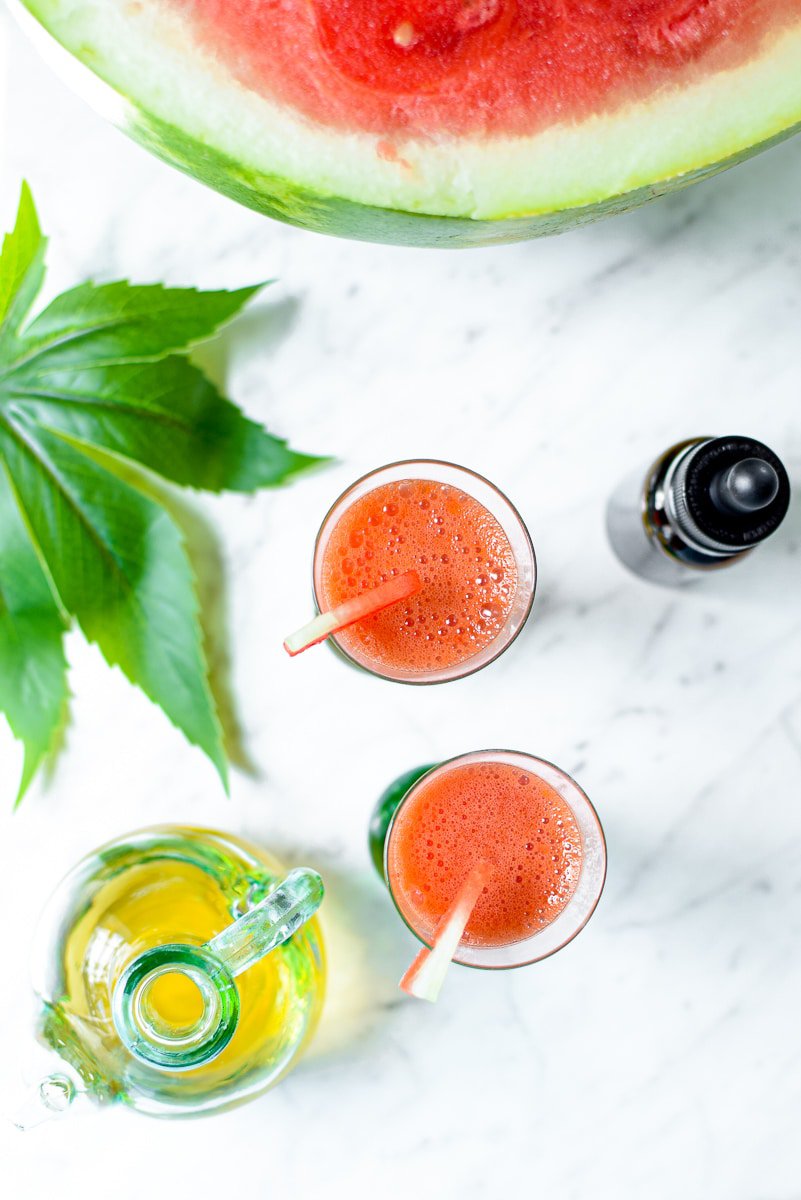 How to Make Watermelon Puree
Watermelon puree is the staple of this recipe, and it couldn't be easier to make.
Whether you're making watermelon puree for this recipe, or to enjoy by itself or as watermelon juice, making watermelon puree is simple and only requires a blender.
To make watermelon puree, simply add freshly diced watermelon pieces (without the rind) to a blender and blend.
Due to the high water content and low fiber content of watermelon, it is easily broken down and will turn into a puree/juice within 30-60 seconds.
Turn this into a Watermelon Vodka Cocktail
While alcohol is certainly not anti-inflammatory, I know that I love to have a good time and many of my students do too!
During times of good health, alcohol can be a mindful addition to any diet to enhance social experience, which is an important aspect of a holistic lifestyle.
Many of my students who choose to consume alcohol still don't abandon their desire for high-quality, nutrient-dense options, which is why pairing this watermelon shooter recipe with the cocktail is ideal.
Instead of consuming a mixer like soda, which contains empty calories, this mixer is nutrient-dense and contains beneficial antioxidants that may help to combat the free radicals and inflammatory process ignited by alcohol consumption.
To Make a Watermelon Vodka Drink
Make this recipe according to the recipe directions.
Combine 2-ounces of the prepared Watermelon Shooter with 2-ounces of seltzer and 1-ounce of liquid of choice: I recommend a clear liquor like vodka or rum.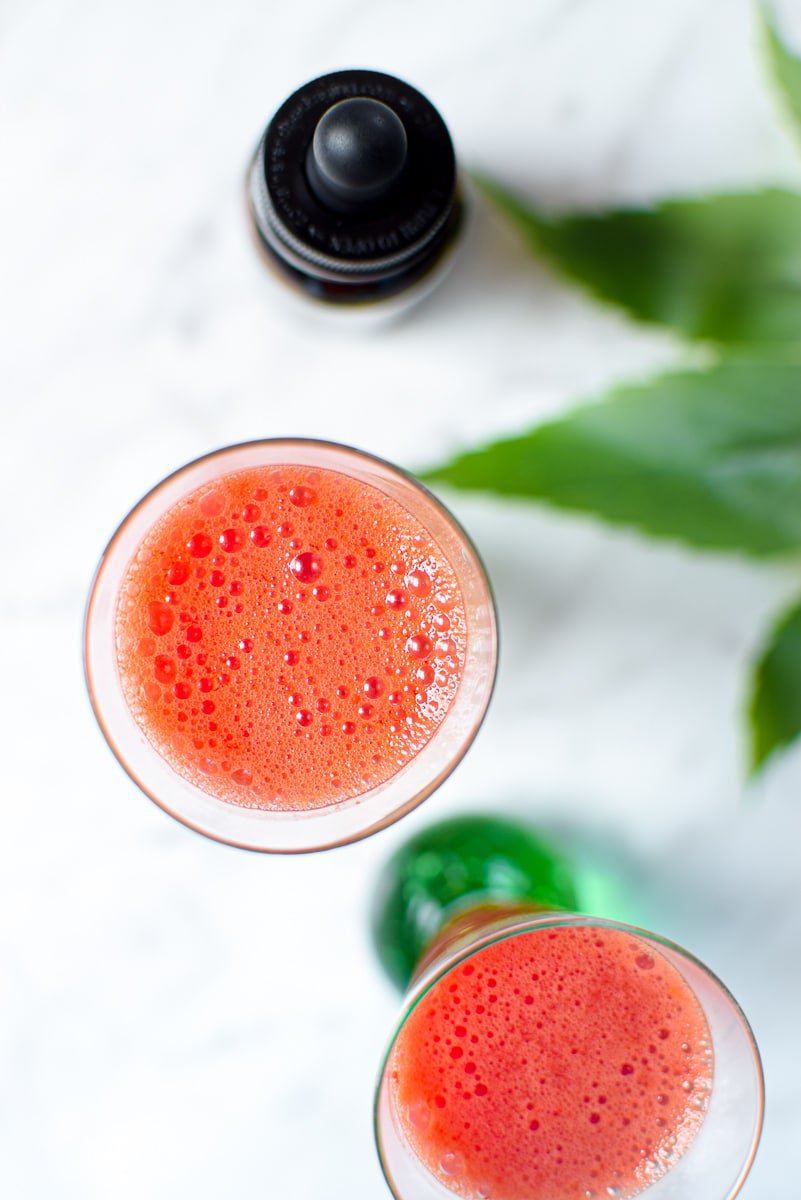 Cannabis-Infusion Options
As with all things cannabis, there are many different ways to infuse something.
For this recipe, I recommend infusing these wellness shots with either a cannabis tincture, a cannabis oil, or cannabis concentrates.
Now, if you're brand new to cannabis edibles, you're going to want to check out my beginners guide first to have a better understanding of how they will affect you.
Make A Cannabis Tincture
One way to infuse these wellness shots is to add a bit of a cannabis tincture.
If you choose to infuse with a tincture, you want to make sure that you already have a cannabis alcohol tincture prepared before getting started with this recipe.
If you have not yet made a cannabis tincture before, I have two different options for you.
You will want to prepare either the Green Dragon tincture and the QWET Freezer Golden Dragon tincture before getting started.
If you want a non-intoxicating shot, you could also try a CBDA tincture.
If you do not want a lot of alcohol present in this wellness shot, be sure to evaporate off a majority of the alcohol from the tincture first.
You can follow this guide for safe evaporation techniques.
Infuse With Cannabis Concentrates
If you are a medical marijuana patient or live in a recreationally legal state, chances are you may have access to cannabis concentrates.
You can easily use cannabis concentrates in this recipe to make delicious infused brownies.
From distillate or CO2 oil, to shatter or wax, and FECO or RSO, all can work for this recipe.
Depending on what concentrate you are using, you will want to ensure that your cannabis concentrate is decarbed first, if needed.
If you are not sure if your cannabis concentrate needs to be decarbed, you can check this guide here.
Once you know whether or not you need to decarb your concentrate, you can gently warm it up and mix it into the ½ cup of butter or oil called for in this recipe.
How much you will add is up to you and your personal taste preferences, 1mL or 1 gram is a good place to start.
Infuse With Liquid Cannabis Oil
I do not think that any solid oil-based infusions like cannabis coconut oil or cannabutter would work well in this recipe; it really needs to be a liquid cannabis oil to maintain the best consistency.
Options for liquid cannabis oils include:
How to Determine The Dosing
Want to get a more accurate guesstimate of the potency of your cannabis infusions and extractions? Try our popular edibles calculator!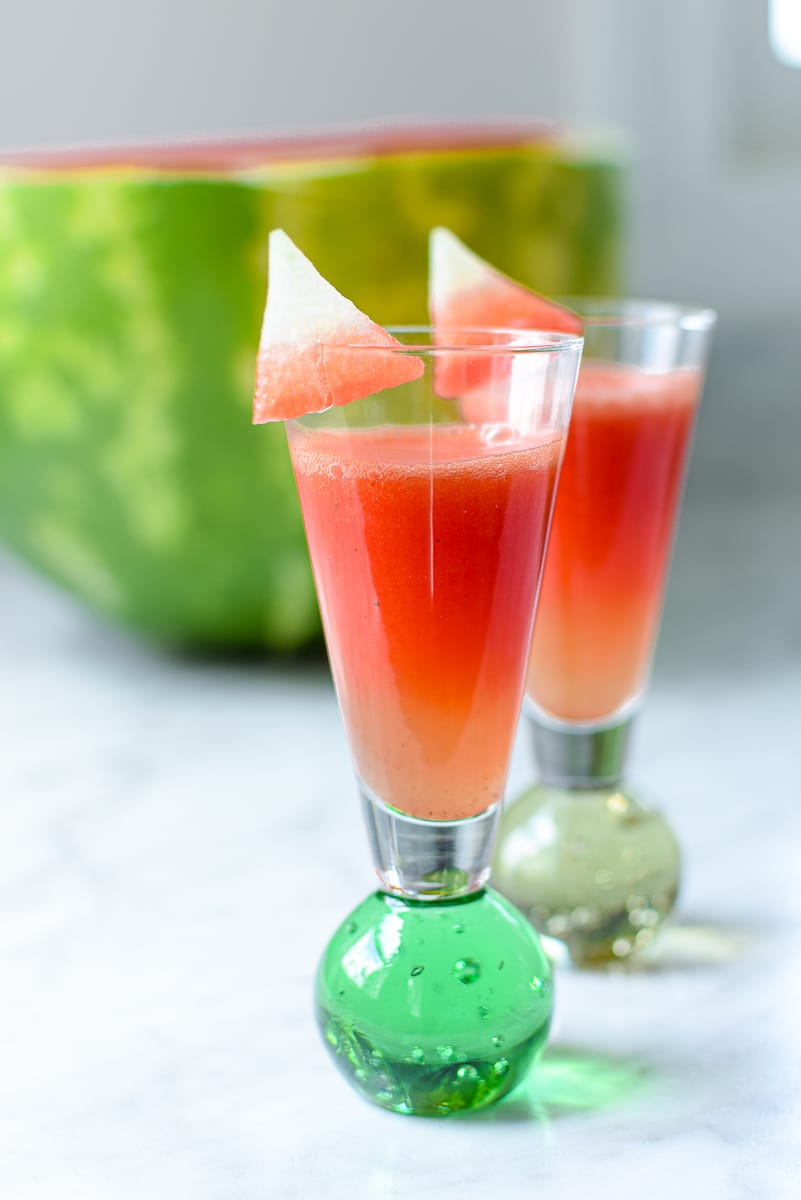 The Health Benefits of Watermelon
Watermelon is no doubt considered a superfood on its own.
Packed with important nutrients, the beautiful pink color signals the presence of powerful phytonutrients like carotenoids, specifically lycopene.
Typically, we associate lycopene with the health benefits of tomatoes, but recent studies have proven that red-fleshed watermelon is, in fact, a more concentrated source of lycopene, and that the lycopene may be more bioavailable in the body.
Lycopene, vitamin C, and many other flavonoids found in watermelon help contribute to the important anti-inflammatory properties of this fruit.
The most abundant nutrients found within watermelon include vitamin C, pantothenic acid, copper, biotin, vitamin A, vitamin B1, and vitamin B6.
These nutrients and many more phytonutrients all contribute to the anti-inflammatory, antioxidant and cardiovascular benefits seen with watermelon consumption.
Calories
In one cup of fresh diced watermelon, there is approximately 45 calories. One serving of watermelon can be considered to be low calorie.
Protein
In one cup of fresh diced watermelon, there is approximately 1 gram of protein. Watermelon is not a significant source of protein in the diet.
Carbs
One question I get often from my clients is how many carbs in watermelon?
In one cup of fresh diced watermelon, there is approximately 12 grams of carbohydrates.
Dietary Fiber
In one cup of fresh diced watermelon, there is approximately 0.5 grams of dietary fiber.
For Those Who Are Carb Counting
Because there are 12 grams of carbohydrates and only 0.5 grams of dietary fiber, watermelon has approximately 11.5 grams of net carbohydrates.
Fat
In one cup of fresh diced watermelon, there is approximately 0.25 grams of total. Watermelon is not a significant source of fat in the diet.
How Much Water in Watermelon?
One of the biggest draws to enjoying watermelon is the extremely high water content of this fruit. Many of my clients ask me: what percent of watermelon is water?
A general estimate that varies from watermelon to watermelon is approximatly 92% water content.
Watermelon Benefits for Skin
Watermelon traditionally has a reputation that it is a superfood for skin health. Perhaps due to the high water content, or the high nutrient content, watermelon certainly can help benefit the skin when consumed as a part of a healthy holistic lifestyle.
Is Watermelon Paleo?
Yes, watermelon is paleo and can make be an excellent Paleo choice when enjoyed in moderation.
Watermelon is also Autoimmune Paleo Protocol friendly, and you can find a recipe for a delicious Watermelon & Arugula Salad inside my first cookbook, The 30-Minute Thyroid Cookbook: 125 Healing Recipes for Hypothyroidism & Hashimoto's.
Fun Watermelon Facts
Here are a fun watermelon facts from The National Watermelon Board:
Watermelon's official name is Citrullus Lanatus of the botanical family Curcurbitaceae.
Some people debate whether or not watermelon is classified as a fruit or a vegetable. The jury is still out, and it can technically be classified as both!
You should always wash the outside of your watermelon before cutting and enjoying, just like you would any other fruit like an apple. This helps to prevent potential food-borne illness.
100% of the watermelon is edible - yes, even the rind! Chef Phil often makes Pickled Watermelon Rind which is popular in countries and Southern states.
You can also eat the watermelon seeds (without growing watermelon in your belly, as I told my 4-year old).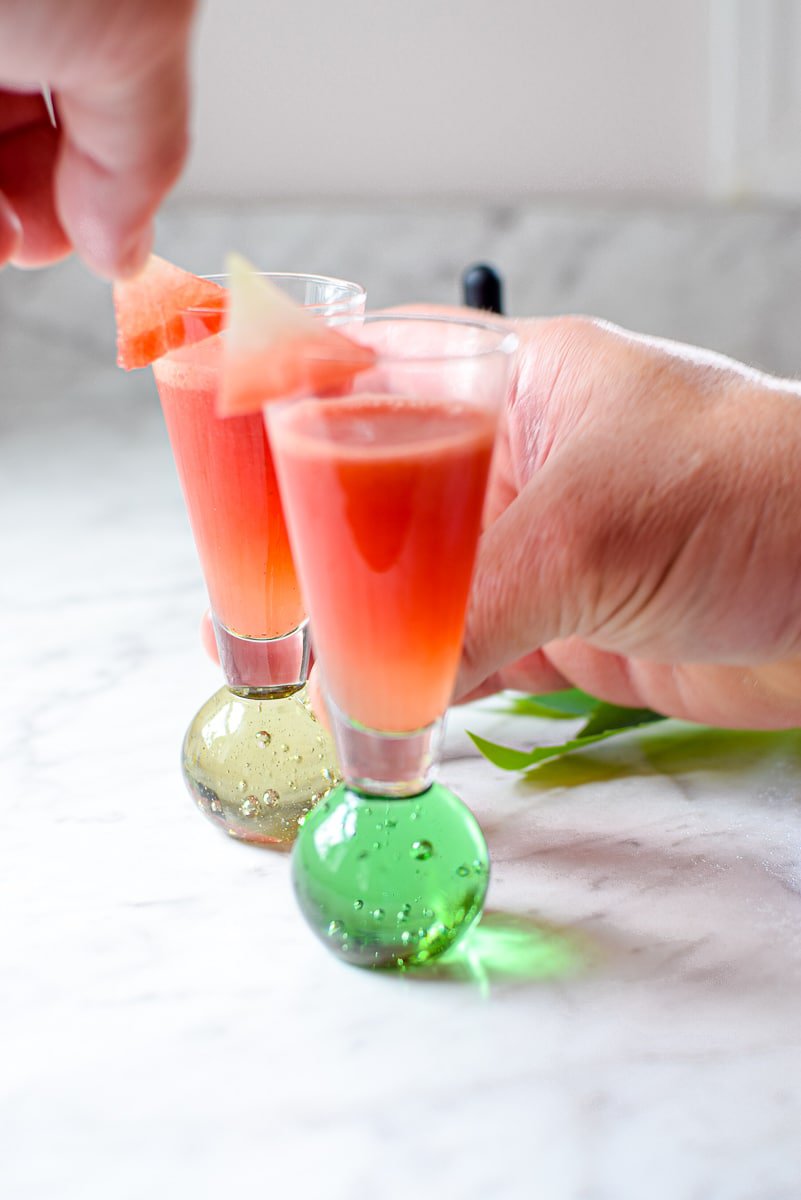 The Health Benefits of Apple Cider Vinegar
The second most important ingredient found in this delicious watermelon shooter is apple cider vinegar. Many people in the wellness world are not new to taking a shot of apple cider vinegar for a variety of health reasons.
Many of the anecdotal reasons people say they consume apple cider vinegar include:
Improved Digestion
Improved Blood Sugar Control
While the is evidence lacking to support these claims, preclinical evidence suggests that apple cider vinegar can cause improved blood sugar control in mice, suggesting that further research should be done on the potential therapeutic benefits of consuming ACV in the diet.
This wellness trend is a personal preference, and I always encourage my clients to try things out for themselves and decide what makes a good addition to their own personal routine.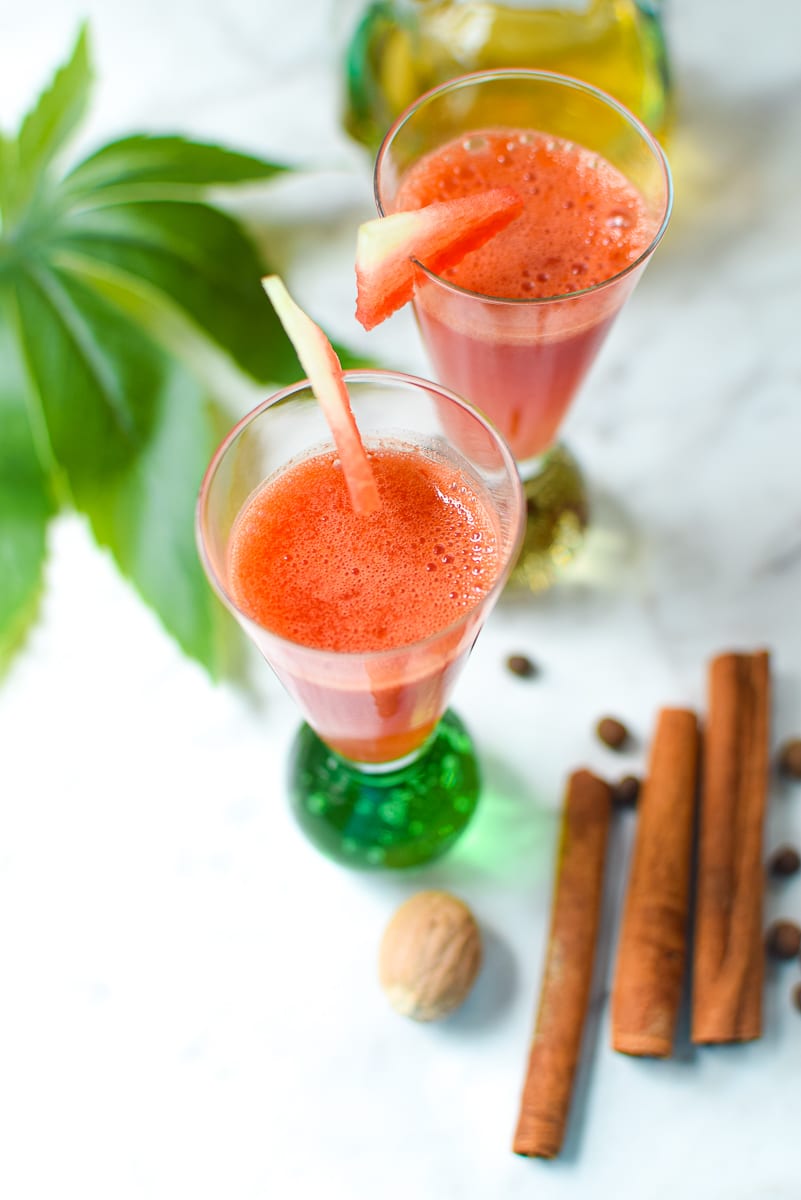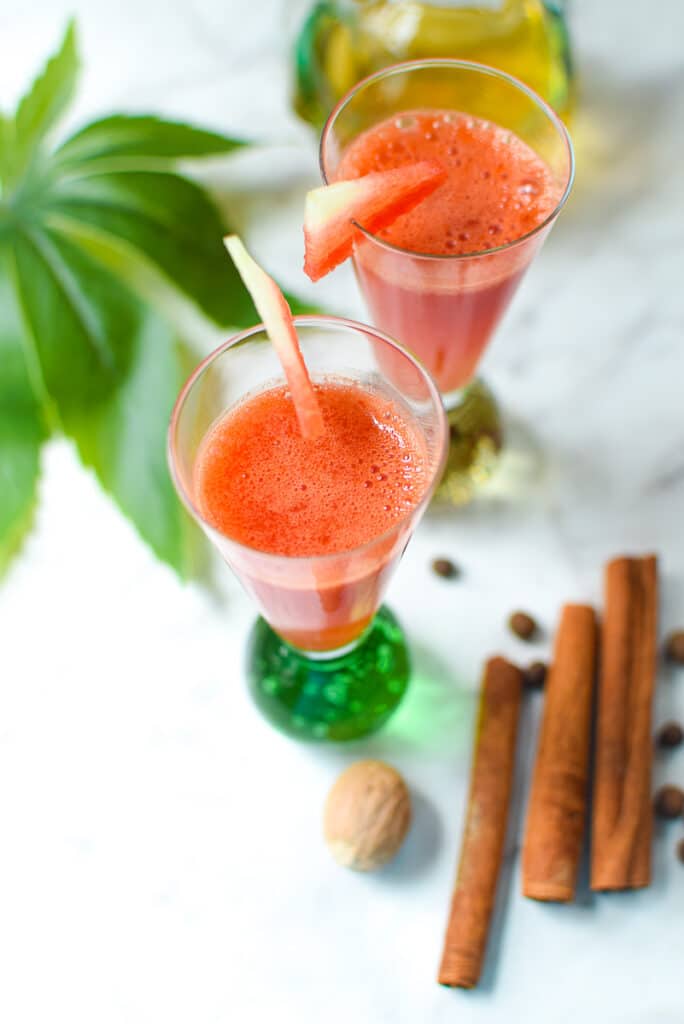 Want To Make This Easier? Use A Machine!
If the process of decarbing and infusing feels like too much work, these countertop devices may be a perfect all-in-one solution!
Two of the most popular brands include the LĒVO and the Ardent. Review the six most popular infusion machines here.
Want A Discount Code?
Enhance Your Cannabis Education
My beginner-friendly Cannabis Compass Online Course will show you how to dose, use, and apply cannabis safely and effectively so that you can begin to manage your most unwanted symptoms the natural way from the comfort of your own home.

Learn more and enroll today →
Cannabis-Infused Watermelon Shooter Shots
Whether you're starting your morning off right or planning a fun party or get-together, these cannabis-infused watermelon shooter shots are a nutrient-dense, quick and easy drink, complete with various cannabis infusion options.
Ingredients
5

ounces

watermelon puree

2.5

ounces

apple cider vinegar

1

tablespoon

honey

1/16

teaspoon

pumpkin pie spice

1

mL

cannabis tincture
Instructions
In a blender, puree the watermelon and measure to 5 ounces.

Add the apple cider vinegar, honey, and pumpkin pie spice. Blend on high for 60-seconds.

Gently stir in the CBD, if using.

Garnish and enjoy.
Nutrition
Serving:
2
ounces
Calories:
30
kcal
Carbohydrates:
7
g
Sodium:
1
mg
Sugar:
7
g