Whether you're starting your morning off right or planning a fun party, these cannabis-infused watermelon shooter shots are nutritious, delicious, quick, and easy to make, complete with various cannabis infusion options.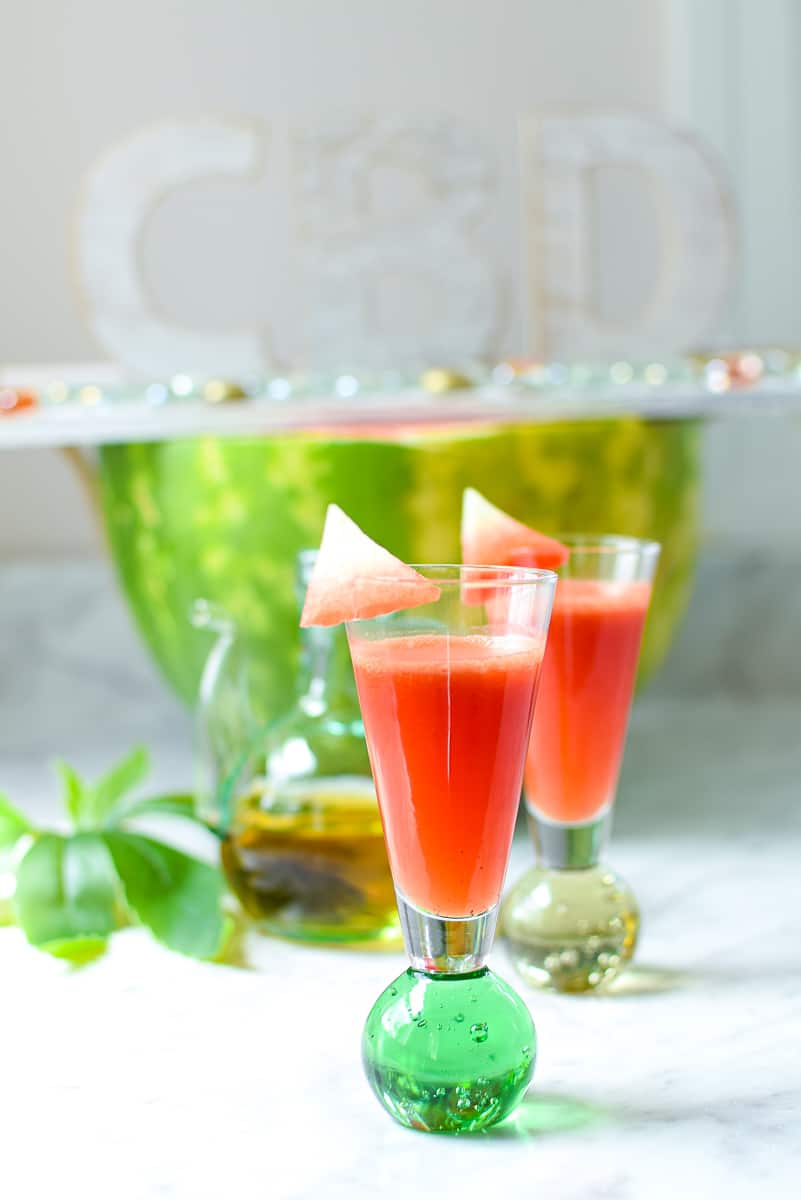 Features
A nutritious, easy-to-make recipe
Step-by-step guide for making watermelon puree
Multiple different cannabis infusion options
Why You Will Love This Guide
Shooters, aka wellness shots, are small amounts of liquid that are taken as a shot.
The goal is to consume a lot of nutrients in a small volume while reaping the benefits of the nutritious ingredients.
Members of my Well With Cannabis Community love to consume cannabis this way because it eliminates the taste, is easy to do, and provides long-lasting benefits.
In just a small 2-ounce shot, you will get the benefits of watermelon, apple cider vinegar, freshly ground spices, and of course, cannabis.
Read on to get the full recipe along with helpful tips, tricks, and fun facts about watermelon nutrition.
---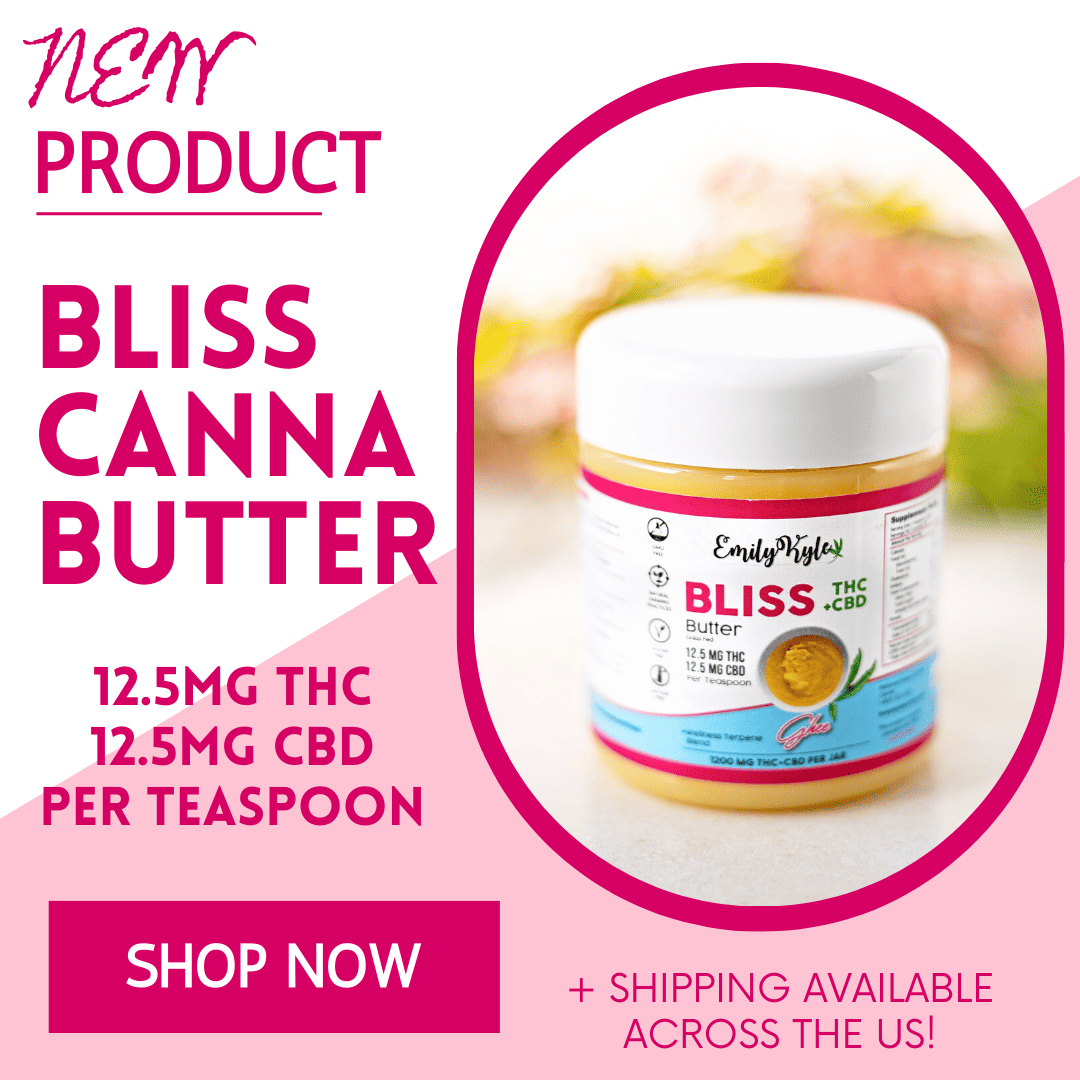 Skip the hard work and have perfectly dosed, delicious, pure Bliss Cannabutter delivered directly to your door! Shop Now →
---
Ingredient Notes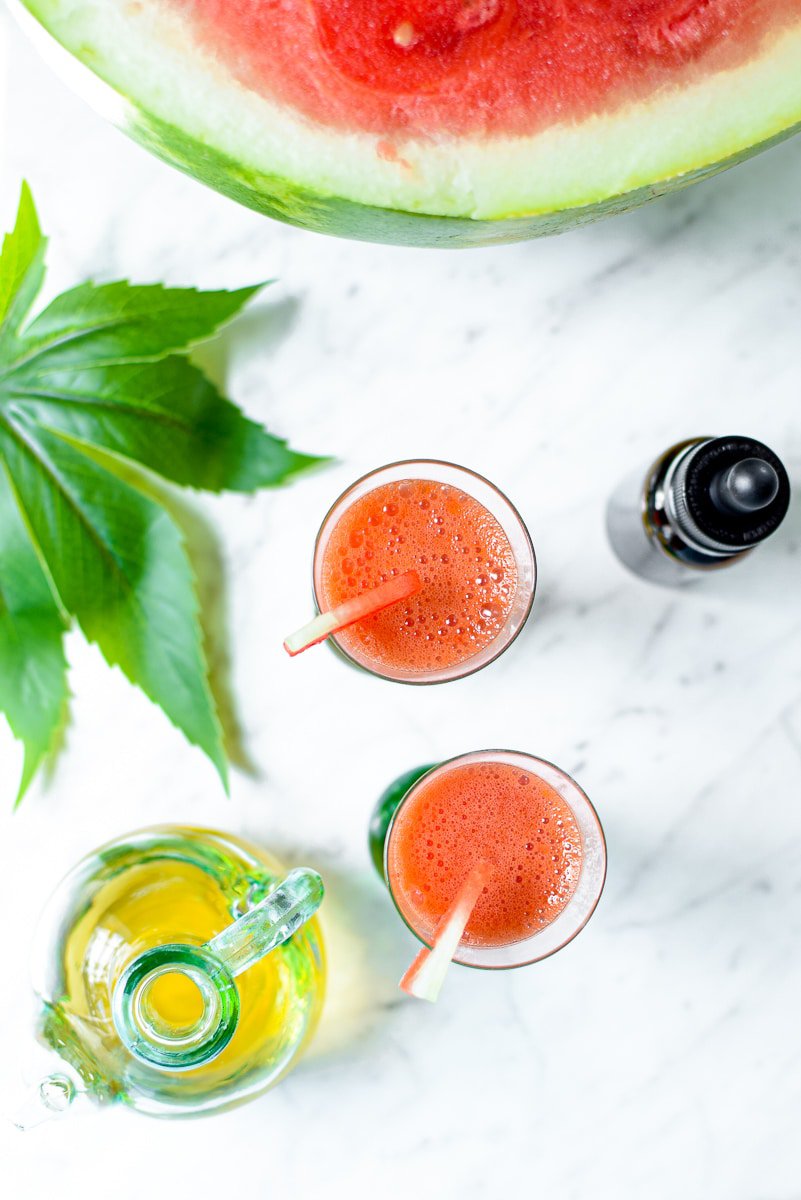 Watermelon puree – learn how to make watermelon puree below
Apple cider vinegar – for taste and health benefits
Honey – you can use cannabis honey if desired
Pumpkin pie spice – for the taste and benefits of each spice
Cannabis tincture – or your choice of an alternate infusion option below
Note: a complete list of ingredients with amounts and printable instructions is located in the recipe card below.
How to Make Watermelon Puree
Watermelon puree is the staple of this recipe, and it couldn't be easier to make with a blender at home.
To make watermelon puree, simply add freshly diced watermelon pieces, without the rind, to a blender and blend on high until smooth.
Due to the high water content and low fiber content of watermelon, it is easily broken down and will turn into a puree/juice within 30-60 seconds.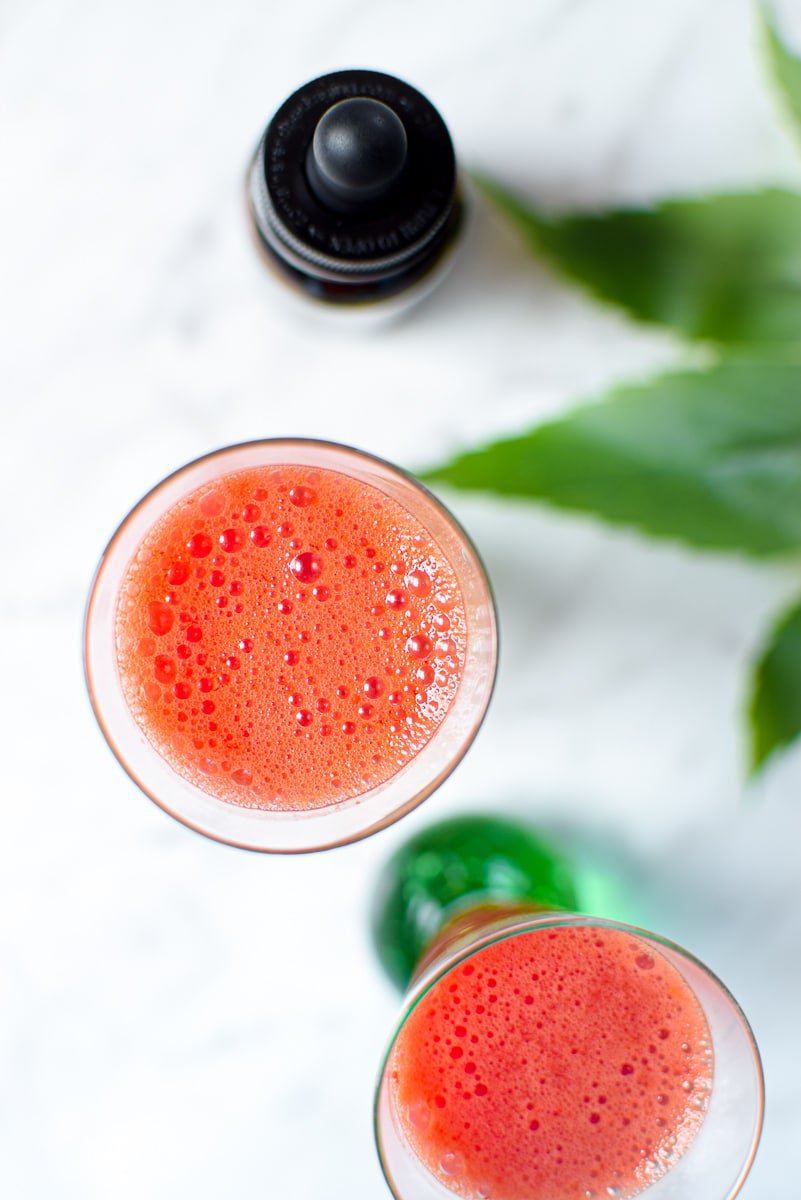 Alternate Infusion Options
As with all things cannabis, there are many different ways to infuse something.
For this recipe, I recommend infusing these wellness shots with an alcohol-based cannabis tincture, but I have other options outlined below as well.
Cannabis Oil
While not my favorite way, you can infuse these shots with cannabis oil. The texture shouldn't be a problem, as they are quickly drunk as a shot.
I don't think solid infusions like coconut oil or cannabutter would work well in this recipe; it should be a liquid cannabis oil to maintain the best consistency.
Options for liquid cannabis oils include:
Make This A Watermelon Vodka Cocktail
During times of good health, alcohol can be a mindful addition to any diet to enhance a social experience.
Instead of consuming a mixer like soda, which contains empty calories, watermelon juice is nutrient-dense and tastes delicious.
To Make a Watermelon Vodka Drink
Make this recipe according to the recipe directions.
Combine 2-ounces of the prepared watermelon shooter with 2-ounces of seltzer and 1-ounce of liquid of choice: I recommend a clear liquor like vodka or rum.
Get more delicious cannabis drink ideas from my Cannabis Cocktail Cookbook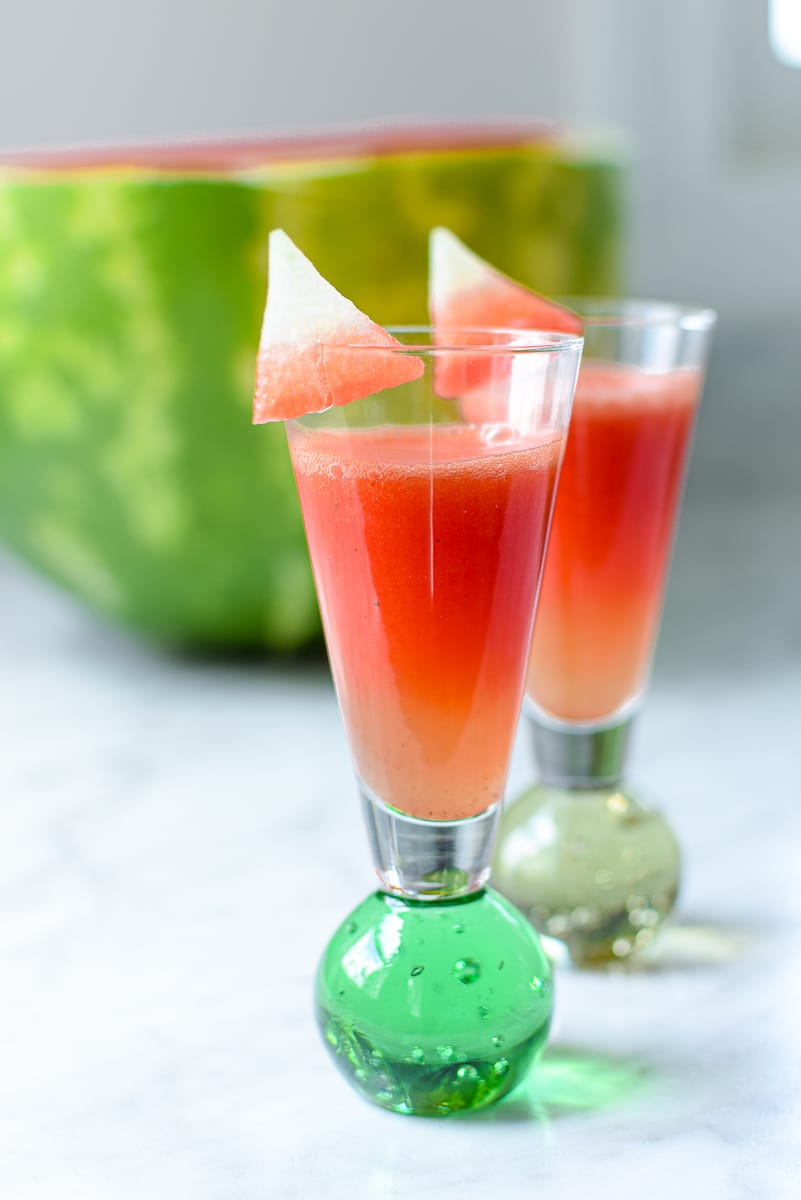 The Health Benefits of Watermelon
Packed with important nutrients, the beautiful pink color signals the presence of powerful phytonutrients like carotenoids, specifically lycopene.
Typically, we associate lycopene with the health benefits of tomatoes, but recent studies have proven that red-fleshed watermelon is, in fact, a more concentrated source of lycopene, and that the lycopene may be more bioavailable in the body.
Lycopene, vitamin C, and many other flavonoids found in watermelon help contribute to the important anti-inflammatory properties of this fruit.
The most abundant nutrients found within watermelon include vitamin C, pantothenic acid, copper, biotin, vitamin A, vitamin B1, and vitamin B6.
These nutrients and many more phytonutrients all contribute to the anti-inflammatory, antioxidant and cardiovascular benefits seen with watermelon consumption.
In one cup of watermelon:
Calories – there are approximately 45 calories. One serving of watermelon can be considered to be low-calorie.
Protein – there is approximately 1 gram of protein. Watermelon is not a significant source of protein in the diet.
Carbs – there are approximately 12 grams of carbohydrates (because there are 12 grams of carbohydrates and only 0.5 grams of dietary fiber, watermelon has approximately 11.5 grams of net carbohydrates. )
Fiber – there are approximately 0.5 grams of dietary fiber
Fat – there is approximately 0.25 grams of fat. Watermelon is not a significant source of fat in the diet.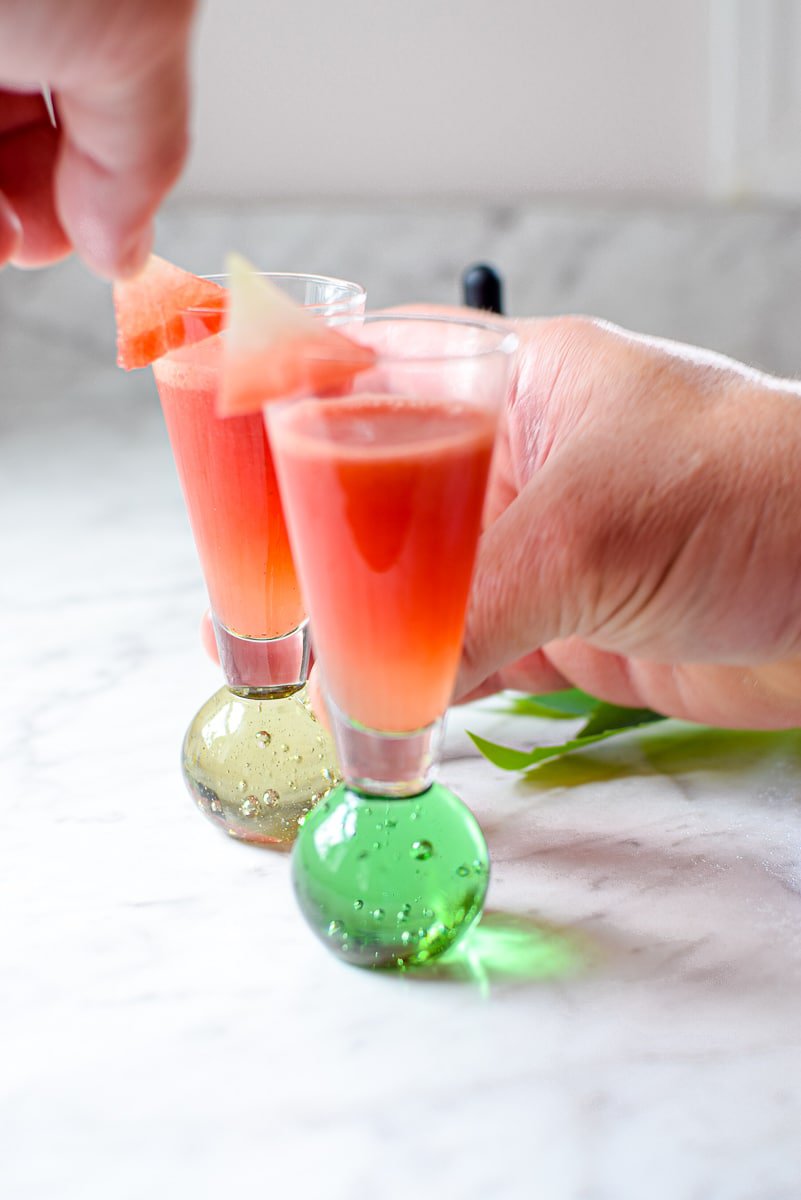 The Health Benefits of Apple Cider Vinegar
The second most important ingredient found in this delicious watermelon shooter is apple cider vinegar.
Many people in the wellness world are not new to taking a shot of apple cider vinegar for a variety of health reasons.
Many of the anecdotal reasons people say they consume apple cider vinegar include:
Improved digestion
Improved blood sugar control
This wellness trend is a personal preference, and I encourage you to try things out for yourself and decide what makes a good addition to your own personal routine.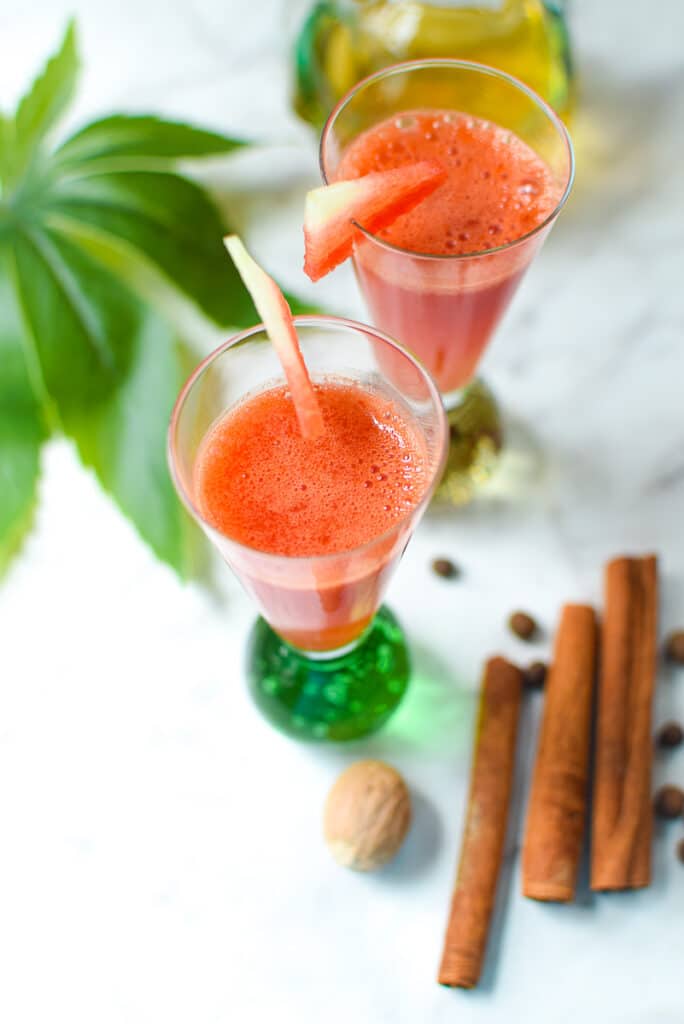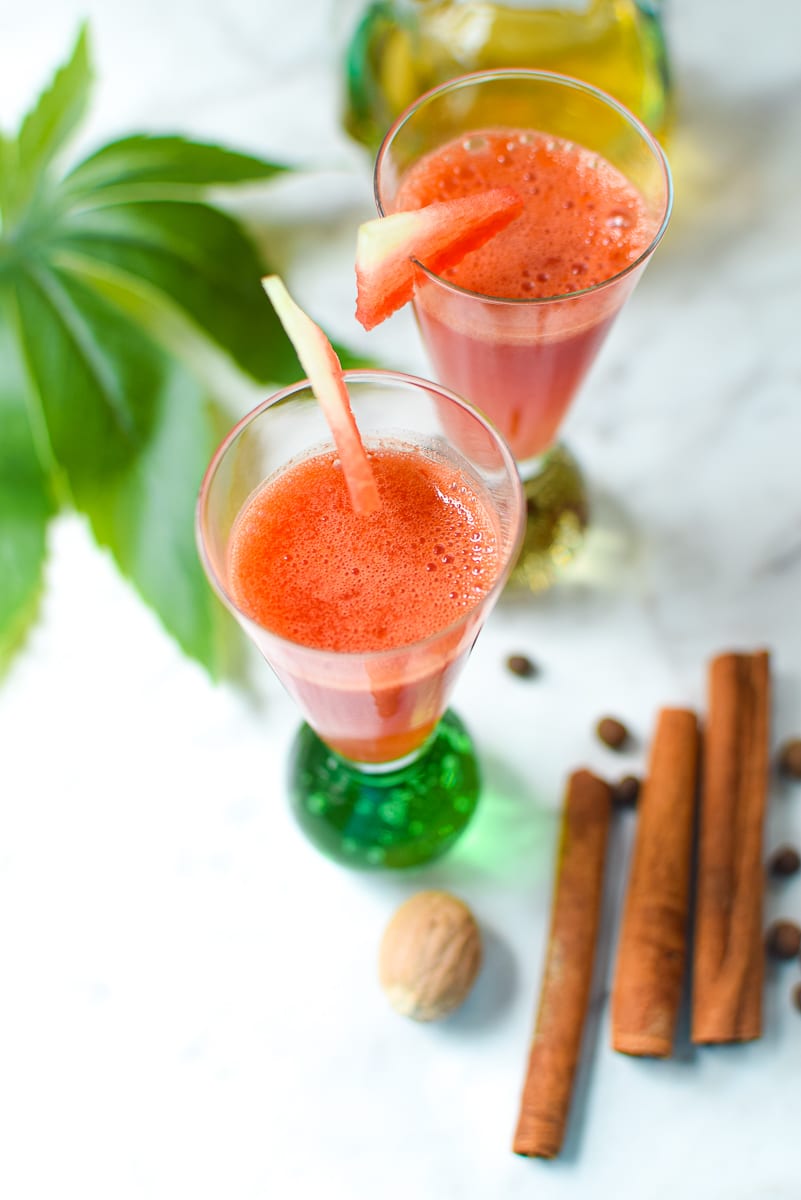 Determine The Dose
Want to get a more accurate guesstimate of the potency of your cannabis infusions and extractions? Try my popular edibles dosage calculator. Not sure what your perfect dose is? Learn more here.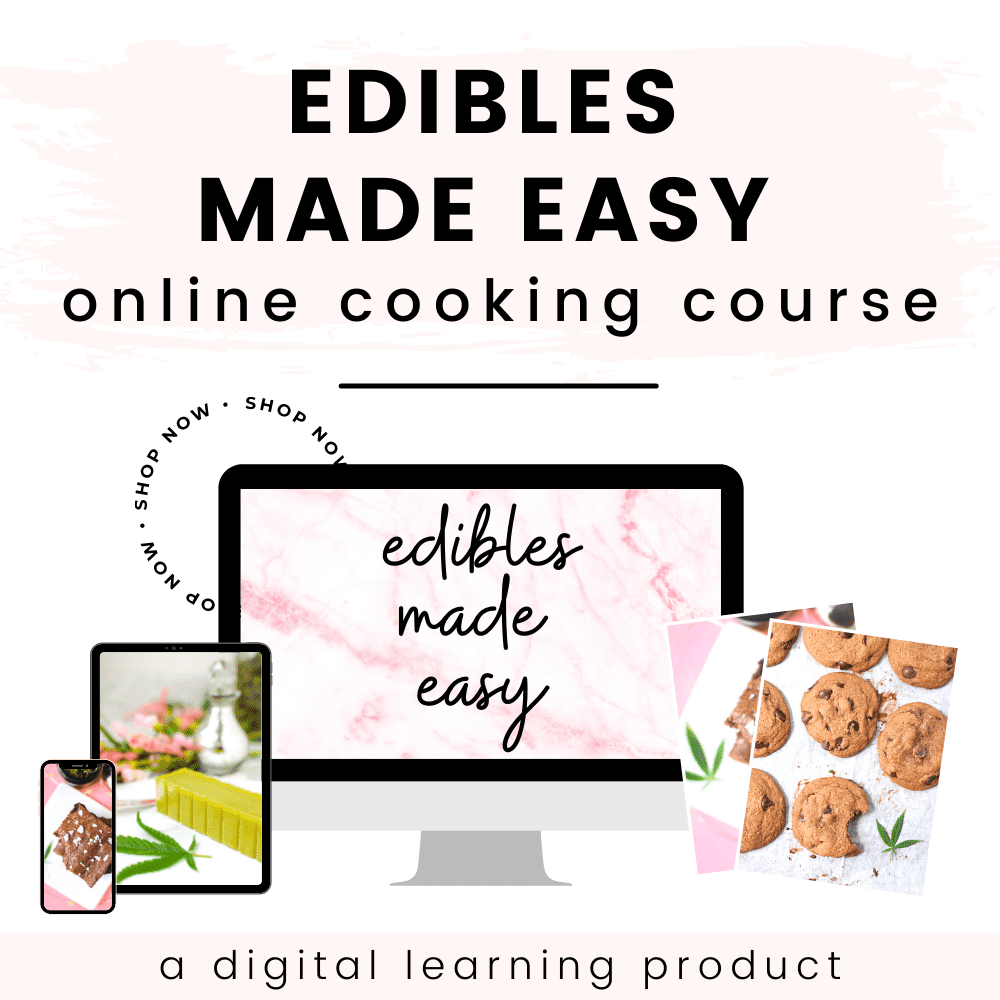 Take your edibles to the next level…
My Edibles Made Easy Online Cooking Course will teach you how to easily make cannabis edibles and topical recipes at home. This step-by-step video course will teach you how to infuse, extract, and create edibles with many different product types – all from the comfort of your own home.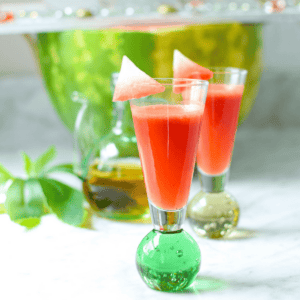 Cannabis Watermelon Shooter Shots
Whether you're starting your morning off right or planning a fun party or get-together, these cannabis-infused watermelon shooter shots are a nutrient-dense, quick and easy drink, complete with various cannabis infusion options.
Instructions
In a blender, puree the watermelon and measure to 5 ounces.

Add the apple cider vinegar, honey, and pumpkin pie spice. Blend on high for 60-seconds.

Gently stir in the cannabis tincture, or oil, if using.

Garnish and enjoy.
Nutrition
Serving:
2
ounces
,
Calories:
30
kcal
,
Carbohydrates:
7
g
,
Sodium:
1
mg
,
Sugar:
7
g
Did you make this recipe or have a question?
Join hundreds of members inside private Well With Cannabis Community for help, support, and to share your edible creations!