This page may contain affiliate links. Read my full disclosure here.
Savor summers most abundant produce with these savory Garden Harvest Veggie Pesto Skewers made with fresh zucchini, peppers, tomatoes and homemade pesto.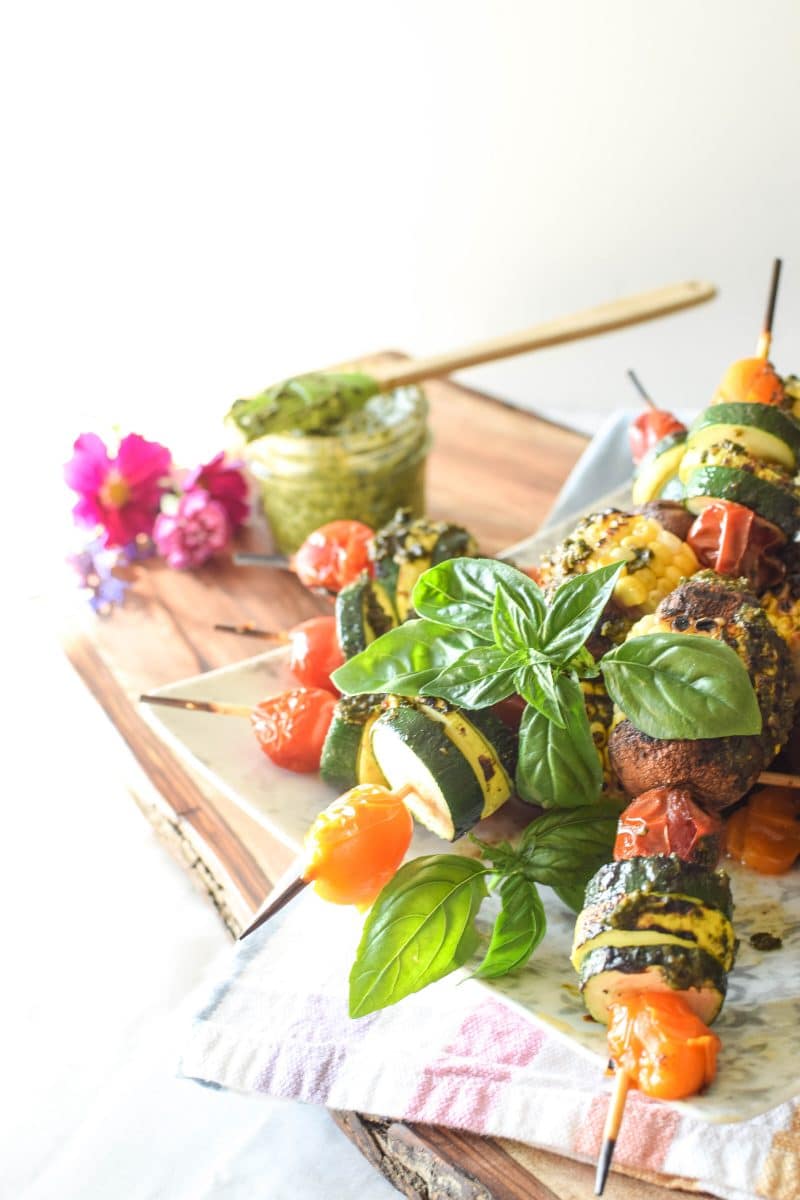 Summers Most Abundant Produce
Zucchini, tomatoes, yellow squash, and fresh basil – the four most abundant produce items in my garden, and likely yours too!
Unfortunately, I didn't have much time to tend to The Millennial Garden this year!
But it didn't really matter that much, the rain was so bad that most of our plants died early in the season. Which is OK with me. I always tell people that you will have good seasons and bad.
We had an exceptionally abundant season last year (I'm talking 100+ winter squash, 4 bushels of tomatoes), so we were due for a bad year and I'm OK with that.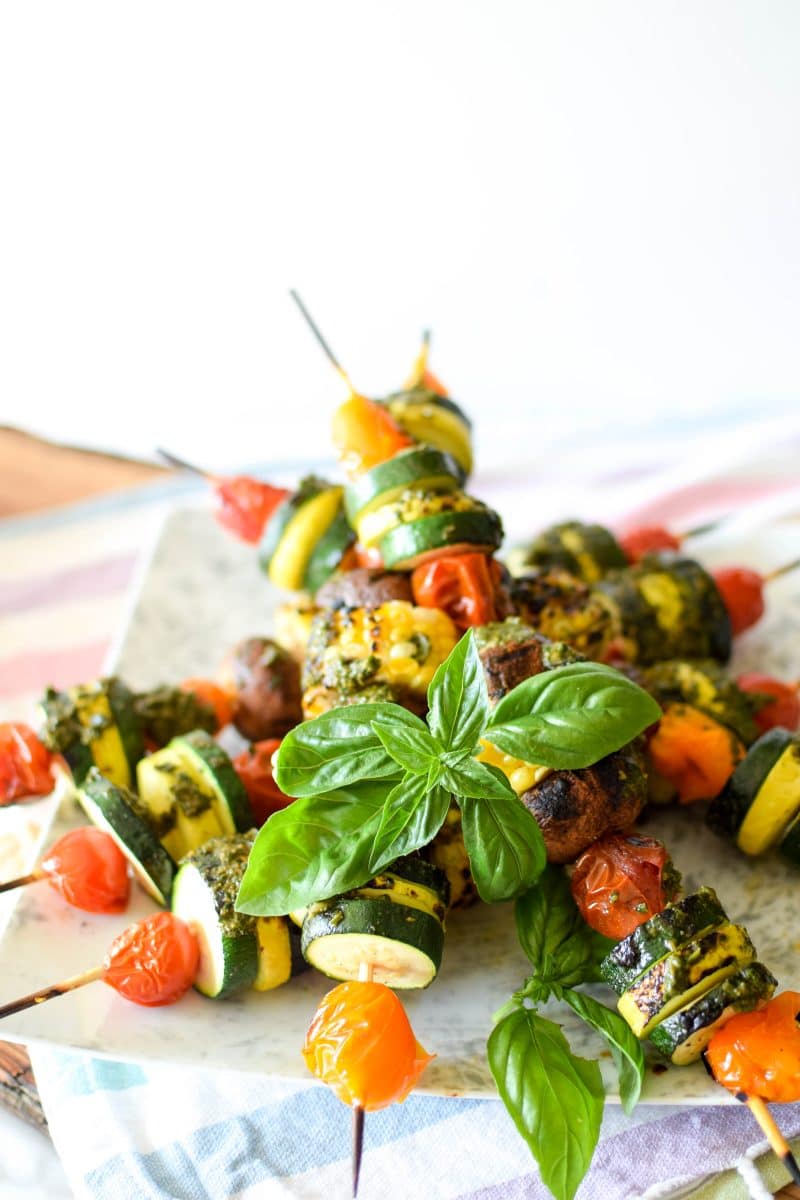 Even so, the garden wasn't a total wash. Zucchini, tomatoes, yellow squash, and fresh basil continued to grow and produce throughout the season, so I found lots of ways to use these babies up. Zoodles anyone?
Simplicity is Key
My favorite way to enjoy these summer staples though? Just simple roasted veggies on the grill with homemade basil pesto on top.
The best part is that we made over 2 gallons (!!) of this homemade basil pesto last year from our epic basil harvest, and I still have PLENTY left in the freezer for this season.
I love to make these on skewers to get that delicious char on the outside, but I have made the exact same recipe in a foil packet as well when I don't have enough time to skewer everything, and it turned out just as delicious. You can just throw your foil packet right on the grill for 7-10 minutes or even roast it in the oven at 350 degrees for 20 minutes.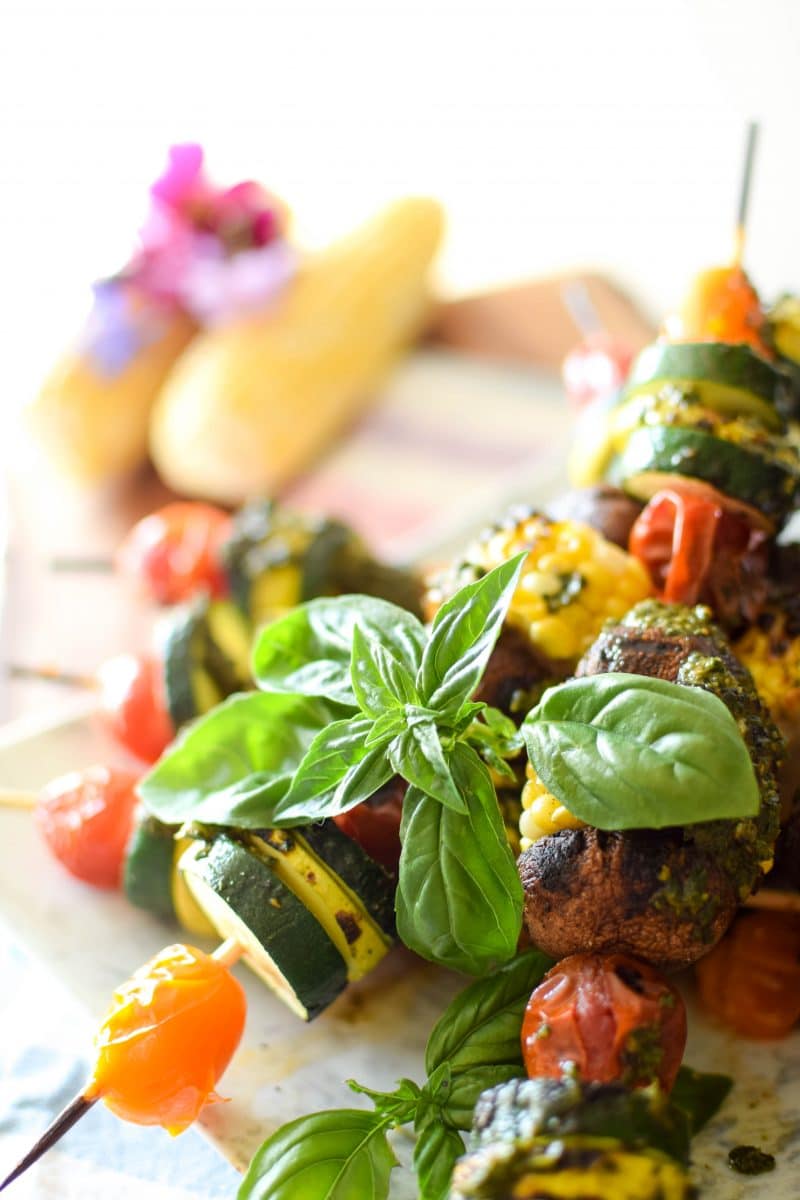 Garden Harvest Veggie Pesto Skewers
It's no secret that I love food on a stick, and for good reason! Not only are thees Garden Harvest Veggie Pesto Skewers beautiful to look at, but for my 2-year-old — anything on a stick is awesome.
And for anyone with a two-year-old, you know that when your kid thinks veggies taste awesome, life is good.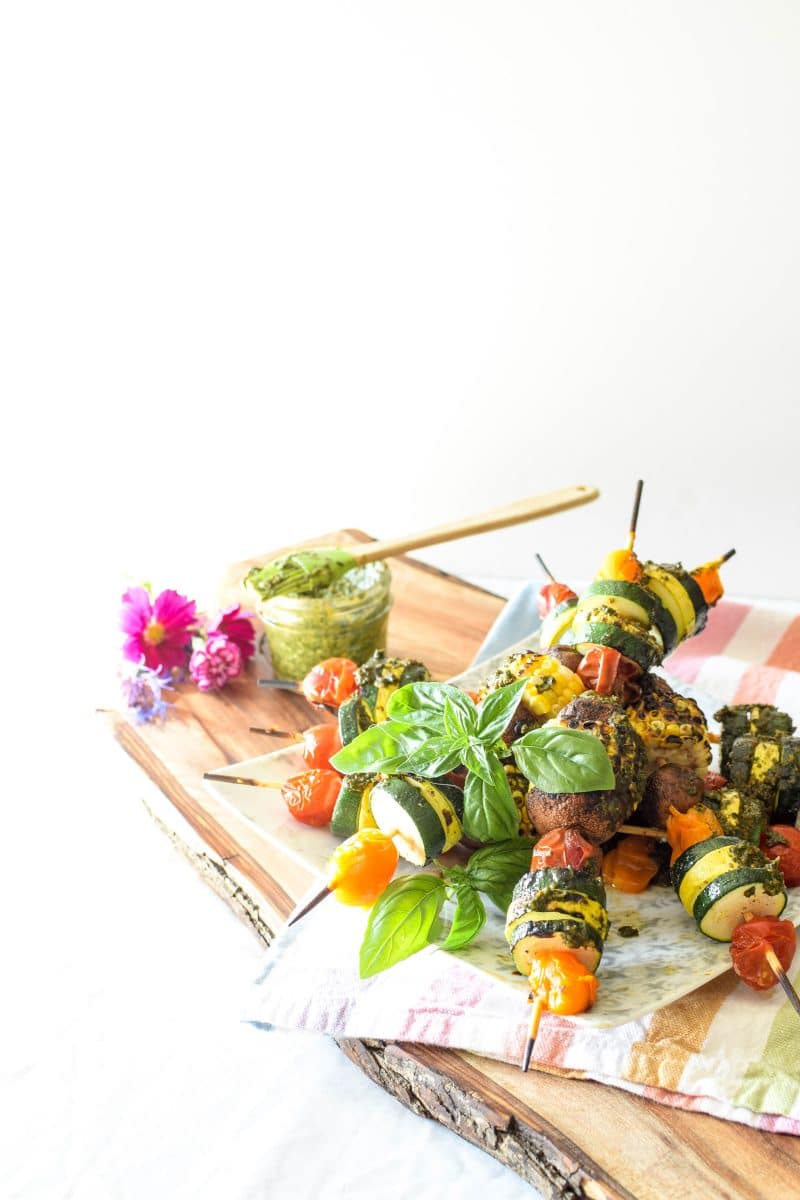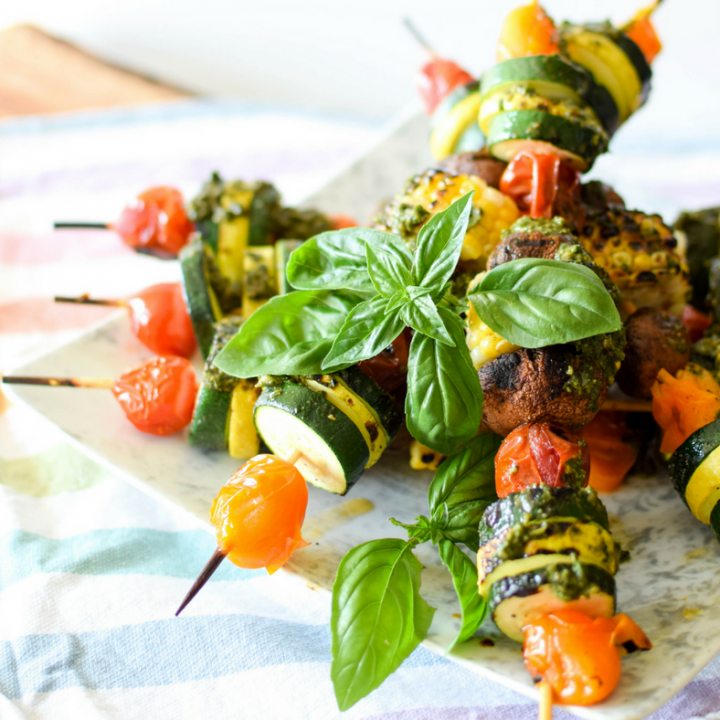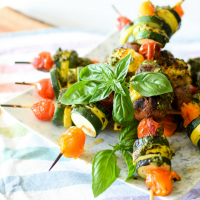 Garden Harvest Veggie Pesto Skewers
Savor summers most abundant produce with these savory Garden Harvest Veggie Pesto Skewers made with fresh zucchini, peppers, tomatoes, and homemade pesto.
Ingredients
16 wooden skewers, soaked in water
2 medium zucchini, sliced into 1/4 inch coins
2 medium yellow squash, sliced into 1/4 inch coins
2 ears summer corn, cut into 1" rounds
3 cups brown button mushrooms, cleaned and stemmed
2 cups grape tomatoes
1 tablespoon olive oil
1/4 teaspoon sea salt
1/4 teaspoon black pepper
1/2 cup homemade pesto
1 sprig fresh basil, optional for garnish
Instructions
If you have not already, soak your wooden skewers in water so they don't catch fire on the grill.
Heat the grill to medium high heat.
With your vegetables prepped and ready, arrange them on the skewers.
Brush with olive oil and season with salt and pepper.
Cook 3-4 minutes before flipping.
Continue cooking until veggies are cooked to your desired texture.
Remove from the grill and brush with pesto.
Enjoy!
Nutrition Information:
Yield:

4
Serving Size:

4 skewers
Amount Per Serving:
Calories:

310
Total Fat:

21g
Saturated Fat:

4g
Trans Fat:

0g
Unsaturated Fat:

16g
Cholesterol:

8mg
Sodium:

303mg
Carbohydrates:

27g
Fiber:

7g
Sugar:

11g
Protein:

10g
Download Your FREE Meal Plan Before You Go!
If you're looking for additional help in meal planning or discovering new and delicious recipes to try, be sure to download my Free eBook – The Happy & Healthy Flexible Meal Plan below:
---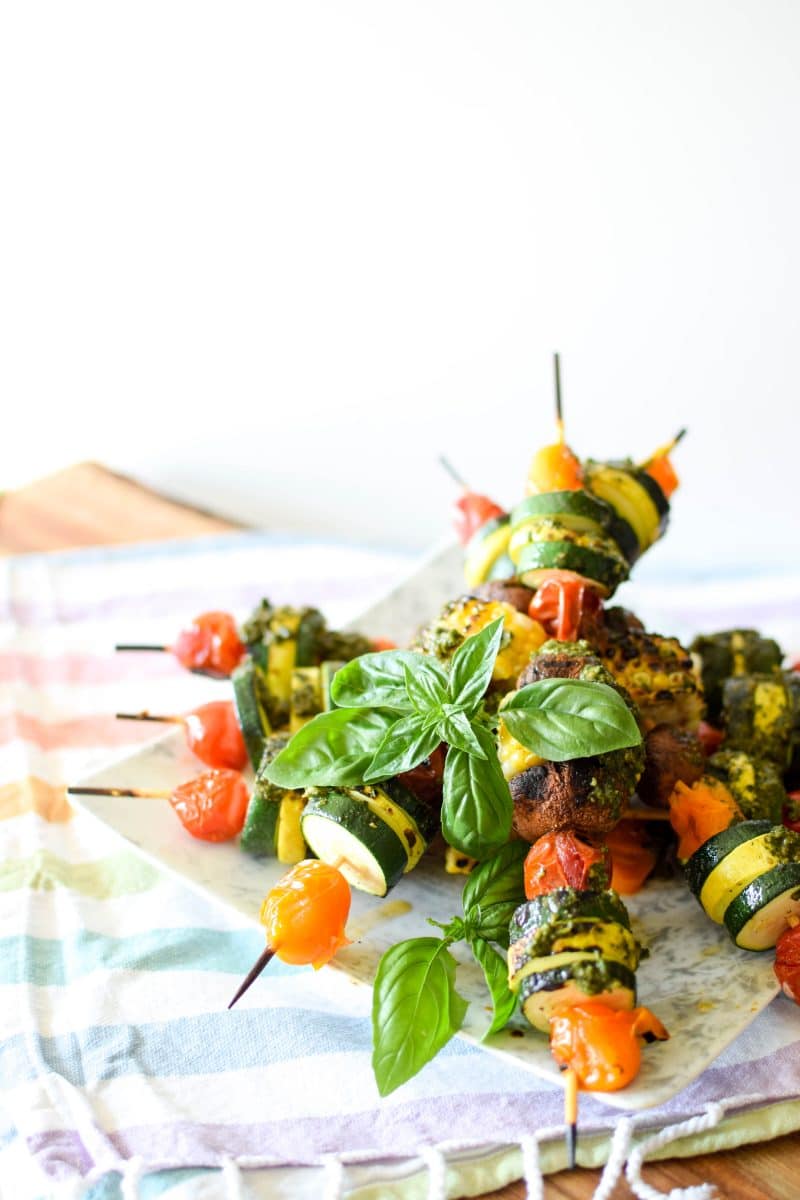 The Millennial Garden Inspired Recipes
Delicious, plant-based recipes inspired by the fresh garden harvests from The Millennial Garden grown by Emily Kyle. Spotlight produce items include recipes made with: black raspberries, red raspberries, snow peas, cucumbers, tomatoes, zucchini, yellow squash, winter squash including butternut squash, acorn squash, spaghetti squash, brussels sprouts, red and green cabbage, broccoli, brussels sprouts, and more.
Welcome! I'm Emily Kyle, a nationally recognized media registered dietitian nutritionist & holistic cannabis practitioner providing holistic health care for those living with autoimmune and inflammatory conditions. To help you, I offer food sensitivity testing, cannabis education, and this blog which provides free resources including anti-inflammatory recipes, holistic health, wellness and nutrition related articles, and evidence-based cannabis education.