This delicious, quick, and easy cannabis-infused Berry Chia Compote is a plant-based, gluten-free, antioxidant-packed treat that can be added to oatmeal, yogurt, smoothies, pancakes, or even served over ice-cream as a sweet medicated treat.
Homemade Berry Chia Compote
If we're friends on Instagram, you already know what a passionate gardener I am.
For the majority of the year, my husband Chef Phil and I devote our spare time to nurturing and growing our fruit and vegetable gardens in order to consume as much fresh, sustainably grown food as possible.
Late in the summer, we spend a lot of time canning, preserving, and freezing our produce to have nutritious food from our backyard all year long.
Aside from canning blackberry jam or making blackberry nice cream, one of my favorite way to preserve our homegrown berries is to make a simple berry chia compote.
I love this recipe because not only is it simple to make, but it has very little added sugar, making it a more nutritious alternative to traditional jams, jellies, and syrups used to top or sweeten our favorite dishes.
Please join my Well With Cannabis Facebook Community if you have any questions about cooking with cannabis, how to make this recipe specifically, or anything else you can think of!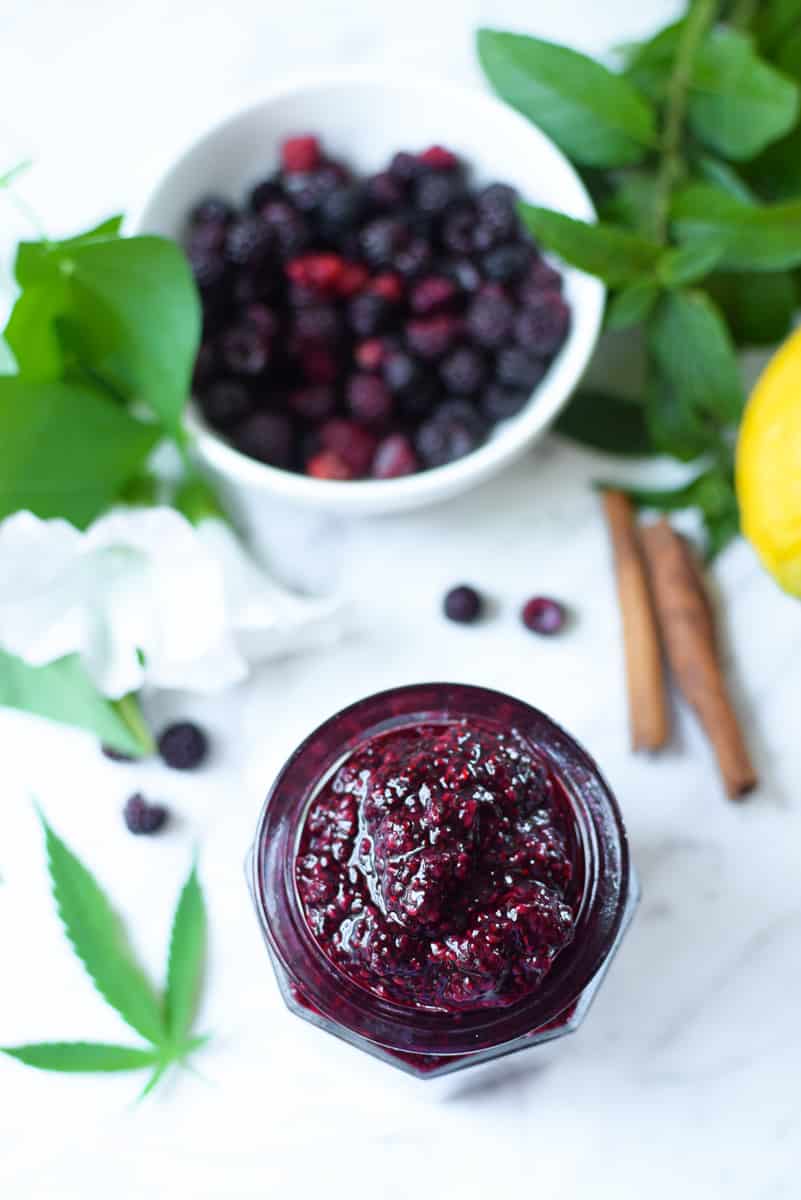 INSPIRED BY MY UPCOMING CLEAN EATING MEAL PREP COOKBOOK
I am so excited to share this sneak peek recipe with you from my upcoming Clean Eating Meal Prep Cookbook that will be out in January 2021!
This is the fourth cookbook I've written, but the first one that I feel like is a true reflection of how I actually eat in real life. It is so great to show how CBD and clean eating are the perfect combinations for health and wellness.
This Clean Eating Meal Prep Cookbook details the exact way I've combined meal prepping and a clean eating lifestyle to get my munchies, my health, and my weight under control.
Treats Are Meant to Be Enjoyed
While I am always encouraging the consumption of more fruits, vegetables, nuts, and seeds for better health, I am also encouraging women to focus on mindful eating and moderation.
Ice cream toppings are great, but they're not always great for us.
Replacing traditional ice cream toppings with fruit compote is a simply delicious way to reduce the amount of sugar consumed while also proving additional dietary fiber, vitamin C, and omega-3 fatty acids from the chia seeds.
It is unrealistic to assume anyone could live their whole life, or in my case a week, without ice cream.
As I always say, when we think about food, its more important to focus on quality, not quantity.
This tasty topping can help to increase your consumption of dietary fiber through fruits and chia seeds.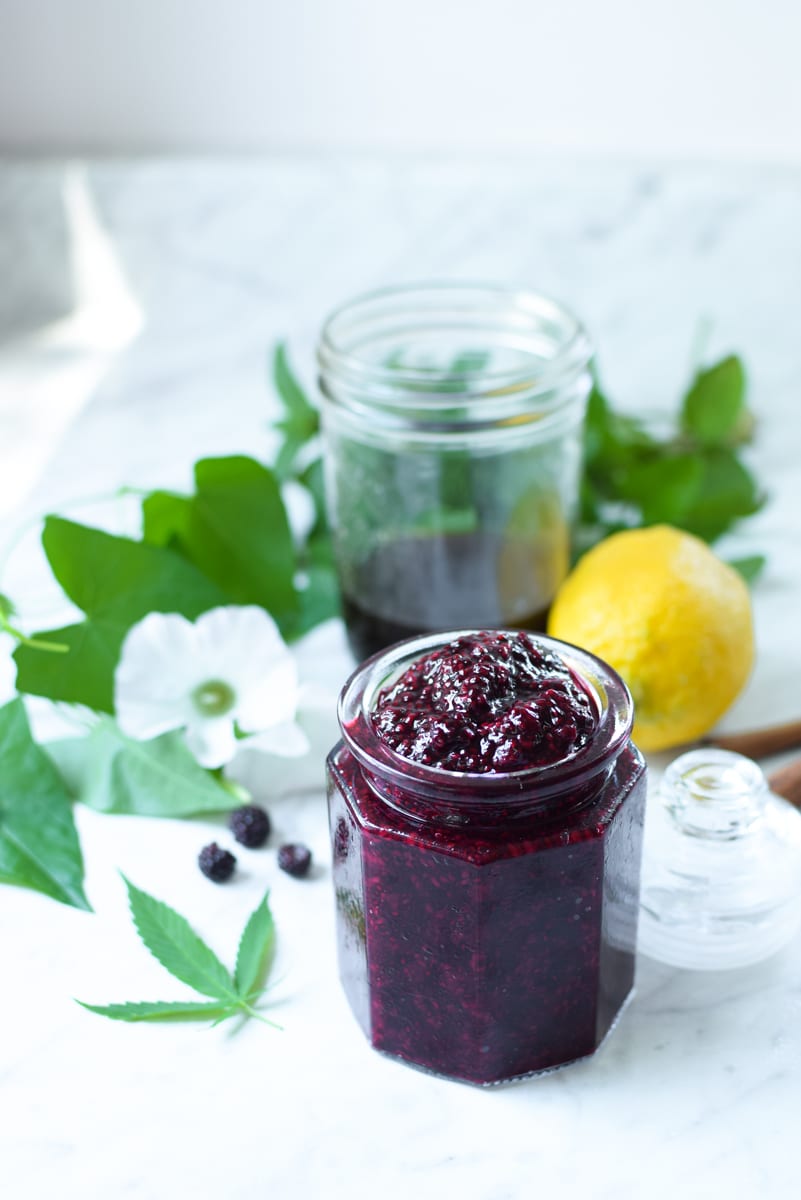 Ways to Infuse Your Compote
I am always trying to teach people that when it comes to making cannabis edibles and cannabis recipes, there is no one right way.
In fact, there are many different ways to achieve to the same result. While there are some general guidelines to follow, most of the time you will decide how to make your edibles based on what cannabis product you have on hand.
Below we will discuss all the ways to infuse your berry compote, including with cannabis oil or cannabutter, cannabis sugar, cannabis alcohol tincture, and cannabis concentrates.
Stir in Oil or Butter
One of the easiest ways to infuse this compote is to stir in a spoonful of cannabis coconut oil or cannabutter into your final product.
This will not produce the strongest or highest dosage for the compote, but it is a great way to microdose and enjoy a sugar-free cannabis treat.
Sir in Cannabis Sugar
If you have homemade cannabis sugar, this is also an effortless way to infuse your compote while also adding an element of sweetness.
Stir in your desired amount of cannabis sugar at the end of the cooking process.
While this treat will no longer be sugar-free with the addition of cannasugar, it will still be a sweet and delicious way to medicate.
Stir in Cannabis Alcohol Tincture
If you have a homemade cannabis alcohol tincture, sometimes called the green dragon, prepared, this can also be an easy way to infuse.
You will want to use the cooking process here to evaporate off some of the alcohol left in your tincture.
Cooking off the alcohol will leave behind the important cannabinoid compounds while removing the strong alcohol taste.
Add in Cannabis Concentrates
Working with cannabis concentrates is the easiest and most discrete flavored option to infuse your compote.
First, check to ensure your concentrate is activated, and if not, be sure to decarboxylate it first.
Then stir in the concentrate, either distillate or FECO, at the end of the cooking process.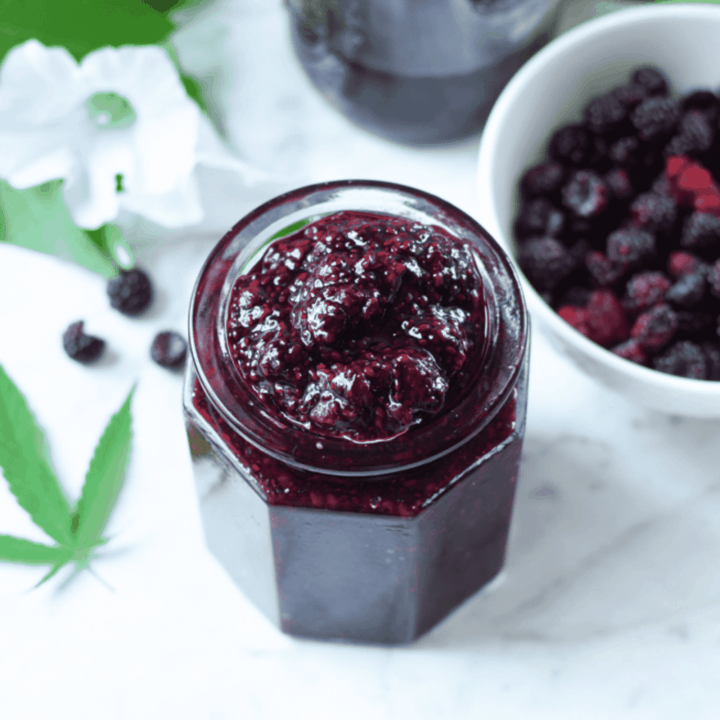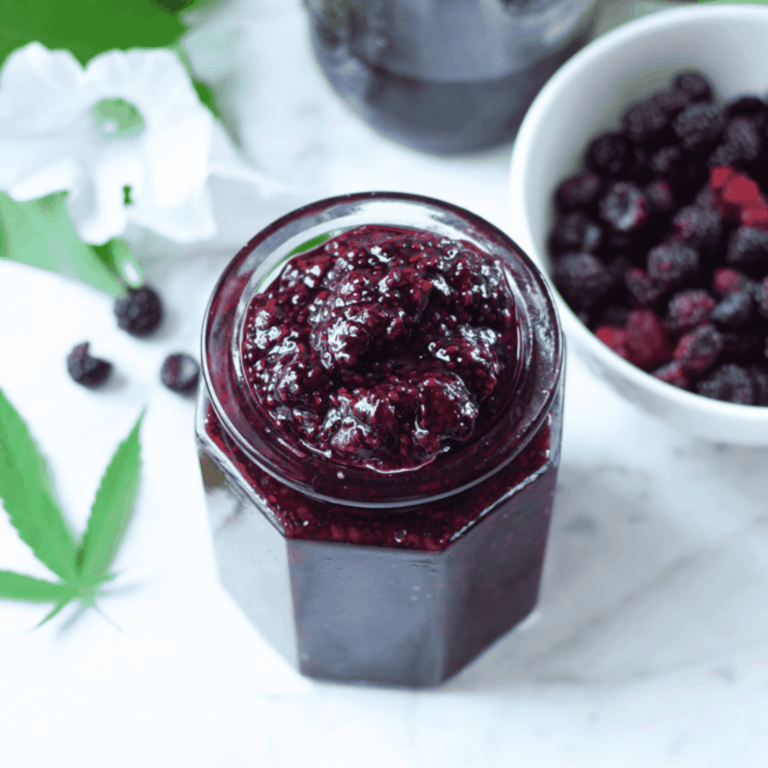 Cannabis-Infused Berry Chia Compote
This quick-and-easy wild blackberry compote is a plant-based, vegan, gluten-free, antioxidant-packed treat that can be added to oatmeal, yogurt, smoothies, pancakes, or even ice-cream for a delicious sweet treat.
Ingredients
3 cups blackberries
1 cup of water
2 tablespoons lemon juice
Instructions
In a medium saucepan over medium heat combine the berries, water, honey, lemon juice, and pumpkin pie spice. Stir well and bring to a boil.
Once boiling, stir in the chia seeds, stirring well to ensure they do not clump.
Reduce the heat to low and simmer for 20 minutes, stirring occasionally.
Let cool before serving.
Recommended Products
As an Amazon Associate and member of other affiliate programs, I earn from qualifying purchases.
Nutrition Information:
Yield:

12
Serving Size:

1 tablespoon
Amount Per Serving:
Calories:

55
Total Fat:

1g
Saturated Fat:

0g
Trans Fat:

0g
Unsaturated Fat:

1g
Cholesterol:

0mg
Sodium:

2mg
Carbohydrates:

5g
Fiber:

2g
Sugar:

2g
Protein:

1g
Looking To Further Your Cannabis Education?
Are you ready to learn more about cannabis and how you can use it to maximize your health and wellness? Click to learn more about my Cannabis Compass Online Course.
This online cannabis education teaches you how to use, apply, and dose all forms of cannabis safely and effectively so that you can begin to manage your anxiety, pain, and/or inflammation the natural way from the comfort of your own home.