Savor summer's most abundant produce with these savory cannabis pesto veggie skewers made with fresh zucchini, peppers, tomatoes, and a delicious homemade cannabis pesto.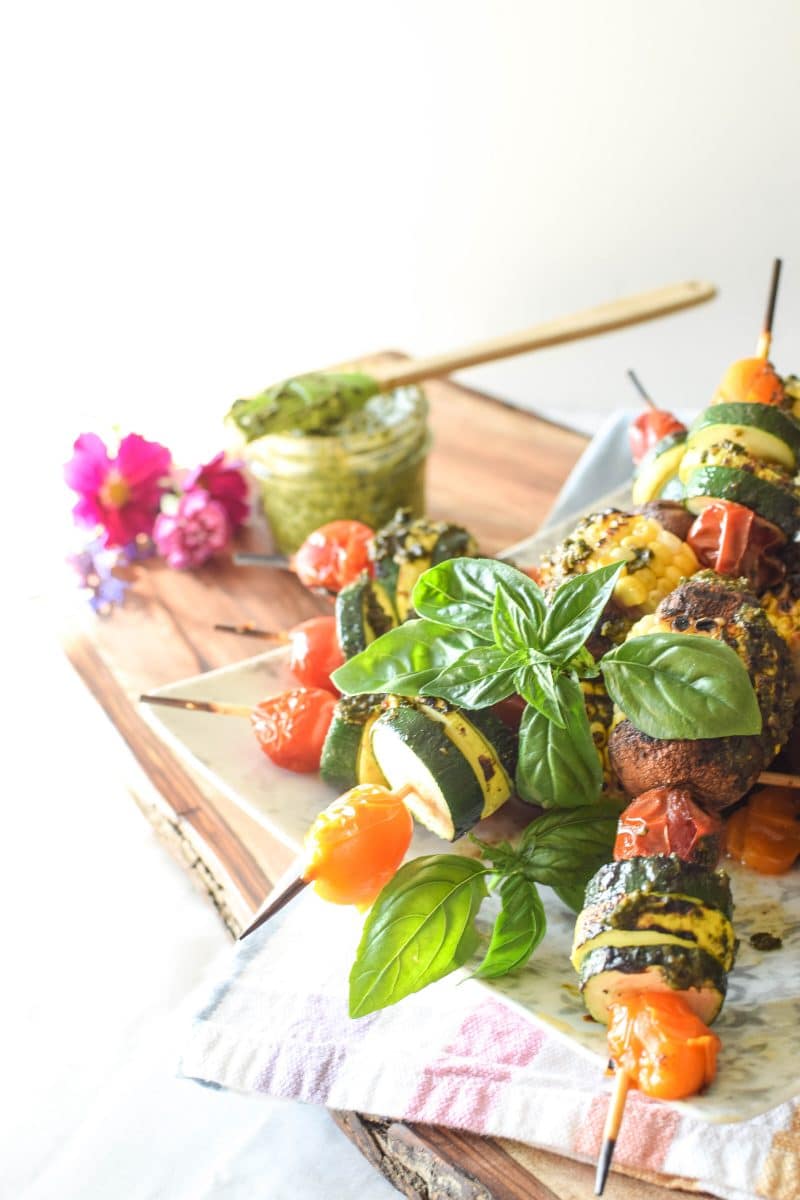 Let's Make Cannabis Veggie Pesto Skewers!
Zucchini, tomatoes, yellow squash, and fresh basil - the four most abundant produce items in my garden, and likely yours, too.
People often think that cannabis edibles have to be sweet treats like cannabis brownies or chocolate chip cookies, but that's not always the case!
As I am always teaching my Well With Cannabis Facebook Community, there are many different ways to consume cannabis edibles.
And that includes healthy cannabis recipes!
For this recipe, we are going to be enjoying these delicious summer vegetables topped with savory cannabis-infused basil pesto.
Continue reading to get all of the important details about how to prepare this recipe, including printable instructions at the end!
Looking For Support?
Join over 22 thousand members inside the Well With Cannabis Facebook Community to ask questions and share your edible creations!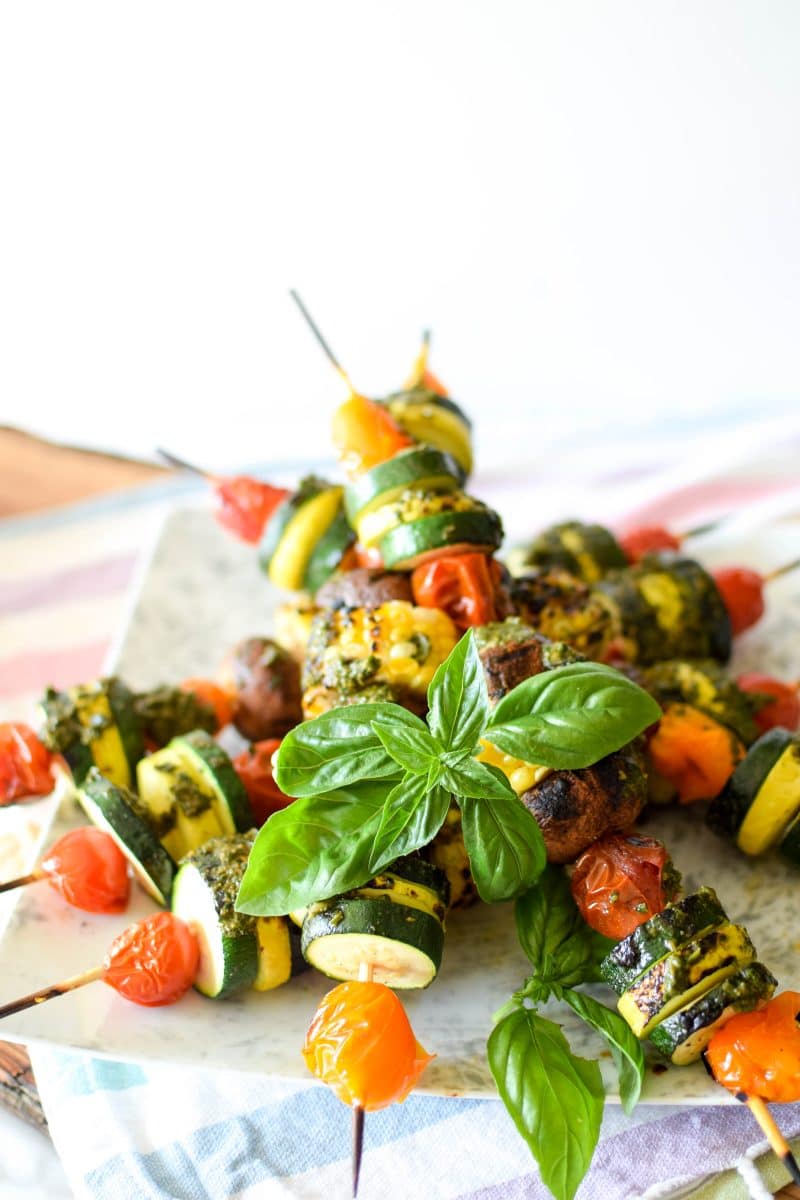 Easy, Homemade Cannabis Pesto
To infuse this recipe with cannabis, we are going to be using a homemade cannabis pesto.
There are many different ways to make a delicious, cannabis-infused pesto at home using ingredient's you've already got.
Like with all things cannabis edibles, there is no right or wrong way to make something; it just depends on what options you have available and your personal preferences.
In this homemade pesto recipe, I show you how to make cannabis pesto using:
How to Determine The Dosing For Your Recipe
Want to calculate the dosage of your cannabis edibles and homemade cannabis recipes?
While a calculator is no replacement for lab testing, this tool has been designed to help you get a more accurate guesstimate of the potency of your cannabis infusions and extractions.
Unlike other calculators available online, this calculator aims to provide more accuracy by accounting for the losses associated with decarboxylation, infusion oils, or extraction solvents used.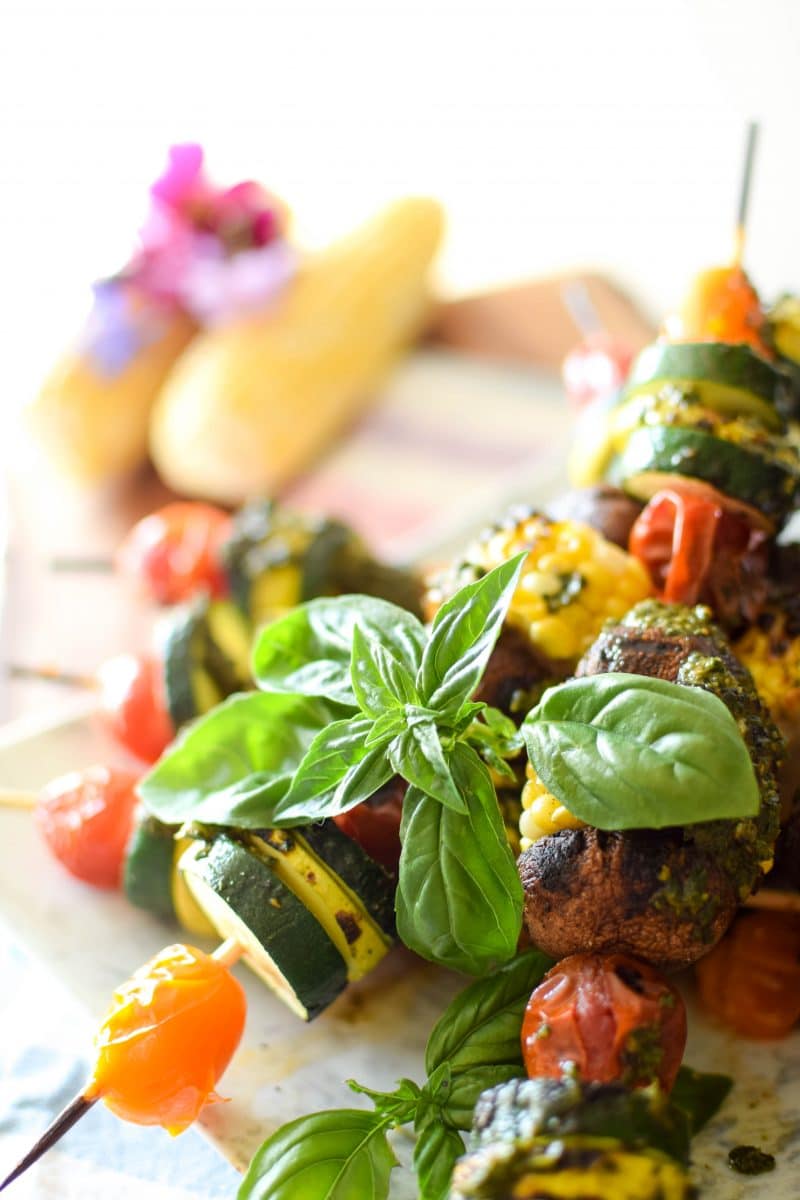 Use a Foil Pack Instead of Skewers
It's no secret that I love food on a stick, and for good reason!
But the truth is, simplicity really is key when making healthy cannabis recipes.
Just simple roasted veggies on the grill with homemade cannabis basil pesto on top is the perfect way to enjoy cannabis edibles in a healthier way.
I love to make these on skewers to get that delicious char on the outside, but I have made the exact same recipe in a foil packet as well when I don't have enough time to skewer everything, and it turned out just as delicious.
If you want to do it this way, you can throw your foil packet right on the grill for 7-10 minutes or even roast it in the oven at 350°F for 20 minutes.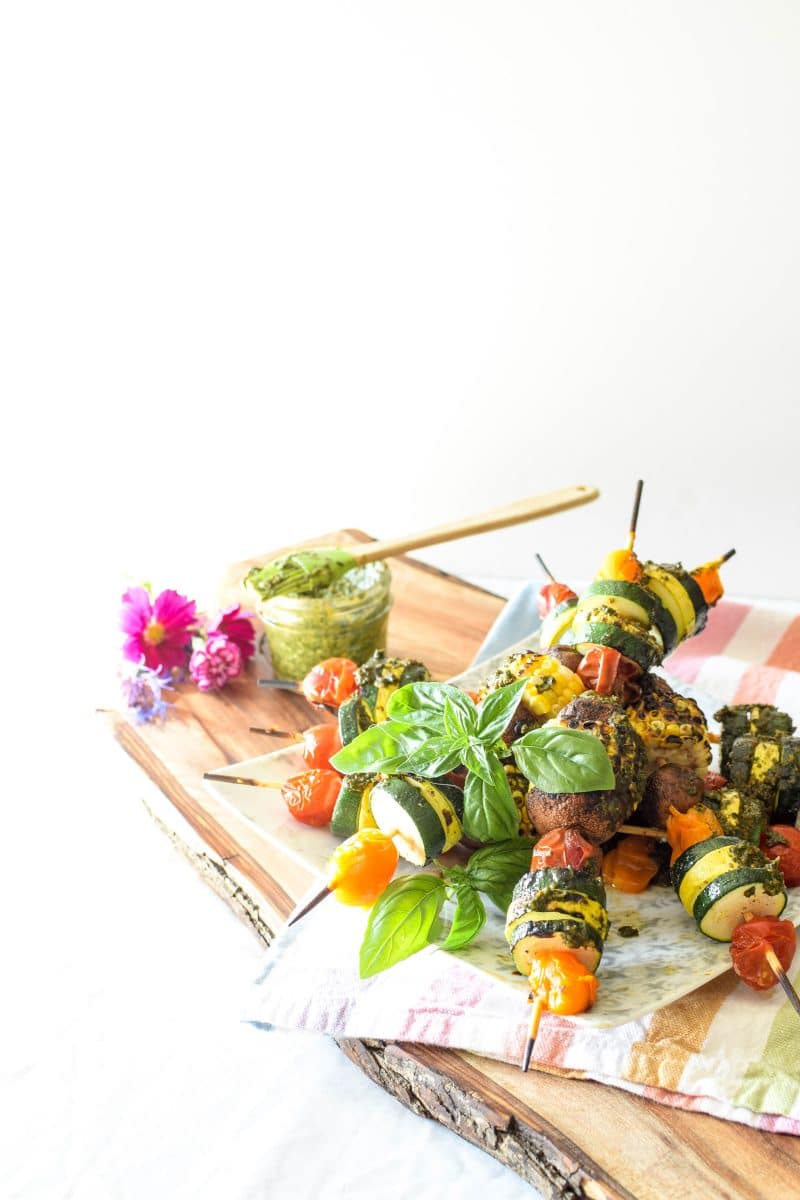 Frequently Asked Questions
Can I use cannabis-infused olive oil on these skewers?
In step 4, I recommend brushing these skewers with olive oil to prevent them from sticking to the grill. I do not recommend using cannabis-infused olive oil at this point, as the grill temperatures can be very high and potentially denature the THC in the oil. Save your infused oil for after the cooking process.
Can I brush these skewers with pesto BEFORE grilling?
Just as above, I do not recommend brushing these skewers with pesto before grilling. Again, the temperatures of the grill can be too high and unpredictable. For the best results, wait until after the skewers have been completely cooked before adding the cannabis-infused pesto.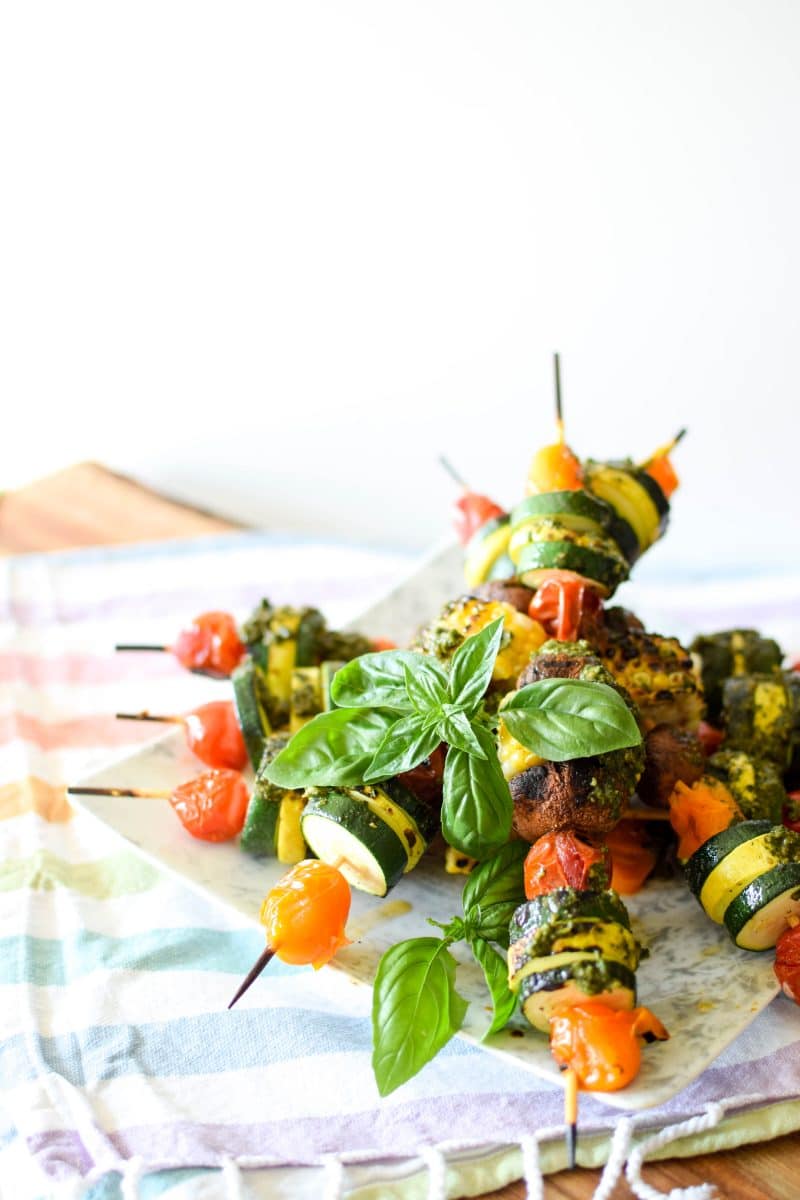 Use An Infusion Machine For Your Edibles
If the process of decarboxylating and infusing your cannabis edibles seems like too much work, a cannabis infusion machine is a perfect solution for you!
Cannabis-infusion machines are countertop devices that do all the work for you by decarboxylating and infusing your butters, oils, and more.
The most popular machines on the market today include LEVO Infusion Machines and Ardent Cannabis Infusion Machines.
Want A Discount Code?
Enhance Your Cannabis Education
My beginner-friendly Cannabis Compass Online Course will show you how to dose, use, and apply cannabis safely and effectively so that you can begin to manage your most unwanted symptoms the natural way, from the comfort of your own home.

Learn more and enroll today →
Cannabis Pesto Veggie Skewers
Savor summer's most abundant produce with these savory cannabis veggie pesto skewers made with fresh zucchini, peppers, tomatoes, and a delicious homemade cannabis pesto.
Ingredients
16

each

wooden skewers

soaked in water

2

medium

zucchini

sliced into ¼ inch coins

2

medium

yellow squash

sliced into ¼ inch coins

2

ears

sweet corn

cut into 1" rounds

3

cups

brown button mushrooms

cleaned and stemmed

2

cups

grape tomatoes

1

tablespoon

olive oil

¼

teaspoon

sea salt

¼

teaspoon

black pepper

½

cup

cannabis basil pesto

1

sprig

fresh basil

optional for garnish
Instructions
If you have not already, soak your wooden skewers in water so they don't catch fire on the grill.

Heat the grill to medium high heat.

With your vegetables prepped and ready, arrange them on the skewers.

Brush with olive oil and season with salt and pepper.

Cook 3-4 minutes before flipping.

Continue cooking until veggies are cooked to your desired texture.

Enjoy!
Nutrition
Serving:
4
skewers
Calories:
310
kcal
Carbohydrates:
27
g
Protein:
10
g
Fat:
21
g
Saturated Fat:
4
g
Polyunsaturated Fat:
16
g
Cholesterol:
8
mg
Sodium:
303
mg
Fiber:
7
g
Sugar:
11
g