Tomato overload in your garden? A classic fresh cannabis salsa, a.k.a. pico de gallo, is the perfect way to use them up! I can hear my cheesy quesadilla calling this salsa recipes name as we speak. What's more? You can make this delicious, fresh, and nutritious dip in under 20 minutes.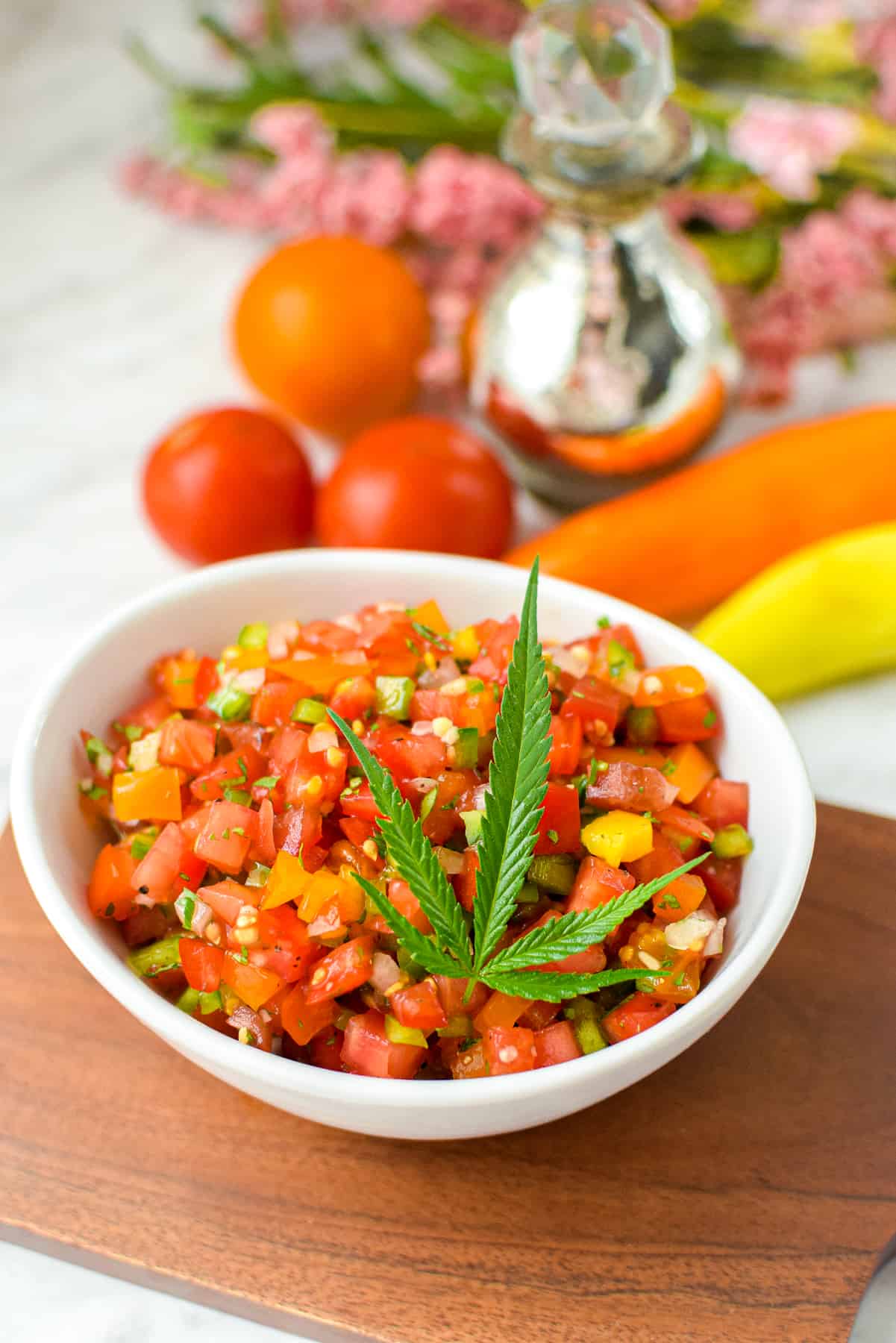 Features
Made simply with ground, decarbed cannabis - no infusions or extractions required.
No baking or cooking! Just chop, mix, chill and enjoy.
The perfect light and fresh snack or appetizer option.
Just 8 healthy, simple ingredients needed.
Easily customizable to include your own special recipe twist.
Dietary Features: dairy-free, gluten-free, refined sugar-free, vegan, and vegetarian.
Why You Will Love This Recipe
This fresh, zesty cannabis-infused salsa will make your tastebuds sing while also providing great nutrition benefits.
Ready in under 20 minutes, you can use this salsa as a dip for tortilla chips or as a topping for your favorite quesadilla, taco, or burrito... yum!
My Well With Cannabis Community always asks for fun, creative, and healthy ways to incorporate cannabis into meals, so I thought a delicious cannabis salsa might do the trick.
This guide will explore how to make the perfect cannabis salsa, what equipment to use, offer expert tips & tricks, and include a printable recipe with directions at the end!
Join The Community!
Ingredient Notes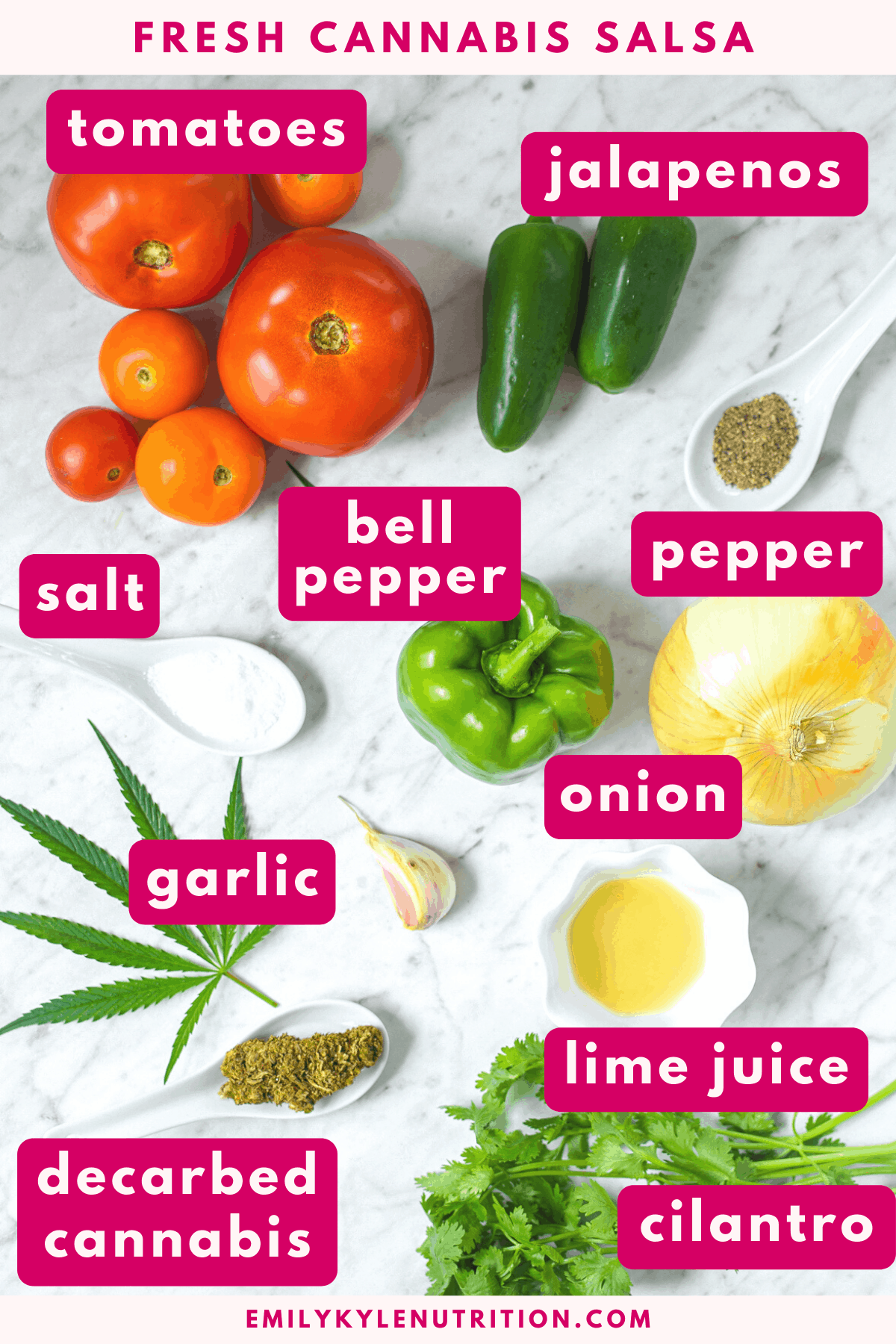 Fresh tomatoes: Fresh, whole, in-season tomatoes are best to use in this recipe. You can vary which type of tomato you choose for a unique, tangy flavor.
Green bell pepper: We used green, but any color will do, your choice! Bell peppers add a slightly sweet flavor that balances out the spice from the jalapeños.
Yellow onions: Onions bring a savory flavor to this recipe. We recommend yellow onions for their mild flavor, but you could experiment using white or red onions, too.
Fresh jalapeño: This ingredient adds a bit of spice to the salsa, but feel free to vary how much you use based on how spicy you want it.
Fresh cilantro: Cilantro brings a complex, citrusy flavor to this recipe. If you don't have any growing in your garden, you can get it in the fresh produce section at the grocery store.
Lime juice: Lime juice provides a zesty and fresh flavor to this savory and delicious salsa. Fresh squeezed is best, but bottled will do.
Garlic: Garlic has a slightly sweet and buttery flavor that blends well with the salsa ingredients.
Decarbed cannabis: You want to ensure the cannabis is decarbed for best results. Read more about how to decarb cannabis here. I have also included alternative cannabis infusion options below if you want to use another option.
Note: a complete list of ingredients with amounts and printable instructions is located in the recipe card below.
The Step-by-Step Process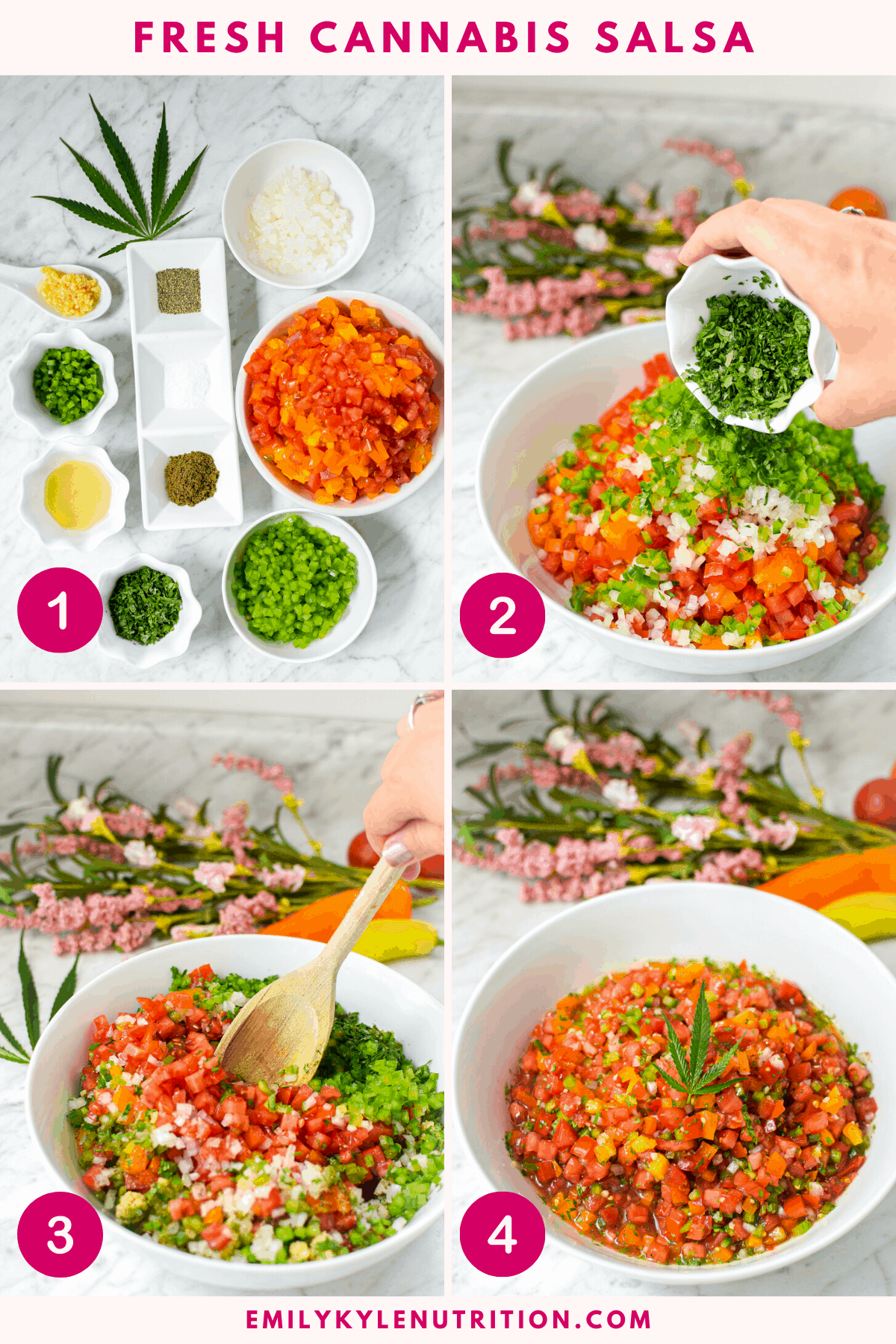 Step 1 - Gather, wash, prep, and cut all of the ingredients.
Step 2 - Place all ingredients into a large mixing bowl.
Step 3 - Mix everything well so that all ingredients are fully combined.
Step 4 - Refrigerate for 2 hours to let the flavors combine. Garnish with a fresh cannabis leaf (optional) and enjoy!
Note: complete step-by-step printable instructions are located in the recipe card below.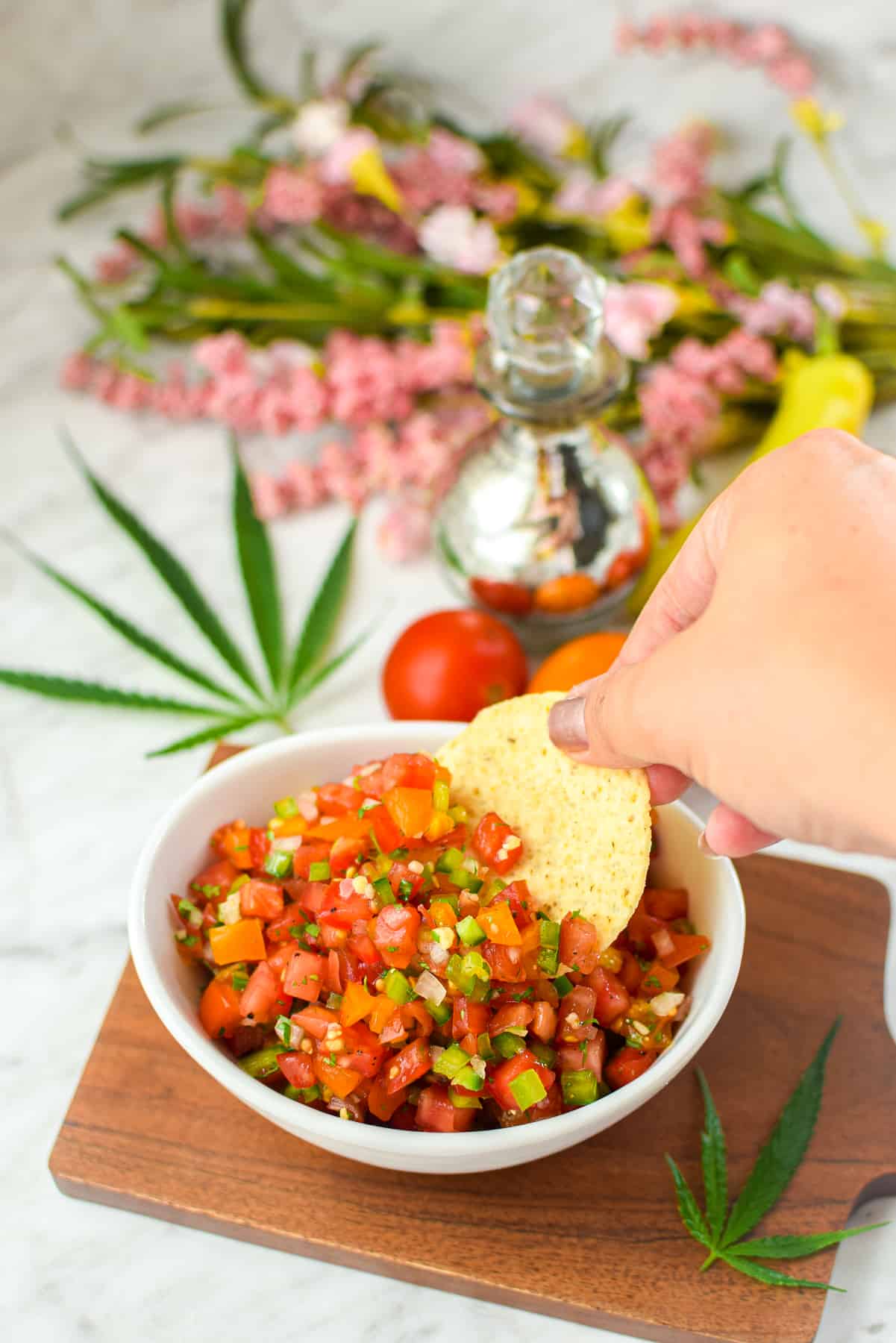 Alternate Cannabis Infusion Options
As with all things edibles, there is more than one way to infuse something. Below we will explore all of the different ways you could infuse this recipe.
Decarbed Cannabis Flower
This is my preferred way to infuse this recipe. It's simple, it's easy, and it's effective.
If this infusion method is new to you, you can learn more about how to use ground, decarbed cannabis in edibles here.
You could also use ground, decarbed kief here as well.
Just make sure you add in the 2 tablespoons of oil called for, either avocado or olive oil, because cannabis is better absorbed when paired with fat (1).
It is your choice whether or not you want to use THC-dominant, CBD-dominant, or CBG-dominant flower in this recipe.
I have both CBD flower and CBG flower available in my online shop if you need to purchase cannabis first.
Just make sure you decarb according to the guidelines for each cannabinoid here.
Cannabis-Infused Oil
This is an optional ingredient in this recipe because I recommended the ground, decarbed cannabis first.
If you want to skip that option and go straight for an oil, its a quick and easy way to infuse this recipe.
With so many different types of cannabis oils to choose from, it's important to pick the one that's right for you.
Recommended cannabis-infused oil options include:
Leftover Cannabis Pulp
Many people save the plant material left over from making infused oil or butter to use in recipes.
Also known as leftover cannabis pulp, these leftovers still contain trace amounts of cannabinoids, making them a mild addition to any recipe.
If you're going to add the pulp to infuse this recipe, add it as a separate ingredient and start with a small amount, maybe 2 tablespoons.
How to Determine The Dosing
Want to get a more accurate guesstimate of the potency of your cannabis infusions and extractions? Try our popular edibles calculator!

Storage Instructions
You can store this recipe in the fridge for up to one week, but it is best when enjoyed immediately.
Notes and Expert Tips
This salsa tastes best when all of the ingredients used are as fresh as possible, from your own garden or local Farmer's market even.
If tomatoes are in season while you're making this recipe, I highly recommend using whole, fresh tomatoes.
This salsa can be made less spicy if less jalapeño and black pepper are used. Feel free to adjust the spice level to suit your preferences!
If a sweeter salsa is desired, adding tropical fruit like mango or pineapple would be delicious.
Make sure to use decarbed cannabis if you want the activated effects of THC or CBD.
Frequently Asked Questions
Cannabis salsa can be brand new to even the most seasoned cannabis consumer, so here are some of the most common FAQs I get asked about cannabis salsa from my Well With Cannabis Community.
Can I use cannabis oil instead?
Yes, I've included many options in the Alternative Infusion Options section above. However, if you don't use an infused oil, I recommend sticking with avocado or olive oil.
How can I adjust the spice in this recipe?
Great question! You can easily increase or decrease the amount of jalapeño and black pepper to suit your taste preferences.
What is the recommended serving size?
Salsa is a healthy, low-calorie option, and you can enjoy it as much as you want. This recipe makes 8 half-cup servings.
Can I used canned tomatoes instead?
Although fresh tomatoes will yield the best results, you can substitute a 28-ounce can of crushed tomatoes if desired.
What can I use to dip this recipe in?
Tortilla chips are my go-to. However, you can also use pita chips, carrots, crackers, or really anything!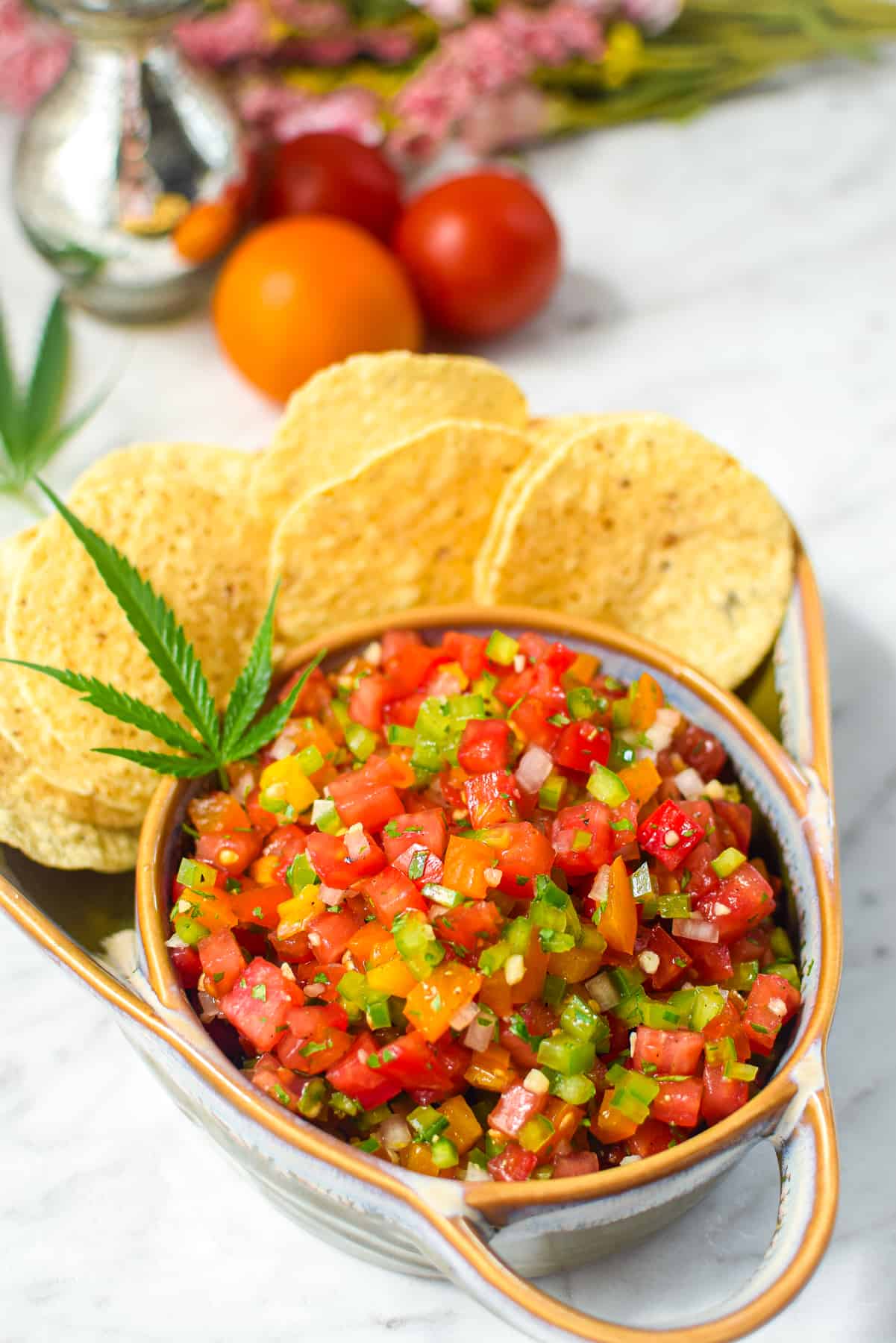 Want To Make This Easier? Use A Machine!
If the process of decarbing and infusing feels like too much work, these countertop devices may be a perfect all-in-one solution!
Two of the most popular brands include the LĒVO and the Ardent. Review the six most popular infusion machines here.
Want A Discount Code?
More Cannabis Recipes You Will Love
Enhance Your Cannabis Education
My beginner-friendly Cannabis Compass Online Course will show you how to dose, use, and apply cannabis safely and effectively so that you can begin to manage your most unwanted symptoms the natural way from the comfort of your own home.

Learn more and enroll today →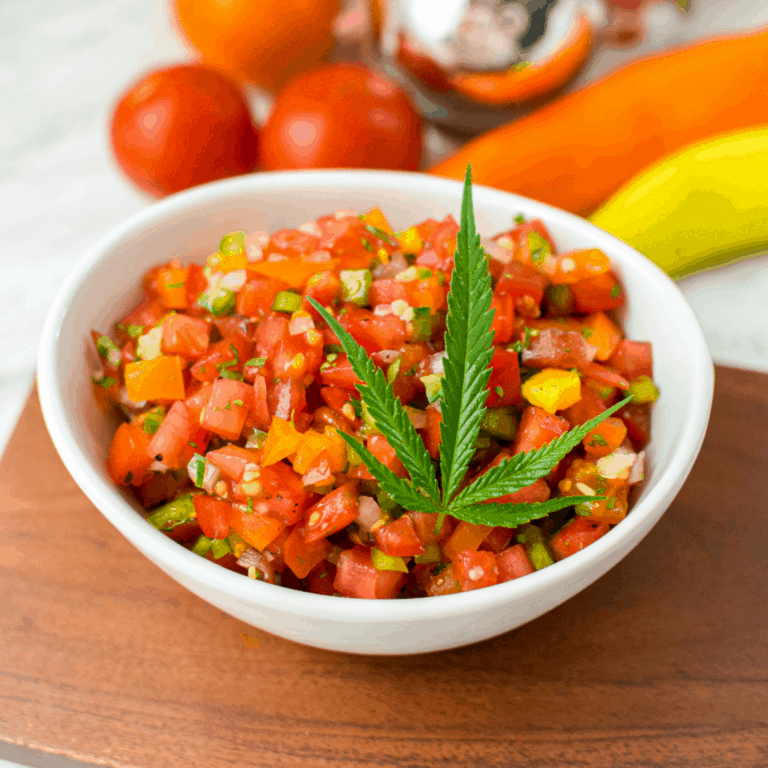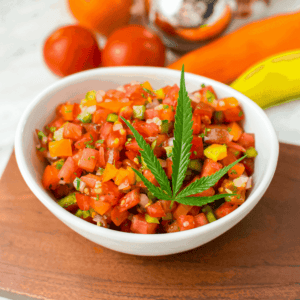 Fresh Cannabis Salsa (Pico de Gallo)
This quick, easy, and delicious fresh cannabis salsa, also known as pico de gallo, is a great way to use up all of your garden-fresh produce, complete with your favorite herbal infusion option.
Ingredients
3

cups

diced red tomatoes

¼ inch dice

½

cup

diced green bell pepper

⅛ inch dice

¼

cup

diced yellow onion

⅛ inch dice

2

tablespoons

avocado oil

or cannabis oil of choice

2

tablespoons

diced jalapeño

⅛ inch dice

2

tablespoons

finely chopped cilantro

1½

tablespoons

lime juice

fresh squeezed

1

tablespoon

minced garlic

½

teaspoon

kosher salt

½

teaspoon

black pepper

freshly ground

½

teaspoon

ground, decarbed cannabis
Instructions
Add all of the ingredients to a large mixing bowl and stir well to combine.

Refrigerate for at least 2 hours to allow flavors to meld together before enjoying.

Any leftovers will stay good in the refrigerator in an airtight container for 7-10 days.
Notes
This salsa can be pulsed in a food processor for a smoother texture, or completely pureed to make a smooth taco sauce.
You can substitute hotter or milder chiles for the jalapeño for a new flavor variation.
You can freeze this salsa for 3-6 months, but the texture will not be as firm when thawed.
You can use the cannabis-infused oil and/or ground cannabis to infuse this recipe. See the above Alternative Infusion Options section above for more infusion ideas. 
If you don't plan on using cannabis-infused oil, we recommend using avocado or olive oil. 
Nutrition
Serving:
4
ounces
Calories:
50
kcal
Carbohydrates:
4
g
Protein:
1
g
Fat:
4
g
Saturated Fat:
3
g
Polyunsaturated Fat:
1
g
Monounsaturated Fat:
1
g
Sodium:
149
mg
Potassium:
175
mg
Fiber:
1
g
Sugar:
2
g
Vitamin A:
549
IU
Vitamin C:
21
mg
Calcium:
11
mg
Iron:
1
mg