This Berry Quinoa Breakfast Bowl is a naturally vegan and gluten-free power bowl that has 17 grams of plant-based protein and all of the nutrients your body needs to stay full and focused all morning long.
Have You Ever Had Quinoa Before?
You may have heard the word quinoa before, pronounced keen-wah, but have been reluctant to try it. Have no fear!
It is similar to rice but with a bit more nutritional value and a slightly nutty flavor.
Quinoa is considered to be nutritionally superior to both brown rice and oatmeal as it contains more plant-based protein and more of certain vitamins and minerals – which make it an excellent breakfast choice.
It is also a naturally gluten-free whole grain.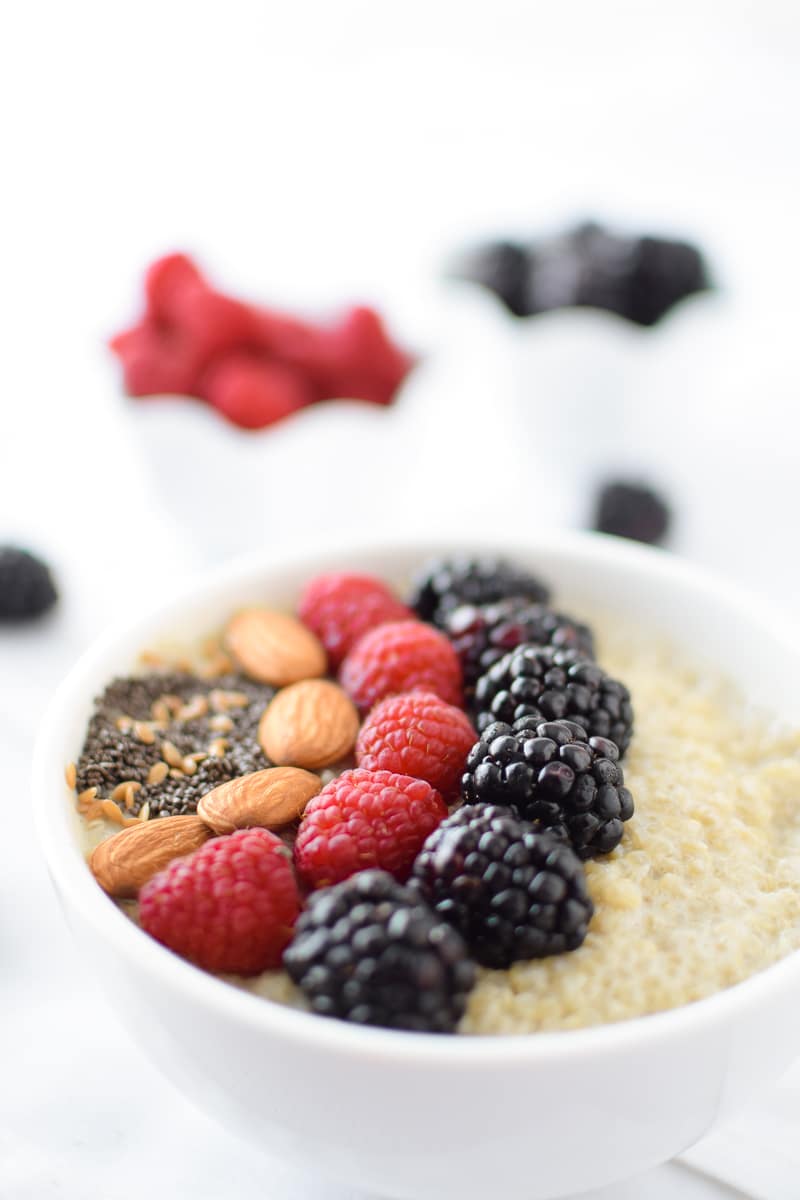 PSA: DON'T FORGET TO WASH YOUR QUINOA
You may have only ever thought of quinoa as a savory ingredient, but this Berry Quinoa Breakfast Bowl is a great way to highlight the versatility and adaptability of this nutritious grain.
The best part about quinoa is that it can be used in dishes that are both hot or cold, sweet or savory.
BUT, the most important thing to remember when preparing quinoa is to rinse your quinoa before you cook it!
Quinoa has a natural surface protectant known as saponin which produces a bitter, soapy taste (hence the name). If you don't rinse the quinoa first you won't like the final result – and a say that from experience. Trust me on this one – just wash it!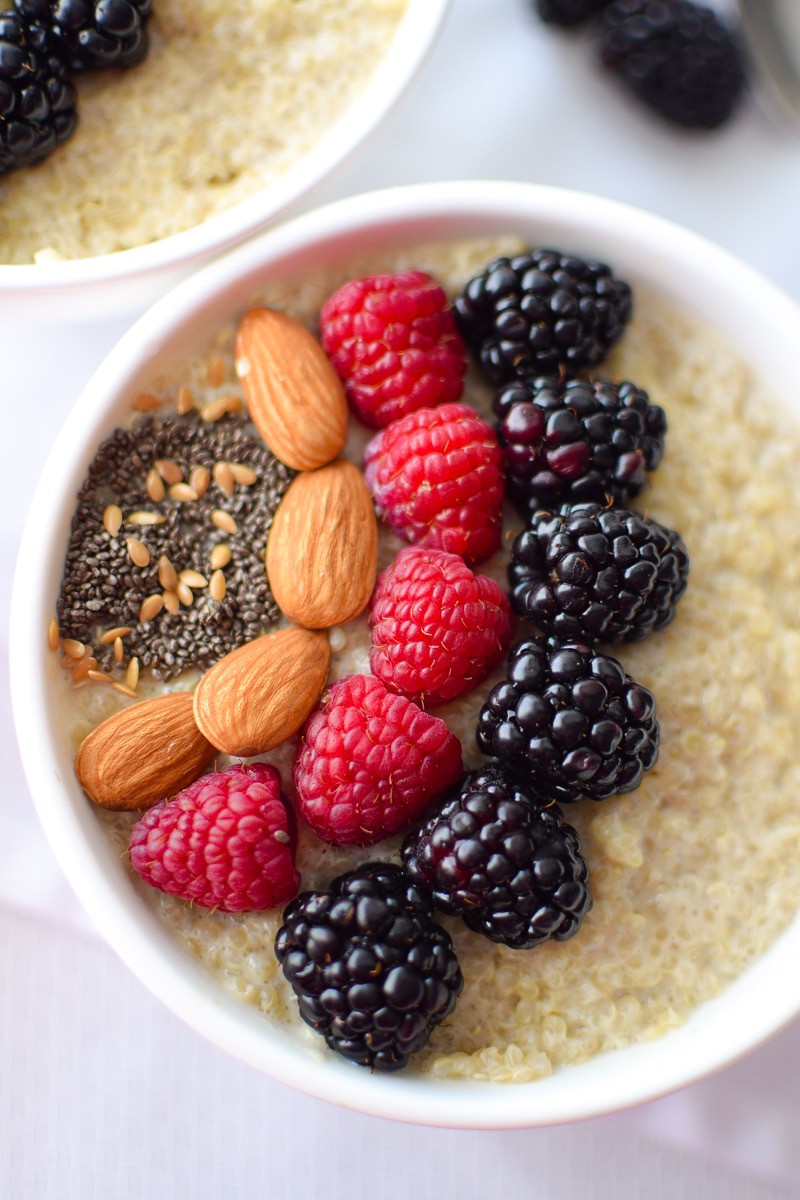 THE HEALTH BENEFITS OF QUINOA
Quinoa is an excellent source of protein, and in fact is a rare non-meat complete protein source, meaning that quinoa contains all of the essential amino acids our bodies require!
Quinoa ranks low on the glycemic index, meaning that it won't spike your blood sugar like refined rice or flour will.
Quinoa is an excellent source of dietary fiber which is necessary to keep you feeling full and satisfied after a meal. Foods rich in fiber have been shown to aid in weight loss, reduce blood sugar levels, and lower bad levels of cholesterol.
Quinoa contains iron, B-vitamins, magnesium, phosphorus, potassium, calcium, & vitamin E
Quinoa is a strong source of antioxidants – particularly flavonoids such as Quercetin and Kaempferol which have been shown to have anti-cancer properties.
Quinoa is naturally gluten-free which means that it is not necessary to remove any part of the grain via unnatural processes or ingredients.
Quinoa can come in three main colors, white, red, or black quinoa. Technically this whole grain is a seed but has many of the health properties needed to be considered a grain.
Now don't worry, quinoa is just as easy to prepare as rice or oatmeal. All you have to do is boil it in water or milk, or any liquid you like such as vegetable or bone broth!
Quinoa is prepared in a 1:2 ratio with liquid – 1 cup of quinoa requires 2 cups of liquid.
I love to make this recipe in a big batch on Sunday and keep it in the fridge so I have a healthy & easy breakfast all week long.
What else can you make with quinoa? Check out these recipes: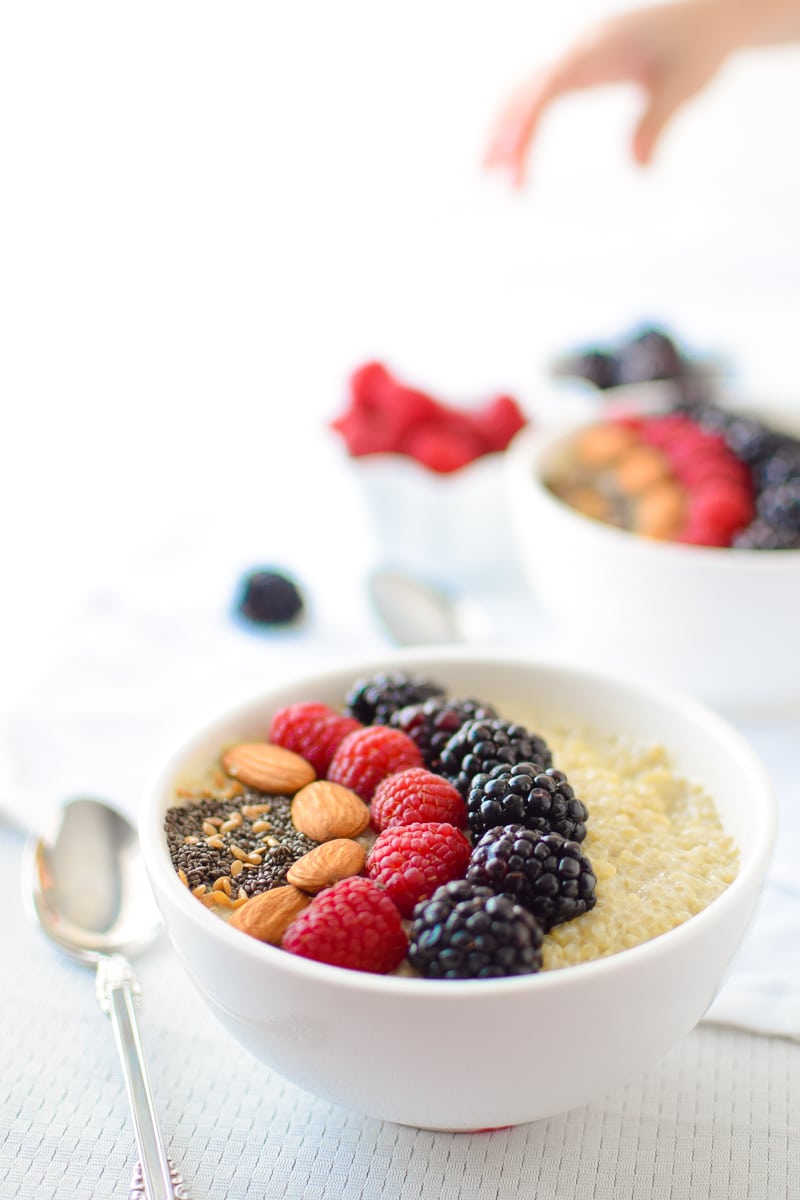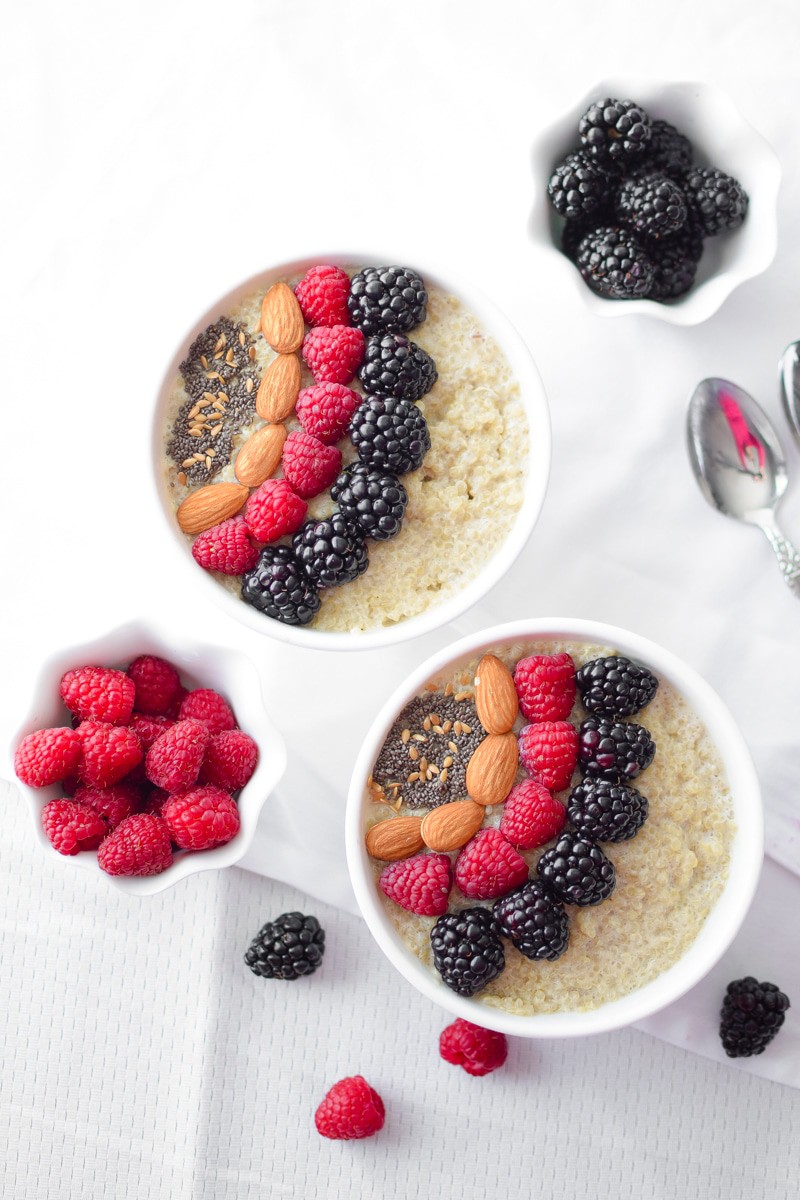 Berry Quinoa Breakfast Bowl
Fuel your morning with this high-protein, vegan & gluten-free berry quinoa breakfast bowl made with whole-grain quinoa, your milk of choice, and fresh berries.
Ingredients
4

cups

milk of choice

2

cups

dry quinoa

rinsed

1

tablespoon

maple syrup

1/2

teaspoon

vanilla extract

¼

cup

almonds

½

cup

fresh or frozen raspberries

½

cup

fresh or frozen blackberries
Instructions
In a medium saucepan over medium heat, combine the milk and quinoa. Cook according to the package directions.

Once cooked, stir in the maple syrup and vanilla extract.

Evenly divide the mixture among four individual pint-sized mason jars.

Evenly top each jar with berries and almonds. Secure a tight-fitting lid.

Store in the refrigerator for up to 5 days. Enjoy cold or warmed up in the microwave for 1-1½ minutes.

Nutrition
Calories:
235
kcal
Carbohydrates:
27
g
Protein:
12
g
Fat:
10
g
Saturated Fat:
1
g
Polyunsaturated Fat:
8
g
Cholesterol:
3
mg
Sodium:
34
mg
Fiber:
8
g
Sugar:
4
g