Have you ever struggled with the perception that a cannabis lifestyle is lazy or apathetic? Join us as Sharyn crushes this stereotype and shares her journey of breaking out of the cannabis closet and incorporating cannabis into her healthy lifestyle. Tune in to discover how cannabis can help revolutionize your lifestyle, too.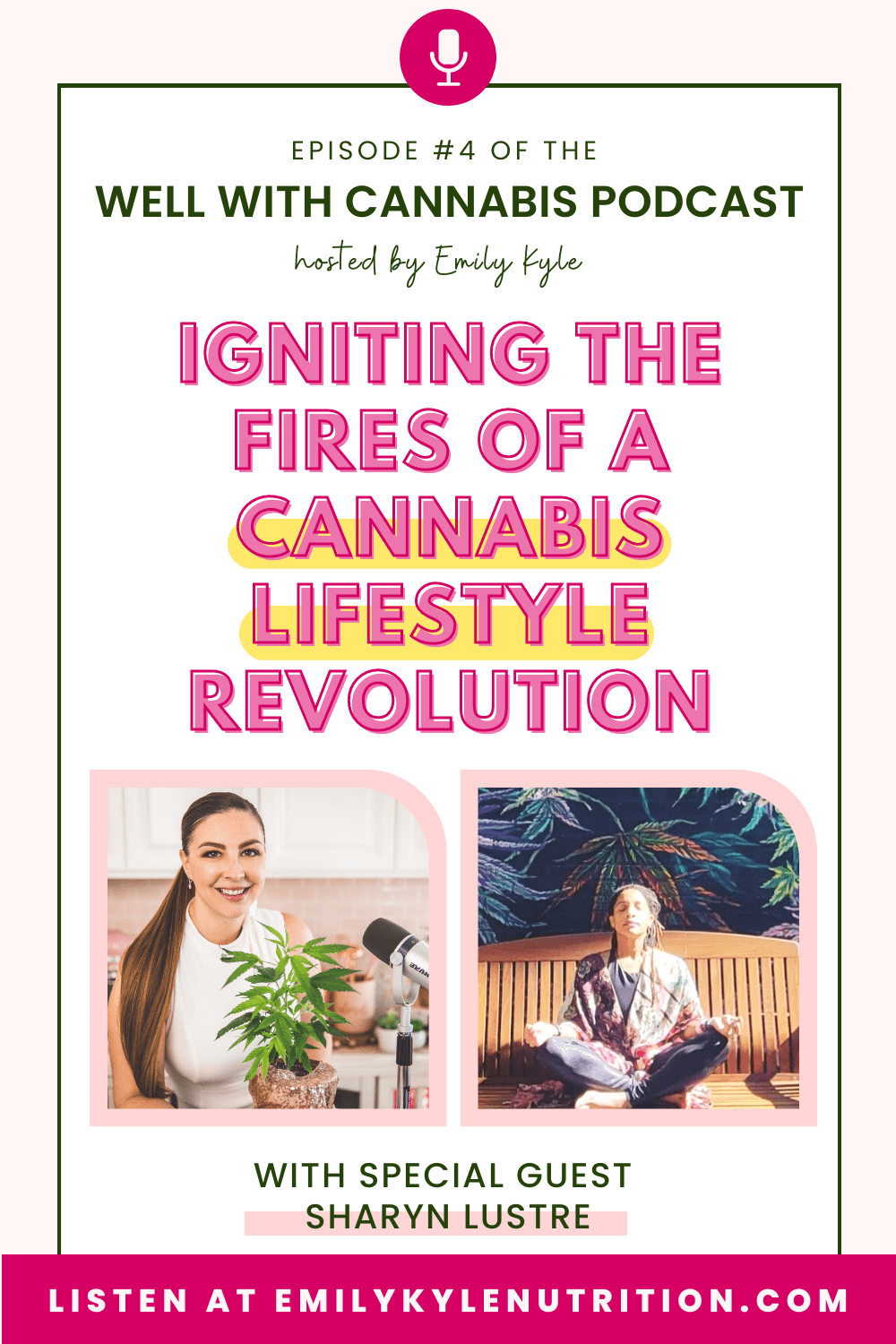 Features
Release Date: Wednesday, March 15th
Episode Number: Season 1, Episode 4
Special Guest: Sharyn Lustre from The Soul Aligned Life
Listen To The Episode
Click the play button above to listen to the episode.
Listen to all podcast episodes →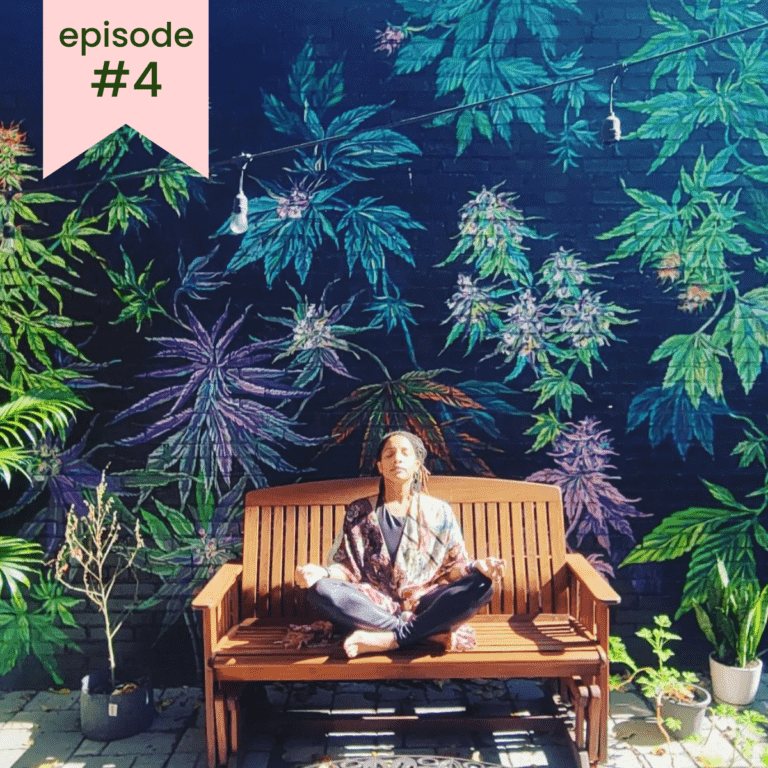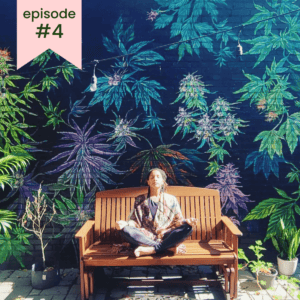 E4: Igniting the Fires of a Cannabis Lifestyle Revolution with Sharyn Lustre
In this interview, she shares her journey of breaking out of the cannabis closet and incorporating cannabis into her healthy lifestyle. We also discuss cannabis as an open dialogue with children and how she combines motherhood with cannabis.
Options
Listen to your favorite episode here on the website.

Watch your favorite episode here on the website.
Love the epsiode?
Unlock exclusive access to our private Well With Cannabis Community to get exclusive access to our guests and tailored advice from our members. Use the coupon code INSIDER to get 50% off your membership today!
Why You Will Love This Episode
Members of my Well With Cannabis Community know that stepping into a cannabis lifestyle can be intimidating.
Some people feel they may have to sacrifice their goals and ambition to find relief. Thankfully, Sharyn is here to dispel that myth!
In this interview, Sharyn Lustre shares her journey of coming out of the cannabis closet and incorporating cannabis into her healthy lifestyle.
We also discuss cannabis as an open dialogue with children and how she combines motherhood with cannabis.
Listening to this episode will help you discover how incorporating cannabis into your daily routine can help revolutionize your cannabis lifestyle in the best way possible!
Episode Highlights
Join us as we chat with Sharyn about her journey coming out of the cannabis closet and how she uses cannabis to fuel a healthy, holistic lifestyle.
In this episode, you will learn how cannabis can help reduce anxiety and depression and enhance exercise and fitness.
Feel free to use the time markers to jump ahead to a part of the show you're interested in.
00:00 – Teaser
01:48 – Welcome and introductions
04:20 – Sharyn's experience coming out of the cannabis closet
05:15 – How COVID impacted her experience and how cannabis helped her to ease anxiety and depression and to become passionate about cannabis education
08:35 – How she uses cannabis to fuel a healthy, holistic lifestyle and advice for those who are looking to use cannabis for the first time
11:12 – How cannabis can help enhance exercise and fitness. She discusses how she uses different cannabis products and cannabis strains to achieve the specific results she needs
16:12 – How she and her husband discuss cannabis as an open dialogue with their children – loving called happy herbs – and how she combines cannabis and motherhood and is changing the way we discuss motherhood and cannabis culture
24:07 – How she is incorporating cannabis into her fitness career and now offering an Elevated Yoga Experience and a Puff & Paint event
29:17 – Final four questions
34:13 – How to connect with Sharyn
Meet Our Special Guest
Sharyn Lustre is on an ambitious journey to revolutionize people's lifestyles with the help of cannabis.
She is a 20+ year wellness advocate whose life has been saved and strengthened by responsible cannabis consumption.
Combining her two loves at this point in life is the ultimate goal, and she helps empower others to do the same in their own way.
Her passion lies in pulling back the curtain on how incredible this plant is to show that there is a better way than traditional medicine.
She hopes to end the fear of jobs or opportunities being held against responsible cannabis consumers living in the shadows.
She has several upcoming events, including a Puff & Paint Event, an Elevated Yoga Experience, and a Lifestyle Coaching Group Transformation Experience in the planning stages.
She's embracing this journey and wants to help others do the same.
Connect with Sharyn by visiting her website thesoulaligned.com, or find her on social media @sharyndanyelle on Instagram or Facebook. Tune in now!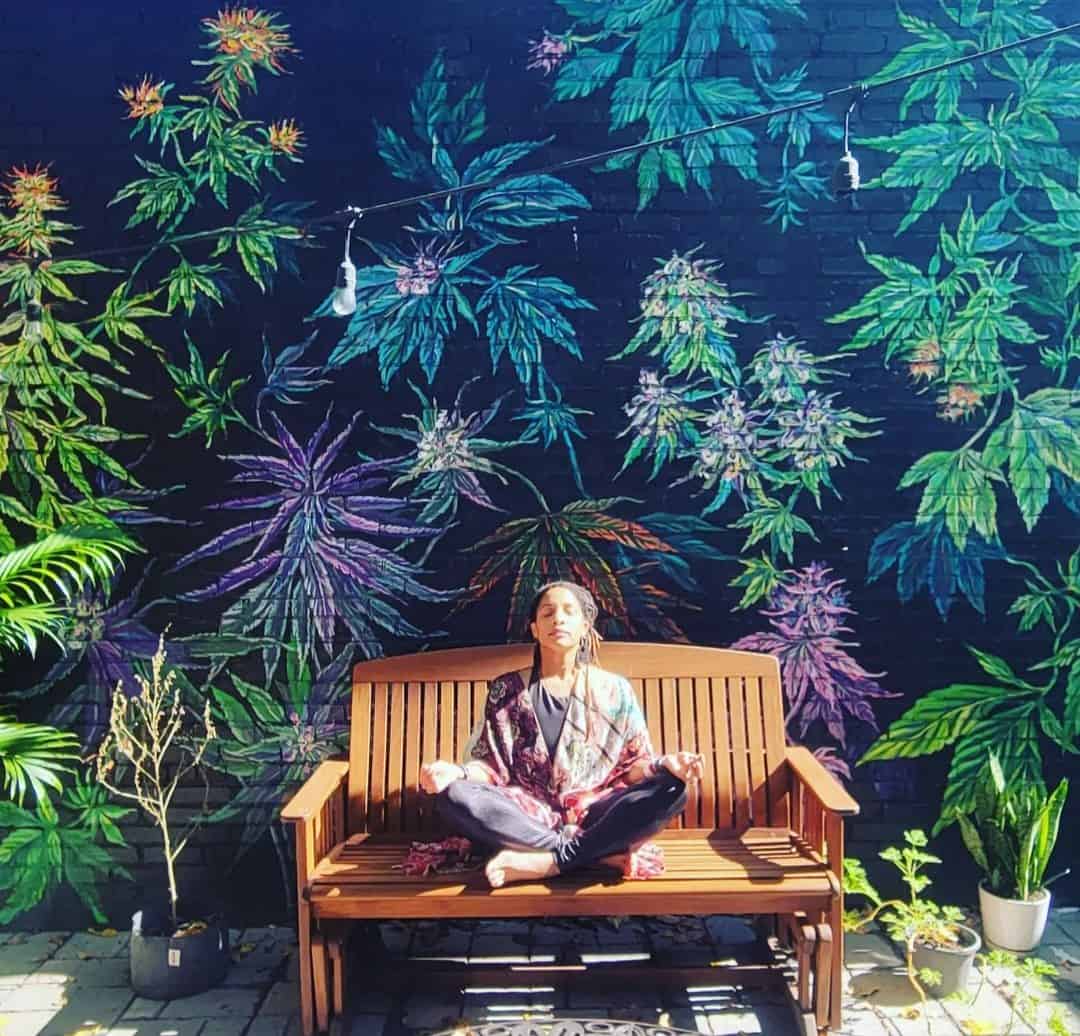 Links & Helpful Resources
The helpful links and resources listed below will offer insight into the world of cannabis, providing knowledge and guidance if you are seeking answers on your cannabis journey.
Frequently Asked Questions
How can I join the Well With Cannabis community?
Are you ready to connect with other cannabis users and members of the cannabis industry? Please click here to join the private membership community and use the coupon code insider for 50% off. Don't forget, if you purchase from my store, membership is automatically included and totally free!
Do I need a medical cannabis card to try cannabis?
No, you do not need a medical card to shop with me. However, it is important to check where you live regarding legal cannabis options.
Subscribe To The Show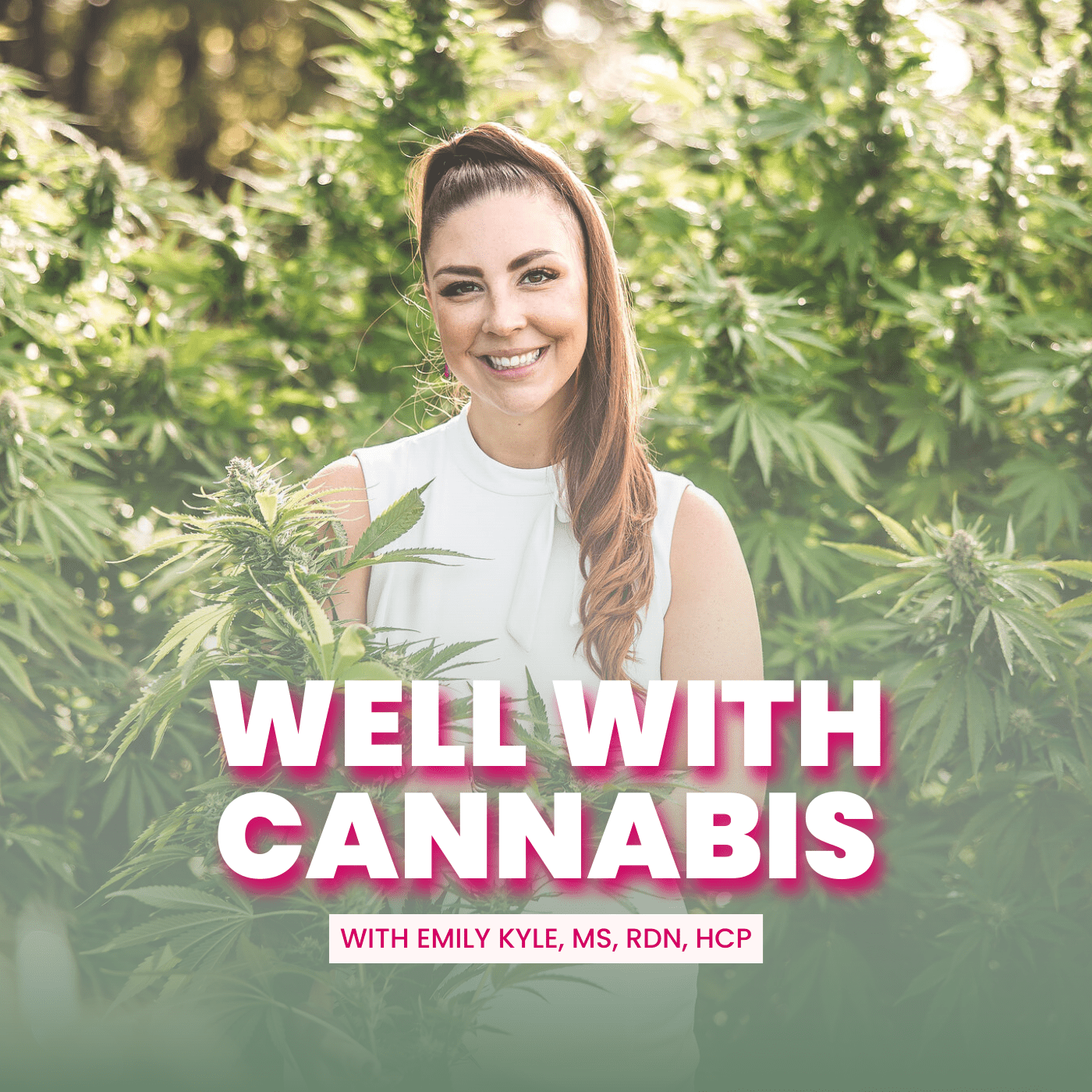 Full Transcript
Sharyn: There is a better way. And, you have to be open and honest and actually take everything else away, and really just dial in within and trust yourself. Trust yourself. Just release that fear. Really, just know that life is meant to be loved and lived full-on.
Announcer: Welcome to the Well With Cannabis Podcast, a show dedicated to telling the life-changing stories of those who live well with cannabis all while teaching you how to do the same. Meet your host, Emily Kyle, a registered dietitian nutritionist turned certified holistic cannabis practitioner. Emily changed her life for the better with the help of the cannabis plant, and now she's committed to helping others do the same.
Tune in each week to hear heartwarming stories and gain the knowledge you need to feel connected, inspired, and supported on your own cannabis journey. Whether you're a new cannabis consumer or a lifetime lover, you'll benefit from these uplifting tales of real-life journeys that will show you how you, too, can live your best life well with cannabis.
Disclaimer: Hi there. Before we jump into today's episode, I wanted to share a note on potentially sensitive content. The episodes on the Well With Cannabis Podcast are created for adult audiences only. We will, at times, cover sensitive topics, including but not limited to suicide, abuse, mental illness, sex, drugs, alcohol, psychedelics, and the obvious use of plant medicine. Explicit language may be used occasionally. Please refrain from watching or listening to the show if you're likely to be offended or adversely impacted by any of these topics.
The information on this show is for informational and educational purposes only. It does not constitute medical advice. If any of the content on this podcast has brought up anything for you, please reach out or speak to a professional or someone you trust.
Emily: All right, hello and welcome, everybody. Thank you so much for tuning into another episode of the "Well With Cannabis" podcast. I am so excited to be here with Miss Sharyn. She wrote when she was reaching out to me, she goes: "I want my passion to be felt and understood."
And I have no doubt that we are going to feel your passion for the cannabis plant in this interview. So, welcome. Thank you so much for joining us today!
Sharyn: Oh my goodness, thank you, Emily. It is truly an honor to be here with you, so just thank you for allowing me to have some time in your space. Truly.
Emily: Oh, you are so sweet. Thank you. You have a fantastic lifelong journey, and I would love to get into that and discuss that so our listeners can learn more about how this plant has helped you.
Sharyn: Honestly, I think everyone, at this point, we're all adults, right? We can all say we've maybe had an undercover relationship when it comes to this beautiful plant.
Emily: Absolutely.
Sharyn: For whatever reason, whether it's the stigma, whether it's our backgrounds, obviously, the law, so to speak. I'll be honest with you when I say lifelong; I was not one of those fortunate, or not, if you want to say, kids that were able to experiment, really, in high school.
That just wasn't the crowd and where I was in life. I honestly did not even have my first toke until college. And, when I tell you that, life just became, kind of, like, "what have I been missing? Really who's been holding out on me?"
It honestly has been a beautiful experience. Why isn't everyone allowed and afforded this opportunity to be educated on something that is truly homeopathic? It literally grows from the ground, and it's not something that was created in a lab that, of course, is pushed on us now as a society.
It's not something that just accidentally happened as a hybrid, a mistake. It was something that was created. If we're going to be honest, our country was founded behind the basis and support of this plant. Of course, that's not in the history books. We weren't taught that in history class.
I live here in Virginia. I mean, duh, do you not think that would be something that would maybe be part of our Virginia history lessons growing up? No. No. But here we are. It's a beautiful thing. It's all coming full circle, and being able to come out; it's a really cool experience.
Emily: Tell me a little bit about your experience coming out because you do, quite, very publicly, share your love for cannabis now. So, tell me a little bit about that, because I think that's one of the hardest parts for all of us, is that, like, initial coming out phase, because it seems so scary. So, give me a little bit about your story, and share, kind of, where you're at now and if it was worth it.
Sharyn: I've always been part of the public, so to speak, because of my background; my degree is in exercise and health promotion. I've always been in front of people, advocating and campaigning for a healthy lifestyle.
Even way back then, not wanting to push people toward the pharmaceutical route. How you could intervene well before it gets to that point. That's always been something I've done for over 25 years. People trust me because I'm certified, I'm experienced, and I'm a product of what I preach.
With COVID coming out, many things happen with jobs, so to speak, depending on where you were in life. I was a huge proponent of transparency. And, when we all, of course, were sent home and everything was shut down, things had to change.
Within wellness and fitness, as well, we aren't in front of people, but a lot of people are hurting, still are, you know what I mean? A lot of people were stressed, a lot of people were not knowing exactly what was going to happen, and everyone coped in their way.
Some people were huge into wine. Some people, like myself, were huge into fitness and getting the Peloton and living like that. Some people, of course, were pushed in other ways with how to cope. Cannabis, definitely, was something that became forefront, and I'm not going to say "crutch" because I had other things to help me cope as well.
But cannabis really truly saved my life. It helped with the ease of anxiety. It definitely truly offset the lack, or the onset, of depression. It definitely helps with, obviously, and you know that Emily, all these things.
Knowing that we could never go back to the way it was, with regard to myself, fitness, and the industry as a whole, I just realized life is short; we don't know what will happen. And, if I'm going to be totally transparent with what I do, and everyone knows I always share what I love, why not? I'm an adult.
Emily: Yeah.
Sharyn: Now, in a state that allows it. I'm pulling it off, ripping the bandaid, sharing, and showing that you can be a productive member of society. You can raise kids; you can be married, happily or not; it doesn't matter about that part.
You can be doing so many things publicly, and why not show that cannabis can be something people do? We're not stereotypical, how people like to paint the picture. I ripped it professionally. It has not had me stumble in any way.
I no longer work for the organization I worked for because it was a city organization, and that's fine. No lies here. It's full, "it is what it is. Take it or leave it. I'm happy; I'm healthy. And, you can more than welcome, come on board and learn and, and open your mind, or live the life that you're living and see if it is one that you want."
Emily: That is beautiful. I'm so proud of you, and I'm so happy to hear that it has not impacted your career because I feel like a lot of professionals are extremely, extremely worried.
I have the same experience as a registered dietitian. I was like, "oh my God if people found out, I'll never have a job again." And here, I mean, we might see this as a reoccurring theme in this podcast, but cannabis has given me so much more and has changed my career, as well.
I almost see that for you coming up, as well. I would love to talk more about health and fitness because I think the intersection of health and fitness professionals in cannabis is we're right here; we're ready for it.
I'd love to hear more about how you incorporate that into a healthy lifestyle because the traditional stereotype is that cannabis users are lazy, apathetic, and don't exercise.
Personally, I exercise so much more now because of cannabis, and I exhibit so many more healthy behaviors because I feel well overall. I'd love to explore what that looks like for you.
Sharyn: That's a great question, and I think you are absolutely right. We are here at the cusp. Like, you can just feel it building, this momentum within our industry. You know things have got to change.
We've got to be able to be progressive enough, and not the fad diets, right? Not the faddy stuff; this is not a fad. Being open and honest with what's traditionally recommended, whether it be antidepressants. And, before I go into all that, like, I understand there is a place for that, right? We're not saying.
Emily: Same, absolutely. Absolutely.
Sharyn: I am advocating that as quickly as we can promote that, there are so many other options that we can promote that shouldn't have the stigma, should not have the judgment that's associated with it. And, at least for me, personally and professionally, I see it as my prescription.
I don't have any prescriptions; my husband and my children don't participate in any kind of medical intervention outside of our well-woman visit or, well-man visit, annual stuff for the kids, but I see it as my prescription. Depending on my day, depending on what I'm doing, and my dosage, and if I've got heavy things, I'm going to change to a Sativa to start, depending on the day.
I see how some people say prescriptions or, my family always says, "it's time to take our vitamins," We have certain things that we do; we do our zinc, all that kind of stuff. I see it as a daily integral part of my life. Just like people pop a multivitamin, cannabis is, I hate to say, a multivitamin, so to speak, but it is at that level.
Emily: Yeah, a supplement, a daily supplement.
Sharyn: It is a daily supplement, and just like you take your fish oil, depending on if you have some mood issues, you know?
Emily: Yes.
Sharyn: There are certain things you would take more of, depending on whatever symptom you're trying to help alleviate. Same thing with cannabis. I'll have a gummy for this, and I'll do a tincture for this, you know?
Emily: Yes.
Sharyn: Flower for certain reasons, you know what I mean? It's just common sense, this part to me. I'm obviously able to be very productive. Very much, carry on, and not stumble. And so people need to understand there's such a wide opportunity for education.
Emily: Yes.
Sharyn: And it's not giving you even a fraction of the side effects and whatnot that sometimes people have to deal with when they have to go more traditional pharmaceutical routes.
Emily: Absolutely. I would love to know a little bit more about your exercise experience with cannabis as well because I find people really have a hard time seeing how they blend together. I feel like we both know that they do.
I'd love to hear this, especially because you are hosting an elevated yoga experience as well. I want to talk more about that because I feel like that will be like the next goat yoga on the Today Show. I want to learn more about this.
Sharyn: I will say that I have to be honest with the fact that exercise is, obviously, a huge part of my life. My family knows that you know, everyone knows that about me. I've been teaching and training since the nineties, 1996.
It's not a fad for me; I'm not going to say obsession; it's just something that is important. When I was playing around, especially back during COVID, when we had nowhere to go, right? You have to figure things out quickly and be able to experiment without any risk or anything to anyone else because you're on your own, figuring things out.
Depending on if I'm going out for a run or even just a walk around the block, I'm going to get a Sativa. I'm definitely going to know to have some. I'll be honest with you; Lemon Haze is one of my favorite strains because I get narrowed in.
It's just a tremendous help, and you don't know until you know. You have to trust yourself to experience and be open that there are some beautiful things when you explore this plant. It's not, you know, from back in the day when you watched, like, "Half Baked," that movie that shows just the recreational.
It's really been fine-tuned. Now you can know, "well, depending on this terpene, I want to have this effect." I'm kind of into it now that way.
Emily: Yes, yeah.
Sharyn: So, don't waste time, right? You don't waste money, do you know what I mean?
Emily: Yes.
Sharyn: And, you are able to really not hyper-speed your experience, but at least go past the bell curve of learning, right?
Emily: Yes.
Sharyn: That's the beautiful part when you know with your terpene what you want; I'll do a Sativa if I want to do a walk or run out and about in the neighborhood.
Emily: Yep.
Sharyn: If I'm on my bike, if I'm wanting something with a little bit more intensity, I'm going to go with a hybrid so that I can get some of the endorphins, some of the focus, as well, and be able to enjoy my workout. It's just a different experience.
Emily: Yes.
Sharyn: It's different. I don't want to say a kumbaya; I'm not trying to say that/
Emily: I feel like that; imagine, it's like runners high, with cannabis high, together.
Sharyn: Yeah, yeah, yeah.
Emily: The two together, for me. I've always struggled with my relationship with exercise until I incorporated cannabis into my relationship with exercise.
Sharyn: Oh, wow. Okay, yeah.
Emily: And now, I love working out; I love how it makes me feel.
Sharyn: Yes.
Emily: It's just that feeling afterward of floating, like, I don't even know how else to describe it.
Sharyn: Yes, yes, yes.
Emily: It is so enjoyable.
Sharyn: It is. Almost like in a movie, when you get panned in, the person gets panned in right here, and all of this, it's kind of fuzzy.
Emily: Yes.
Sharyn: And it's not fuzzy because there's something wrong with your vision, right? But you just become one, and you get in this vibe.
Emily: Yes!
Sharyn: You get in this zone, and it really is a beautiful experience, and it helps people, for sure, connect with themselves. You can take away the stresses of life. You just kind of get dialed in, so to speak.
You know, whether you're goal-oriented, or whether you're just, "I'm here, I'm glad I'm here, and I showed up" oriented, you know what I mean? Check the box.
Emily: Yep.
Sharyn: It really is a great compliment that I can't; I'm sad when I have to take a pre-workout versus my cannabis, do you know what I mean? It's really great.
Emily: I know, right? Yeah, if everyone could just experience it for themselves and see how wonderful it is. If we could obviously just tell you it's amazing, it's amazing, and I would say cannabis is a tool in your tool belt of wellness.
Sharyn: Yes.
Emily: And one thing you had mentioned, too, is that you can tweak it depending on your needs for the day.
Sharyn: Yes, yes.
Emily: Many people, when they come to me with cannabis, say, "just tell me what to take." They want that pill regimen, and it's so different than that. Once you get into the terpenes and the cannabinoids and the different ways you can manipulate them during different phases of your life.
Sharyn: Right.
Emily: I feel like, if people can understand that and take that away from this, it's really important because cannabis, and maybe you agree with me, is like a journey that comes along with you.
Sharyn: Yes.
Emily: It's like your relationship with your diet or your relationship with health. Like, it's with you always, but it's always changing.
Sharyn: Yes, it is. It is very much a personalized experience; it's a journey with no timeline. There's no deadline. There's no benchmark you have to set. It really gives you permission to just say, "Okay, I really am starting to dig my life, oh my God."
Emily: Yes, absolutely.
Sharyn: You know? And, my kids know, like, you know, my husband and I are transparent; it's an herb.
Emily: Yeah.
Sharyn: It's not wordplay; it's not anything more, it's a herb, and they know mommy's going to do her happy; we call them our "happy herbs."
Emily: Yeah. Yeah.
Sharyn: I'm not rolling up with them, you know what I mean? I go off and excuse myself, but,
Emily: Of course.
Sharyn: It's like, "oh, life is like, yeah." I'm getting excited.
Emily: I know, I know. So, let's talk about motherhood for a little bit because my children know what cannabis is, too. And, of course, I don't smoke in front of them, but they know what it is. They know it's medicine, and I love "Happy Herb" because that is a great way to talk about it with kids.
Sharyn: Right.
Emily: If you have advice for anybody talking about it with their kids, I find many moms are just like a deer in headlights, wondering, "how do I even have this conversation? Or what is appropriate?" Obviously, all kids are different, and we know them and what they're ready for, but do you have any advice for moms who are really struggling with that?
Sharyn: I do, because I was one of those moms, I was the closet mom, you know what I mean? Burning the incense, going off in a way. You just get to a certain age and stage in life and you just, and you look around, and you're just, like, "who am I living for if I'm not living for me?"
Emily: Yes.
Sharyn: My children were part of that journey, speaking up for yourself, asking for your needs to be met, being honest with, if things aren't great, things don't always have to be great. Finding ways to sort that out.
In our household, we're transparent. That would be one of my hugest pieces of advice; just be transparent. Understand that you can't break 'em, right? Just really being open, honest, and transparent.
They're your children; they follow your lead, and if you don't raise them with the stigma, keep them open-minded. Imagine if we, Emily, were all that open-minded. If we all, as a race, and as a society, could really be transparent.
Emily: Yes.
Sharyn: "My needs aren't being met, and this is why I might be acting out," right? Or.
Emily: Yes.
Sharyn: You know, as a senator, you know, or politically, "oh, I'm not happy with this; we need to do x." The transparency, as a whole. So, as a mom, just be transparent in owning why you do what it is that you're doing.
Emily: Yes, a hundred percent.
Sharyn: They know mommy's not perfect. Mommy has tough days sometimes. They know Mommy doesn't want to take prescription drugs. And it's funny because what do you see in the commercials? Our youngest had a question one time and said, "Mommy, why would," and she said it on our own because that's the kind of household we kind of have.
Where we ask you to think, "well, why would they want to take something if the risk factors are death and runny stools?" And you know, and I laughed.
Emily: 100%
Sharyn: Exactly why we don't really reach for pharmaceuticals, for that reason. We would prefer to explore other ways. Own why it is that you want to have cannabis. Understand it's okay, it's okay.
Emily: Yes.
Sharyn: Being transparent with that as a mom, I wish we all could really just rip that fear out.
Emily: Yes.
Sharyn: Because there's so much, as you know, so much, so many beautiful things and feelings.
Emily: Yes.
Sharyn: And movements and moments on the other side of that fear.
Emily: On the other side, once you get over that. Someone described it as going from living life in black and white to living life in color. And someone else described it as living life in the cold versus living life with a heated home.
Sharyn: Yeah.
Emily: It's so true. Once you get over that hump, the fear, the stigma, and once you're like, "I'm living life for me, I'm going to do whatever I want to do, and I'm going to use cannabis, and I don't care who knows it or likes it," life becomes so much better.
There are so many people who echo that. Thank you again for echoing that, as well, because I feel like women need to hear it over and over and over again. That the world is not going to come crashing down on them because they choose to use something that's actually better than the everyday options that we're given.
Sharyn: Right. You are correct. What is that saying? They say, "be who you want it to be. Be the person that you wish you had for you at whatever time in life."
Emily: Yes, yeah.
Sharyn: That's exactly part of, I hate to say, "our mission," but it really is.
Emily: It is, it is. I find that people like me and you, who have found cannabis, and whose lives have been so fundamentally changed by it, we have to go out and tell people now.
Because what is the point if you don't turn around and hold someone else's hand and bring them through it? Everybody deserves to feel as good as we feel. And I hope anybody listening to this. Hopefully, they already use cannabis and feel amazing.
But, if there's anybody listening who is still on the fence, like, if we can just let you know that like there's safety, security, happiness, joy on the other side waiting for you. I hope we can send that message back out to them.
Sharyn: Yes. Yes. Everything, Emily, what you just said, times three. Exactly. Yeah, yeah, yeah. If you could "like," "heart," everything this, yeah.
Emily: Yes, absolutely. Hopefully, as more moms come out and talk about this, it will get easier for other moms, as well. I know parenting, in general, is so hard, but if you have your best girlfriends or someone there to support you, the journey is so much easier.
I hope to do that in the cannabis space, as well, and let people know that they're not alone. And there are so many mothers who not only use cannabis but are kick-ass moms because of that.
They are so much a better version of themselves that they can be a better parent. I'd love to like just hone that into people because a lot of people think that cannabis and parenting can't mix, but we're just living proof that that's not true.
Sharyn: Yeah. False. I echo and stand behind everything you just did and said because there is a better way, and you have to be open and honest, and actually take everything else away, and really dial in within and trust yourself. Trust yourself.
Just release that fear, really know that life is meant to be loved and lived, full-on, not a fraction, of what you hope and wish for. Not settling just because that's what you think. There's so much more depth in experiences that are there for you if you really live the life you want to live.
Emily: A hundred percent.
Sharyn: It kills me sometimes when I see people, "oh well, I can't go because…"
Well, why can't you? I always say, "well, why can't you?" Life is meant to be lived. One of my sayings and I said it before Lil Wayne did, was YOLO. I have like proof of this way back in the day.
I used to always say, "YOLO, like, what's going to happen?" You only live once. My friends, and my family, know that about me; they know I'm always sharing things that I love. Whether it's my love of cupcakes, working out, or this TV show.
Cannabis is one of those things that are now at the forefront, and it's not anything more than just education. Everyone knows I'm huge on education, huge on, listen, you know, it's no fads when it's something coming from me. I don't talk about everything but the things I share with passion.
You should know if she's talking about it, there's validity to it. And, I am grateful that people trust me, "you're going to be okay. Come on over here, come over to this side. It'll be all right; come on over."
Emily: How are you incorporating cannabis in how you work now?
Sharyn: We are on a crusade, and I say "we," my girlfriends and I. We've been undercover for some time because some of them are still closeted, so to speak when it comes to the cannabis closet.
But with myself, I've been able to just say, "you know what, everyone already knows now I might as well go ahead and pivot fully into it."
Emily: Yeah.
Sharyn: You had mentioned earlier I've got two events coming up; super, super excited about them, an elevated yoga experience. I've had the experience of doing an elevated yoga kind of thing, too, and I loved it.
She owns a dispensary, and she has an event space that's right next door. And so, it was perfect. It was, and when I did it because you know, at home it's different, doing your own kind of thing.
Emily: Oh yeah, totally.
Sharyn: You know. But being able to see someone, at least from my side as a professional, being able to fuse it together. How dope an experience it was, and it was just like, I've got to absolutely figure out how to bring this to my community. And so, we've got that coming up next month in February.
We've also got a puff and paint experience because I want to be able to have a total lifestyle experience for women. Men are great, and that's fine, but you know, I'm a woman; I coach women. So, for me, I want to be able to show that there's a way that you can have experiences and affiliate it with cannabis, and they can still be classy.
Emily: Yeah.
Sharyn: They can still be an experience I can get with, you know what I mean? And so, we want to start having events, monthly events.
We're doing a puff and paint event, as well, in the month of February. And so, I'm excited because it's a private art studio. It's going to be a big thing.
Emily: Oh my gosh, nice!
Sharyn: It's going to be a thing, a whole vibe. We're doing it like a ladies a Galentine's kind of thing. So, you know, bring your girlfriends!
Emily: So, for my friends listening, will you just tell us quickly what a puff and paint is and paint the setting for: imagine if you're a middle-aged woman who's never heard of a puff and paint activity before. Explain it to whoever might not know.
Sharyn: You know, those painting events where you go with your friends? Whether it's a couples event or you go with your girlfriends, and it's a night out, and an artist is at an American restaurant, or somewhere they have a private room where you can go and just paint.
A group of people gets together. They have studios now because it's fairly popular, and it's really fun. It's two to three hours of just going somewhere, and an artist is walking everyone through how to paint something, and it's cool because everyone's going to paint differently, right?
It's like the game of the telephone. You hear it, but everyone hears it differently. Even though the art teacher has an example, he or she talks you through it; it's still a cool experience because everyone does it differently. Why not do that with cannabis?
Emily: Yes.
Sharyn: I'm doing it because I want to do it; I mean, that's cool enough for me. Let's and girlfriends together; let's figure it out. It'll be our first one. We're really excited. The artist has her own studio, and she's very 420-friendly. She was like, "girl, I'm in! Do you want to do it? Use my studio." And, I'm like, "alright, we're in, we're in."
Emily: That sounds perfect. Where are you located?
Sharyn: I'm in Williamsburg. The art event is going to be in Norfolk, Virginia. But, I just like to say the state of Virginia because we travel.
Emily: Right, everywhere.
Sharyn: Yeah, it's going to be dope. The yoga class is going to be in DC, DC's very 420-friendly, as well, so we're rippin' the bandaid.
Emily: It's so exciting just to go out to be the host of these events. It takes so many balls! I'm so proud of you. I've always dreamed of going to these kinds of events. I live in a small town in the middle of nowhere. I don't live in a big city, so it's not like anybody's bringing elevated yoga to me.
But, I hope whoever goes has the best time because these events really are the events of the future. Not only are you getting the chance to interact with you and get your expertise, but you're also hanging out with your girlfriend, and you are feeling amazing, both from the yoga and the cannabis.
It's just a win-win. So, I'm so glad you're doing these.
Sharyn: Thank you. I am really, really excited. I'm trying to make it a movement. I really foresee us being able to take retreats, do you know what I mean?
Going, whether it's domestically, of course, Las Vegas, they're starting to open consumption lounge, so I'm like, Vegas is probably going to be our first stop, right? I want to really be able to make it, of course, the law allowing a whole movement.
Make it where it could be a destination outside of the country. It's got to be a lifestyle movement at this point.
Emily: Yeah. It really does. Well, you are at the forefront of it. I am loving this conversation. I want to be respectful of your time, so I'm going to jump in. I'm going to ask every guest the same four questions. Are you ready?
Sharyn: Okay. Got it. Yep, I'm ready.
Emily: Okay, first up to date in your life; what are you most proud of?
Sharyn: Oh, this is easy. Personally, it would be: I was supposed to graduate from college a long, long, long, long, long time ago, took the side route and took a 10-year break.
Then I realized, "you know what, I'm married, I'm a mom, and I can't preach education if I don't technically finish mine." So, we dragged kids six states back and finished my bachelor's degree, kid and husband in tow.
Emily: Congratulations! Oh my gosh, it's amazing.
Sharyn: Yeah, like, that's a box, like, "yeah, you did that, you did."
Emily: you did that. I mean, with kids and husband in tow, ten times harder. Good for you. That's amazing. Way, way harder.
Sharyn: Professionally, just ripping the band-aid and being able to fuse my full authentic self together. Here we are right now, all this way back and done. Professionally, cannabis, personally what I just shared about my college degree.
Emily: I'm so proud of you.
Sharyn: thanks!
Emily: That'll segue perfectly into our next question. If you could go back 10, 20, or 30 years ago, give yourself any piece of advice cannabis related, what would it be?
Sharyn: 30 years ago? I wish I would've started sooner, but it is what it is, and I didn't know. 20 years ago, I wish I would have, professionally, figured out a way to start having that conversation.
Where I was professionally at that point, I was working for the US Senate, and I knew it wasn't something back then that was a legal thing. But, can you imagine, Emily, if I would have, so for 20 years ago, stay where you are and just trust the process? Ugh, kick myself on that. But you know, it is all's part of the journey.
Emily: Yeah.
Sharyn: And, ten years ago, just continue on that path professionally because we're right there in the tri-state area of Maryland, DC, and Virginia. We're getting there now with the transparency.
But, ten years ago, fully transparent, I wish I would've been open. Man, can you imagine?
Emily: Right? Hindsight is 20/20, for sure. But I also believe everything happens for a reason, and our journeys lead us right where we're supposed to be.
So, our next question is, what do you think your life would look like if you never tried cannabis? If you didn't have cannabis, where would you be today?
Sharyn: Definitely not in color. As you mentioned, you live life in black and white, and that's okay if that works for you. But, it's clear with the mental health issues that are really starting to come to the forefront of our society, and really being honest with things are not working, whether you're a man, woman, or child.
It's clear things aren't working. We really need to have some conversations about other ways. For myself, I wish that I would have; at least I know now life would definitely be definitely black and white, and it would not have been as in color if I did not have cannabis because, ooh, I shudder to think of it.
Emily: No, I totally agree.
Sharyn: I'm not a big drinker. I mean, I can enjoy a cocktail here and there, but it messes up my weight stuff, and my body goals.
Emily: Yes, so bad.
Sharyn: And the hangovers and the side effects.
Emily: The worst. Cannabis is so much more of a cleaner alternative. Last question. If you can be remembered for one thing in the cannabis space, what would it be?
Sharyn: "She had the best intentions," no ulterior motives. Like, I just want you guys to feel as incredibly yourself as I do.
Emily: Oh, I love that.
Sharyn: I know that it might sound hokey-hokey if you're not in that space of healing or you're not in that space of being receptive to it. But man, I just want people; with everything that I say and I stand for, I'm passionate about, there's a reason why. It lit me up inside.
There's that quote; I have it on my wall, and I look at it every morning. "A candle is not diminished by helping other candles be lit. Happiness never diminishes from being shared." It's like a Buddha quote, right?
That's what I want to be remembered for within this space. Nothing to hide here, full transparency. I want you to feel as great as I know that you can; I really do. Trust me, I do.
Emily: Beautiful. I feel so much coming from you. You literally are glowing just looking at you. I feel the love that you have, and I feel like you are going to make such an impression not only on people in person when you see them at your events but on everything that you're doing online.
You have an amazing Instagram account. I was stalking before we got on here. So, she's @SharynDanyelle on Instagram and Facebook. Where else can people find you?
Sharyn: Thank you for that, Emily. I have my own website as well, thesoulaligned.com, and that is truly my lifestyle brand. I want your soul aligned. There are so many things that are a component of you, and they can, I'm here to tell you, they all can align in this really unique way that is uniquely yours, and what it looks like for me, it'll look different for you.
But trust yourself, and you'll have a soul aligned. We all are destined; that's our birthright, right? We're not here to live a life of lack and dull; that's not who we are. And so, like, just come on over to The Soul Aligned, we'll, come on, hook you up, hook you up. You can find me through IG, my Facebook, or my website.
Emily: Amazing. I'll put all the links so everyone can easily find you. I know people are going to be flocking to you. You have this magnetic energy, and you will make all the difference in the world. I am so happy.
And when I think about it, the plant brought us together for this amazing conversation. I hope people take a lot out of it. Are there any last things you want to say before we sign off today?
Sharyn: You know, I just want to thank you, Emily, for the opportunity and just really truly helping, even me, kind of, come out of my cannabis closet.
True story, I found you because of a brownie recipe. I wanted to say, "I've got to nail this recipe," you know what I'm saying? Like, I got to nail it, my family and friends know now, like, "yeah, she's nailed it."
That's how I found you, and so, I'm just grateful and thankful that you have the platform that you do and that you ripped your bandaid off years ago. And I mean, you're like a boss. Boss mom, boss lady, the farm.
I mean, Emily is, I'm like, "Okay, this girl okay, if she can do it," like, you show people, "Okay, it can be done." Thank you for helping to light the path for us because we are now coming, and just, I'm so grateful, and just, everyone else, come on, come on. There's plenty of space. We could really collectively do this.
Emily: Yes, absolutely. It's a beautiful space to be in. Thank you so much. That is the perfect place to leave off. This was such a great conversation. I cannot wait for the world to hear this.
Announcer: Congratulations. You finished another episode of the Well With Cannabis Podcast and are one step closer to discovering how you, too, can live well with cannabis. Thank you for listening in today.
We hope this episode has been a helpful and informative one. Please visit EmilyKyleNutrition.com for more information on today's show, show notes, guest information, recipes, and other resources.
If you want more support and encouragement on your cannabis journey, please consider joining the private Well With Cannabis Community. In this group, you can connect with like-minded individuals focused on improving their health and wellness through cannabis.
Join the group today to continue your wellness journey together at EmilyKyleNutrition.com.