This quick & easy to make Immune Boosting Tropical Breakfast Bowl is packed with nutrition from immune boosting superfoods that are high in vitamins, minerals & antioxidants and good-for-you probiotics. 

Immune Boosting Tropical Breakfast Bowl
Oh Greek yogurt, you've saved me on many unprepared mornings…
For me – breakfast is a non-negotiable.
Particularly one that is high in protein and heart-healthy fats. Overtime, I have found that I have to eat a high protein breakfast or else I will be starving by noon, and that's never pretty 😉 This recipe is perfect because it does not take a lot of work to make, it can be ready in less than five minutes you have a delicious and nutritious meal you can take on the run with you.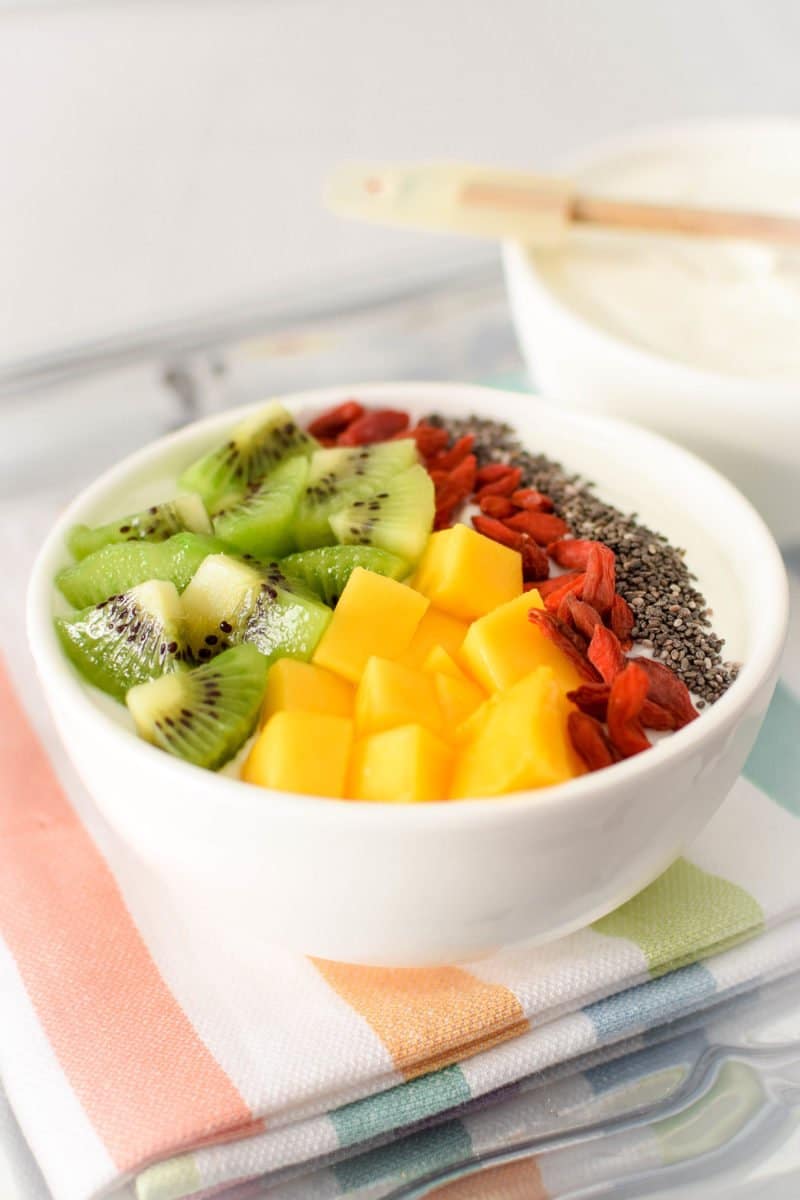 I think we can all agree that food just tastes better when it looks better – right? While this Immune Boosting Tropical Breakfast Bowl looks fancy, it is nothing more than yogurt and fruit put together with a little creativity.
This Immune Boosting Topical Breakfast Bowl is the perfect quick & easy, nutrient-packed breakfast!
Click To Tweet
But don't worry if you don't have time for creativity –  this tastes delicious no matter how you present it! Plus this bowl is packed with nutrition and immune boosting 'superfoods' that are high in vitamins, minerals & antioxidants. One serving of this bowl provides your body with 28 grams of protein, dietary fiber, and healthy omega 3′s to keep you full all morning long!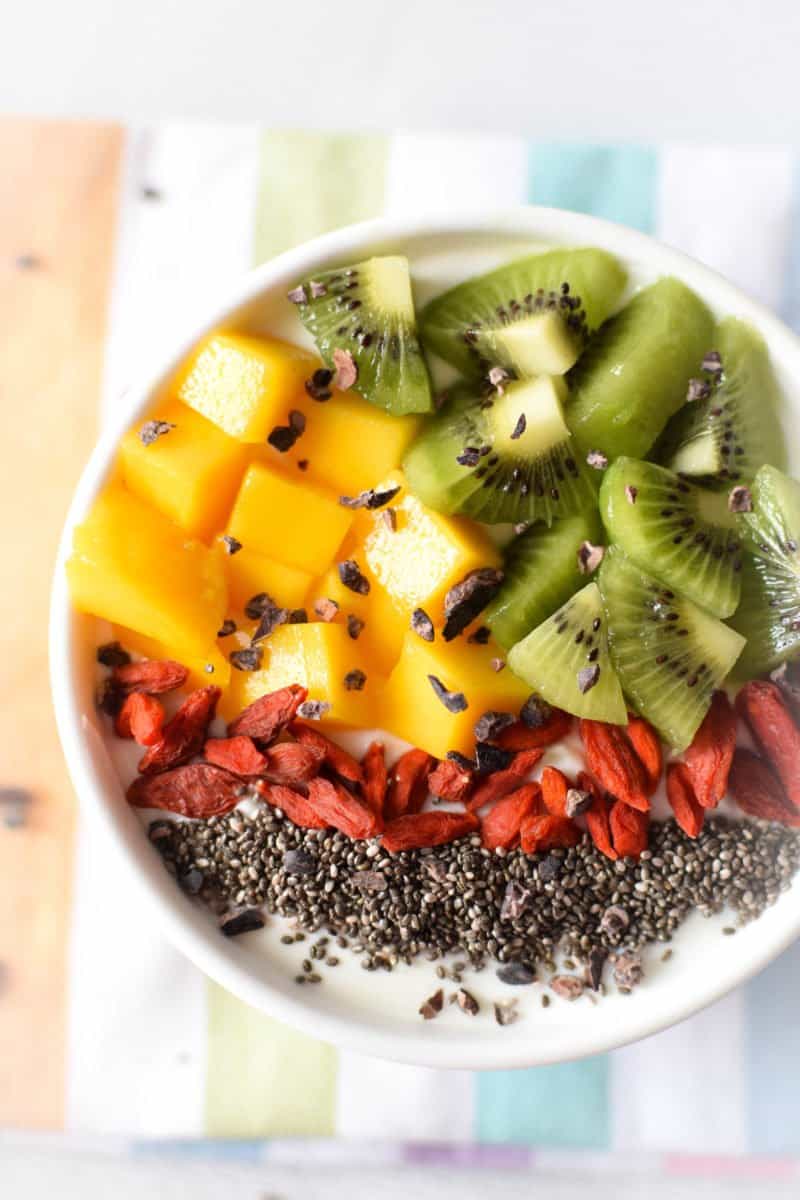 I typically prepare veggie quiche or berry quinoa on Sundays so I have a healthy breakfast all week long, but sometimes Sundays are best spent lazy! Luckily I can still eat a healthy meal while throwing it all together quickly, and this tropical breakfast bowl is just as healthy as it is delicious.
The foundation of this breakfast is plain Greek yogurt which is packed with protein and free of both artificial sweeteners and refined sugars, but if you're looking to make this recipe vegan just substitute coconut yogurt for the Greek. Traditional Greek yogurt is great because it contains probiotics that can help strengthen your immune system.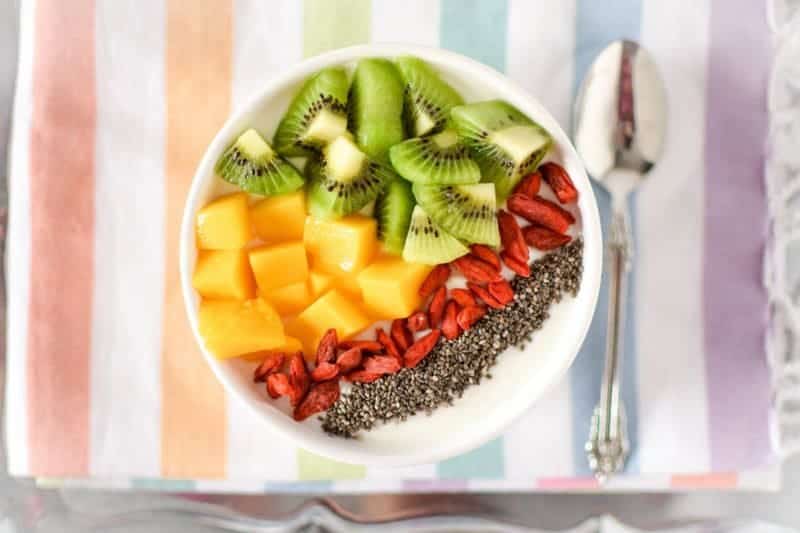 I already had all of this fruit cut in my refrigerator which makes putting this breakfast together super quick on busy mornings. I always tell the women I am working with that the key to developing a successful happy & healthy lifestyle involves a lot of preparation.
RELATED: Seasonal Winter Produce for Your Best Health
My simple tips is to cut all of your fruit when you get home from the grocery store, that way you will always have a readily available snack, or a tasty breakfast like this. Plus all of these tropical fruits are bursting with vitamin C which can help support a healthy immune system, especially during the winter months.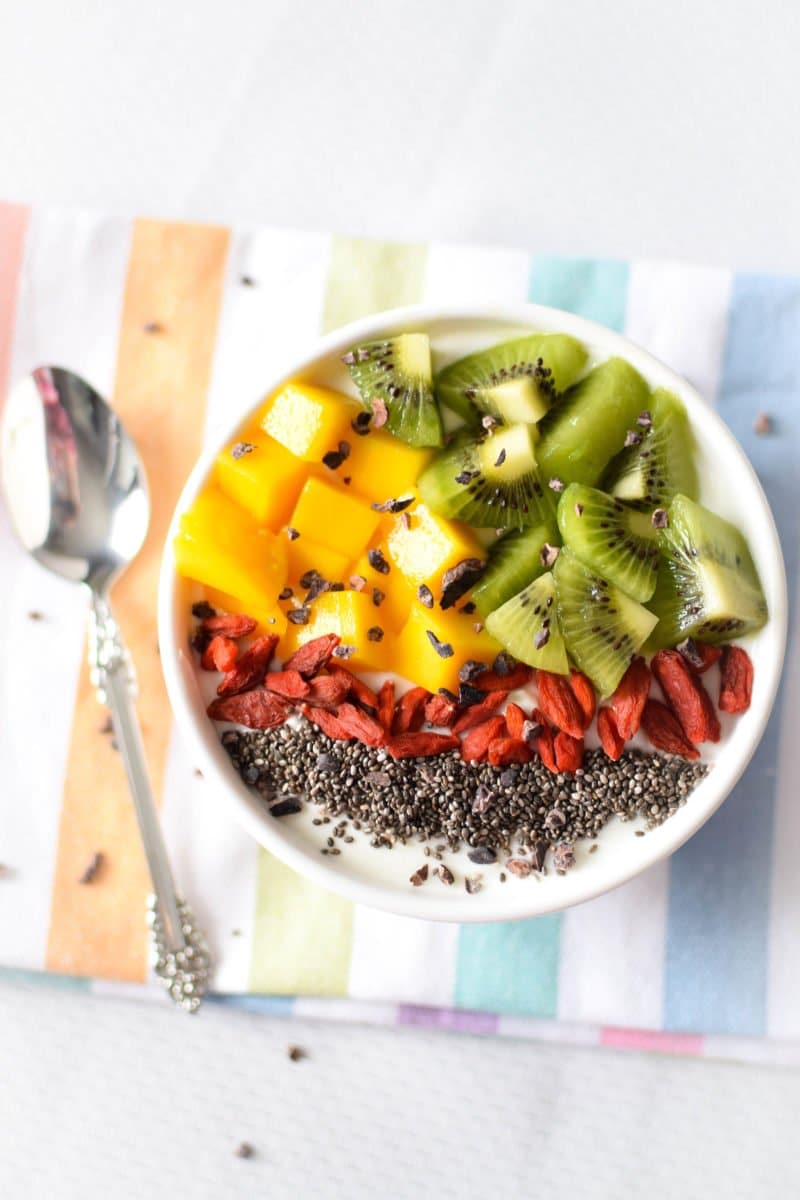 Click Here to Download Your 5 Day Happy & Healthy Meal Plan – FREE!
Immune Boosting Tropical Breakfast Bowl
Wake up with a smile on your face when you prepare this Immune Boosting Tropical Breakfast Bowl!
Author:
Emily Kyle, MS, RDN
Ingredients
1 cup of Greek yogurt (1,2, or 4% or vegan coconut yogurt)
½ teaspoon of coconut extract
½ teaspoon stevia (or other preferred sweetener)
1 kiwi, sliced
½ mango, diced
2 tablespoons goji berries
1 tablespoon chia seeds
1 teaspoon raw cacao nibs
Instructions
In a large bowl, mix together the Greek yogurt, coconut extract and stevia.
Add your fruit and chia seeds.
Garnish with raw cacao nibs and gogi berries.
Enjoy!
I hope you give this Immune Boosting Topical Breakfast bowl a try and love it just as much as I do!
What is your favorite go-to breakfast option?
Let me know in the comments below 🙂



BEFORE YOU GO!
Subscribe to get your weekly dose of holistic wellness, health & happiness!
The following two tabs change content below.
I am a registered dietitian nutritionist located in Rochester, NY and the founder of
The School of Health & Happiness
, an online program that teaches women like you how to get healthy, and stay happy, without ever having to diet again! My popular
blog
Emily Kyle Nutrition focuses on plant centric, whole food
recipes
, and real-life evidence-based nutrition information. Learn more about me
here
.
Lets Connect!   
Facebook
»
Instagram
»
Twitter
»
Pinterest
♥
Latest posts by Emily Kyle (see all)