Enjoy the amazing anti-inflammatory health benefits of turmeric in this high protein, easy-to-make anti-inflammatory, dairy-free Turmeric Golden Milk Yogurt Bowl that is naturally gluten-free and vegan friendly.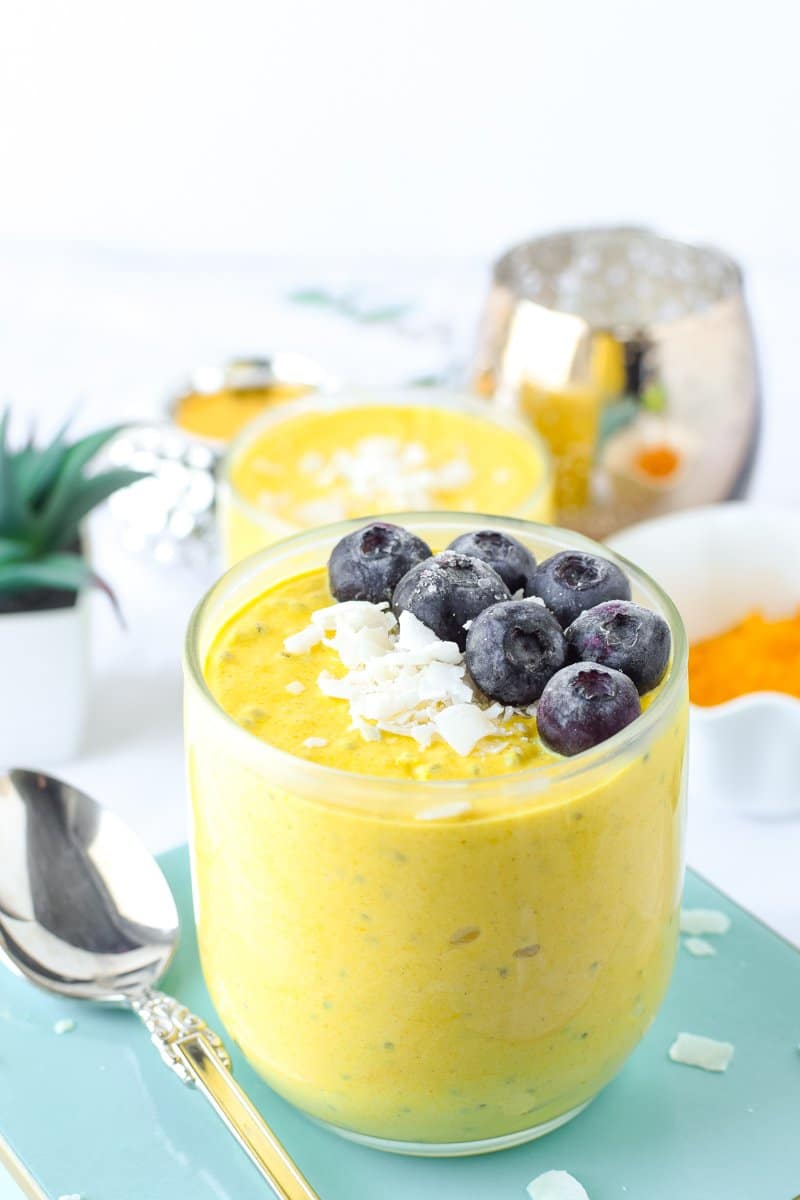 The Rise of Golden Milk
Turmeric is considered to be a super-food powder and it is super trendy in the health and wellness space right now, which is great for me and you! That means there are more and more delicious recipes popping up with this vibrant spice, like my tasty Turmeric Golden Milk Yogurt Bowl.
The newly popular recipe, Golden Milk, is made with a combination of warm coconut milk and a combination of spices including turmeric and cinnamon or ginger.
But Golden Milk Tea is nothing new, it has actually been around for thousands of years. Used for centuries in the practice of Ayurvedic medicine, this combination is just starting to regain popularity in today's mainstream media.
The vibrant yellow color that turmeric brings to a recipe is no doubt gorgeous, but if you're not a foodie, you may be wondering, what the heck is turmeric?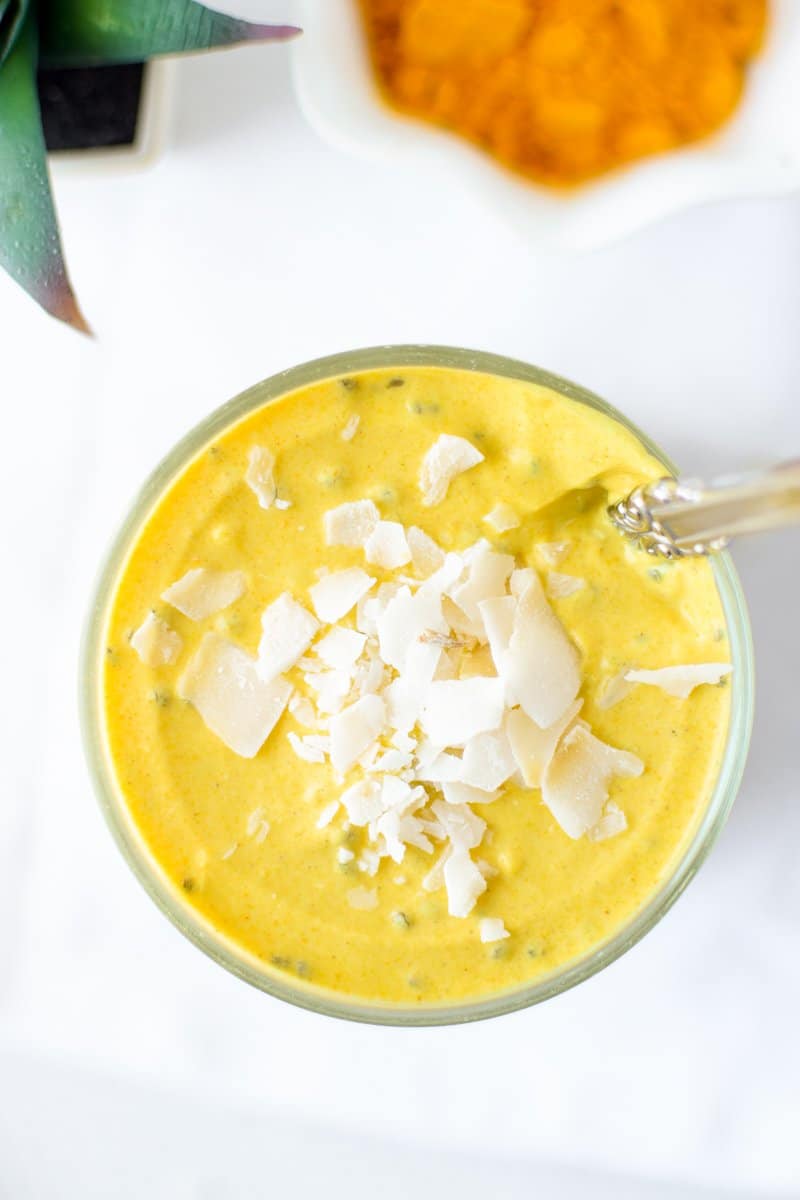 Turmeric - The Hot New Superfood
Turmeric is a spice that originates from the rhizome of the turmeric plant, which is typically consumed once it has been dried and ground into a powdered form. This spicy has an vibrant, earthy flavor with a bright orange color.
Turmeric has been touted as one of the most powerful medicinal plants on the planet today, specifically when it comes to its anti-inflammatory health benefits.
Thankfully, you can purchase ground turmeric from just about any grocery or health food store and it is typically found right in the spice section. I love turmeric and the amazing health benefits that it can provide.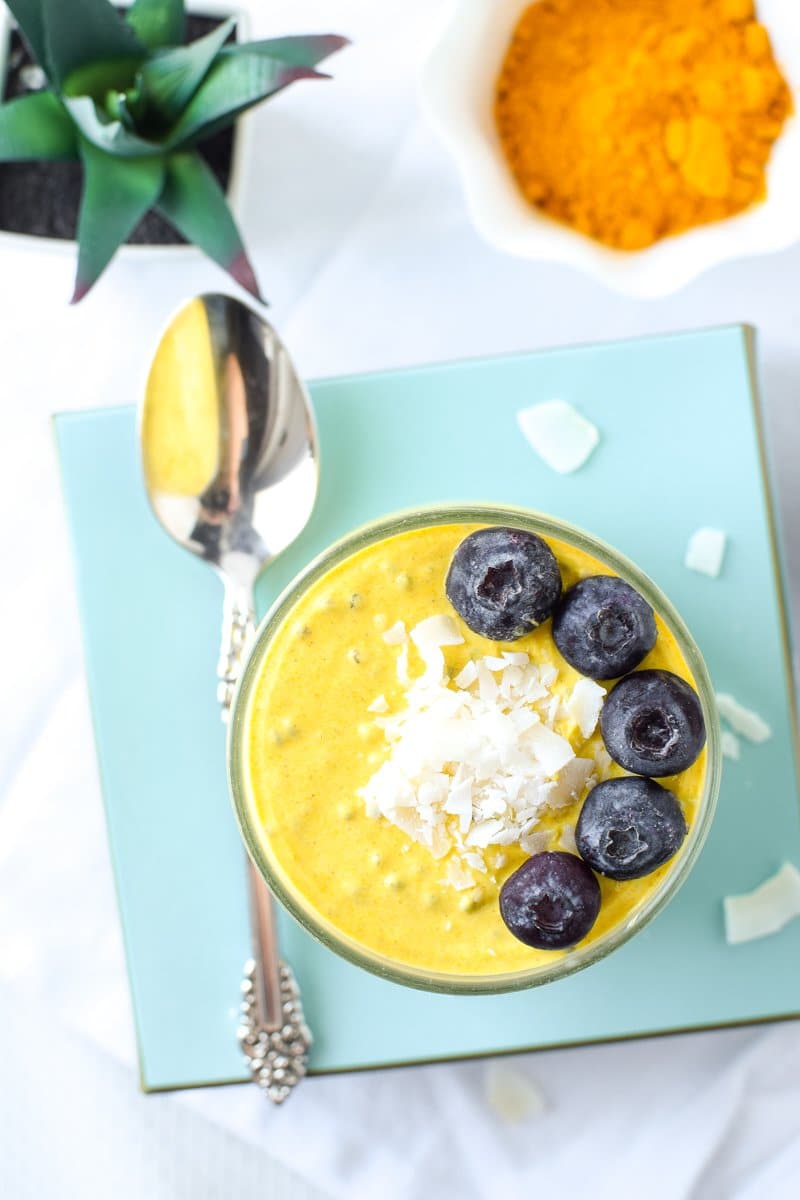 Turmeric Golden Milk Yogurt Bowl
I am very particular about my breakfasts in the morning. I like it to be made the night before, and it must be high in protein in order to keep me full until lunch time.
But it also must be delicious. That usually leaves me deciding between different versions of egg quiche or a tropical yogurt bowl.
Of course, I am busy working mom, and truthfully breakfast doesn't always get made the night before.
But I do always keep a large container of plain non-dairy homemade coconut milk yogurt in the fridge that I can use for just about anything from breakfast to dinner.
Oftentimes I just put a cup of yogurt into a to-go container and mix in whatever ingredients I want, depending on what I have on hand.
The key is knowing which ingredients pair well together in order to create a concoction that you love.
After a few weeks, I had this recipe nailed down and perfection was created. I used to love taking this breakfast to work with me at the hospital. It is easy to prepare, it is more than satisfying with 24 grams of protein, and it kept me full until my lunch break.
Plus, the vibrant yellow color is always a friendly conversation starter.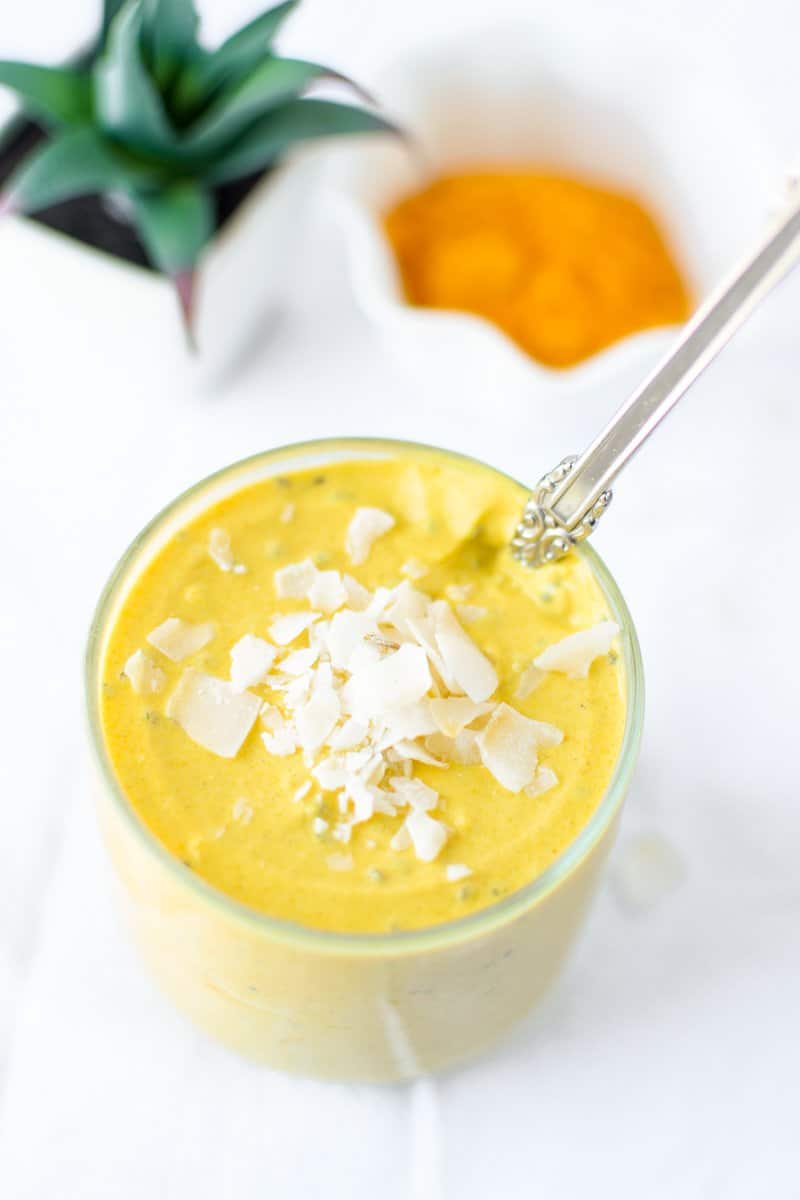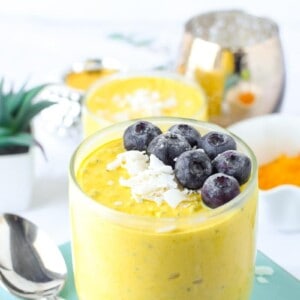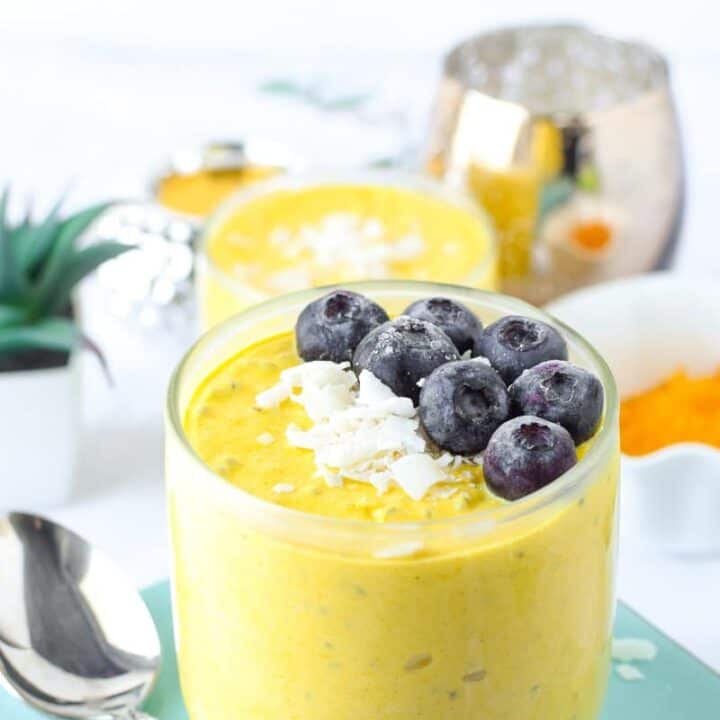 Turmeric Golden Milk Yogurt Bowl
Enjoy the amazing anti-inflammatory health benefits of turmeric in this high protein, easy-to-make Turmeric Golden Milk Yogurt Bowl that is naturally gluten-free and vegan- friendly.
Ingredients
1

tablespoon

chia seeds

1

teaspoon

maple syrup

or sweetener of choice

½

teaspoon

ground turmeric

½

teaspoon

ground cinnamon

½

teaspoon

coconut extract

1

cup

fresh or frozen berries

blueberries, blackberries, raspberries

1

teaspoon

shredded coconut flakes
Instructions
In a large bowl, mix all ingredients together well.

Enjoy!
Notes
To make this recipe AIP-friendly, omit the chia seeds and coconut extract.
*Note, the longer you let the recipe sit, the more vibrant the yellow color will become.
Nutrition
Calories:
170
kcal
|
Carbohydrates:
12
g
|
Protein:
24
g
|
Cholesterol:
10
mg
|
Sodium:
80
mg
|
Fiber:
3
g
|
Sugar:
7
g
Did you make this recipe or have a question?
Join hundreds of members inside private Well With Cannabis Community for help, support, and to share your edible creations!