This Cannabis Tomato Cucumber Salad allows you to use up abundant fresh summer produce like tomatoes, cucumbers, and fresh herbs quickly and easily in a delicious plant-based, naturally gluten-free salad that comes together in just minutes.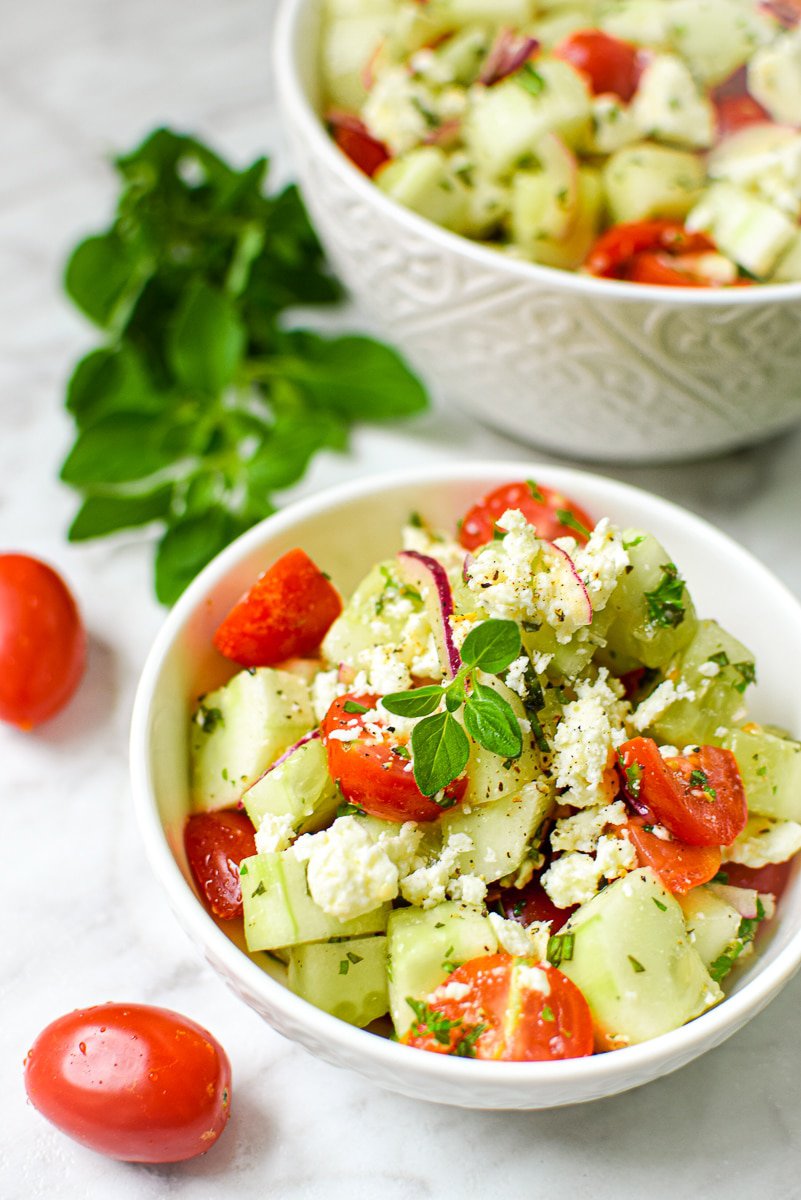 Healthy Cannabis Tomato Cucumber Salad
While many cannabis edible recipes tend to be classic baked goods like cannabis brownies, I've been getting more requests for healthy cannabis recipes inside my Well With Cannabis Facebook Community.
As a lifelong gardener and now licensed hemp farmer, I believe in the many nutritional, social, and economic benefits of sourcing locally grown produce – cannabis and beyond.
From saving the environment and saving money to the numerous health benefits, there is no question that growing your own cannabis and food is at the heart of a healthy holistic lifestyle.
If you are like me and have a large backyard garden or access to a farmer's market, you can make almost this entire recipe with fresh and local ingredients.
I've also included ways to infuse this recipe with decarbed cannabis, cannabis olive oil, and even cannabis concentrates if you don't have access to fresh cannabis leaves at home.
Join thousands of members inside the Well With Cannabis Facebook Community if you have any questions about cooking with cannabis!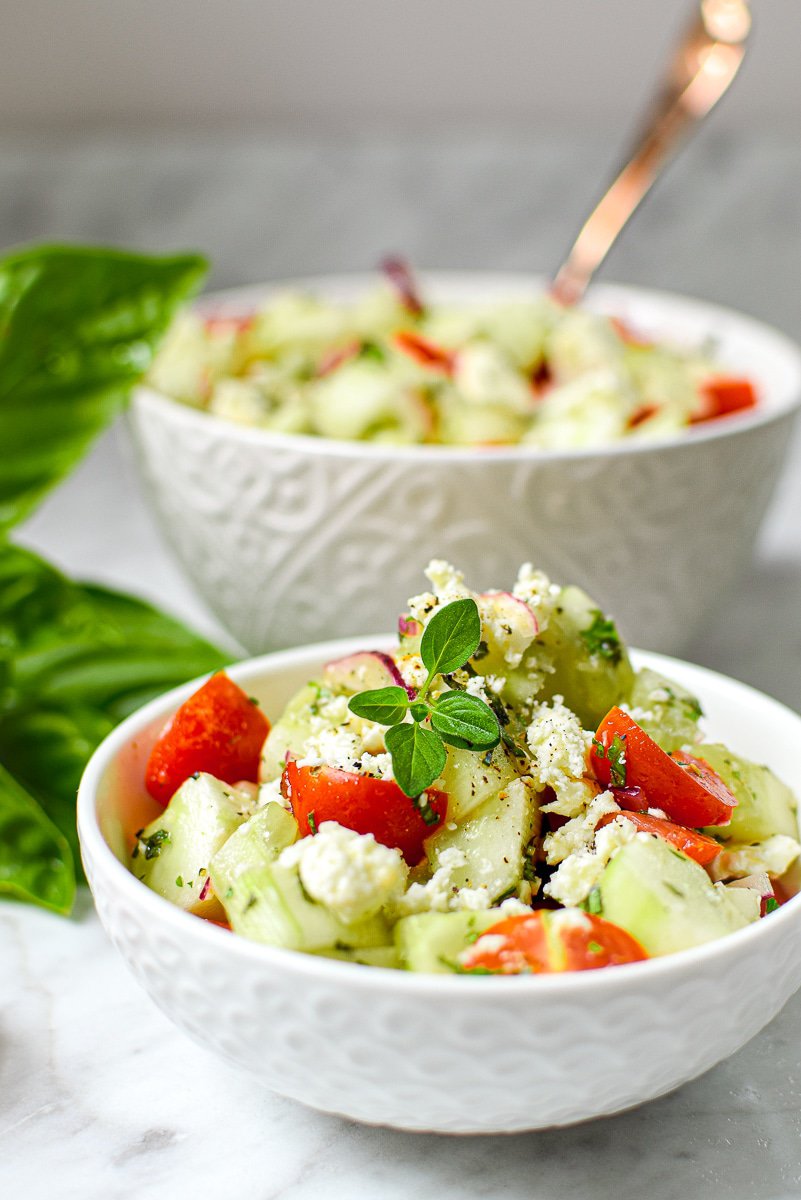 Cannabis Infusion Options For This Salad
The beautiful thing about making your own cannabis edibles at home is that there are many different ways to infuse a recipe.
Choosing an infusion option should be based on your personal preferences and what you already have available on hand.
#1 – Cannabis-Infused Olive Oil
Cannabis-infused olive oil is a light, delicious, and versatile cannabis infusion that is an important staple recipe for any cannabis consumer to master.
Making infused cannabis olive oil is a fairly straightforward process that uses both heat and fat to decarboxylate the cannabis flower and then extract the cannabinoids from the plant.
Our preferred method involves combining the olive oil and cannabis flowers inside a mason jar and then submerging that mason jar inside a water bath made with a crockpot or slow cooker.
This simple process allows you to essentially 'set it and forget it' once it is set up.
The final product is a cannabis-infused olive oil that can then make so many different delicious cannabis recipes like this recipe or our popular cannabis-infused pesto.
#2 – Decarbed Cannabis Flower
To reap the benefits of activated CBD or THC, cannabis decarboxylation must occur before cooking, baking, or extracting oil from the dried flower buds of the cannabis plant.
Consuming dried cannabis flower buds or raw cannabis will provide little to no intoxicating effect at all.
Although there are associated health benefits with CBDA and THCA, this can be good or bad depending on your desired experience.
However, most cannabis consumers want to feel CBD or THC's full effects when making homemade edibles.
For this recipe, we decarboxylated our cannabis flower in the oven before combining it with the olive oil and placing it into the crockpot.
Therefore, we can have a shorter cooking time, about four hours.
If you're brand new to the process of decarboxylation, get the full decarbing guide here.
#3 – Raw Cannabis Leaves
#4 – Cannabis Concentrates
Health Benefits of Cannabis-Infused Salads
This Cannabis-Infused Tomato Cucumber Salad is bursting with both flavor and nutrition, making it a delicious addition to just about any diet.
Whether you are following a low-carb diet, a gluten-free diet, a dairy-free diet, or another medically necessary restriction diet, this salad is an excellent choice to be enjoyed as a staple or side salad.
The Health Benefits of Raw Cannabis
The Health Benefits of Cucumbers
According to the United States Department of Agriculture Food Composition Databases, one whole cucumber with its peel, measuring approximately 8¼" long contains:
45 calories
Nearly 11 grams of carbohydrates
Nearly 2 grams of plant-based protein
Only 0.33 grams of fat
1.5 grams of dietary fiber
5 grams of naturally occurring, not added, sugar
48 milligrams of calcium
Negligible amounts of thiamin, riboflavin, niacin, and vitamin B6, vitamin E, vitamin D
The Health Benefits of Tomatoes
Tomatoes are a very nutritious addition to many different diets including the Paleo diet, vegan diets, gluten-free diets, and more.
They are plant-based, contain many important nutrients like vitamins, minerals, and are rich in the important phytonutrient lycopene.
More importantly, tomatoes are bursting with flavor, easy to grow at home in the garden, and easy to store as canned or frozen options for the winter.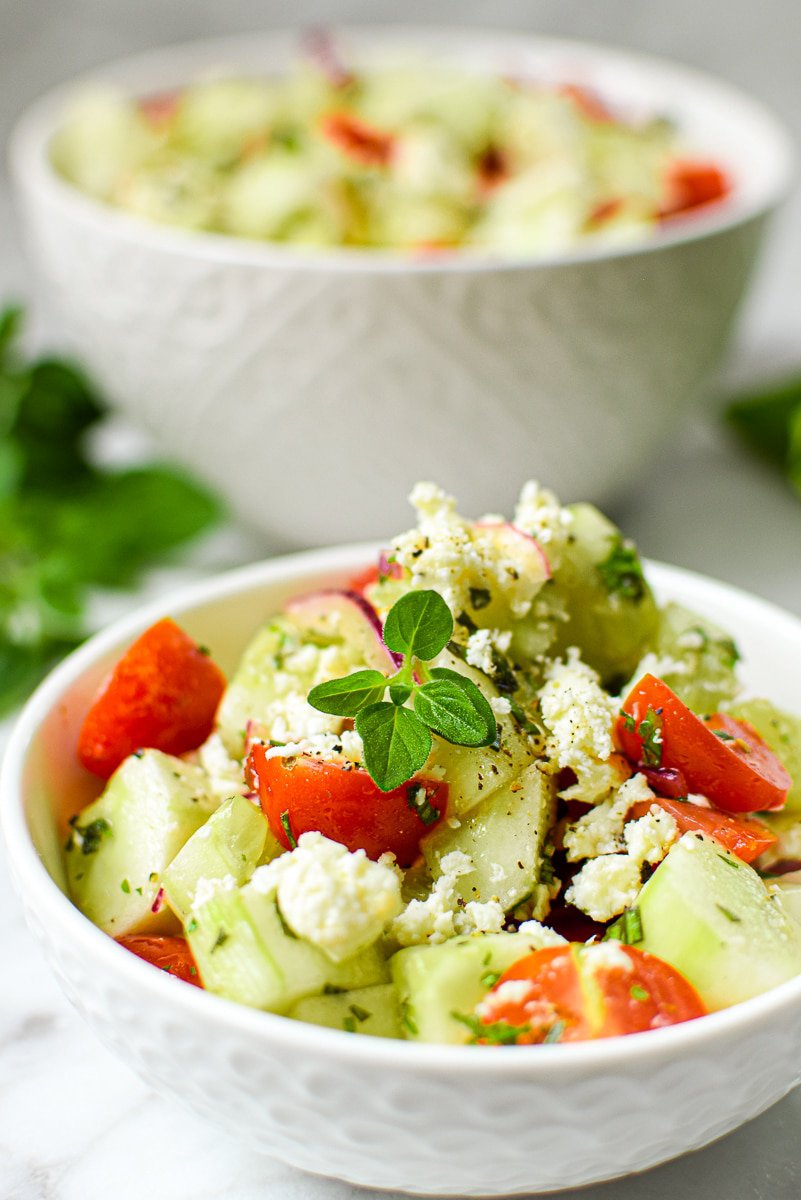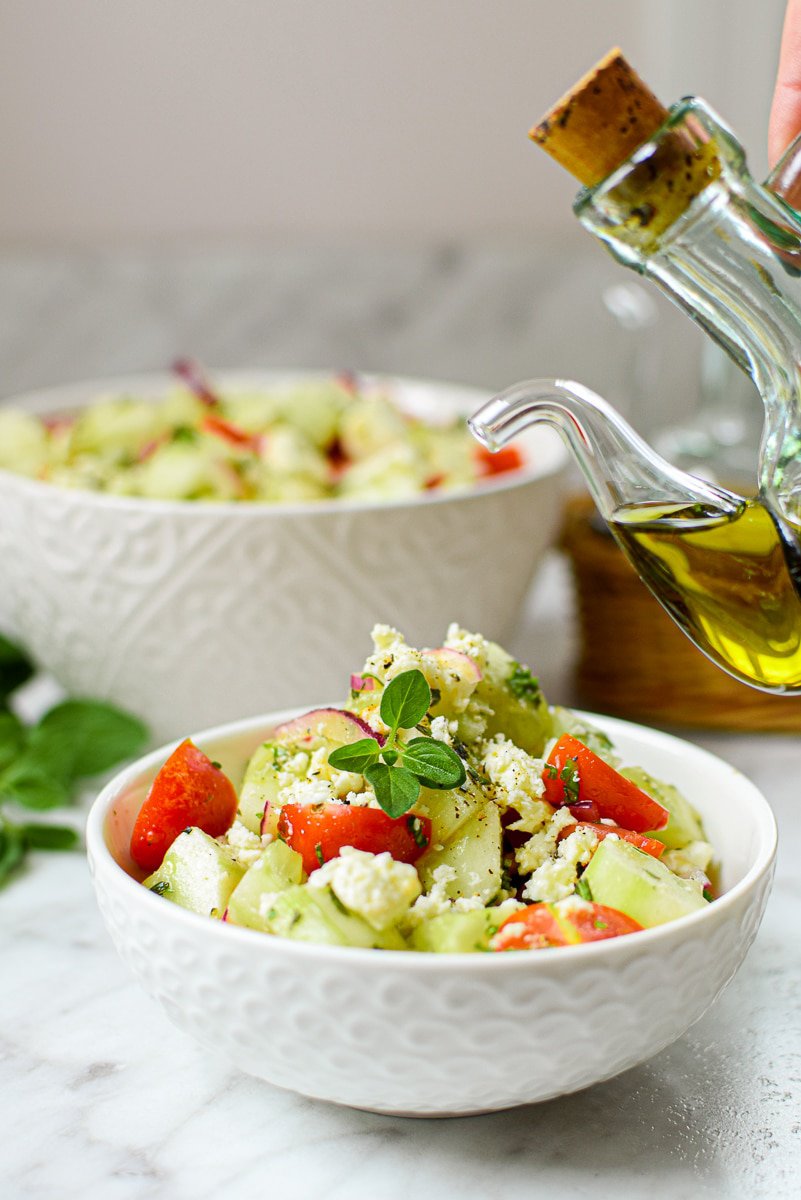 Printable Recipe & Instructions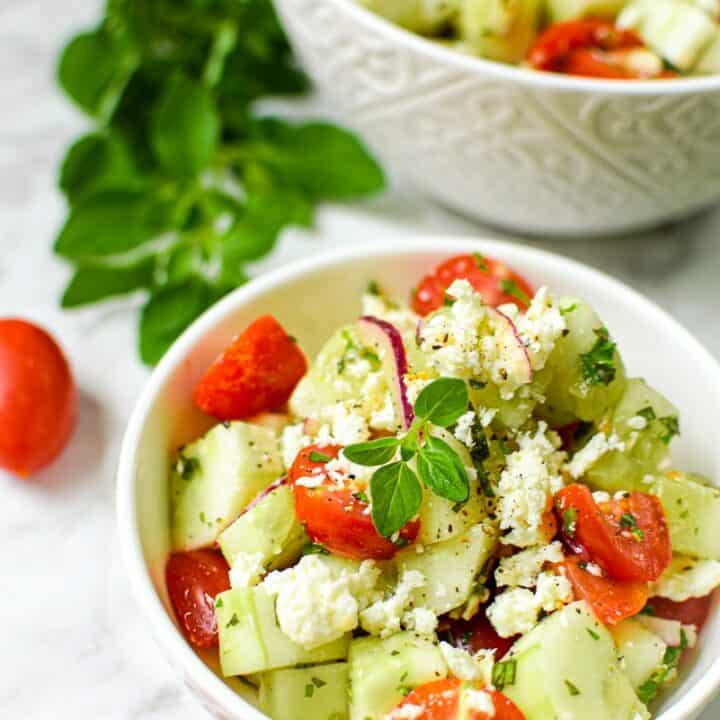 Greek Tomato Cucumber Salad
Additional Time:
15 minutes
This garden-fresh Greek tomato-cucumber salad allows you to use up abundant fresh summer produce like tomatoes, cucumbers, and fresh herbs quickly and easily in a delicious plant-based, naturally gluten-free salad that comes together in just minutes.
Ingredients
2 medium cucumbers, ½" dice
1 cup grape tomatoes, halved
¼ cup red onion, sliced paper-thin​
½ teaspoon of sea salt
¼ teaspoon black pepper
1 tablespoon fresh chopped basil, loosely​ packed
1 tablespoon fresh chopped parsley, loosely packed
1 teaspoon fresh chopped oregano, loosely packed
1 teaspoon minced garlic
1 tablespoon red wine vinegar
2 teaspoon extra virgin olive oil
⅛ teaspoon crushed red pepper, optional
½ cup fresh feta cheese, crumbled
Instructions
In a large bowl, combine the cucumber, tomatoes, and red onion with salt and pepper. Toss well to combine and let rest for 10 minutes.
After resting, stir the mixture and add in the basil, parsley, oregano, garlic, vinegar, olive oil, and crushed red pepper (if using). Stir until well combined.
Let the ingredients sit another 5 minutes to marinate. This will allow the flavors to come together.
Stir just before serving & enjoy!
Notes
*The 10-minute resting process allows the natural juices to be drawn out of the cucumber and tomatoes.
Nutrition Information:
Yield:

1
Serving Size:

cup
Amount Per Serving:
Calories:

80
Sodium:

150mg
Carbohydrates:

13g
Fiber:

4g
Sugar:

8g
Protein:

4g
Nutrition facts calculated without feta cheese.