These Almond Joy Protein Balls combine the nutritious goodness of oatmeal, dates, and almonds with the sweet and satisfying combination of coconut and dark chocolate with anti-inflammatory CBD for a delicious, gluten-free treat.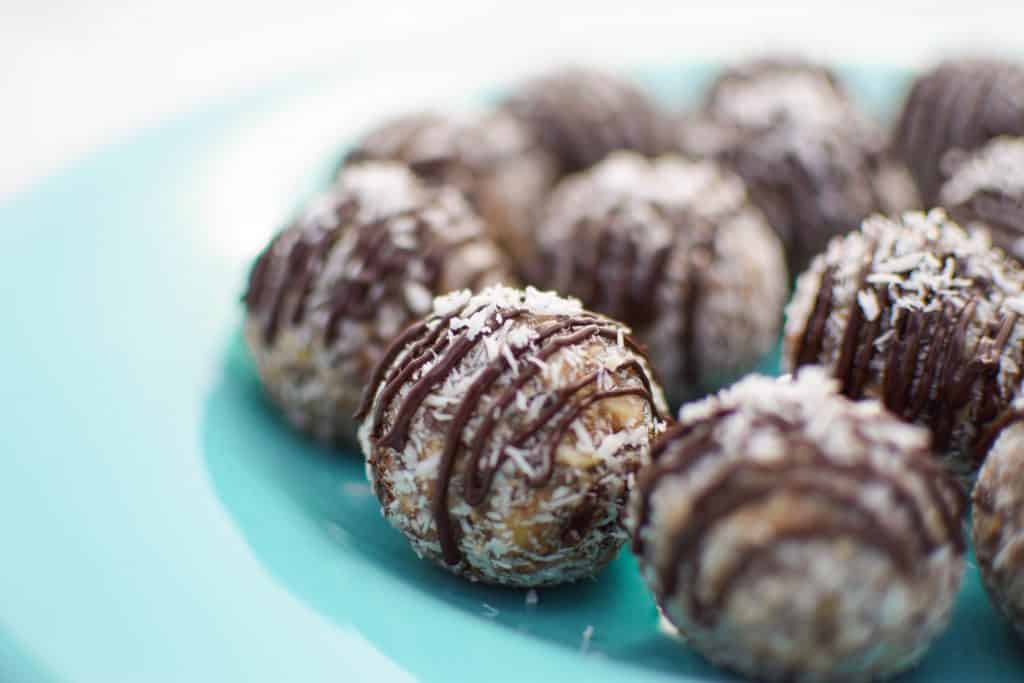 Almond Joy Protein Balls with CBD
I love sweet treats more than I love any other meal or snack. I am a sweets lover, but I also know that for my own holistic lifestyle, I need to be thoughtful about how much sugar I eat every day.
Luckily, with some experimenting, I have found some pretty tasty ways to enjoy my favorite treats in a healthy and fun way. By using nutrient-dense ingredients, I am able to 'have my cake & eat it too'.
I like to infuse my Almond Joy Protein Balls with CBD oil or cannabis-infused coconut oil for an anti-inflammatory boost, but that is optional for this recipe!
500mg Full-Spectrum CBD Oil
CBD Protein Balls
Yes, you can eat CBD!
You can add CBD to your favorite wellness shots, homemade CBD gummies, and even these delicious Almond Joy Protein Balls.
But first, as a cannabis educator, I always want to make sure you know what you're getting yourself into.
Orally ingesting, or eating, CBD results in a ~6% bioavailability rate, which is much lower compared to other application methods. This means eating CBD is not the best way to consume it.
Oral absorption, inhalation methods, and topical absorption all have around a ~30% bioavailability rate, making them a much more cost-effective way to use CBD.
But, that doesn't mean that enjoying CBD in your favorite food and drinks is worthless.
There is both scientific and anecdotal evidence to support the idea that CBD does truly help with pain, anxiety and more, which is why so many people are excited to add it to their food and drinks.
CBD may have the ability to help manage pain and anxiety inside the body thanks to our endocannabinoid system. The main responsibility of the endocannabinoid system is to help maintain homeostasis in the body.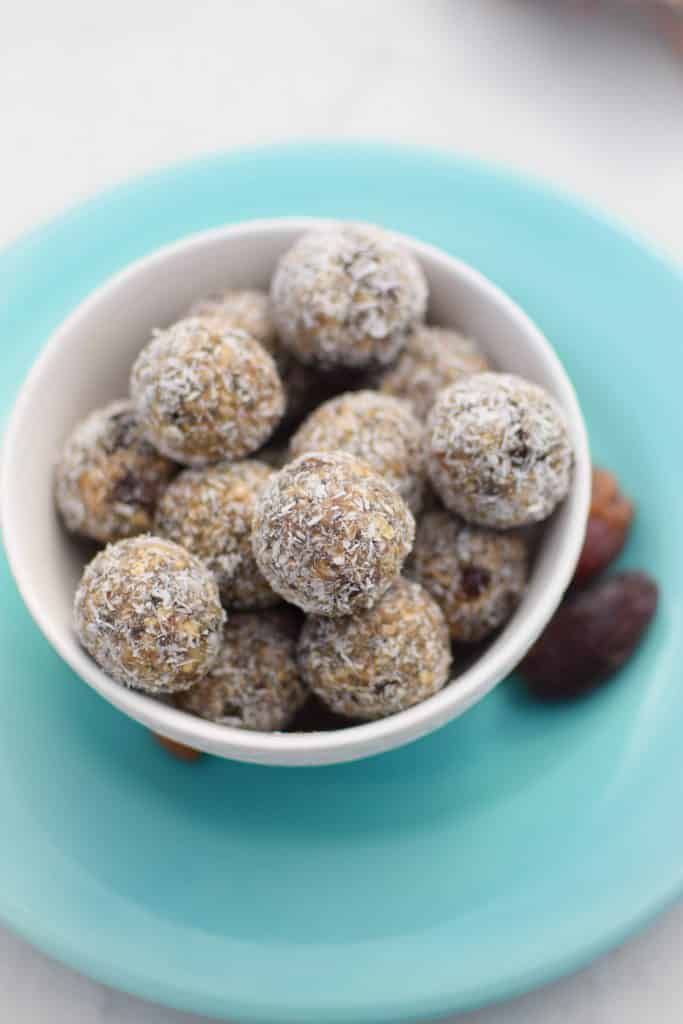 Enjoying Sugar in Moderation
One of the most important aspects of enjoying a healthy dessert or sweet treat on a daily basis is ensuring that the treat is also packed with nutrition.
These Almond Joy Protein Balls have only 1/4 cup of added sugar from the maple syrup and a little bit from the chocolate drizzle. Otherwise, these tasty treats are naturally sweetened with dates.
Serving Size: These tasty treats make the perfect dessert – or even breakfast or a snack! They are pretty filling and 2-3 bites make a perfect serving size.
Protein Balls With Dates
These tasty protein balls are also nutrient-dense, meaning they provide many important vitamins, minerals and amino acids from the collagen protein powder that will serve the body well.
The oatmeal and chia seeds provide complex carbohydrates that help to prevent blood sugar spikes, while the almonds and hemp-seed butter provide heart-healthy fats needed to keep you full and focused during the day.
Collagen Protein Powder
Collagen is a protein that our body needs to protect the health and vitality of skin, hair, tendons, cartilage, bones, and joints.
Evidence has shown that collagen is an important nutrient to help heal leaky gut and associated autoimmune conditions. You can easily find collagen peptides at your local health food store or buy it online.
While the collagen peptides are optional in this recipe, it is recommended to add them if you can for their ability to boost the nutritional value of this recipe.
Each scoop of collagen peptides provides 20 grams of high-quality protein that can help to keep you full and satisfied after your morning meal.
Almond Joy Protein Balls with CBD
These Almond Joy Protein Balls combine the nutritious goodness of oatmeal, dates, and almonds with the sweet and satisfying combination of coconut and dark chocolate with anti-inflammatory CBD for a delicious, gluten-free treat.
Ingredients
⅔ cup slivered almonds
¼ cup chia seeds
2 tablespoons unsweetened shredded coconut flakes
½ cup coconut milk beverage
¼ cup pure maple syrup
1 teaspoon almond extract
Optional Chocolate Drizzle
2 tablespoons dark chocolate chips
Instructions
In a large bowl stir the oats, almonds, chia seeds, collagen peptides and shredded coconut together and mix well.
Add the dates, coconut milk, almond butter, maple syrup, coconut oil, almond extract.
Using your clean hands, mix everything together well. The warmth from your hands will help to melt the almond butter, creating the perfect consistency.
Create 1 inch balls and roll between your palms until they are perfectly ball-shaped. If you are doing a chocolate drizzle, set aside on parchment paper.
When all the bites are formed, roll each ball in the coconut flakes and return to the parchment paper.
In a small microwave-safe dish microwave the chocolate chips for 60 seconds. Remove, stir and add coconut oil, microwave for another 30 seconds.
Remove and stir. Microwave in additional 30-second intervals as needed until smooth.
Gently pour chocolate into the corner of a ziplock bag. Snip a small piece off the corner and drizzle away.
Nutrition Information:
Yield:

24
Serving Size:

1
Amount Per Serving:
Calories:

105
Total Fat:

6g
Saturated Fat:

2g
Trans Fat:

0g
Unsaturated Fat:

3g
Cholesterol:

0mg
Sodium:

3mg
Carbohydrates:

12g
Fiber:

2g
Sugar:

7g
Protein:

5g
More Energy Bite Recipes
Cannabis Infused Recipes
Delicious and nutritious recipes featuring Cannabis and CBD Oil from Holistic Cannabis Practitioner and Registered Dietitian Nutritionist Emily Kyle.
CBD Oil Recipes
In this Ultimate Guide to CBD Gummies, we will explore what exactly CBD gummies are, the potential health benefits, the potential effects of consuming CBD Gummies, and a delicious Peach Chamomile Homemade CBD Gummy Bear recipe.
This Green Dream Hemp Seed Smoothie inspired by my book, The 30-Minute Thyroid Cookbook, is a whole-food, plant-based, vegan, gluten-free, dairy-free smoothie that tastes amazing while delivering an abundance of nutrients and antioxidants. This smoothie includes options for infusing this drink with CBD oil.
Using natural ingredients like CBD oil, blueberries, and lavender this delicious CBD Blueberry Lavender Anti-Anxiety Smoothie combines ingredients that can help ease stress, panic, and anxiety and bring about calm, happiness, and relaxation.
Warm, soothing and packed with anti-inflammatory spices, this naturally vegan and gluten-free CBD Infused Pumpkin Spice Latte brings together the comfort of the traditional PSL with the healing benefits of pure CBD Oil for an experience like no other.
Whether you're starting your morning off right or planning a fun party or get together, these CBD Infused Watermelon Shooter Shots are a nutrient-dense, anti-inflammatory option for consuming CBD and supporting your overall wellness.
These Ginger Turmeric Shots Infused with CBD are a quick and easy, delicious way to enjoy a burst of nutritious superfoods like ginger, turmeric, and green apple with the option to infuse with CBD for the ultimate anti-inflammatory wellness shot.
Learn how to make a delicious CBD Infused Vinaigrette with fresh strawberries, CBD hemp oil, and hemp seed oil to pair with a deliciously creamy Strawberry Burrata Salad that is naturally gluten-free, low-carb, and Keto diet friendly.
Whether it be Valentine's Day or a date-night-in, these CBD Chocolate Covered Strawberries will make your next special occasion indulgent, relaxing, and delicious with this easy to make a recipe that is naturally vegan, gluten-free, and ready in as little as 10 minutes.
These Almond Joy Protein Balls combine the nutritious goodness of oatmeal, dates, and almonds with the sweet and satisfying combination of coconut and dark chocolate with anti-inflammatory CBD for a delicious, gluten-free treat.
Cannabis Oil Recipes
This easy, step-by-step beginner's guide will teach you how to make cannabis coconut oil at home. It is perfect for anyone who wants to learn how to make a dairy-free, plant-based, cannabis-infused coconut oil that can be used as a base for many cannabis-infused recipes and self-care products.
Cannabis-Infused Golden Milk is a creamy, delicious warm beverage made with anti-inflammatory superfoods like turmeric, cannabis, and coconut oil to help nourish the body and soothe chronic inflammation. Naturally plant-based, this recipe is vegan, paleo, AIP, and Keto-diet friendly.
These healthy cannabis peanut butter cookies are the same delicious cookies you love, but are suitable for many more diets as they are dairy-free, gluten-free thanks to cannabis-infused coconut oil and cassava flour, making these cookies healthy cannabis edibles to support your overall health.
Cannabis Flower Recipes
Discover how to make a delicious Cannabis-Infused Chai Latte, a warming herb & spice-infused beverage at-home to naturally support your holistic lifestyle with anti-inflammatory health benefits and mouth-watering flavor. This Cannabis-Infused Chai latte is naturally vegan, vegetarian, Paleo, and Keto-diet friendly.
Skip the artificial, prepackaged taco seasoning and spice up your Taco Tuesday with this healthy Cannabis-Infused Taco Seasoning Recipe that is made with anti-inflammatory spices and decarbed cannabis herb for a delicious, healing seasoning that is naturally vegan, paleo, gluten-free and corn-free.