Join us as we explore the story of Louisa Miller and her incredible journey to healing. She shares her experience with chronic illness, medical neglect, difficulty navigating the healthcare system, and how she has overcome it all to take back ownership of her health with the help of the cannabis plant.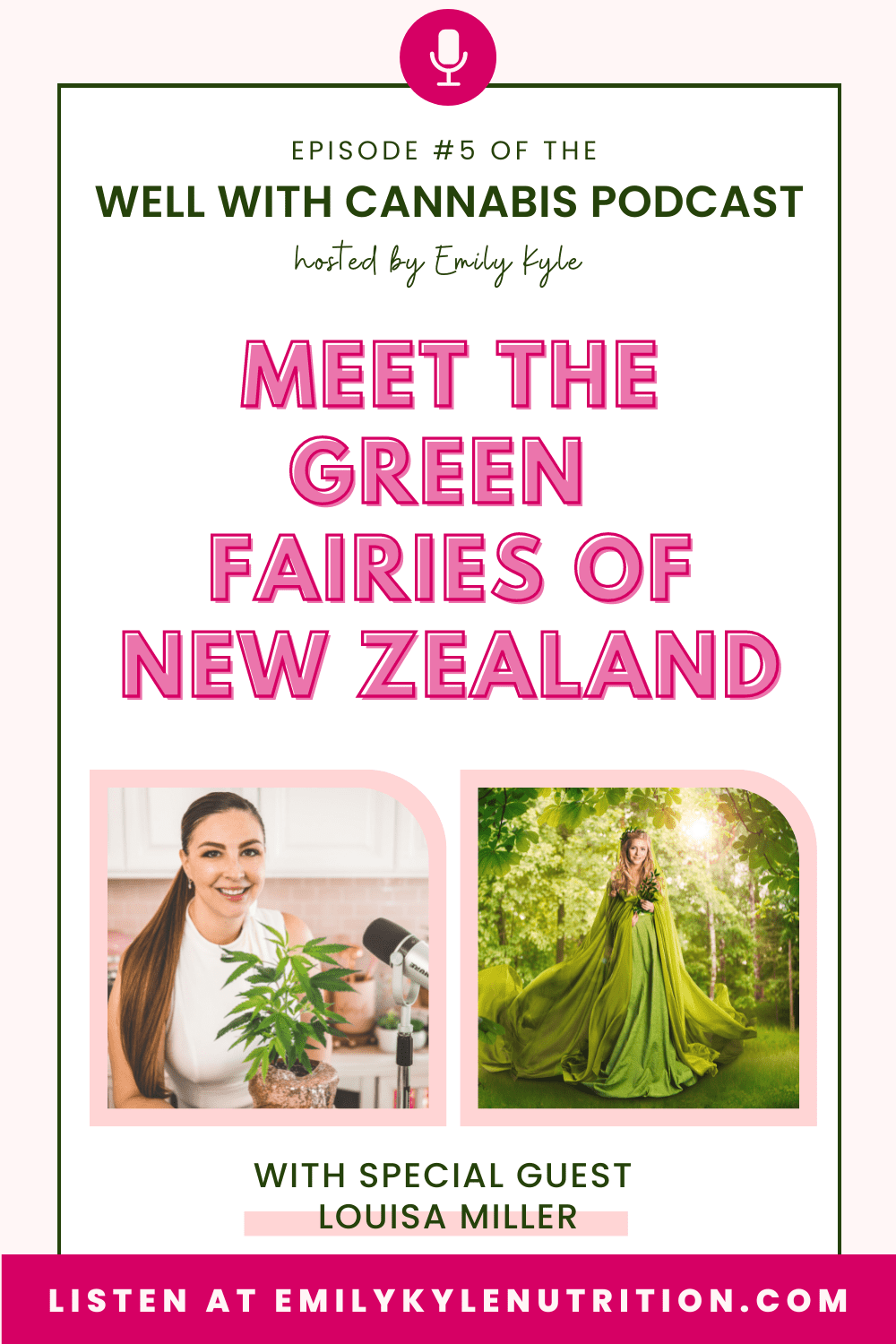 Features
Release Date: Wednesday, March 22nd, 2023
Episode Number: Season 1, Episode 5
Special Guest: Louisa Miller from Harmony Gardens and Grub, a Green Fairy from New Zealand
Listen To The Episode
Click the play button above to listen to the episode.
Listen to all podcast episodes →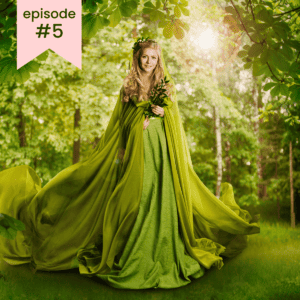 Episode 5: • Meet The Green Fairies of New Zealand: A Story of Healing with Louisa Miller
Join us as we explore thestory of Louisa Miller and her incredible journey to healing with cannabis. Sheshares her experience with medical neglect, social stigma, difficultynavigating the healthcare system, and how she has taken back ownership of herhealth through cannabis-based therapies. 
Options
Listen to your favorite episode here on the website.

Watch your favorite episode here on the website.
Love the epsiode?
Unlock exclusive access to our private Well With Cannabis Community to get exclusive access to our guests and tailored advice from our members. Use the coupon code INSIDER to get 50% off your membership today!
Why You Will Love This Episode
Have you ever felt like the medical system is not equipped to support true healing?
Louisa Miller certainly did when she was struck by a rare illness that led to multiple surgeries, and extended hospital stays that almost took her life.
In this episode, we explore her story of using cannabis for healing, becoming an advocate, and ultimately taking back ownership of her health through alternative approaches.
Tune in as we dive deeper into her inspirational story of healing with the cannabis plant.
Episode Highlights
In this episode, we discuss Louisa's story and experience which ultimately shaped her life and is why she is where she is today, providing an essential service to others working as a Green Fairy.
Use the time markers to jump ahead to a part of the show you're interested in.
00:00 – Teaser
01:45 – Welcome and introductions
02:19 – Louisa's story of using cannabis for anxiety management and dealing with the social stigma associated with it.
03:09 – Her experience with an unexpected illness after living in a contaminated home. Eventually, she developed a bowel blockage that led to several surgeries over several months, including the need for a colostomy.
05:03 – Her experience with the current medical system and how it cannot support true healing. She expresses her dissatisfaction with the endless pharmaceutical drugs and how frustrating this is given that she was a nurse working in the special needs and mental health field before getting sick.
09:25 – How her final surgery in 2020 was the most devastating for her health
12:40 – Why she finally said she was no longer going to follow Western medicine approaches and instead look towards alternative options with the support of a Naturopath and the cannabis plant.
14:44 – The start of her surgical recovery at home. This healing process included both cannabis and other medicinal herbs along with a modified diet.
16:48 – How her first attempt making cannabis coconut oil went so well that she started sharing it with others. This turned into starting to make her own oils to sell.
18:40 – About her business Harmony Gardens and Grub focuses on garden-to-table produce and education and how she began incorporating cannabis into her work.
21:03 – How cannabis is not the only intervention that helps and how it is a tool in the wellness tool belt. Sleep and stress management are important, too, along with herbal medicine and other alternative therapies.
22:26 – Advice for anyone listening on how to become their own health and wellness advocate from the perspective of both a nurse and a patient of the system. How clinicians can begin to look at cannabis as medicine.
25:40 – All about the Green Fairies of New Zealand – a group of healthcare professionals leading the way in cannabis education and support for the nation. What the medical and recreational system looks like for New Zealanders and how it differs from our system in America. Advice for those who live in New Zealand and how to access cannabis from the Green Fairies.
30:16 – The intersection of cannabis, fruits, vegetables, healthy diets, and farmer's markets.
32:20 – Final four questions
36:15 – Where to learn more about Louisa, the Green Fairies, Harmony Gardens and Grub.
Meet Our Special Guest
Formerly a nurse working in mental health care, Louisa Miller had been a recreational and medicinal cannabis user for over two decades.
However, she never knew how important it was to her until an unexpected illness hit.
Following an episode of medical neglect and misadventure that led to a complete physical collapse, she began using it as a form of therapy for her hospital diagnosis of Crohn's disease, pain relief, anxiety, and more.
She now makes and sells her own green fairy products with her brand Harmony Gardens and provides the good service of educating others on the benefits of cannabis.
From CBD oil to cannabis oil in a wide range of cannabinoid concentrations, her preparations are designed to help others with various illnesses like chronic pain, chronic fatigue, and more.
From Louisa's experience with the medicinal use of cannabis to becoming one of the Green Fairies of New Zealand, you'll gain a deeper appreciation for alternative treatments to address symptoms associated with Crohn's Disease.
With her personal stories and tale of triumph, you'll gain a better understanding of the benefits associated with incorporating cannabis into your lifestyle.
Links & Helpful Resources
The helpful links and resources listed below will offer insight into the world of cannabis, providing knowledge and guidance if you are seeking answers on your cannabis journey.
Frequently Asked Questions
Subscribe To The Show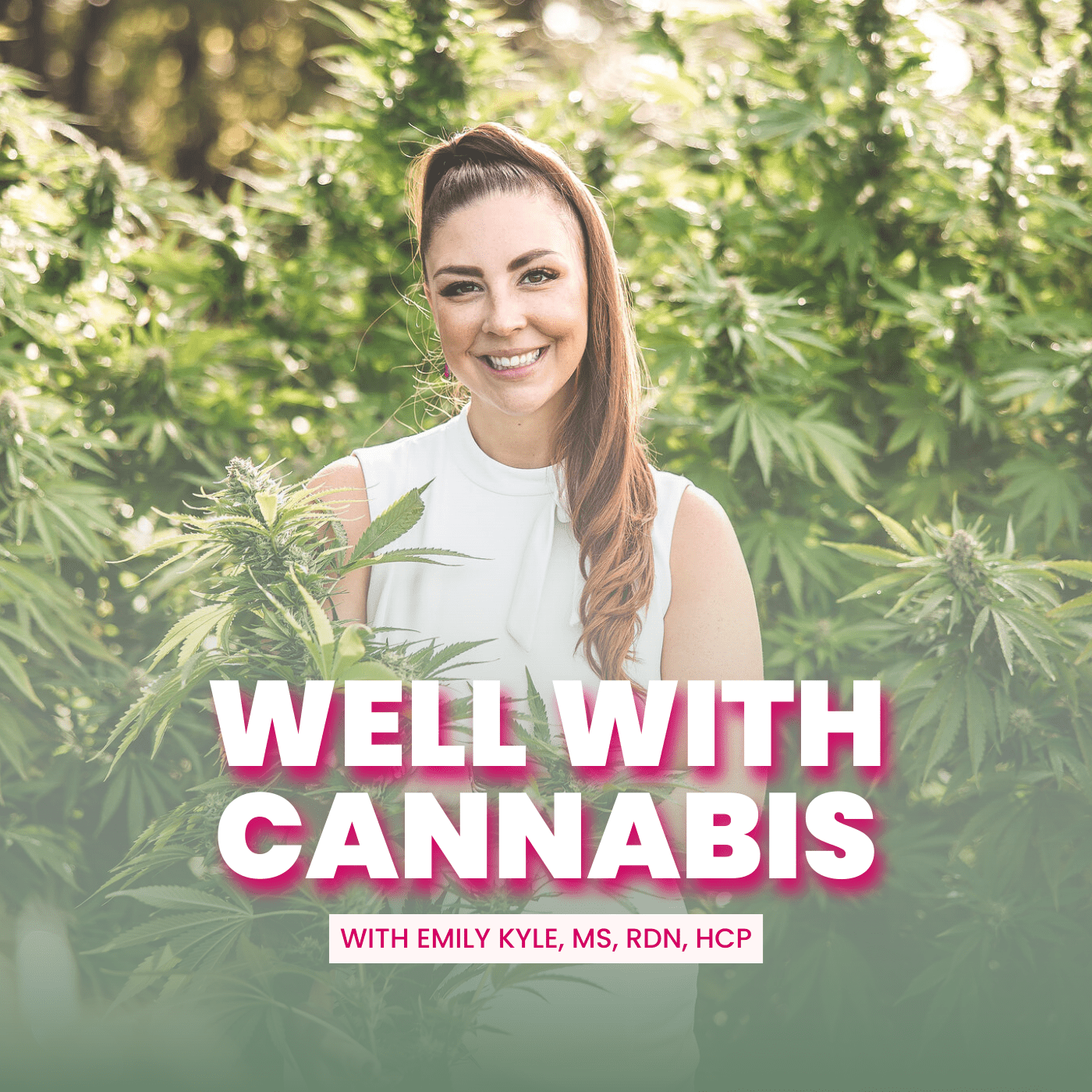 Full Transcript
Louisa: Oh, I'm here. I'm still alive. I don't go to the hospital. I don't go to the hospital. It's the only place I went was the hospital. That was the only road trip I ever made was to the hospital. Now I've made heaps of road trips.
Announcer: Welcome to the Well With Cannabis Podcast, a show dedicated to telling the life-changing stories of those who live well with cannabis all while teaching you how to do the same. Meet your host, Emily Kyle, a registered dietitian nutritionist turned certified holistic cannabis practitioner. Emily changed her life for the better with the help of the cannabis plant, and now she's committed to helping others do the same.
Tune in each week to hear heartwarming stories and gain the knowledge you need to feel connected, inspired, and supported on your own cannabis journey. Whether you're a new cannabis consumer or a lifetime lover, you'll benefit from these uplifting tales of real-life journeys that will show you how you, too, can live your best life well with cannabis.
Disclaimer: Hi there. Before we jump into today's episode, I wanted to share a note on potentially sensitive content. The episodes on the Well With Cannabis Podcast are created for adult audiences only. We will, at times, cover sensitive topics, including but not limited to suicide, abuse, mental illness, sex, drugs, alcohol, psychedelics, and the obvious use of plant medicine. Explicit language may be used occasionally. Please refrain from watching or listening to the show if you're likely to be offended or adversely impacted by any of these topics.
The information on this show is for informational and educational purposes only. It does not constitute medical advice. If any of the content on this podcast has brought up anything for you, please reach out or speak to a professional or someone you trust.
Emily: Let me introduce you, Miss Louisa, from Harmony Gardens and Grub, which we'll get into later. I am so excited; you are here all the way from New Zealand, which is awesome. I have been so like in love with this word – you are a green fairy, is that correct?
Louisa: Yeah, yeah.
Emily: I can't wait, so let's start. You say you've been a recreational, medical consumer for 20 years, but recently you've had something bigger happen, so I'd love to get into your story and see where cannabis plays a part in that.
Louisa: Sure. The long story is I have been using it very clandestinely, as we all had to, really, for anxiety management. Looking back, it made the world more of a place where I could cope. But the stigma and the shame of having to hide it and the anxiety of having to hide it, even now, there's still a lot of stigmas, as you will know too. So that had almost a counter-therapeutic effect.
Emily: That's a good way to put it, actually.
Louisa: It's a medicine, but we've got to be careful about it. So then about five, oh, about seven years ago, I got deathly, deathly ill very, very suddenly out of the blue. From a very moldy house, actually. I moved into a really old house, and it was full of black mold. It had been used to cook methamphetamine by the previous tenant. Yeah, it was pretty bad.
Emily: Oh my gosh.
Louisa: Very rainy. That activated all the spores, and within six months, I'd lost a third of my body weight. I was vomiting, having diarrhea, everything. I had a massive blockage in my bowel. And speaking with a naturopath, we decided it was a toxic shock overload.
I was probably not super, super fit. I mean, I was pretty fit and healthy but not super fit and healthy. I was coming right from some health issues and just working my way back to work, and I was doing really well. And then I found this house and took me out completely to the point where I was in the hospital.
They didn't think I was going to survive my first surgery. All they could do was put a colostomy bag on me and send me home.
Emily: That's terrible.
Louisa: Yeah, I was skin and bone.
Emily: You poor thing. Oh my gosh.
Louisa: Dreadful. They had to keep me in the hospital for a week to fatten me up before they could do anything. I was literally in the hospital to fatten up. Then they did this surgery and sent me home with a colostomy bag.
Eight months later, I went back and had a section of my bowel removed, and they wanted to also remove the colostomy bag at the same time and join me up. And I said, no way. That's a huge load.
Emily: A lot. Yeah.
Louisa: Yeah. And also hospitals, well, you know what they're like. They didn't really have anything in the way of natural healing. It's all very much pills. The food is very artificial, full of sugar, full of this, that, and the other, to the point where I had to bring my own food in.
Talking to the dieticians, they don't get that giving you sugar and red food coloring water. Yes, it will put weight on, but that's not a good thing. That's not healthy, you know, that's not a good healthy way to increase weight.
Emily: Right. And it doesn't facilitate healing by any means.
Louisa: No, no. It just facilitates ulcers inside your insides and diabetes and cancerous tissue. And they couldn't understand that that's where I was having real difficulty. And I'm a nurse by training.
Emily: Yeah. Oh, that's so interesting. I have so many nurses that later in life become so interested in cannabis. I think a lot of people will relate to that.
Louisa: Yeah, yeah. Absolutely. I really related to it as a nurse because I was in special needs and mental health, and I could see the damage that these horrific, horrific drugs were doing to people.
We had people on lithium, carbamazepine, you know, the liver damage, and they're just literally shuffling zombie corpses of human beings. I had a few run-ins with psychiatrists. I had run-ins with psychiatrists when I tried to get them to decrease the amounts of drugs people were on.
And they would say, one psychiatrist actually said to me, "Well, if you think you know more than me, you can go and find yourself another psychiatrist." And he really, really taught me a new one.
Just because I was advocating for my patient who was on four times the adult dose of Valium, quadruple the adult dose of Valium every single day. And she had been for at least 40 years and hadn't been reviewed.
Emily: Poor thing. The medical system here in the United States is exactly the same. I feel like everybody can relate to what you're saying, and that's actually sad that everybody can relate to that because it happens everywhere.
Louisa: Well, exactly. And why are we allowing it? To me, that's chemical abuse. When I started seeing referrals for six months old babies who were already being prescribed Prozac 15 years ago, I saw that that was happening 15 years ago in this country.
Emily: Wow.
Louisa: When I saw that, I thought, I can't be a part of this system. Six-month-old baby? And you've given it Prozac. What the-
Emily: It's crazy. It's crazy. I need to share a personal story with you, I also was a healthcare provider, and I was actually a registered dietician. And I worked in a hospital in a GI unit. Everybody comes in for bowel resections and, colonoscopies, colostomies.
That was half the reason I quit. I was like; this is so against everything that I believe in. I remember bringing in the tray with the juice, with the red dye, to people. It was so painful to me and so against every fiber of my being that that was a huge reason that I left that workspace.
It felt so wrong and so bought and paid for. Nobody cared if you had a suggestion to do something different; nothing is ever going to; it will never change unless people step outside of that realm.
I will say I don't ever want to discredit western medicine because it does save lives. There are many instances. I think it's a really blurry line at this point because if my son broke his arm, I'd be headed to the hospital for sure. But, you know where we're at now; it's just…there's not even a healthy balance at this point.
It's just drugs, drugs, drugs, drugs, drugs. And God forbid you to want to try natural healthy foods or plant medicine, and that's frowned upon. I don't know if you found it as a healthcare provider; that was really hard for me. Did you experience that as well?
Louisa: Very, very difficult. To the point where, when I came out of the hospital after my final surgery in 2020. In August and September 2020, I went in for a resection of my colostomy bag. They were taking it away; it was supposed to be an easy four-day surgery.
They neglected to do some basic checks. My learning was I shouldn't have trusted them, I shouldn't have gone in; I should have said no. But they refused to do some basic checks, and I let them do it anyway. And they should have done the checks because I wasn't fit for surgery.
So they removed my colostomy bag, but I was ulcerated all through my bowel. They effectively put raw sewage through an ulcerated bowel. So I started getting sick, and they denied me. They would not accept that I was getting sick for three days, and they left me for three days. I couldn't eat, and I couldn't drink. All I could do was sob and have excrement pouring out of me for three days.
Emily: Oh my God.
Louisa: I couldn't take any pain relief. Yeah, they took my morphine pump away and insisted on giving me oral morphine, which I couldn't take.
Emily: What happens after the three days you suffer, you poor thing? What happened?
Louisa: I left. It was a weekend. The surgeon came round and looked at me, patted me on the knee, and said, that's normal. He left because it was Friday afternoon and he had to go to the golf course. So he said, I'll come back and see you on Monday.
I looked at him, and I thought, I'm going to be dead by Monday. If this is normal, buddy, you can keep it. It's not normal in my world. So I went home and contacted my naturopath and contacted my healthcare, my natural people.
Of course, by that stage, it was too late, and I'd already started getting septic. I was shipped back to the hospital the following Wednesday in an ambulance in a state of; I was a mess. It took me three and a half weeks in a hospital ward. I was on two IVs in each arm. They put me on hydrotic zone steroids, which were so heavy-duty.
I put on a stone in a week, a stone in weight in a week. I was lying in a hospital bed. Couldn't eat, couldn't drink, couldn't go to the toilet. Nothing. Catheters, every single orifice just about had a tube. Yeah. Just because they couldn't be bothered to take decent care of me.
Emily: Didn't listen to you. I'm so sorry. That is so horrific on so many levels. And I don't know about you, but maybe almost feel even more betrayed as a healthcare provider that they could treat you that way.
Louisa: Yeah, yeah. When I spoke to the surgeon, I tried to explain to him, look, I told you I was sick. I could barely get the words out. And he stood over me, this big, big man stood over me in my hospital bed and looked at me, and he said, "I don't have to listen to this." And he walked out.
At that point, I went, I've got to do this alone. I have got to take control. I have got to do this by myself. And I was in the hospital, and people brought me all my natural stuff. I don't know anything like as much as I know now; all I knew how to do with cannabis was smoke it.
I knew that you could cook with it, but I didn't really know much about it. I knew that you could make a balm with it. That's what I was doing. I had turmeric, and I had spirulina to detox, and I was doing all this in the hospital, not telling a soul I was doing it.
Emily: Were they letting you bring in food items and stuff? Were they accepting of it, or did you try and hide it?
Louisa: They had to because I flatly refused to eat anything that the hospital would provide. I made such a bloody noise about it; I really did. It was my third experience with this system, and I was done. I was absolutely done.
I had started telling them that I was using it medicinally. I didn't have a prescription then, but I had started telling them. So it was very on the sly. But at the same time, I was also having the same reaction to the natural therapies I was using.
The turmeric, the raw honey…oh, that's all. I actually got to the point where I made the hospital record it on my prescription sheet because they wouldn't allow it. You know, I had to, as a nurse, actually advocate for my rights and say, look, I'm having this stuff, and if you don't let me, then there's going to be a problem.
I want you to put it on my chart, and then they had to go and check everything. It was a big, big dance. It was really painful.
Emily: You start bringing in your own natural therapies. How much longer are you in the hospital? How do you start getting better?
Louisa: I was in the hospital for three and a half weeks. They couldn't give me any more drugs because I wouldn't have any more. There was nothing else they could do for me drug-wise. So they discharged me. I still had, and that was when they discharged me. That was just then the start of my surgical recovery. I had like another two months of recovery to do.
Emily: Oh god.
Louisa: So yes, I just dug in and went, okay. I know in the world, there are dispensaries where you can go and talk to budtenders, and you can get advice on which strain is right for you.
I'm on a very restricted diet. I'm gluten-free and refined sugar-free. I can't do a lot of fruit, anything with skins and seeds and that kind of thing. No dairy, no artificial anything. So it's really a pure diet.
I thought, if I'm going to do this, I will have to learn everything. I've got to learn to make it myself, cook it myself, use it, everything. So I started digging, and I started getting braver about it, looking online. Is anyone going to come to my door? No, it's okay. You know that kind of thing.
Emily: Yes, yes.
Louisa: I actually found your page, and I started following your page, and I learned how to make it; I started with coconut oil for cooking. I basically started infusing that, and I was living in a motor home at the time. I learned to do it on a crock pot and then do it on a double boiler in my motor home.
Emily: Did you send me a message telling me you needed a way? Someone had recently reached out and said they were in an RV and looking for alternative ways to infuse. And I was like; I really would start thinking outside the box. Was it you or somebody else?
Louisa: It wasn't me, no. I've moved on from the motor home now.
Emily: A lot of RVers out there I should consider.
Louisa: Yeah, that makes a lot of sense because if you're on the road, chances are you haven't got a lot of local connections. You know, I actually started exploring having little cupboards with lights in there so people could even have a little bonsai to be on the road with for medicinal purposes.
Emily: Amazing. Oh my gosh. So you start making coconut oil; that was your first, and where did it go from there?
Louisa: Oh, it just spiraled out of all predictions. I had very good relations with my naturopath and also the lady who ran my local natural health store; she owned it as well, which was fantastic.
Emily: Really nice.
Louisa: They started trying my product; I was talking to them, and they've been with me through my whole journey. And so it was just, we just started talking about it. They became interested in trying it.
I started making bliss balls, little bliss balls with just almond meal and honey and cacao and bits and pieces. Just really gentle ones for people. And they loved them. So I made them some Christmas gift packs because it was close to Christmas.
Emily: Oh, that's so nice.
Louisa: I cooked, and I really, really got quite creative in the kitchen. I made some little peanut butter cups with cacao and honey topping.
Emily: Look at you. Wow!
Louisa: Really exciting. So that was really cool. And then in January, the lady in the health store said to me, look, I had somebody making this oil for me, but they've had to stop. Could you learn how to make it and I'll sell it quietly under the counter through my shop.
That was the journey to making the liquid oil, the infusions, and the bottles. And then that started selling, and then it sold some more, and then she wanted my card in the shop so she could pass people on to me. And then people started asking me privately to make stuff for them, and it spiraled.
I recently relocated, so I moved down to a different part of the country in May last year because I thought the whole business, Harmony Gardens and Grub, is about garden-to-table produce and education. What's more garden to table than cannabis?
Emily: A hundred percent with you on that.
Louisa: Yeah. I wanted to bring it to a wider market, and I also wanted to step out from the shadows myself, being known as a user and a practitioner, and a respectable person. You know, not just be dismissed as a stoner. Because I'm not, I'm a, you know, not that stoner's; there's anything wrong with stoners.
Emily: A hundred percent.
Louisa: There's so much more to it than that. So I stepped out of the shadows, came down here, and really started promoting it. And it's just taken off. It's just taken off. It's becoming a full-time job. I'm in the process of transitioning to full-time work into it now.
Emily: I'm so proud of you. Look at you go. It's just amazing. So how, health-wise today, how are you doing?
Louisa: I'm doing better. I am doing better. I've stepped out of the hospital system completely. God bless them, but I don't want drugs, and they can't offer me anything else. I'm still in touch with my specialist.
He rings me up every year and says, how are you doing? And I say, yep, I'm good. I've told him about medical cannabis. I'm hoping he will start getting interested in asking questions and thinking as a clinician; maybe this is something we should be looking at to help.
That's my hope anyway because that hasn't happened yet. I need to be very careful of flare-ups, and I have to watch my own activity, and I really have to educate myself on a healthy, healthy work-life balance and stress and all that kind of stuff. But cannabis really helps.
I now make five different strengths of oils and gummies and a skin balm with lavender and kawakawa. I've learned to use them in different strengths to stop cramping, diarrhea, and stop. I don't have to go to hospital and be IV anything, You know?
I'm not taking up any hospital beds; I'm not taking up any hospital staff time. I'm managing it myself, along with a whole range of other therapies. Like I say to people, it's not just cannabis, cannabis, cannabis. I do, you know, slippery elm and herbal medicine and turmeric and, you know, all the other bits and pieces that you have to do.
Emily: I'm so glad you said that. I'm always telling people that cannabis is a tool in your wellness tool belt. It's not the only thing. It can certainly help, but there are so many other things that can really play into the picture as well. I'm really glad you said that.
Louisa: And sleep, I'm often saying to people, cannabis does, you know, don't come to me and say I haven't slept in, you know, and I'm not, and I have a really busy job and lots of stress, and I want cannabis to help me keep on going. It's like, no, cannabis won't help you keep on living an unhealthy life.
Emily: Right. So true, so true. Yeah. It really needs to complement your lifestyle. It needs to fit in nicely like a puzzle piece. It can't just really be like a blanket over everything if that makes sense.
Louisa: Because that's what pills do, isn't it? That's what antidepressants do. They mask all the symptoms and numb your brain so you can't react to your situation, but you must react to it to change it. And cannabis helps get that reaction to a level that you can actually work with so it doesn't debilitate you.
Emily: That's so well done. Absolutely. Now I feel like this pull from you as a healthcare professional, and what you've been through, you are an advocate. Do you have any advice for people on being their own advocates?
I've had a similar experience in the hospital where I wasn't treated the way I thought I should be treated. Do you have any advice for people who might be in a similar situation, feeling like I'm not really getting the care they deserve or need, or their doctor's not listening? How do they move forward, or how do they advocate for themselves?
Louisa: Sure. First and foremost, always take somebody with you. Always, always, always have a support person. Have a witness. You probably need them for both of those roles.
Be prepared to get salty, be prepared to sit there and say, my naturopath actually said this to me. She said don't leave. Just sit there in their office until you get a result that you can work with. Don't let them.
Emily: Interesting.
Louisa: Don't let them pawn you off. I would say always take somebody with you and make sure that they're somebody who's familiar with healthcare. It doesn't have to be a nurse or a doctor.
But if they've got that behind them, chances are the doctors don't, you know, they don't actually want to dance with you too much. They want to bait you around. But if you push them back, and not all of them, some of them are wonderful, but that system as a whole has that very much, as its ethos that we are in charge. We do what we do.
You do what you are told, and that's it. If you don't like it, then it's your problem, and you are at fault, and you are something wrong with you. That's not okay. You know, that's not even ethical. I know about ethics. That's not even ethical.
Always take someone with you, be prepared to get salty, and if you're not getting the result you want, change. They are there to serve us. They are not this God-like figure who controls our health and well-being. They're actually there like a car mechanic is there to save your car.
Emily: A hundred percent.
Louisa: If you don't like it, change. The last thing I would say is that I spent time writing complaints to hospitals and everything, and that has a place, but it takes a huge amount of energy. And what I learned was actually it's a waste of my time. They're not going to change. It's not going to change.
The best thing I can do is focus all my energy on the people who will help me heal and get well. If you're not getting what you want from the hospital system, look elsewhere. Go to naturopaths, go to alternative healers, go to all the things in the natural world that are polluted that are attacking us.
So ozone therapy, oxygen therapy, and all, don't be afraid to make your healing journey your full-time life because chances are it won't be forever.
Emily: That's beautiful. I really love the way you said that.
Louisa: Thank you.
Emily: So, let me, let's speed it up today. Your business is amazing. Give me a little background information on the term green fairy because I love it.
Louisa: Okay. So green fairies are known as we are just an informal group of people. We've usually got a health-related background of some description. So health professionals or we've done some training in something.
We've also done some training with and education in cannabis. We've also generally used it ourselves for our own healing journey. And now we make and sell it to others for their healing journey. It's outside of the government's legal system.
Here in New Zealand, the government's legal system is failing people, and it's now been acknowledged in the press as failing. So that's quite a big deal.
Emily: Interesting. From my understanding, New Zealand is not cannabis friendly in any form.
Louisa: The medicinal cannabis market is getting more press now. It was made legal for medicinal cannabis only quite a number of years ago, but it was very quiet. Lots of people didn't know about it. Doctors don't have any education on it.
A lot of doctors are very either anti-it or very ignorant of it, or both. It's very hard for people to get. They have to go straight to the clinic. If their GP doesn't support it, then they can't get funding for it. They can't get any funding.
Emily: Wow. Is it based on their GP? That's crazy.
Louisa: Their own GP. The clinics have GPs and consultants who write you a prescription, but if your GP doesn't agree with it, you can't get government funding if you're on a benefit.
Emily: That's crazy. You see, that's a little different here. You don't need your own doctor to participate. If they don't…you actually don't even have to tell them. I bet that's a big discouragement for people.
Louisa: It makes it really hard because many people still only have their GPs as their gateway to access healthcare. So they don't know that they can do it themselves. The trouble with the clinics is if you go straight to a cannabis clinic and get a prescription, they will then tell your GP.
They won't tell you that they've done that. They won't tell you that they're going to tell your GP, and they won't ask your permission to tell your GP.
Emily: It's so crazy that we can give so much power to these practitioners, and if they have a personal bias against it, that's it. That's the end of the road.
Louisa: That's the end of the road. Yep.
Emily: Say someone's listening, and they're from New Zealand, and they're like, okay, my doctor's not for it. How do they go about working with a green fairy or finding you, or what does their next step look like?
Louisa: Green Fairies do advertise on Facebook. There are a few quite well-known green fairies in New Zealand. I'm just a newly emerging one. But there are quite a few very, very, very well-established, very knowledgeable green fairies with products way surpassing my ones.
They've been around for a long, long time. I would suggest looking it up on Facebook, and there is a green fairies page where you can put up your name and just say, I'm seeking assistance; I've got these medical conditions. Can somebody please help me? And then a green fairy gets in touch with you by private messenger.
Emily: That's wonderful.
Louisa: It's quite cute. The other way to do it is to just Google CBD in New Zealand on Facebook, go onto the search bar, put in CBD in New Zealand, and probably all of the people advertising CBD will come up. Harmony Gardens will probably come up.
Rose Renton in the South Island will come up. She's been around for a long time, and she's doing very wonderful work. She's very, very knowledgeable. There are lots of pages that actually advertise CBD oil.
Emily: Wonderful. Okay.
Louisa: Yeah, they advertise it as an information and education service and then if people want to take it further, it's all done by private messenger.
Emily: Perfect. So there are options out there.
Louisa: There are options out there. Also, green fairies are starting to appear at local farmers' markets, too. I'm appearing at a local farmer's market, which just started last week.
Emily: That's where belongs with the fruits and the vegetables. I love that. I feel like it's a perfect branch.
Louisa: Yeah, absolutely. I think so too. It's so nice because people can actually have a face-to-face, you know, we're starting to emerge out of the shadows and not have to be too scared about it. People can actually pick up their products.
I offer phone consultations, but I've still had to be quite, you know, careful and discreet. But it's nice that people can normalize it, and it's just a normal part of life like it should be. It's a vegetable like all the other vegetables, you know.
And I think that's why we've gotten so sick as a society. We used to use it all the time, then we eradicated it from life, and look at us now. We're a mess.
Emily: I know. And then all of our other fruits and vegetables. I personally love gardening and homesteading anyway, so I feel it goes full circle. I feel like once you get the taste of it, as not everybody gets it right away, but once you get the taste of it, it's just so addicting and amazing, and you're like, wow, this is how things really work.
And I feel like that's a really special realization, and cannabis can really, I feel like, bring you back to that and bring you back to your roots and help you kind of return to that natural way as well.
Louisa: Yes. Yeah, very much so. And all the seasonality of it and the bees-
Emily: Yes, there's so much.
Louisa: That's so exciting. Yeah.
Emily: I want to be respectful of your time. I loved listening to your story. I think it is so inspirational, and I feel like so many people are going to listen to this and be like, oh my gosh, like she is amazing. She went through this, but now like you've come out on the other side, and you are helping other people through their journeys, which I feel like a lot of us in cannabis do.
Once we get over that, like we have to come back and help people. And you doing that is just so amazing, and I'm so proud of you. And before we wrap up, I want to ask all my guests the same four questions.
I'm going to get a couple of questions for you. First up, if you never had cannabis in your life, what do you think life would look like today?
Louisa: Oh, I described it to somebody as the difference between living a gray monochrome life where you're just constantly gritting your teeth and living life in full color.
Emily: That is perfect. That is such a wonderful way to say that. That is beautiful. If you could go back 10, 20, or 30 years ago and give yourself one piece of cannabis advice, what would it be?
Louisa: Oh, embrace it. Really, really embrace it. When I was a teenager, I was very anti-all drugs, and I just assumed that cannabis was a, you know, to be lumped in with all of those. And I guess what's changed for me is education.
You know, actually learning about it, experiencing it, then thinking, well, there's all this stigma, but it's here, it's here for a reason, what's it here for? And that was really when I started thinking differently and going to learn to appreciate it for what it actually does.
And then when I looked into, well, why is it illegal? And discovered the reasons behind it. And I thought, oh well, that's just bloody ridiculous. You know, that's just human stupidity. We can't let human stupidity stand in the way of a beautiful healing plan. So yeah, I think to embrace it. Learn, get educated, and embrace it as normal.
Emily: Beautiful. Yeah, absolutely. Standing here today, what are you most proud of?
Louisa: Oh, I'm here. I'm still alive. I don't go to the hospital. I don't go to the hospital. For five years, the only place I went was the hospital. That was the only road trip I ever was to to the hospital.
Now I've done heaps of road trips. I've done road trips for my business. I'm planning a CBD dinner event in about three weeks on the shores of Lake Taupō. I know. We're doing it as a barbecue, Kiwi-style barbecue. We're calling it Herbecue. I'll send you the information.
Emily: Oh my gosh, that sounds amazing. That sounds so fine.
Louisa: And that, again, that's about incorporating it into daily life. Not just using it to get stoned and high and off your face, but just respecting it, using it just as an everyday plant and vegetable and seasoning and enhancer and health and wellbeing benefit.
I get to go to the market, and I get to go to Taupō, and I get to come and see my daughter, and you know, I drive past places, and I go, oh yep, I'm past that now. I don't go to the hospital.
Emily: I'm so happy for you. That is such an amazing thing to be able to say. You have had such a journey that just to be sitting here so well and so much better off on the other side.
I feel like it's just such a great story. I hope people can really relate to this because you have just kicked life's ass and said, I'm coming back, and here I am. So congratulations to you.
Louisa: Thank you.
Emily: One last question. If you could be remembered for just one thing in the cannabis space, what would it be?
Louisa: Oof. I think being kind and sharing because I believe like you do, that it goes around, it has to go around, and we have to all help each other out with it. And one day, when I'm a really old lady, I would like to be known for growing the most kick-ass weed.
Emily: Gosh, I love you. I'm so glad we did this interview together. People are going to absolutely love the vibe and the energy that you bring, and people, I just, I'm really, really glad we did this interview.
Thank you so much for spending time with me. If people want to learn more about you and the green fairies and your amazing business, Harmony Gardens and Grub, where can they go and find you?
Harmony Gardens is on Facebook, so have a look on there. Then you can send me a message from there, and I'll get back to you.
Emily: That is amazing. I have no doubt people will be so blessed by interacting with you and coming across all of your work. Thank you so much for being here with me today. I enjoyed every second of it. I'm so glad to connect with you. Please send me pictures of that herbecue.
Louisa: Okay. I definitely, definitely will. Thank you. Thank you so much for all your work, your journey was so inspiring, and you must have been so brave. So I just wanted to say thank you because it reached all the way around the world to New Zealand.
Emily: That's amazing. And that goes back to what you say is sharing, and what goes around comes around; a rising tide lifts all ships. I feel like as healthcare providers, both of us out here singing it loud and proud; I really hope that someday we'll make a really big difference for somebody.
Louisa: Yep, absolutely. Me too. Absolutely.
Announcer: Congratulations, you've finished another episode of the Well With Cannabis Podcast and our one step closer to discovering how you, too, can live well with cannabis.
Thank you for listening in today. We hope this episode has been a helpful and informative one. Please visit emilykylenutrition.com for more information on today's show, show notes, guest information, recipes, and other resources.
If you want more support and encouragement on your cannabis journey, please consider joining the private Well With Cannabis Community. In this group, you can connect with like-minded individuals focused on improving their health and wellness through cannabis.
Join the group today to continue your journey of wellness together!
Stay Connected