Whether food dye allergies or intolerances are present in your family or not, everyone can benefit from making the switch to these all-natural food dyes used to make these beautiful Naturally Dyed Deviled Eggs which are gluten-free and Paleo-friendly.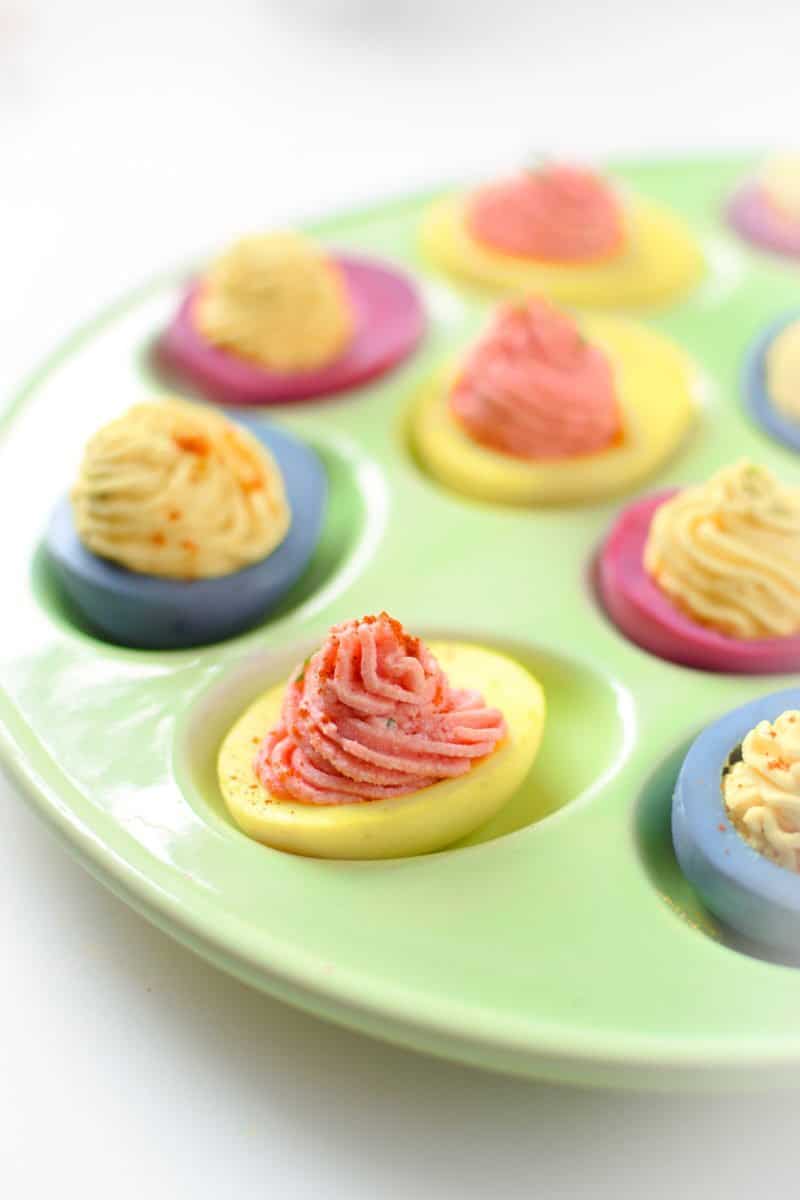 Naturally Dyed Deviled Eggs
While I do not think that a small amount of food dye will harm anyone who is not allergic or intolerant, I have to wonder:
If Mother Nature has made us so many beautiful, naturally occurring colors in healthy foods, why don't we use those?
So I got a little creative in the kitchen to see how some of our favorite, all-natural ingredients can make the most beautiful colors, and help us make the most adorable Naturally Dyed Deviled Eggs for Easter.
All-Natural Food Dyes
Yes, most of the time he loves to eat fruits and vegetables (his choice, thankfully) but does he eat a mini-marshmallow or two every day?
As both a mother and a dietitian, I struggle to find that fine line between wanting to protect my son from potentially harmful ingredients and being overbearing or too restrictive.
Yes, it's all about balance. The one thing I am wary about when it comes to the health of both my little guy and myself is artificial food dyes, which are found in SO many foods and such a big problem for so many of my food sensitivity testing clients.
I have been naturally cautious of red food dye for many years now because my little sister was found to be allergic/intolerant more than 15 years ago.
Many children, whether we know it or not, are actually allergic or intolerant to artificial food dyes, affecting approximately 2-7% of people with allergies.
Why? Because often times they are not naturally occurring in nature and are seen as foreign and unable to be processed by the body.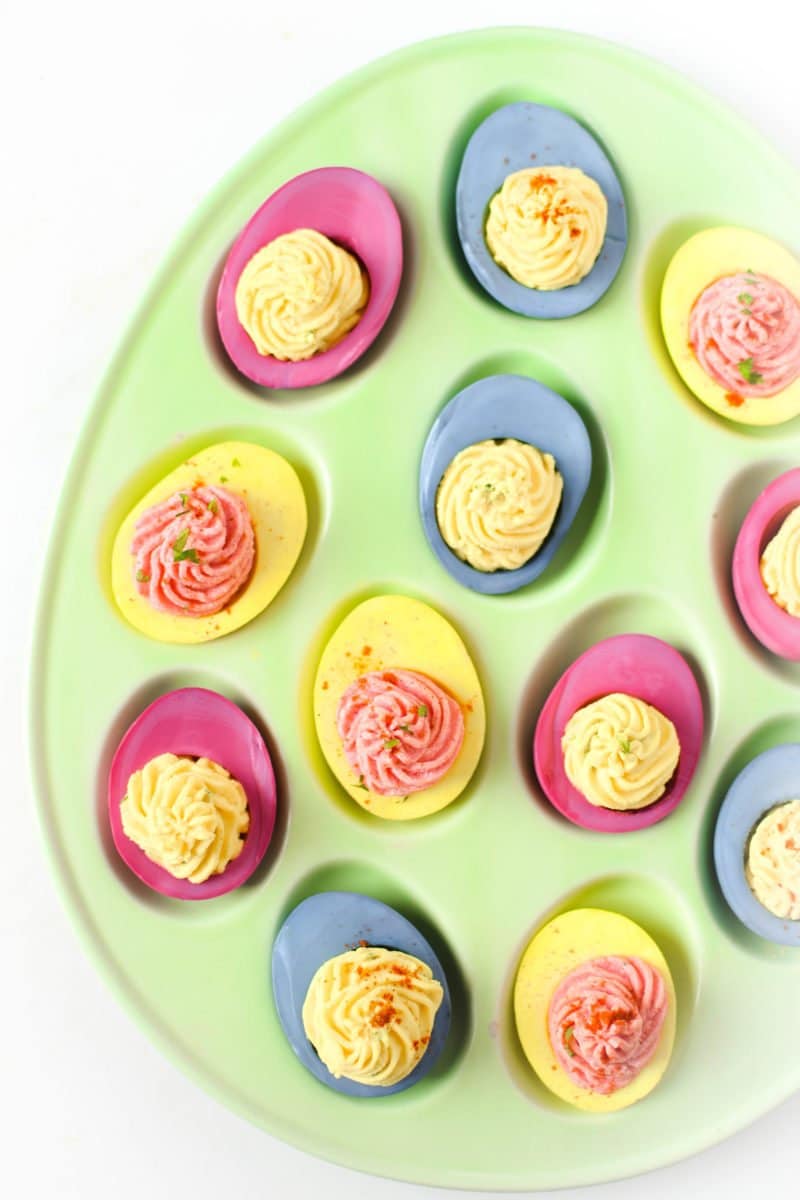 Beets + Water = PINK
While the taste of beets are not for everyone, no one can deny that they produce the most gorgeous, vibrant pink color.
Sorry Red Dye #40, and Red Dye #2 (also known as carmine, which is dried bugs, seriously!) - these beautiful beets win!
Special Note: you can buy 'Pure Beet Juice' in the health foods section of the store for $6, but you buy get a can of No Salt Added Sliced Beets for $0.79 - that works just as well!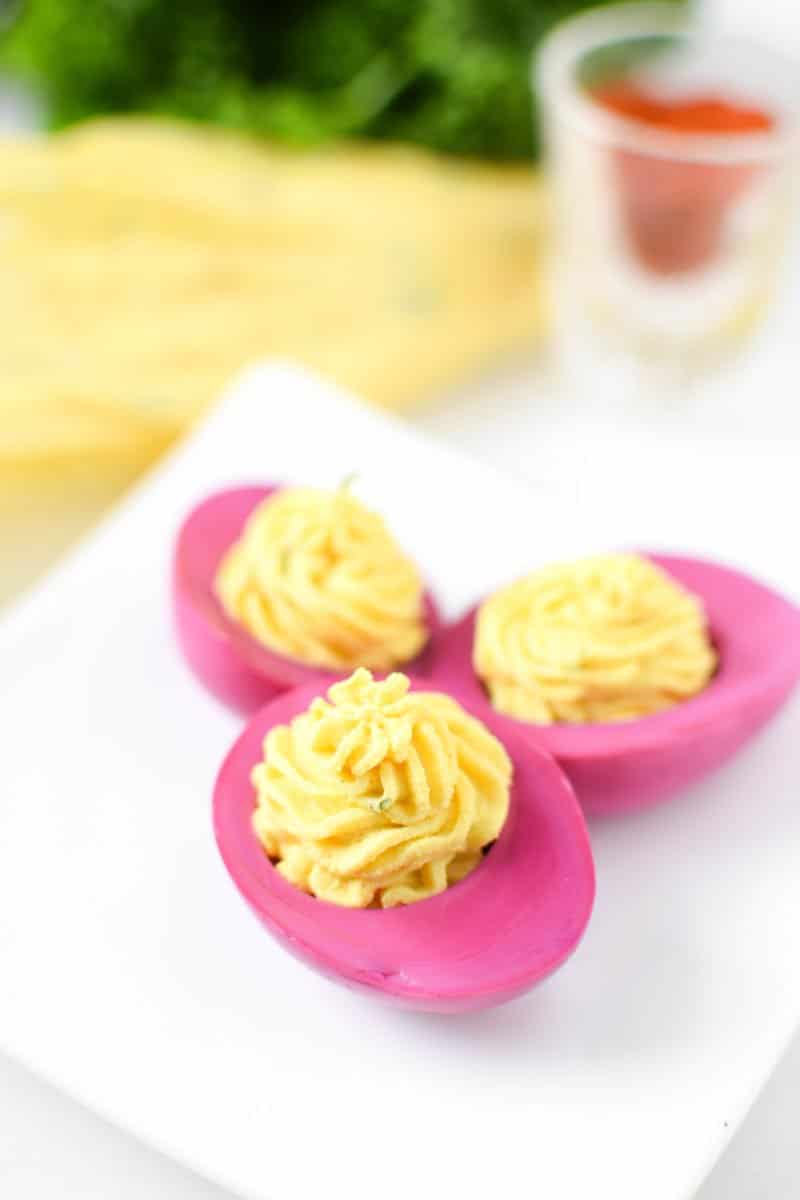 Turmeric + Water = YELLOW
Turmeric is a powder ground from a root of the Curcuma longa plant and is commonly used in Indian dishes such as curry.
Mixed with water, this bright yellow powder makes the most beautiful deep yellow, natural food coloring.
Say goodbye to FD&C Yellow #5, also known as tartrazine, and hello to beautiful turmeric juice!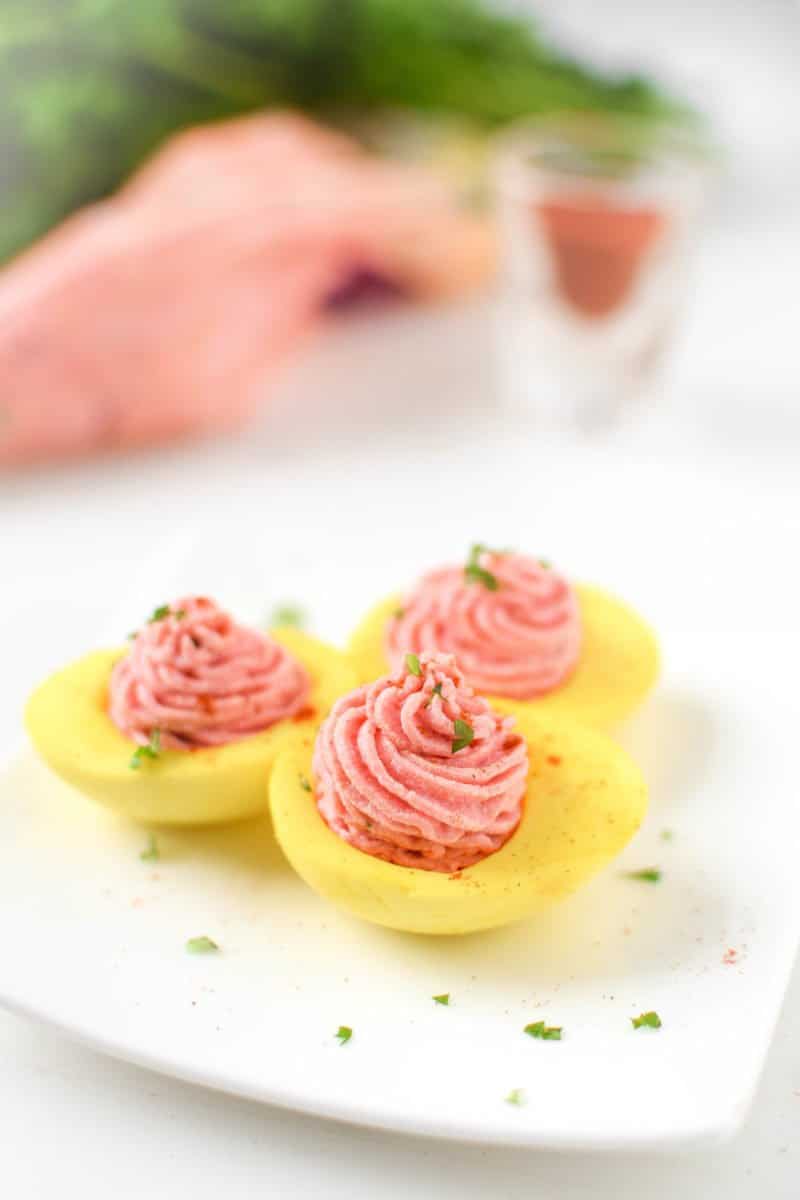 Blueberries + Water = PURPLE
Blueberries are the best!
Not only are they incredibly healthy with their high antioxidant content but they are one of the few naturally blue hues in the natural world. To make blueberry juice, using frozen berries are easiest.
Take a cup of frozen berries and let them thaw, collecting and squeezing out the juice for your natural blue/purple coloring.
Or if you're impatient like me, microwave from frozen to extract much of the juice.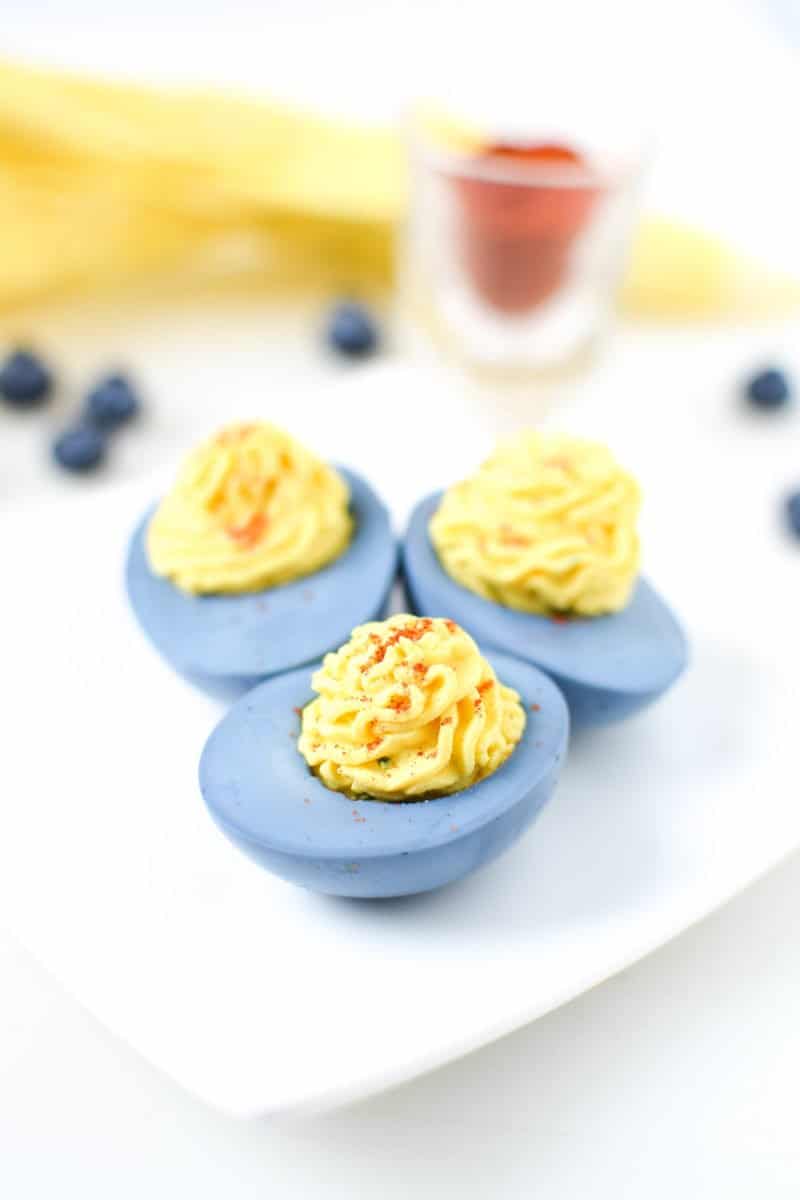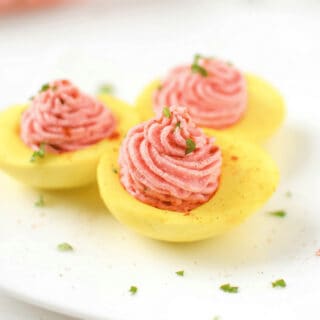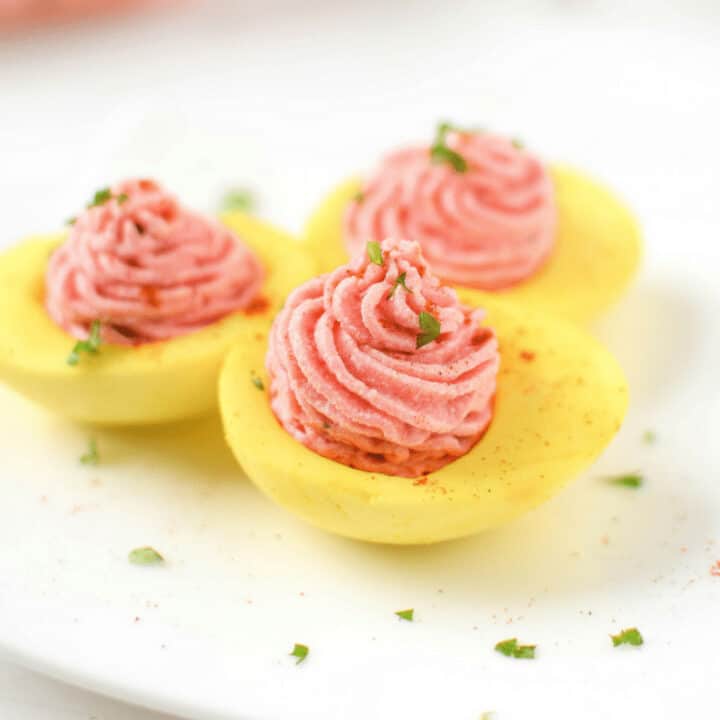 Naturally Dyed Deviled Eggs
There is no need for artificial food coloring when Mother Nature has given us the most beautiful, all natural food coloring! These naturally dyed deviled eggs are made with beet juice, blueberry juice and turmeric.
Ingredients
1

dozen

hard boiled eggs

1

can

no-salt added beets

1

cup

frozen blueberries

1

tablespoon

ground turmeric

2

tablespoons

full-fat plain Greek yogurt

or mayo

½

tablespoon

ground mustard

½

tablespoon

parsley flakes

1

teaspoon

vinegar

½

teaspoon

salt

½

teaspoon

ground turmeric

½

teaspoon

paprika
Instructions
For The Eggs

Boil and peel one dozen eggs using the method of your choice.

Slice each egg in half and carefully remove the yolk. Set the yolks aside in a medium-sized bowl to by dyed.
For the All-Natural Dyes PINK:
Drain one can of sliced beets, collecting the juice. The beets can be saved for later, but here we want to reserve that beautiful pink juice for our dye. You can add water as desired to get the color you are looking for. More water will result in a lighter pink.
PURPLE:
Take 1 cup of frozen blueberries and let thaw (can use the microwave if needed). Use a fork to mash the berries as they thaw to collect the juice. Save the blueberry pulp for baking or smoothies!
YELLOW:
Mix 1 tablespoon of turmeric powder in 1 cup of warm water.

To Dye the Eggs

Once you have your natural dyes ready to go, place the eggs whites in each color. How long you leave the egg in the natural dye will determine the richness of the color. The ones pictured in this recipe were in the liquid for approximately 30 minutes. Try a variety of times for different shades of pink, purple, and yellow.

While the egg whites are sitting in the dye, you can begin to prepare your filling.

For the Deviled Egg Filling

Combine the reserved egg yolks with the Greek yogurt, ground mustard, parsley flakes, vinegar, and salt. Mash well with a fork. Let sit for 10 minutes.

Divide the egg yolk mixture in half, one to be made pink and one to be made yellow.

In one half of the mixture, add in ½ teaspoon of turmeric. Mix well. If the mixture seems too dry, add another ½ tablespoon of Greek yogurt.

In the other half of the mixture, add ½ teaspoon of beet juice and mix well.

To fill the dyed eggs with the yolk mixture, all you need is two ziplock bags. If you want to get fancy you can use a piping tip. Simply snip a small corner off the ziplock bag, place the piping tip in if you're using one, and fill the bag with the yolk mixture.

When the egg whites are the color you desire, remove and set them hollow side down on a piece of paper towel for a minute or two to dry. Flip over when dry.

Gently squeeze your ziplock bag to fill each egg white. I filled my yellow and purple eggs with pink filling and my pink eggs with yellow filling.

Sprinkle with paprika as desired. Enjoy!
Nutrition
Serving:
1
deviled egg
|
Calories:
50
kcal
|
Carbohydrates:
2
g
|
Protein:
3
g
|
Fat:
3
g
|
Saturated Fat:
1
g
|
Polyunsaturated Fat:
2
g
|
Cholesterol:
94
mg
|
Sodium:
105
mg
|
Sugar:
1
g
Did you make this recipe or have a question?
Join hundreds of members inside private Well With Cannabis Community for help, support, and to share your edible creations!